These Savory pear Tartlets make for a perfect appetizer for a cocktail party, potluck or holiday dinner!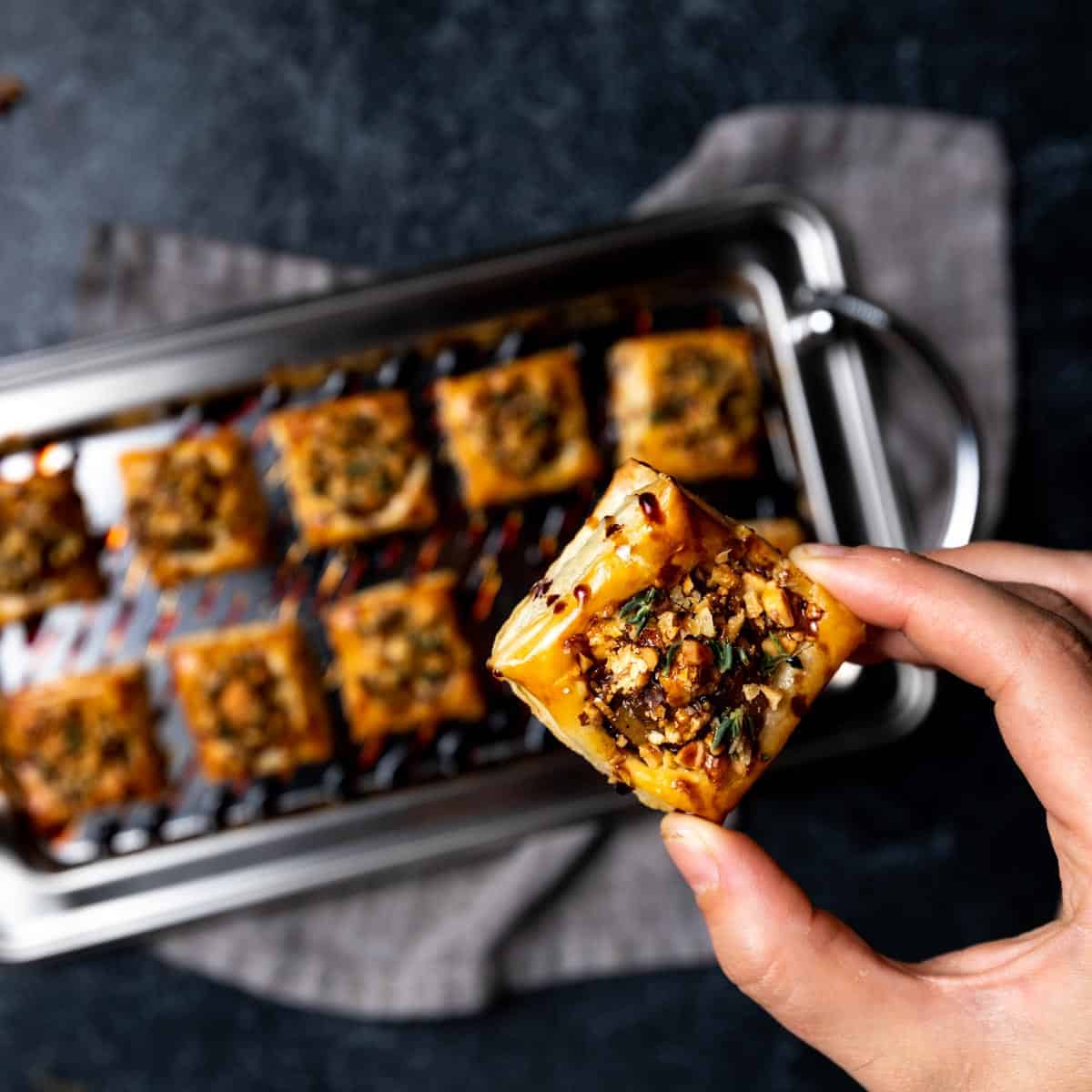 This appetizer recipe uses puff pastry dough topped with a sweet and tangy pear chutney, crumbled blue cheese, toasted walnuts, thyme and a drizzle of balsamic glaze. The combination of sweet, salty, tangy and crunchy is simply divine. It's an easy recipe that looks fancy and sophisticated. These pear puff pastries make for delicious hors d'oeuvres and are a great recipe for entertaining at home.
For another yummy bite-sized appetizer, try our Spinach and Artichoke Puff Pastry Bites or our Mini Mushroom Pies with Thyme!
Ingredients for This Recipe
To save time, we used pre-made frozen puff pastry dough for this recipe. It's quick, easy, super flaky and so delicious! The puff pastry makes for the perfect vessel for the sweet pear chutney and sharp, salty gorgonzola cheese. See how we shaped these Savory Pear Tartlet shells below.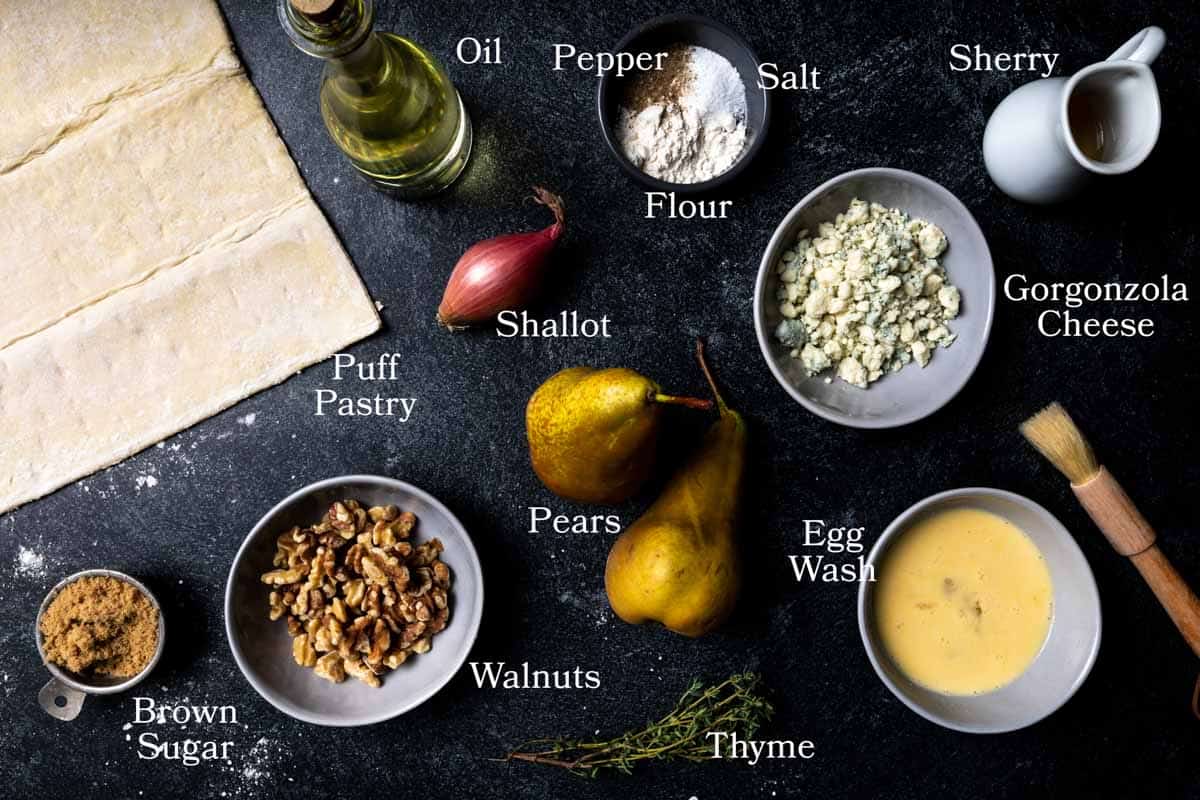 Sherry - Make sure you are using sherry cooking wine and NOT sherry vinegar!
Balsamic Glaze or Honey - Not pictured but highly-recommended!
Equipment Needed
These Pear Tartlets require a few special hand tools. Make sure you have everything you need before starting to make this recipe.
Ruler - To make perfectly bite-sized tartlets that bake evenly, we recommend measuring your pastry dough.
Sharp Knife - Use a sharp knife to cut the chilled pastry dough straight up and down. For the flakiest layers, avoid dragging a knife horizontally through the dough.
Cookie Cutter - Using a smaller cookie cutter to perforate the pastry helps to create a little cup that holds all of your fillings in place. If you don't have the right sized cookie cutter, you can use a sharp paring knife to cut a square border in your pastry squares.
Fork - Use the tines of a fork to poke holes in the center of the dough.
Pastry Brush - Brushing the edges of the dough with egg wash creates an attractive, shiny gloss.
How To Make These Mini Pear Puff Pastries
While these Savory Pear Tartlets with blue cheese and walnuts may look and taste fancy - they're actually pretty easy to make. Here are some step-by-step photos of how it's done.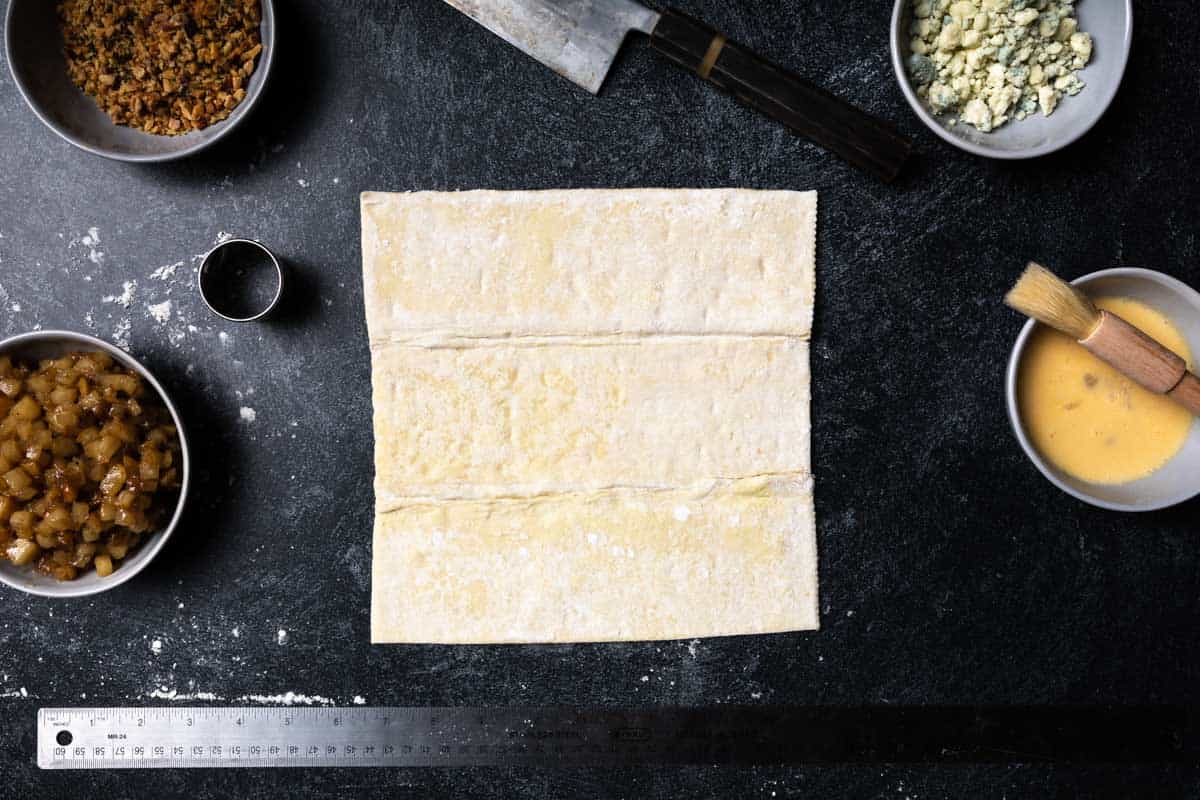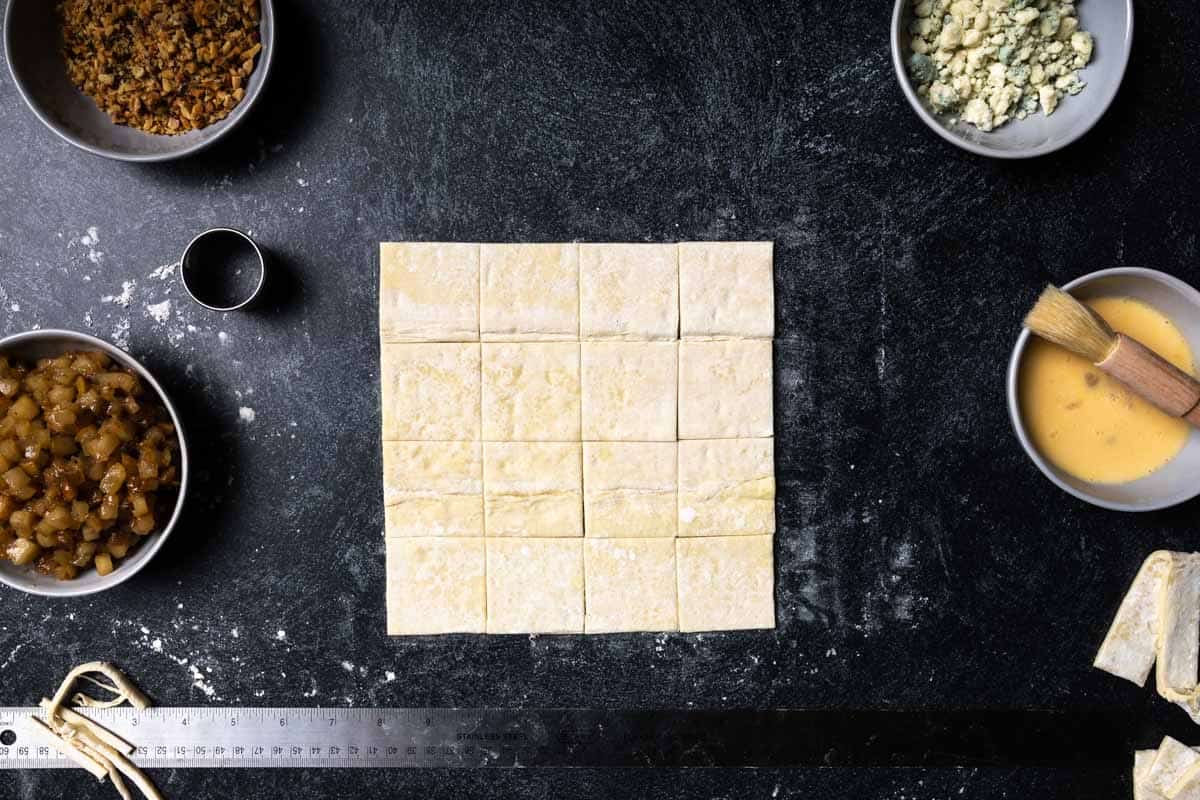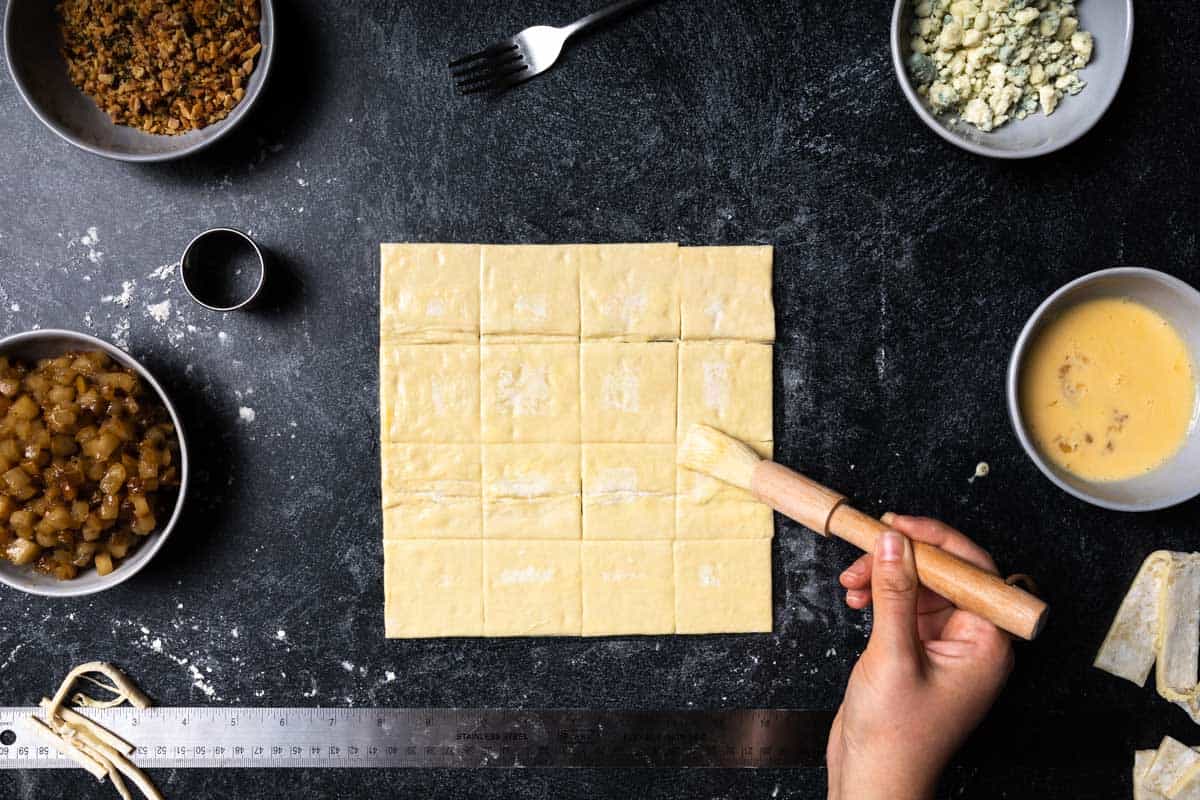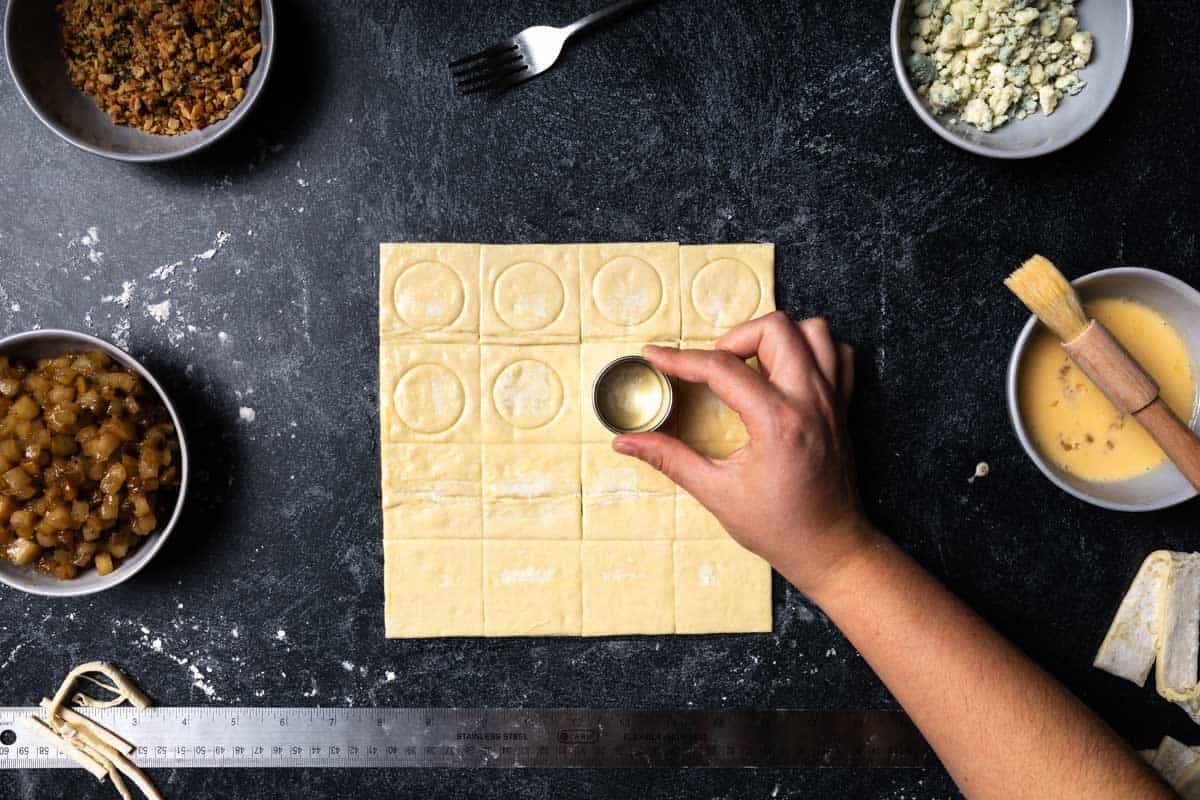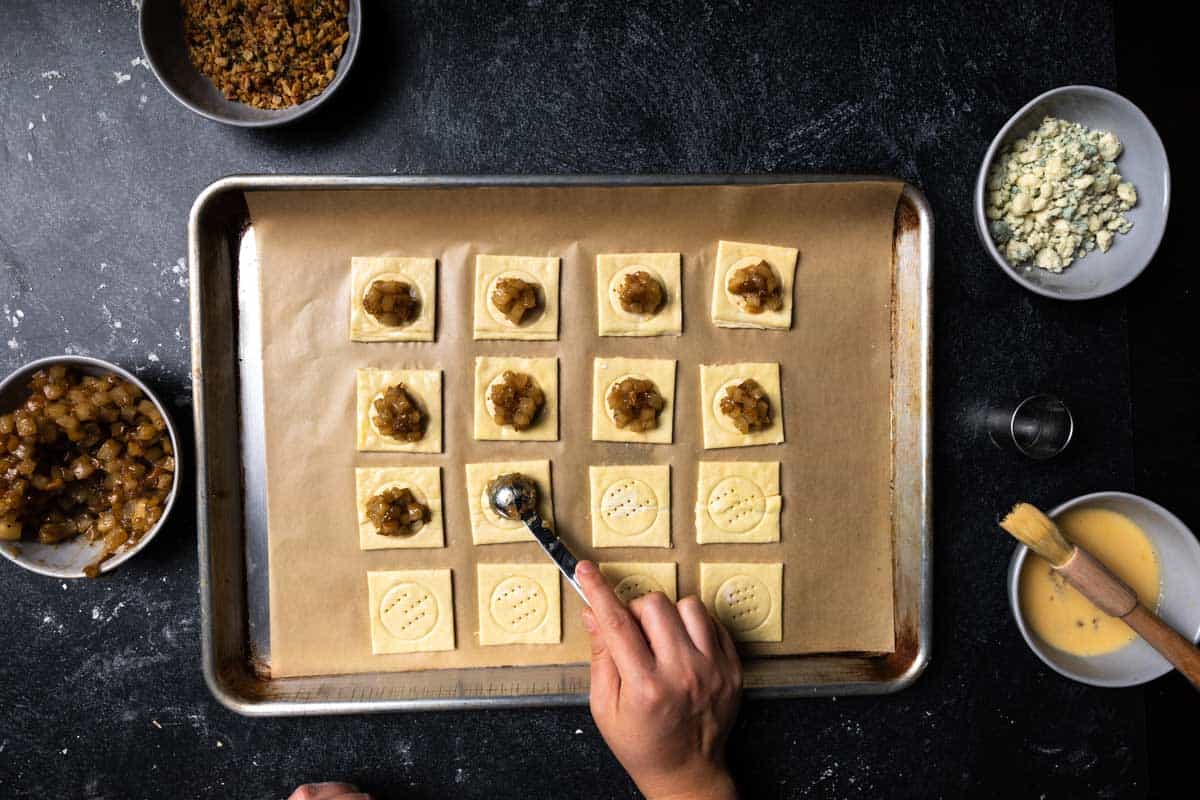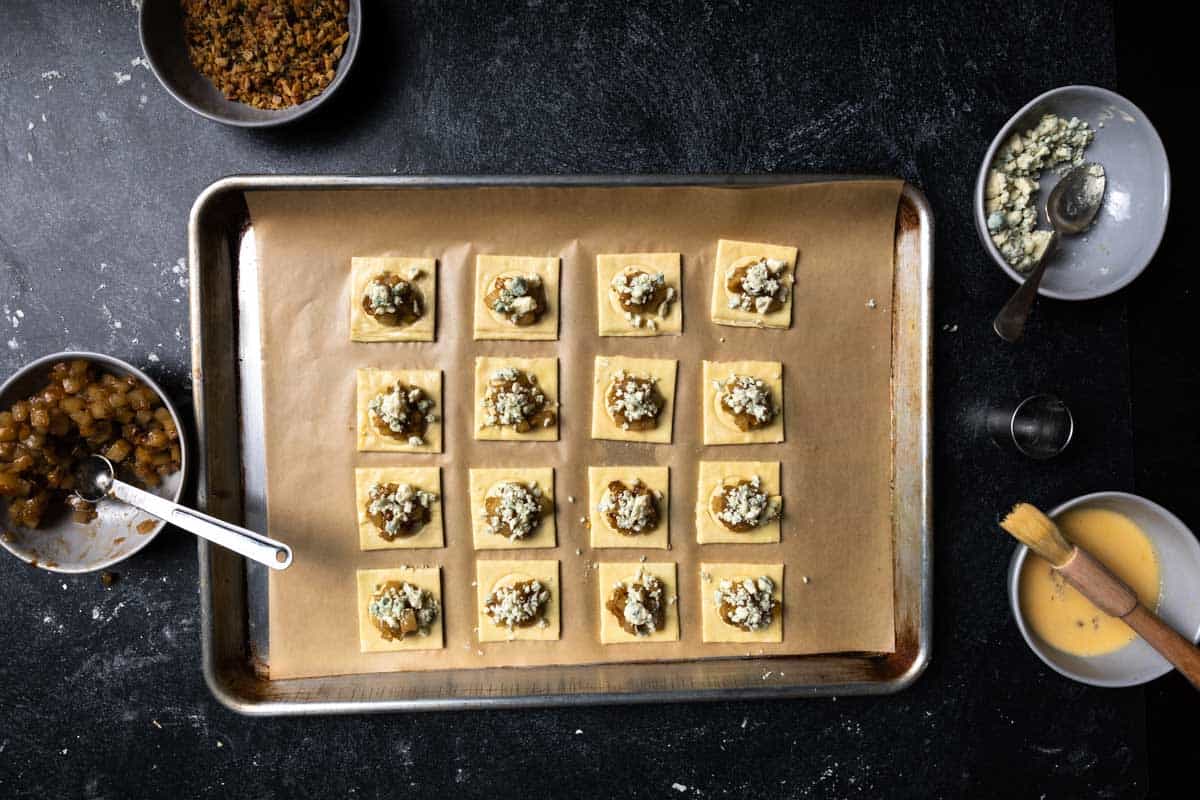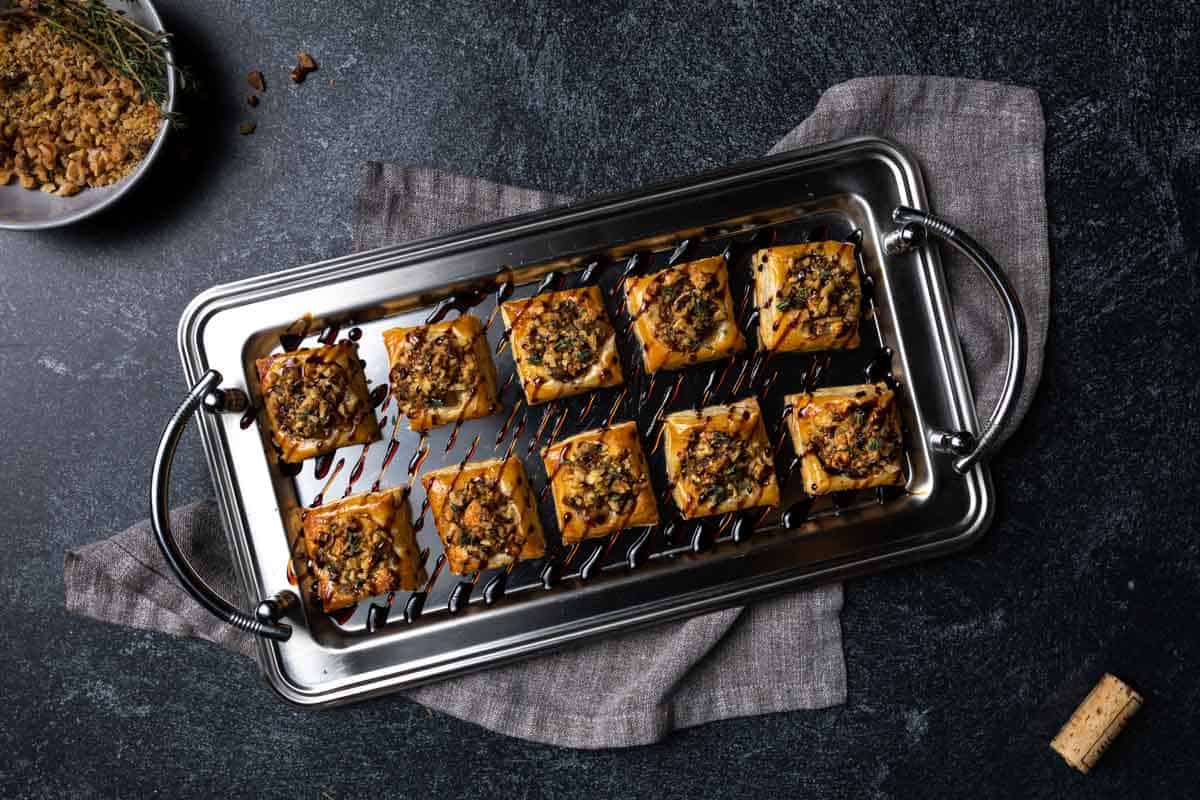 The Finishing Touches:
These pastries are topped with toasted walnuts and fresh thyme leaves. The flavors go with the pear and blue cheese so well. For the walnuts, we recommend chopping the walnuts before toasting them in a hot oven for 5 - 7 minutes.
If needed, after chopping the walnuts, you can shake them in a fine-mesh strainer to remove any fine dust and particles that could burn in the oven. Toasting the walnuts after they have been chopped brings out more toasty flavor and adds a great crunch to the Pear Tarts. Fresh thyme leaves add a subtle herbaceous flavor and a little pop of green.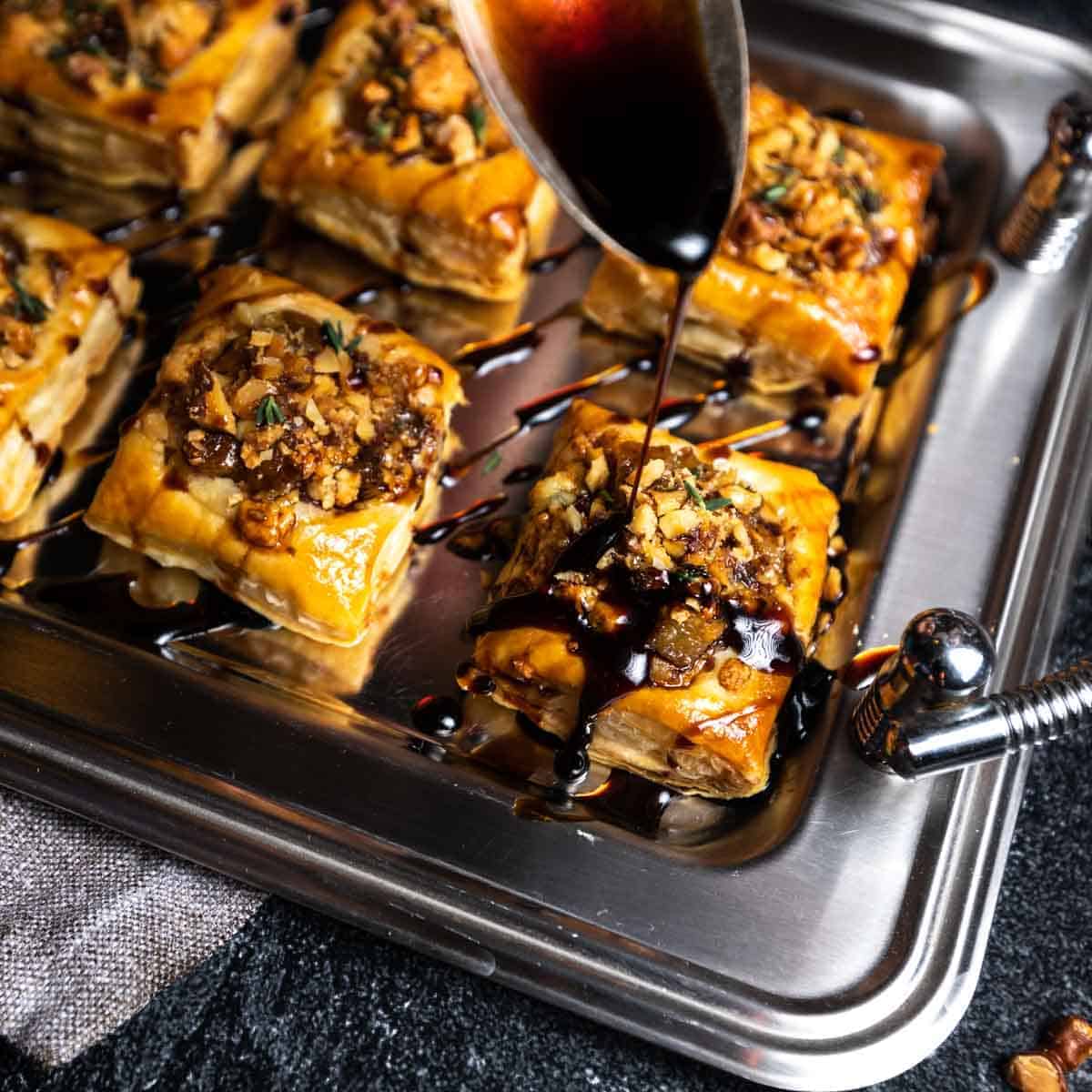 To finish these Savory Pear Tartlets we recommend a generous drizzle of balsamic glaze or warm honey. Both are delicious! For a tangy, sweet and savory finish, you can make your own balsamic reduction using our easy recipe.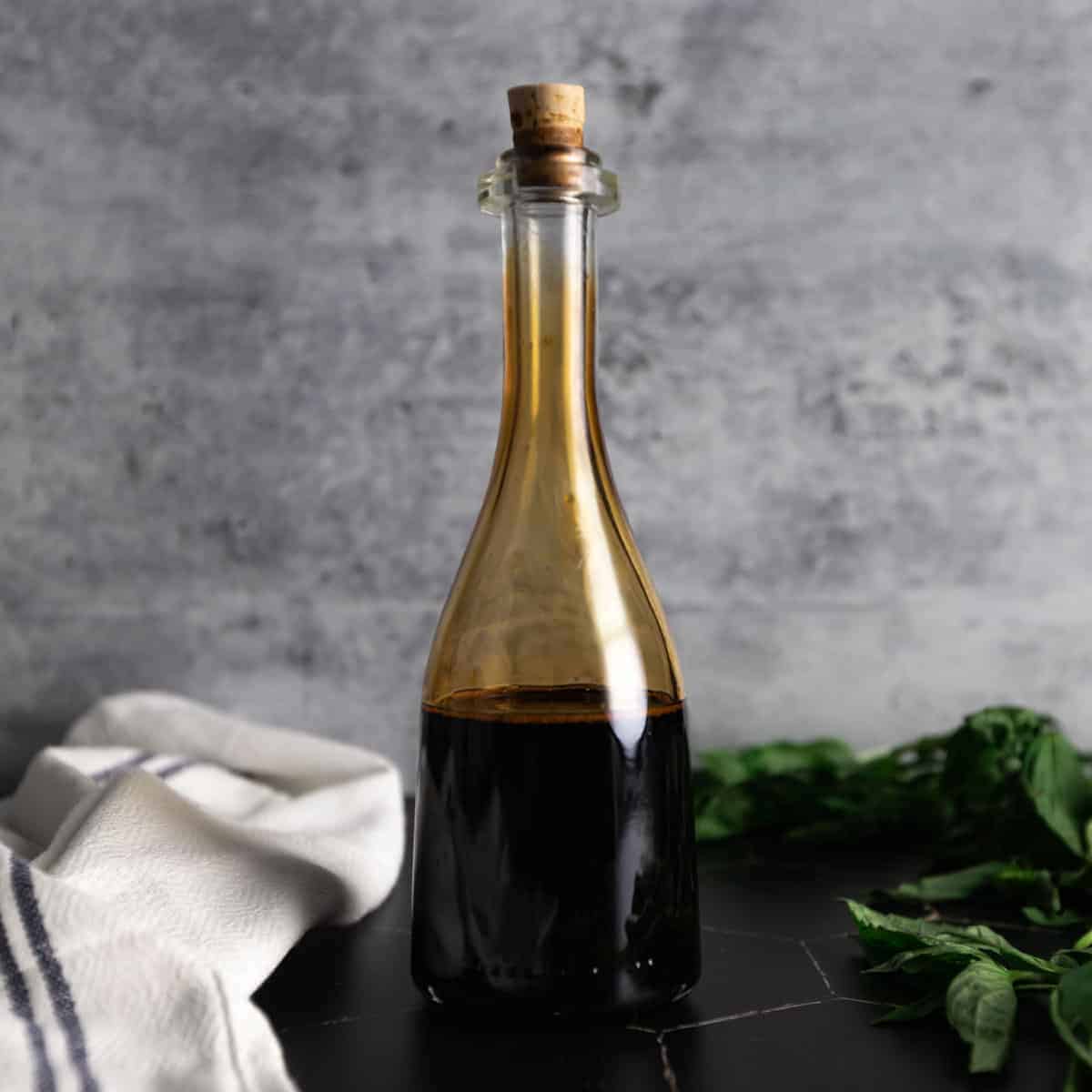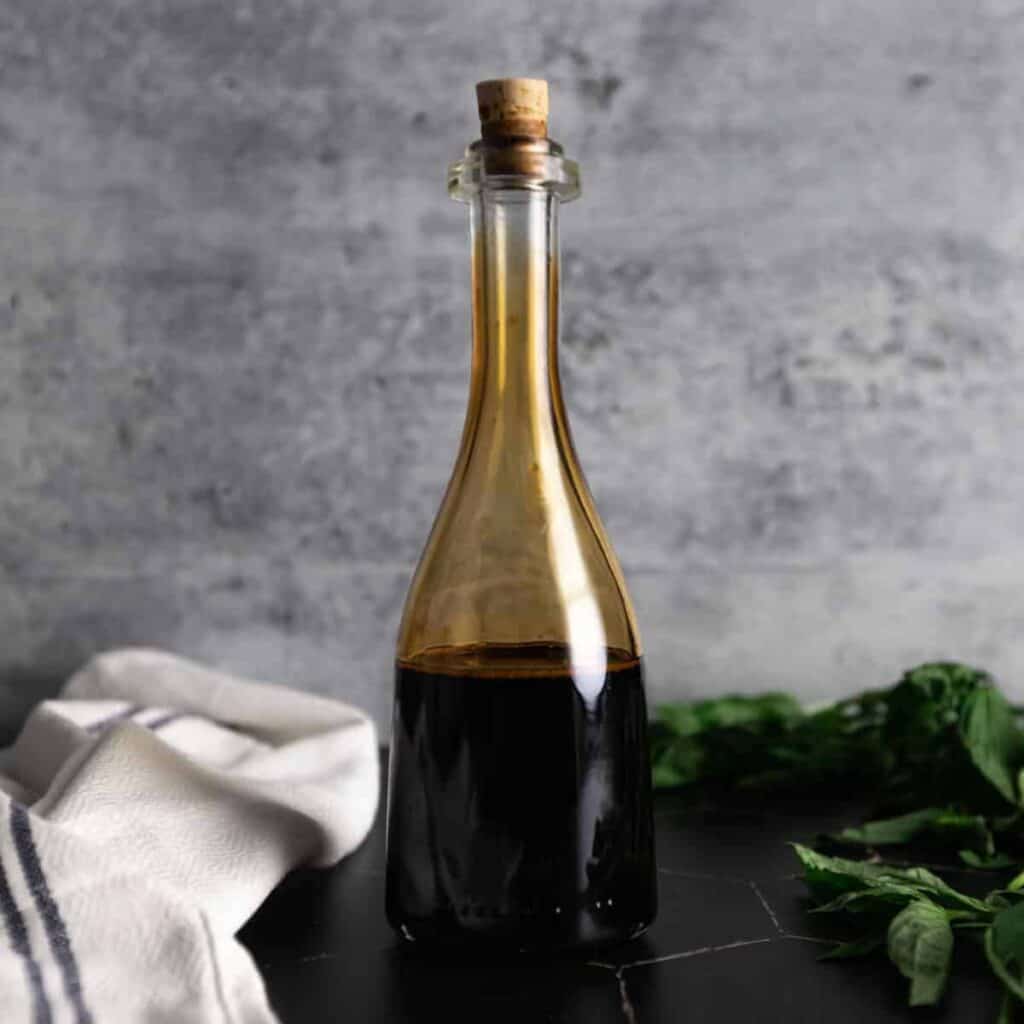 Balsamic Glaze is an easy, 1 ingredient recipe that can add a delicious, elegant drizzle to countless sweet & savory creations!
You May Also Like...
Recipe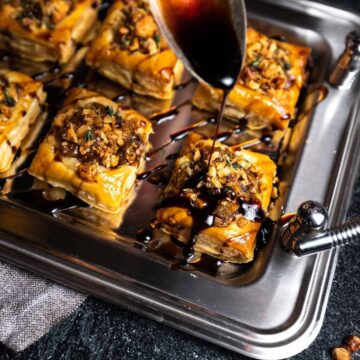 Savory Pear Tartlets with Gorgonzola, Walnut & Thyme
These yummy pear puff pastry appetizers are sweet, savory, tangy, salty, flaky and so delicious!
ADJUST SERVINGS
Special Equipment
Ruler

Sharp Knife

Pastry Brush

1½ Inch Cookie Cutter (About 3½ centimeters) Or a Sharp Paring Knife
Ingredients
Pear Chutney
2

Tablespoons

cooking oil

(We used walnut oil. Vegetable, grapeseed or olive oil will also work well.)

1

small

shallot

finely diced

2

Bosc pears

cored and small diced

¼

Cup

brown sugar

¼

Cup

sherry cooking wine

1

Tablespoon

all-purpose flour
fine kosher salt*

to taste

Freshly-ground black pepper

to taste
Savory Pear Tartlets
1

package

Puff Pastry

2 sheets thawed from frozen, cold

1

recipe

Pear Chutney

chilled

Egg Wash

(See Note: a.)

½

Cup

gorgonzola cheese

crumbled

½

Cup

walnuts

finely chopped and toasted

4 - 5

sprigs

fresh thyme leaves

2

Tablespoons

Balsamic Glaze or warmed honey

optional
Instructions
Pear Chutney
Gather, measure and prepare the Pear Chutney ingredients as listed.

In a medium skillet, heat cooking oil over medium-low heat. Add shallot and saute until soft and beginning to caramelize.

Add diced pears and brown sugar. Cook until pears are beginning to soften and caramelize. Add sherry cooking wine and simmer until the pan is nearly dry.

Stir in flour and cook for one minute. Season with salt and pepper to taste. Remove pear chutney from the heat and transfer to fridge or freezer until chilled. This chutney can be made a day or two ahead of time.
Savory Pear Tartlets
Gather, measure and prepare the Savory Pear Tartlets ingredients as listed. For step-by-step photo instructions, see the How To Make Mini Pear Puff Pastries section of this recipe post.

Arrange a rack in the center third of the oven and preheat to 425° Fahrenheit (220° celsius).

Working with one sheet of puff pastry at a time, arrange the dough on a lightly floured work surface. If at any point the pastry starts to become warm or sticky, return it to the refrigerator to chill for a few minutes. Use a ruler and a sharp knife to cut 2 inch by 2 inch (5 centimeter by 5 centimeter) squares of pastry dough.

Use a pastry brush to egg wash the edges of each pastry square. Next, use a 1 ½ inch (3 ½ centimeter) cookie cutter (or sharp paring knife) to score the center of each puff pastry bite. Do not cut all the way through the pastry. Press the cookie cutter (or knife) about two-thirds of the way through the pastry. Use a fork to dock (poke holes) into the center of each tart shell.

Transfer puff pastry shells to a parchment-lined baking sheet. Place a heaping teaspoon of pear chutney in the center of each tartlet.Top each tartlet with a sprinkle of crumbled gorgonzola cheese.

Chill pastries in the refrigerator for about ten minutes before baking. Bake pastries until the pastry has risen and is golden brown, about 18 minutes.

Allow the Savory Pear Tartlets to cool slightly before topping with toasted walnuts and fresh thyme leaves. Serve pastries slightly warmed or at room temperature with a drizzle of balsamic glaze or honey. Bon Apetit!
Notes
a. Make egg wash using one egg whisked with a splash of water, milk or cream. Egg washing the pastry is optional but makes for a beautifully glossy pastry. 
* A Note About Salt
Unless otherwise noted, all recipes on The Sage Apron are developed using Diamond Crystal Kosher salt. It is a great all-purpose salt for cooking and baking. If using table salt, reduce quantities by about half.
Nutrition
Calories:
262
kcal
|
Carbohydrates:
24
g
|
Protein:
4
g
|
Fat:
17
g
|
Saturated Fat:
4
g
|
Polyunsaturated Fat:
4
g
|
Monounsaturated Fat:
8
g
|
Cholesterol:
3
mg
|
Sodium:
128
mg
|
Potassium:
88
mg
|
Fiber:
2
g
|
Sugar:
8
g
|
Vitamin A:
61
IU
|
Vitamin C:
2
mg
|
Calcium:
34
mg
|
Iron:
1
mg