A rich, silky smooth Dark Chocolate Crémeux custard with Pomegranate Gelée that is unbelievably delicious. You won't believe you made it in minutes and can enjoy it from the comforts of your slippers and robe. Fancy date nights at home just got decadent.
For another decadent chocolate dessert, try our Peanut Butter Pie with Chocolate Topping!
Jump to:
Cremeux Para Deux: A Decadent Dessert for Two
Chocolate Crémeux is the French pastry chefs' best kept secret. With just a handful of ingredients and a simple custard procedure, you and your loved ones can be indulging in this creamy patisserie treasure right from your own home. This recipe was designed to make an indulgent portion for two - the perfect ending to a romantic meal.
However, if you'd like to share the love and wow your dinner guests, we have included the measurements for six portions below the recipe in the notes. Even better? This happy ending can be prepared the day before and is best served straight-from-the-fridge wherever temptation strikes.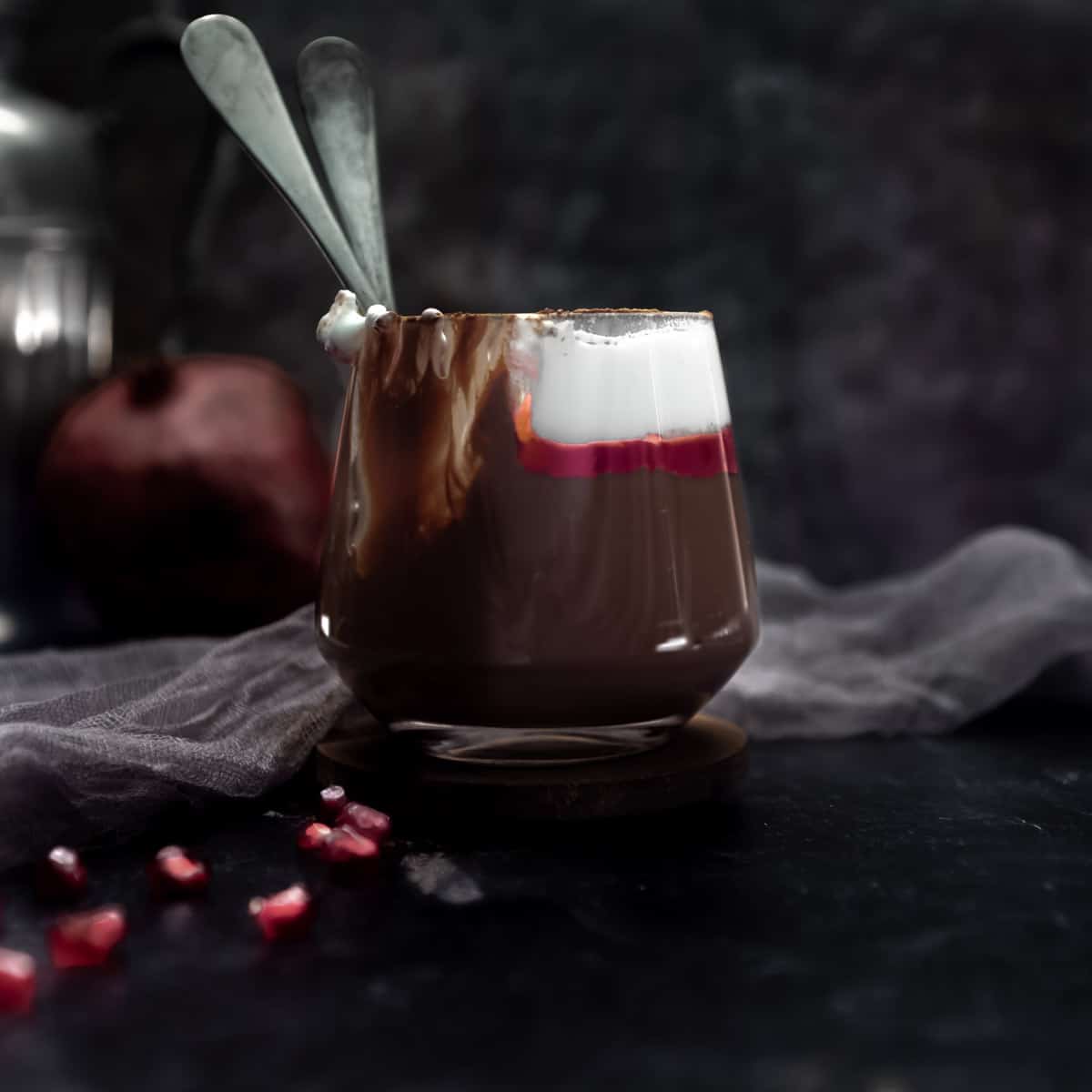 Chocolate Lovers
This decadent dessert is not for the faint of heart. Dark Chocolate Crémeux - a creamy, potted custard - is designed to satisfy the deepest of chocolate cravings. For this recipe, we love the balance of a darker, more bitter chocolate. However, you are welcome to use a lower percentage chocolate for a more sugary outcome. For us, seventy percent cacao was the sweet spot.
We found seventy percent chocolate had just enough sugar to soften the bitterness wile maintaining rich, dark chocolate-y flavor. To embolden the chocolate flavor even more, a touch of instant espresso powder will further accentuate the richness. We recommend splurging on a high-quality chocolate and appreciating the subtle nuances with every bite. 
Pudding Up with a Hot Temper: How to Temper Eggs for Custard
Unlike American pudding, this chocolate crémeux relies on eggs, not starches, to achieve its delectable density. Tempering eggs can be intimidating to the novice, but not justifiably so. First, understand that the eggs must be warmed slowly and evenly. This will help prevent them from scrambling and you will be left with a luscious and perfectly smooth dessert. To do so, stream or ladle your steamy milk and cream into your eggs slowly, a little bit at a time, while whisking constantly.
Next, when you return the tempered custard to the heat, do not underestimate the importance of continuous stirring. Keeping the custard moving in your pot is essential to prevent burning or curdling. Finally, be sure to remove the thickened custard from the heat as soon as spoon-coating, melted-ice-cream consistency, is achieved. The crémeux will continue to thicken as it cools.
Love Grenade: A Passion for Pomegranate
We can't think of a more sensual or romantically symbolic fruit than the plump arils of a ripe pomegranate. The lip-puckering tartness and bursts of ruby colored juice have captivated the hearts of humans (and goddesses) alike for centuries past. Just ask Queen Persephone.
Pairing the vibrant, crimson fruit with the intensity of rich, dark chocolate makes for a love story we can all lust for. A thin layer of lightly-set Pomegranate Gelée layers the Dark Chocolate Crémeux in lovely companionship. This duo of aphrodisiacs is so indulgent it will have you longing to share another spoonful. 
You May Also Like...
Recipe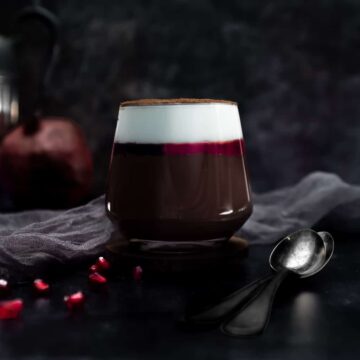 Dark Chocolate Crémeux with Pomegranate Gelée
A decadent, silky smooth Dark Chocolate Crémeux custard with Pomegranate Gelée that is so delicious you will be transported to pure bliss.
ADJUST SERVINGS
Ingredients
Dark Chocolate Crémeux
2

egg yolks

room-temperature

38

grams

3 tablespoons granulated sugar

½

teaspoon

fine

sea or kosher salt

118

milliliters

½ cup whole milk

118

milliliters

½ cup heavy cream

1

teaspoon

instant espresso powder

optional

85

grams

3 ounces 60% - 75% dark chocolate, disks, féves, or chopped (See Note: b.)

5

milliliters

1 teaspoon vanilla extract
Pomegranate Gelée
¼

teaspoon

powdered gelatin

See Note: c.

49

milliliters

3 tablespoons plus one teaspoon pomegranate juice, freshly-squeezed or not from concentrate, divided

1

teaspoon

granulated sugar

2 - 3

tablespoons

fresh pomegranate arils
Optional Serving Recommendations
Fresh whipped cream

Cocoa powder

for dusting
Instructions
Dark Chocolate Creméux
Gather, measure and prepare the recipe ingredients as listed. For the most consistent results, we recommend using metric weight measurements whenever possible

In a medium mixing bowl, combine egg yolks, sugar and salt and whisk to combine. Set aside.

In a medium saucepan, warm milk, cream and espresso powder, if using, over medium-low heat until scalding or 82 degrees celsius (180 degrees fahrenheit). Remove from heat and begin to temper eggs by adding a small splash of the hot milk mixture into the eggs while whisking. In a slow and steady stream, while constantly whisking, incorporate all of the milk and cream into the eggs. This is the base of your custard, return the mixture to your saucepan.

Cook your custard over medium-low heat, constantly stirring with a wooden spoon or rubber spatula, until the mixture is reminiscent of melted ice cream and thick enough to coat the back of your stirring tool.

Meanwhile, add chocolate and vanilla to your mixing bowl. Once thickened, pour your hot custard over the chocolate and stir until completely melted and smooth. (See Note: d.) 

Strain your crémeux through a fine mesh strainer to ensure a perfectly smooth texture. Pour the hot crémeux into a serving vessel of your choice. We like to show off the layers in a stemless wine glass but any glass, ramekin or small dish will work well. Gently tap the filled vessel on a towel-lined countertop to expel any potential air bubbles and level the crémeux. Chill the crémeux in the refrigerator while you prepare the pomegranate gelée.
Pomegranate Gelée
Gather, measure and prepare the recipe ingredients as listed.

In a small dish or ramekin, sprinkle the gelatin over 5 milliliters (1 teaspoon) of pomegranate juice. Let stand.

In a separate dish, warm the remaining pomegranate juice until nearly boiling. (See Note: e.) Dissolve sugar in juice and add to gelatin. Stir well until gelatin is fully combined. Remove the crémeux from the refrigerator, and gently pour the pomegranate gelée over the crémeux surface. You can pour the gelée over the back of a spoon to help leave the chocolatey surface perfectly even and undisturbed. 

Sprinkle the pomegranate arils into the gelée and cover the vessel in plastic wrap. Refrigerate for 4 hours or overnight.

When ready to enjoy, serve chilled and topped with whipped cream and cocoa powder, as desired.
Notes
a. If you would like to increase this recipe to create six portions, use the following measurements: 354 milliliters (¾ cup) whole milk, 354 milliliters (¾ cup) heavy cream, 3 teaspoons instant espresso (optional), 6 egg yolks, 39 grams (½ + 1 tablespoon) granulated sugar, 1 ½ teaspoons of fine sea or kosher salt, 255 grams (9 ounces) dark chocolate**, 15 milliliters (1 tablespoon) vanilla extract. Follow production instructions through Step 5. Instead of using one vessel, divide custard evenly amongst six glasses or ramekins and proceed as instructed above. 
b. As always, we recommend scaling your ingredients by weight. In the case of chocolate - every chocolate will have a unique weight to volume ratio, depending on size, density, cacao content, and more. Basically, there is no one-size-fits-all approach to converting to volume measurements - your chopped Belgian chocolate will differ in weight to our French féves. That being said, we have found that 85 grams of most chocolates will be between ¾ - 1 cup of volume. 
c. This recipe was developed with Knox brand gelatin. While not a sponsor, we recommend using the widely available Knox gelatin to ensure success in this recipe. Some brands of gelatin will react differently to the highly-acidic nature of pomegranate juice.
d. Occasionally, some brands of chocolate may not melt completely from the heat of the custard alone. In this case, return the cremeux to your saucepan and stir over low heat until evenly colored and fully melted.
e. While you need hot liquids to fully dissolve and distribute your gelatin, exceeding boiling temperatures (100 degrees celsius or 212 degrees fahrenheit) can cause gelatin to weaken and potentially fail to set once cooled. If you overheat your pomegranate juice, allow it to cool to below boiling temperatures before adding to the gelatin.
* A Note About Salt
Unless otherwise noted, all recipes on The Sage Apron are developed using Diamond Crystal Kosher salt. It is a great all-purpose salt for cooking and baking. If using table salt, reduce quantities by about half.