These scrumptious cookies are perfectly chewy and gooey flavored with brown butter, pools of dark chocolate, toasted coconut, pecans and a sprinkle of flaky sea salt!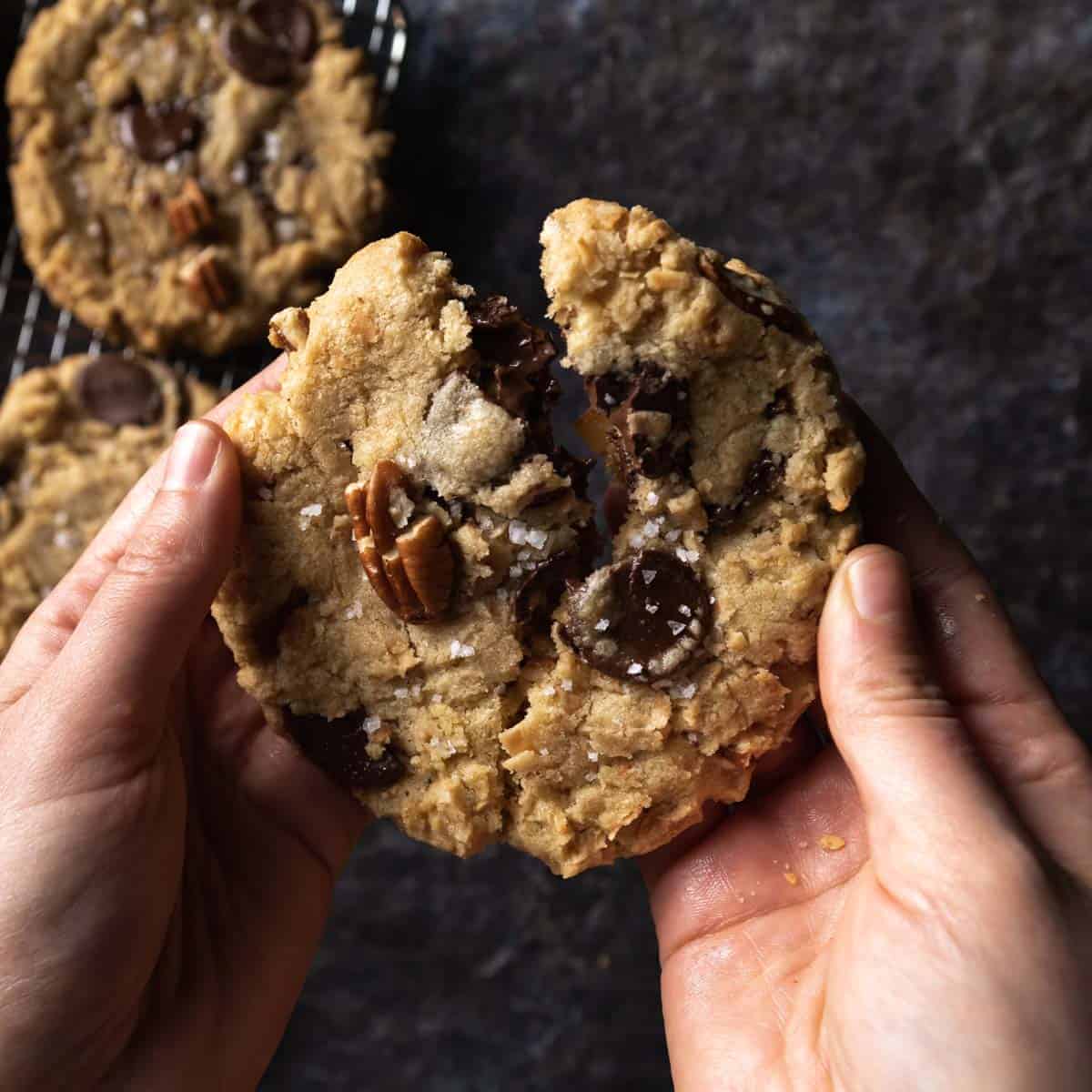 These cookies are just the right amount of sweet, salty, nutty and studded with big disks of melty chocolate. These Dark Chocolate Coconut & Pecan cookies are based off our favorite chocolate chip cookies recipe but loaded with lots more flavor and a little crunch! They're absolutely addicting and sure to be a fabulous addition to your favorite cookie recipes!
For another chocolatey cookie recipe, try our Dark Chocolate Dipped Pistachio Biscotti!
Ingredients
These Dark Chocolate Coconut Pecan Cookies use all the usual ingredients for cookies plus a few special mix-ins. Here's what you'll need: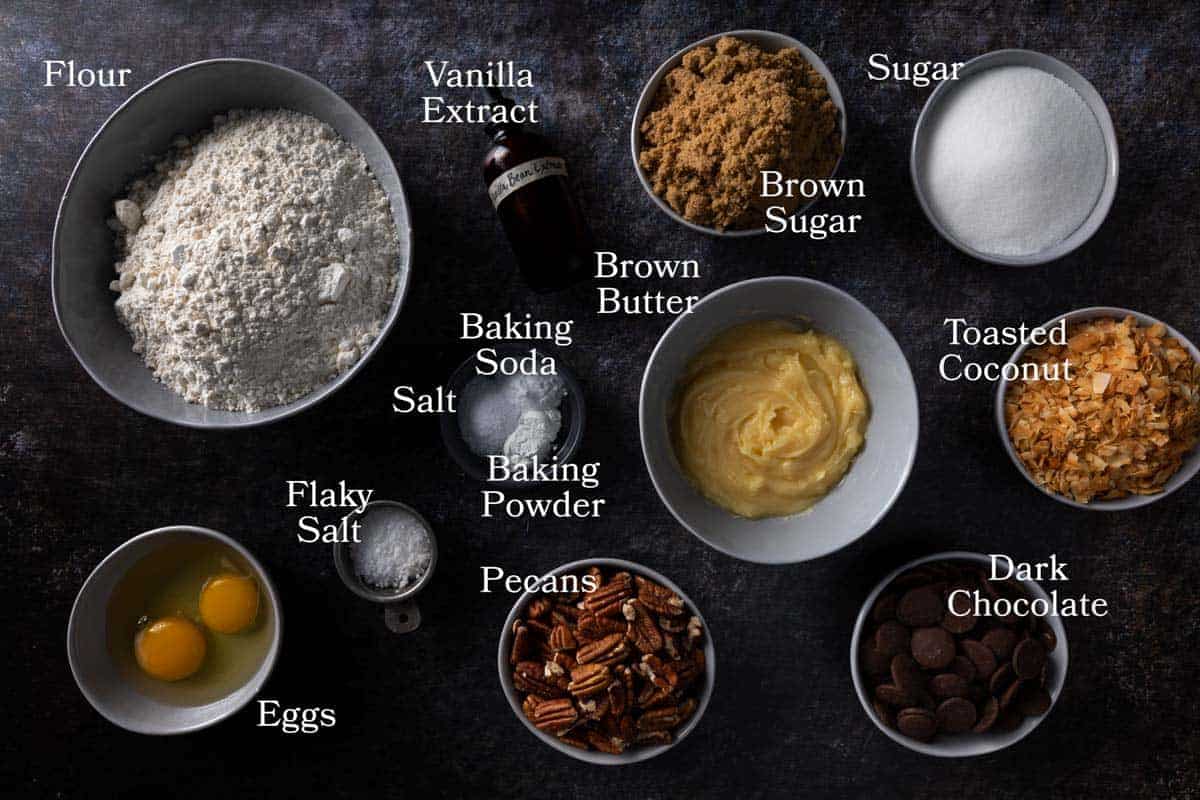 Salt - We use Diamond brand kosher salt in the cookie dough. If you're using iodized or table salt, reduce quantities by about half.
Granulated Sugar & Brown Sugar - This sugar combination lends to these cookies perfect golden brown color, sweet flavor and chewy texture.
Brown Butter - Brown butter is key to these cookies delicious nutty flavor! See our How To Make Brown Butter post for step by step instructions and more baking inspiration! Brown butter + pecans + coconut + chocolate = absolute HEAVEN.

In a pinch, you can substitute plain softened butter for this recipe.

Pecan Halves & Pieces - Lightly toasted to bring out the flavors!
Toasted Coconut Flakes - UNSWEETENED coconut is key here! Otherwise the dough will be too sweet and have an unpleasantly stringy texture. We use Bob's Red Mill coconut flakes.
Dark Chocolate - When it comes to cookies, chopped chunks or chocolate disks are greater than chocolate chips. Sure, you can use regular bitter sweet chocolate chips but large hunks of dark chocolate lead to ooey gooey melty pools of chocolate that are simple irresistible. As pictured, we used regular dark chocolate melting chips (Ghirardelli makes some yummy ones), but if you can find Vahlrona's signature chocolate feves - all the better.
Fleur de Sel - Optional but oh, so good. Topping these cookies with a sprinkle of flaky sea salt is next level divine.
How To Make Brown Butter
Brown butter makes these chocolate, pecan, and coconut loaded cookies so nutty, flavorful and delicious! The flavor of brown butter pairs SO well with the other ingredients. Making brown butter only takes one ingredient, one pan, a few minutes and is well worth the effort! Here's how:
Place sliced butter (this recipe uses unsalted butter) in a medium saucepan or skillet. We like to use a stainless steel pan with a lightly colored bottom, so we can see when our butter is golden and not burnt.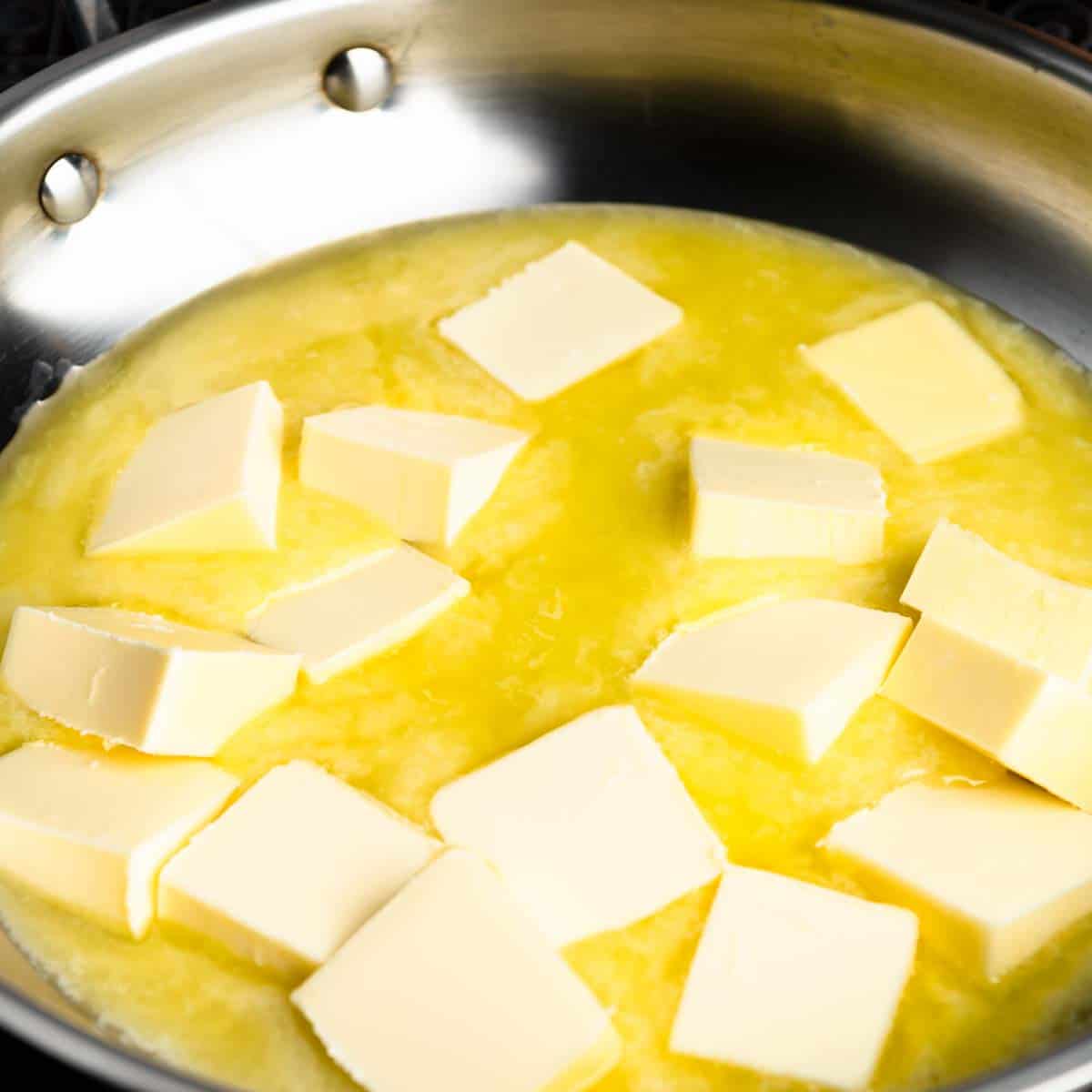 Place butter over medium heat and melt. When the butter melts, the milk solids - which will look white and foamy - will separate from the butter fat and rise to the top.
Use a whisk or rubber spatula to stir the butter, frequently. After a few minutes of cooking (the exact times will depend on your quantity of butter and cooking temperature) the white foam will start to subside.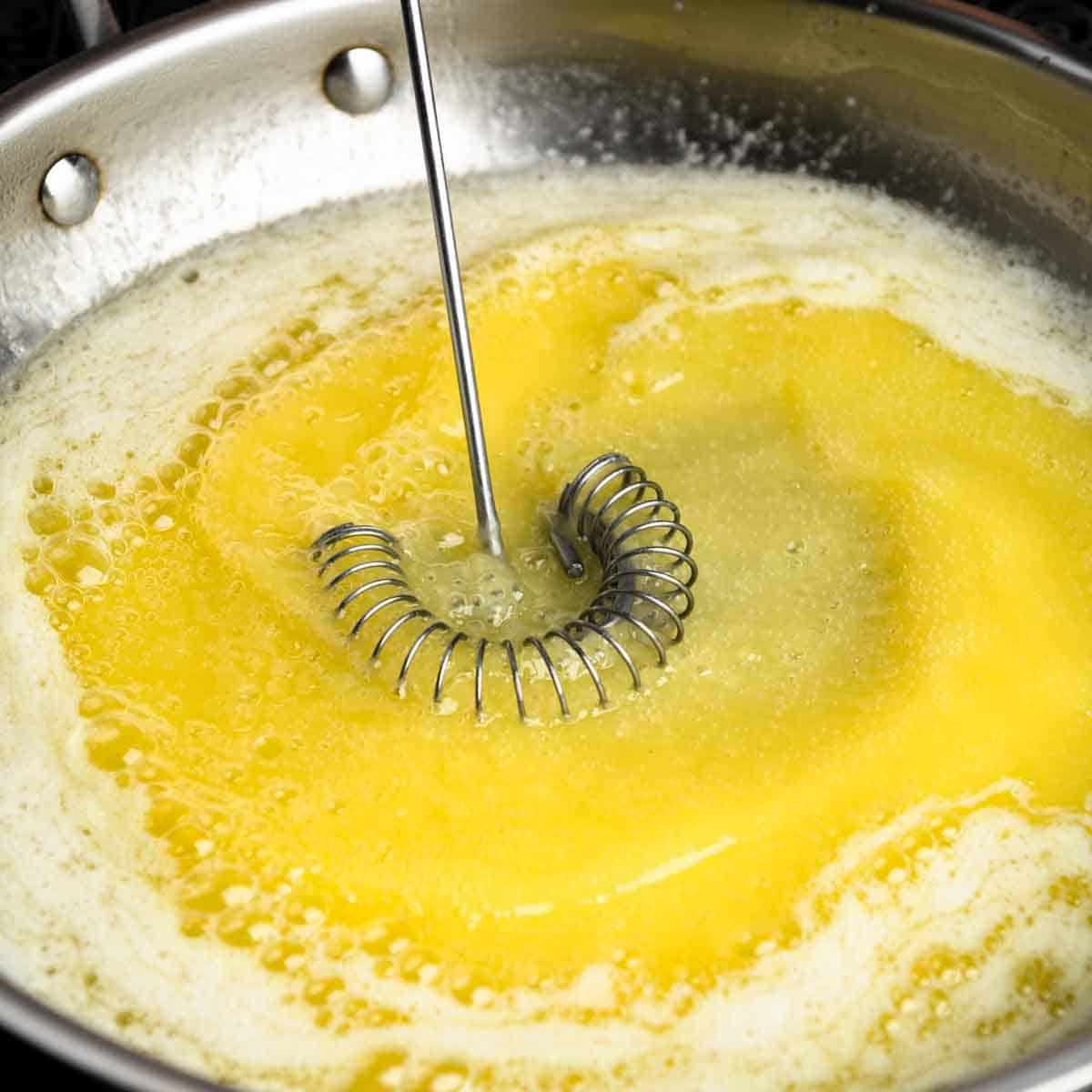 Then, the milk solids will begin to turn a light golden color. Keep whisking and DO NOT TAKE YOUR EYES OFF THE BUTTER! At this stage the butter will go from barely brown to burnt in a matter of seconds. When the milk solids sink, become golden brown and the butter smells nutty, rich and aromatic: the brown butter is complete! Remove it from the heat.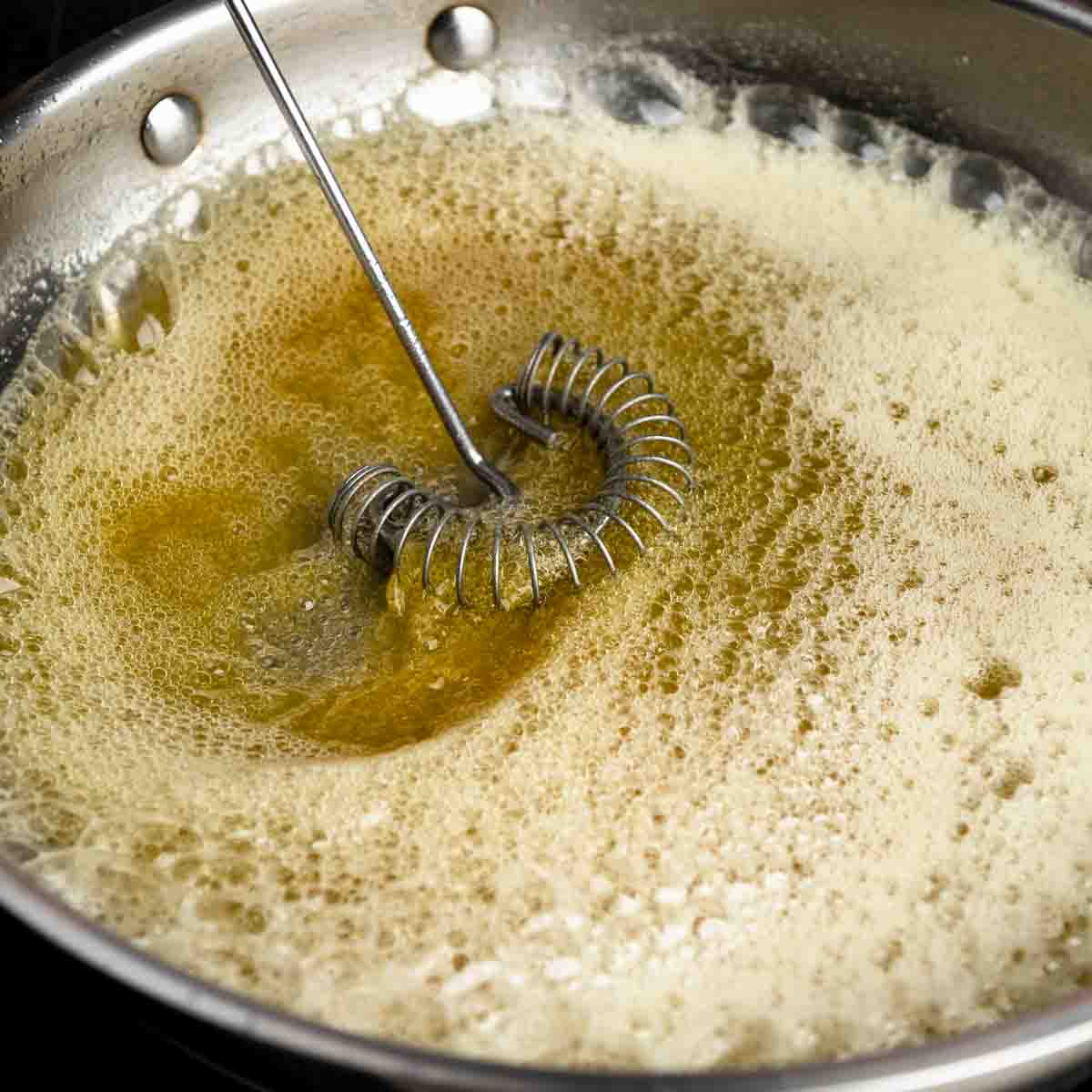 Immediately transfer the brown butter to another bowl or container to stop the cooking and prevent burning. Be sure to use a rubber spatula to scrape all those delicious little brown bits from the pan into the butter. Viola!!
Using & Measuring Brown Butter for This Recipe
Now that you have delicious brown butter, what's next? Well, first off, the butter needs to be re-measured. We recommend using a kitchen scale for accuracy, but a volume measurement can also work.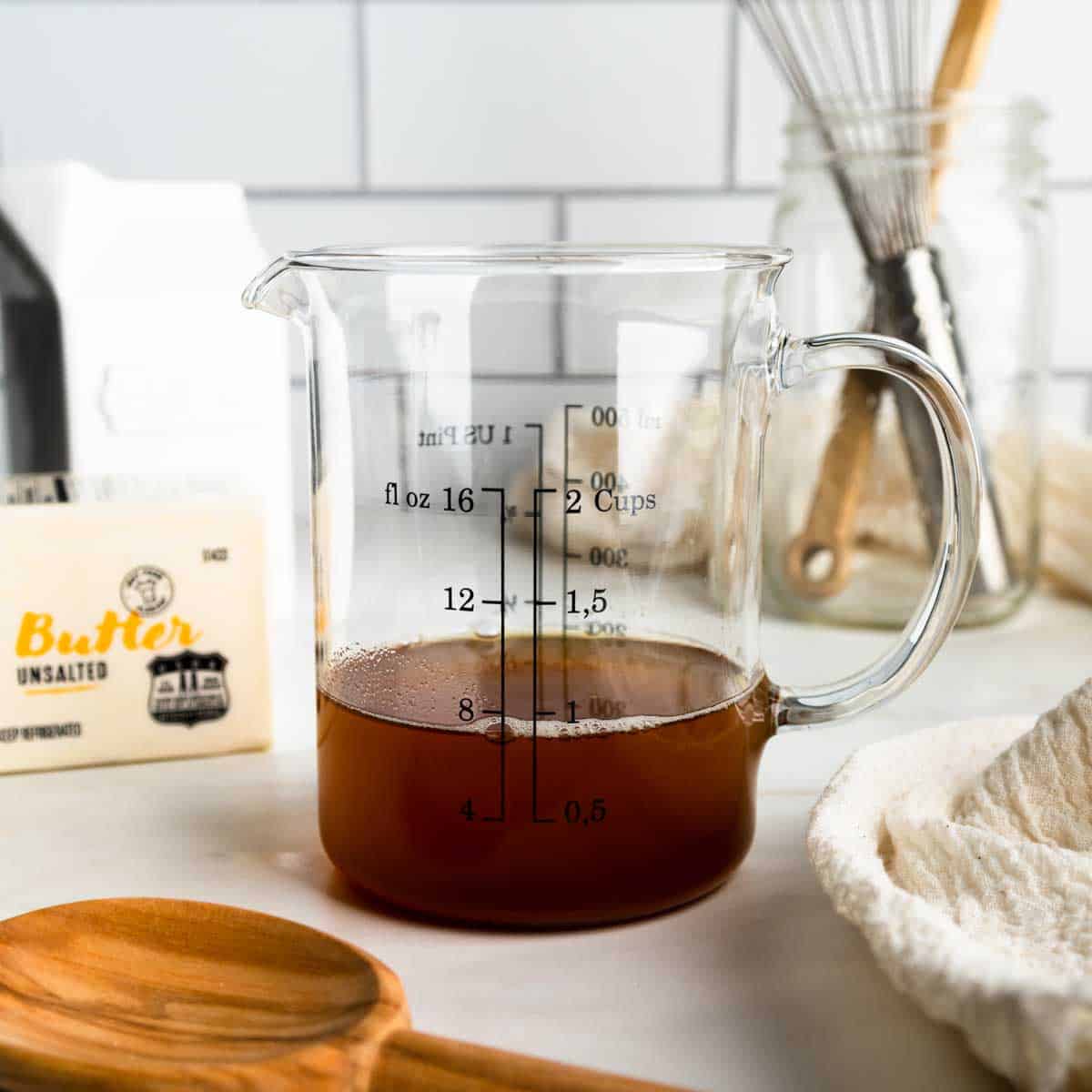 WHY? When the butter is cooked into brown butter, some of the moisture inevitably evaporates. That evaporation causes the butter to decrease in weight and volume. Therefore, even if you weighed your butter to the precise 280 grams/ 2½ Cups before, browning... you still need more butter.
So, there are two things you can do:
A.) Make an entire pound of brown butter, measure it after it's cooled and utilize any extra in another recipe OR
B.) Brown the measured amount of butter for this recipe. Then, after browning, return the brown butter to the scale and add a little additional softened butter, as needed, to account for the loss.
Once the brown butter is made it will be melted, liquid gold. (Which is perfect for pasta sauces and lobster boils!) However, for this Dark Chocolate Coconut Pecan cookies recipe, we need room-temperature solidified butter. Either make the brown butter well ahead of time (I usually have some ready-to-go in the fridge) or allow the melted butter to cool until softened.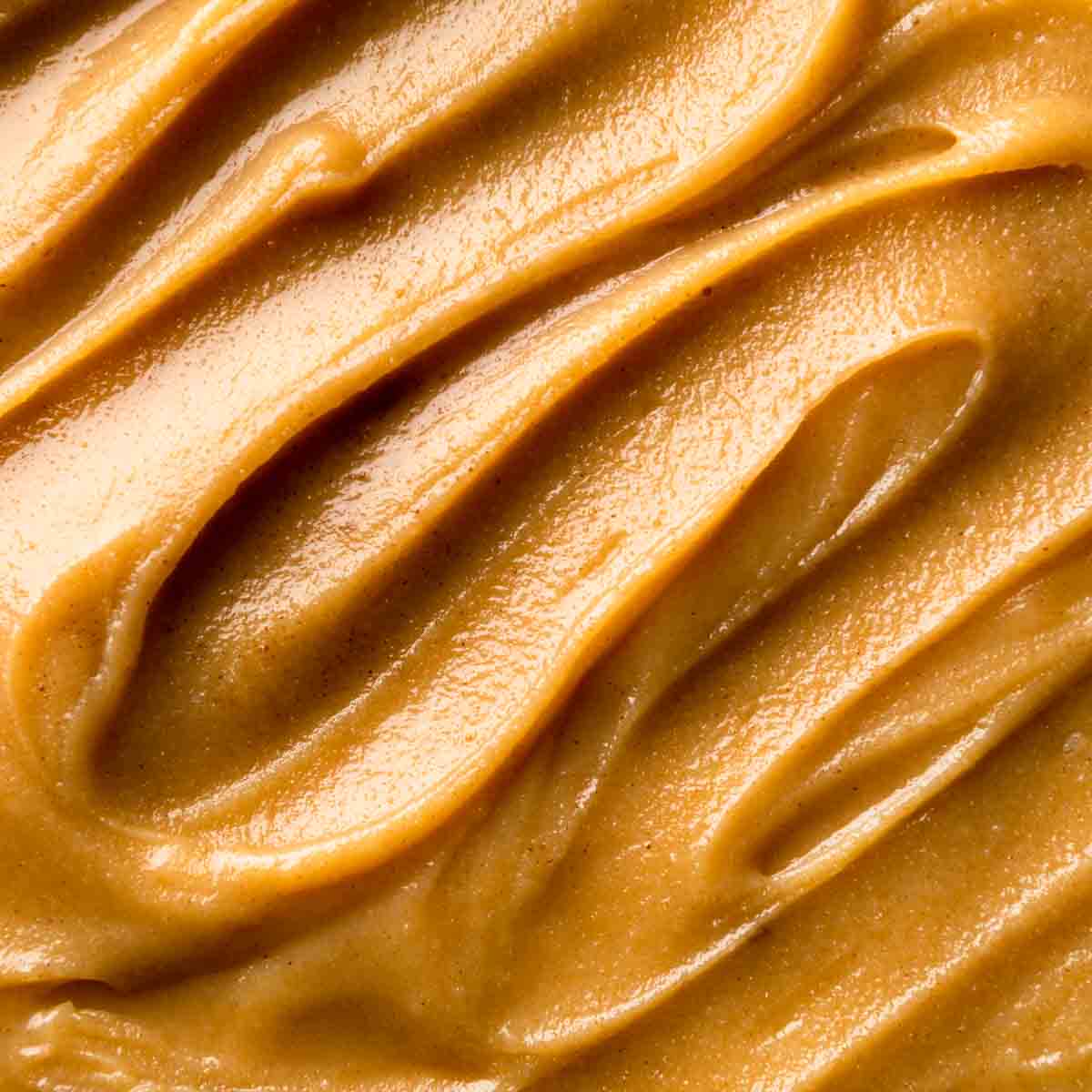 When I need to, I pop the warm brown butter in the fridge and stir it (every ten, or so minutes) until solid but not cold and hard. A longer amount of time on the counter top works just as well.
Mixing the Dough (& Trying Not To Eat it All)
This delicious cookie recipe is quick and easy to mix up. You can make this recipe in a stand mixer fitted with the paddle attachment, in a mixing bowl with an electric mixer or by hand with a wooden spoon and little elbow grease!
Start by adding softened brown butter and both sugars. On medium speed (or by hand) cream butter and sugar together until well combined.
Then add vanilla extract and the eggs, one at a time. Mix until combined and use a rubber spatula to scrape down the sides of the bowl as needed.
Next, add in your dry ingredients. Do not over mix! To avoid over-mixing in the stand mixer, I lightly pulse the mixer on and off of it's lowest speed about 10 - 15 times or until the flour mixture is almost completely mixed in.
To finish the dough, add in the dark chocolate pieces, pecans and toasted coconut. Mix them in with a few additional pulses or by hand until well distributed throughout the dough.
For another scrumptious coconut and chocolate cookie recipe, make our Billionaire Alfajores with Homemade Dulce de Leche & Toasted Coconut!
Portioning and Chilling The Dough
Here's the catch. Were you expecting a catch? This cookie dough needs to be chilled at least overnight or for up to 72 hours before baking. Technically speaking, could you bake this dough right away? Yes. However, allowing this dough to chill, rest and fully absorb the flour into the butter will create the PERFECT chewy texture. Trust me. It's worth the wait.
I recommend scooping (or weighing) the cookie dough right after mixing - when it is still soft. These cookies are best when you make them bakery-style BIG. When these Dark Chocolate Pecan Coconut cookies are nice and big, they bake off to have a slightly crisp golden edge, with gooey, chewy centers.
I use a #10 ice cream scoop to portion these cookies on a sheet tray. If portioning with a scale, these cookie dough balls should be about 3 and a half ounces, or nearly 100 grams. In this case, I promise, bigger is better.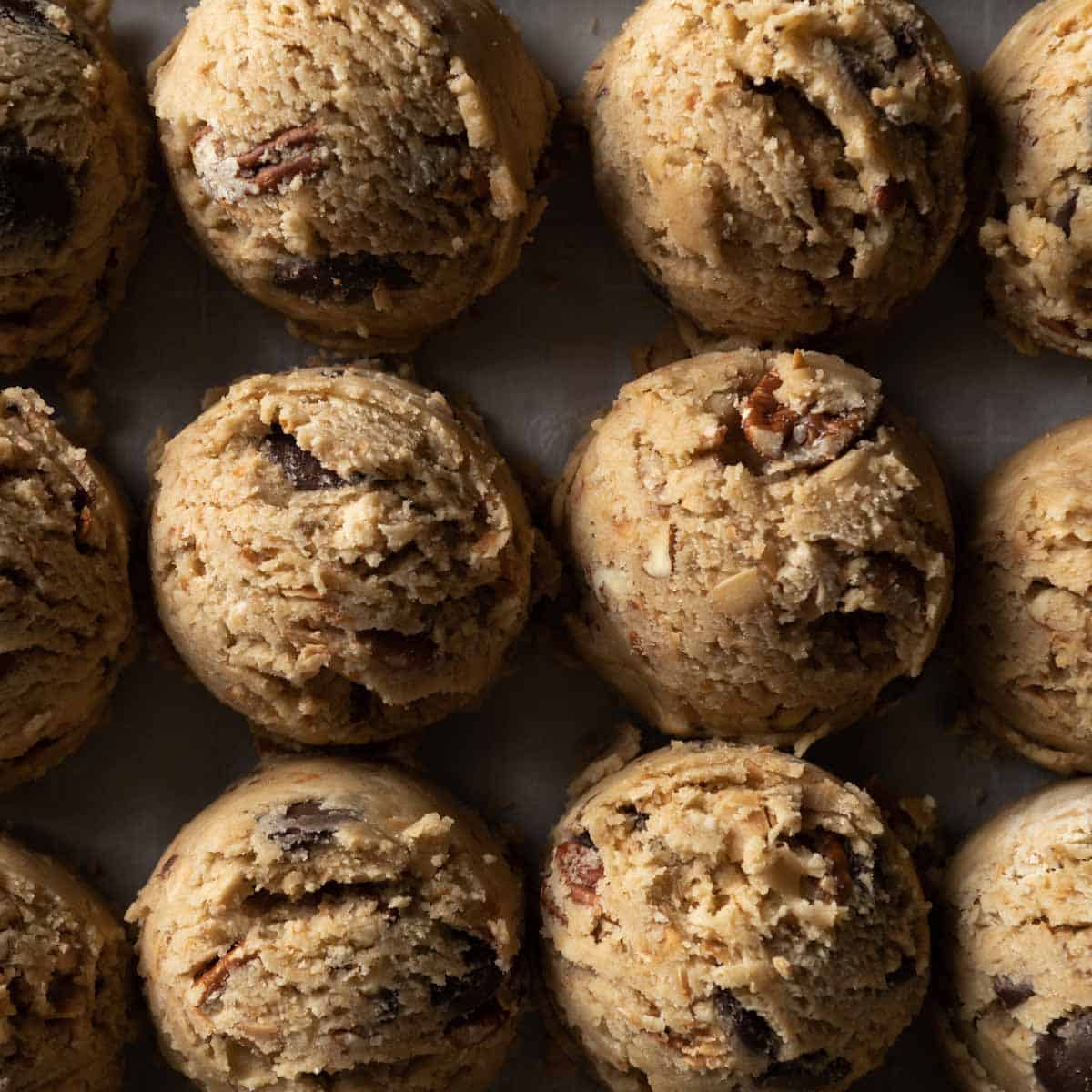 Baking Tips for Chewy Delicious Cookies
This recipe makes a damn good cookie! Follow this advice to ensure you make the best batch of Dark Chocolate Coconut Pecan cookies possible!
Use a kitchen scale! Baking recipes are like science and consistency is key. Cups and spoons can work, but scales are a baker's best friend. Scales can be purchased on Amazon for $10 - $15 USD.
Mix dough with room-temperature ingredients. Do not use hot, melted brown butter or cold eggs! Baking happens best when all ingredients are at room temperature. For a quick hack, place cold eggs in a bowl of warm water for a few minutes to remove their chill.
Do not over mix the dough! Over mixed cookie dough is tough and crumbly. Mix the dough until the flour is just combined and no longer visible in the dough.
Scoop dough when it's still soft! It is much easier to use a cookie scoop to portion the dough right after mixing. Don't wait until it's already cold!
REFRIGERATE THE SCOOPED DOUGH OVERNIGHT! Or up to 3 days! I don't mean to yell... and I know the wait is hard, but these cookies amazing texture is all thanks to your patience. It's something I learned when working as a pastry chef, and a rule I've learned to live by. Just trust.
Temper the cookies before baking. These cookie bake best when the dough has tempered. When the cookie dough is soft enough to flatten a bit with the palm of your hand, they're ready to bake.
Top with extra goodies. For a sweet treat with a pretty appearance, I like to reserve a few of the pecan halves and dark chocolate pieces. Before baking, I top each cookie with a few pieces. Every cookie deserves a toasty pecan half and a gooey pool of chocolate right on top!
Don't over bake! Remember, cookies continue to bake on the pan for a few minutes after you take them out of them oven. Take them out when the edges are barely golden and the center is still soft and undercooked. After a couple minutes, transfer cookies to a wire rack to finish cooling and stop cooking.
Bake in small batches! Remember, this is a BIG cookie. Four - six cookies is the maximum that will fit on a prepared baking sheet.
Sprinkle with flaky salt. A sprinkle of flaky sea salt over these finished cookies looks sophisticated and gives this recipe that addicting sweet and salty flare.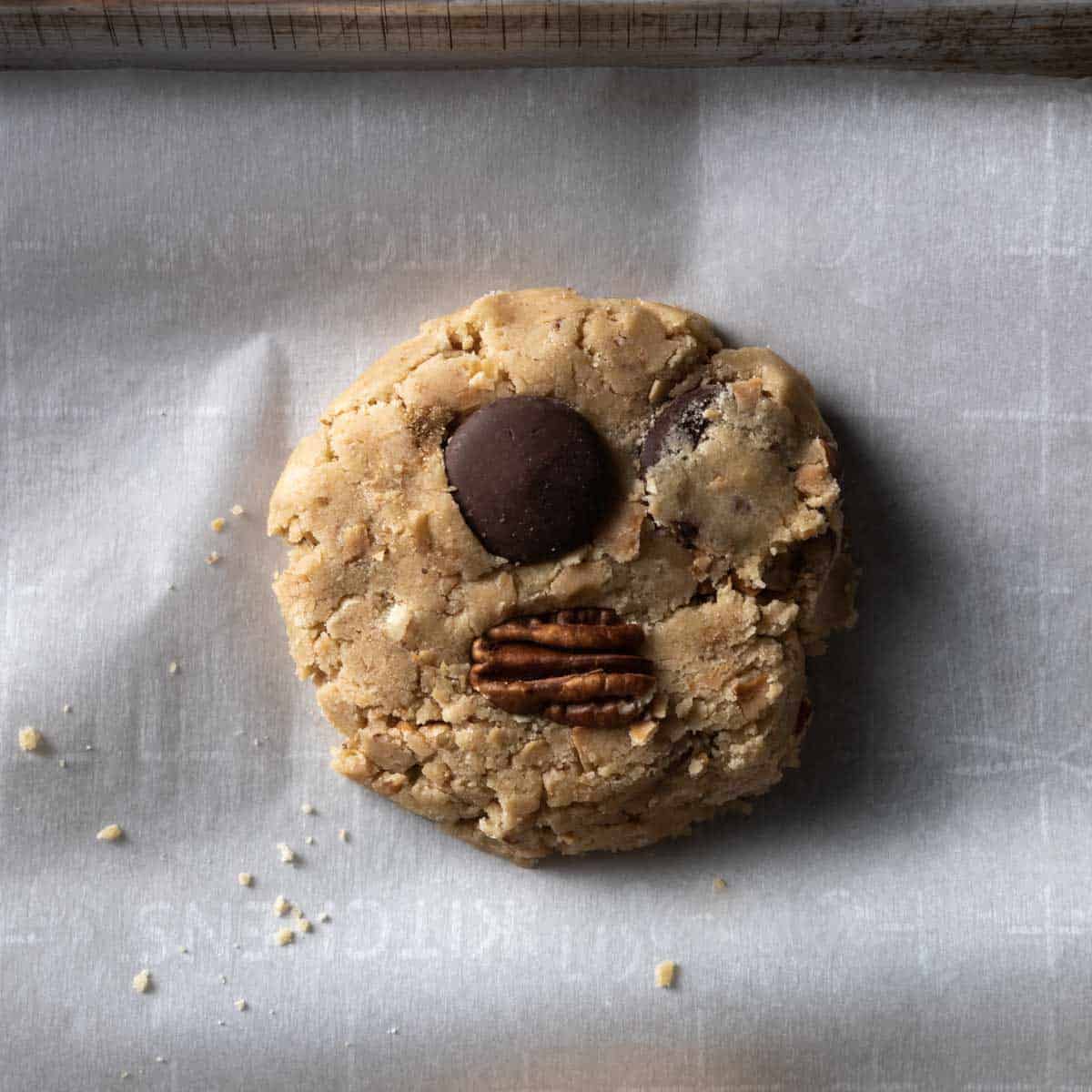 Freezing, Saving & Storing
Dark Chocolate, Pecan and Coconut cookies are perfect for making ahead of time and baking off whenever you need an indulgent gooey-centered pick-me-up! Here are our recommendations for storing:
Storing Cookie Dough
Refrigerator - Keep the scooped cookie dough in the refrigerator, covered tightly, for up to 3 days until ready to bake.
Freezer - This cookie dough can be frozen for up to 3 months! Slightly flatten each scoop of cookie dough, before chilling. Then, allow the cookie dough to chill in the refrigerator until firm. Transfer chilled scoops of cookie dough into a freezer safe bag or container and freeze. Cookies can be baked from frozen (with a longer baking time). However, we recommend thawing cookie dough first, in the fridge or counter top, for more even baking.
Storing Baked Cookies
Room Temperature - Baked cookies can be stored in an airtight container on the countertop for several days. (But they rarely last that long in our house!) We like to warm our cookies in the microwave for a few seconds before enjoying.
Freezer - You can also store the baked cookies, twice-wrapped in the freezer for up to one month. Thaw completely at room temperature.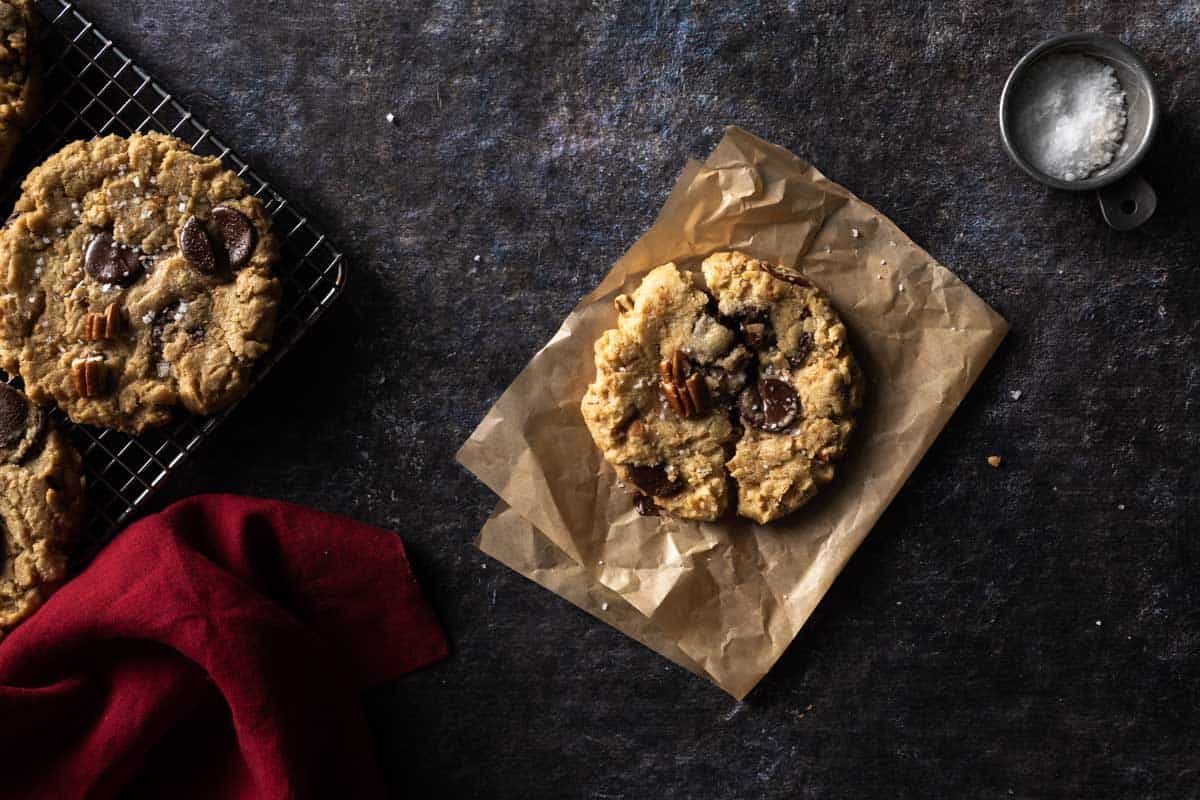 More Baking Recipes
For our entire collection of scratch baking recipes, check out our Sweets & Desserts page!
Recipe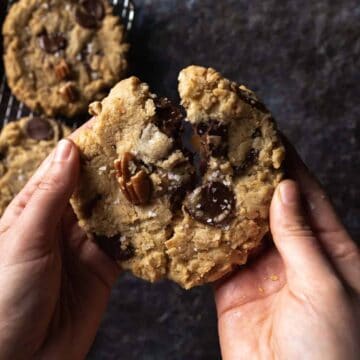 Chewy Dark Chocolate, Coconut & Pecan Cookies
These huge chewy cookies are made with brown butter, toasted coconut, pecans and big pools of melty dark chocolate! So yum!
ADJUST SERVINGS
Special Equipment
Stand Mixer with the Paddle Attachment (or Electric Mixer) Optional

#10 Cookie Scoop (6 Tablespoon + 1 teaspoon / 95 milliliter)
Ingredients
1 ½

Cups

unsalted brown butter

2½ sticks plus more, as needed: See Note: a.

1 ½

Cups

pecan halves and pieces

toasted

1 ½

Cups

unsweetened coconut flakes

toasted

3 ⅔

Cups

all-purpose flour

1 ¼

teaspoons

baking soda

1 ½

teaspoons

baking powder

1 ½

teaspoons

fine kosher salt*

1 ¼

Cups

light brown sugar

1 Cup plus 2

Tablespoons

granulated sugar

2

large

eggs

room-temperature

2

teaspoons

vanilla extract

1 ½

Cups

dark chocolate disks, feves or chopped chunks

1 - 2

Tablespoons

flaky sea salt

such as flour de sea or Malden, optional
Instructions
Gather, measure and prepare the Dark Chocolate, Coconut & Pecan Cookies ingredients as listed. For the most consistent results, we recommend using metric weight measurements whenever possible. To view metric measurements, toggle the US Customary/Metric switch at the top of this recipe card.

To Brown The Butter: Add sliced butter to a medium saucepan set over medium heat. Melt butter, stirring frequently until the frothy white milk solids toast to a golden brown and butter is nutty and aromatic. Immediately remove from heat and set aside until solidified at room temperature. (See Note: a.)

To Toast The Coconut & Pecans: Preheat oven to 350° Fahrenheit (65° celsius). Place unsweetened coconut flakes on the center baking sheet. Bake for 3 - 7 minutes or until coconut is golden brown along the edges. Set aside to cool. Then, place pecans on a baking sheet. Bake for 5 - 10 minutes or until lightly toasted and aromatic. Set aside to cool.

Cookie Dough: In medium mixing bowl, add flour, baking soda, baking powder and salt. Whisk to combine and set aside.

In the bowl of a stand mixer fitted with the paddle attachment (or large mixing bowl with electric mixer or wooden spoon) cream softened brown butter together with granulated sugar and brown sugar. While mixing, add eggs one at a time. Add vanilla extract.

Add flour mixture and pulse stand mixer on it's lowest speed 10 - 15 times (or mix by hand) until flour is about 90% incorporated. Add toasted coconut, toasted pecans and dark chocolate disks. (See Note: b.) Pulse (or mix) a few additional times until flour is fully incorporated and the mix-ins are well distributed.

Use a large #10 cookie scoop to portion dough onto sheet tray. Chill dough in the refrigerator overnight or for up to 72 hours before baking.

When ready to bake, arrange a rack in the center third of the oven and preheat to 350° Fahrenheit (180° celsius). Meanwhile, remove cookie dough from refrigerator to temper.

Arrange 4 - 6 cookies on a parchment lined baking sheet. (Remember, the cookies are large and will spread significantly.) Use the palm of your hand to slightly flatten the dough. If using, top each disk of cookie dough with a reserved dark chocolate disk and pecan half. Sprinkle with flaky sea salt, as desired.

Bake cookies for 18 - 22 minutes or until the edges are lightly golden and the center of the cookies are still slightly raw/underbaked. (This helps create a gooey, chewy center!) The cookies will continue to bake for a few minutes once the pan is removed from the oven. After 2 - 3 minutes, transfer cookies to a wire rack to finish cooling. Enjoy while warm.
Notes
a. Some moisture will evaporate from the butter when cooking. For this reason, you will need 2 - 3 extra Tablespoons extra of butter. We recommend scaling the butter after browning to compensate for the loss. For more detailed instruction, see the How To Make Brown Butter text in the post above. 
b. We like to reserve a few some of the chocolate and pecans to top the cookies with before baking. If you would like, reserve a small amount of each to be added in Step 9. We do not recommend topping cookies with additional coconut, as it is likely to burn. 
foodworthfeed recipes are developed using Diamond brand kosher salt. If using iodized or table salt, reduce quantities by about half. 
* A Note About Salt
Unless otherwise noted, all recipes on The Sage Apron are developed using Diamond Crystal Kosher salt. It is a great all-purpose salt for cooking and baking. If using table salt, reduce quantities by about half.
Nutrition
Calories:
667
kcal
|
Carbohydrates:
55
g
|
Protein:
7
g
|
Fat:
48
g
|
Saturated Fat:
29
g
|
Polyunsaturated Fat:
4
g
|
Monounsaturated Fat:
12
g
|
Trans Fat:
1
g
|
Cholesterol:
101
mg
|
Sodium:
641
mg
|
Potassium:
267
mg
|
Fiber:
4
g
|
Sugar:
26
g
|
Vitamin A:
940
IU
|
Vitamin C:
1
mg
|
Calcium:
115
mg
|
Iron:
2
mg