This homemade recipe for peanut butter filled pretzel nuggets makes for the best snack! We have always loved the store-bought version but making these soft pretzels from scratch is SO much better!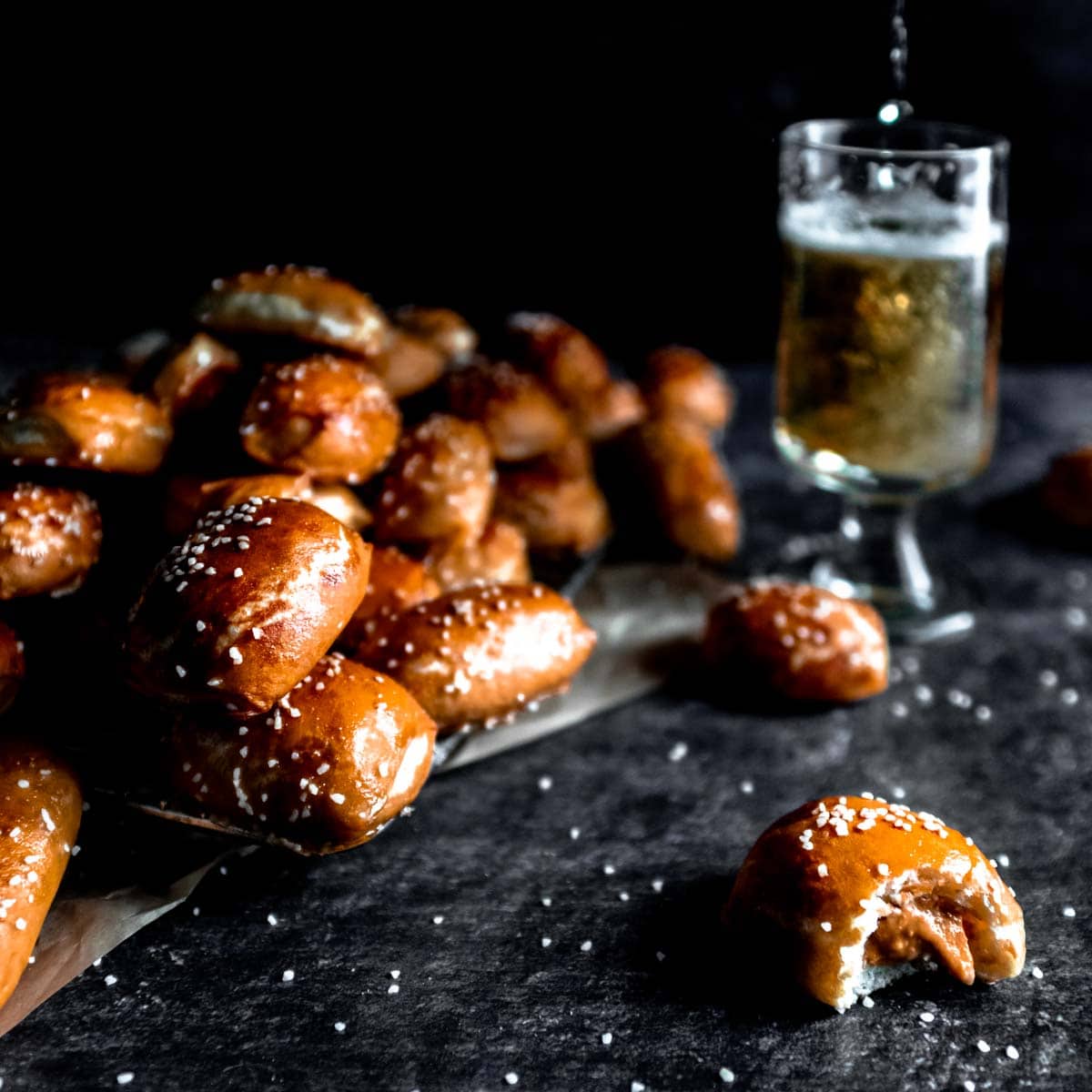 We are using a simple, mall-style soft pretzel recipe and fresh-ground peanut butter for a delicious, salty snack food. Now, you may be wondering how to fill pretzels with peanut butter... We've got you covered! Check out our videos below for a virtual demonstration showing you step-by-step exactly how it's done!
For another fabulous pretzel peanut butter recipe, try our Chocolate Peanut Butter Pretzel Pie!
Jump to:
How Do You Make Soft Pretzel Dough From Scratch?
Making soft pretzel dough is surprisingly easy to do! This pretzel dough recipe can be made in a stand mixer fitted with the dough hook attachment in about 7 - 10 minutes. You are also welcome to knead the dough by hand - it is easy to work with.
Either way, start the process by blooming (hydrating) active dry yeast in a bit of warm milk and brown sugar. Once frothy, add the yeasty milk to the mixing bowl with melted butter, all-purpose flour, salt and a little beer. Combine the ingredients to form a dough and knead until dough is smooth and elastic.
Once your dough is formed, the dough will need to proof (rise) until it has doubled in size, about 40 minutes. Cover the dough in a greased bowl with plastic wrap or a damp cloth and set aside. Once doubled, it is time to roll the dough and fill with peanut butter!
Why Add Beer to Pretzel Dough?
Beer is a wonderful ingredient to enhance the flavor of pretzel dough. While some recipes require overnight refrigeration to develop flavors, we found that adding a little beer to the dough lends a similar malty flavor. Aside from the more developed flavor, beer's natural yeasts aid in accelerating the proofing (rising) process.
The best beers to use in this recipe are German lager styles or Belgian wheat-based beers. Styles including Pilsners, Kölsch and Witbiers will result in milder, yeasty flavored doughs. For slightly darker, more malty pretzel dough, try a Bock, Dunkel or Märzen (AKA Oktoberfest) style beer. If you would prefer to avoid beer altogether, you can substitute an equal amount of whole milk in place of the beer.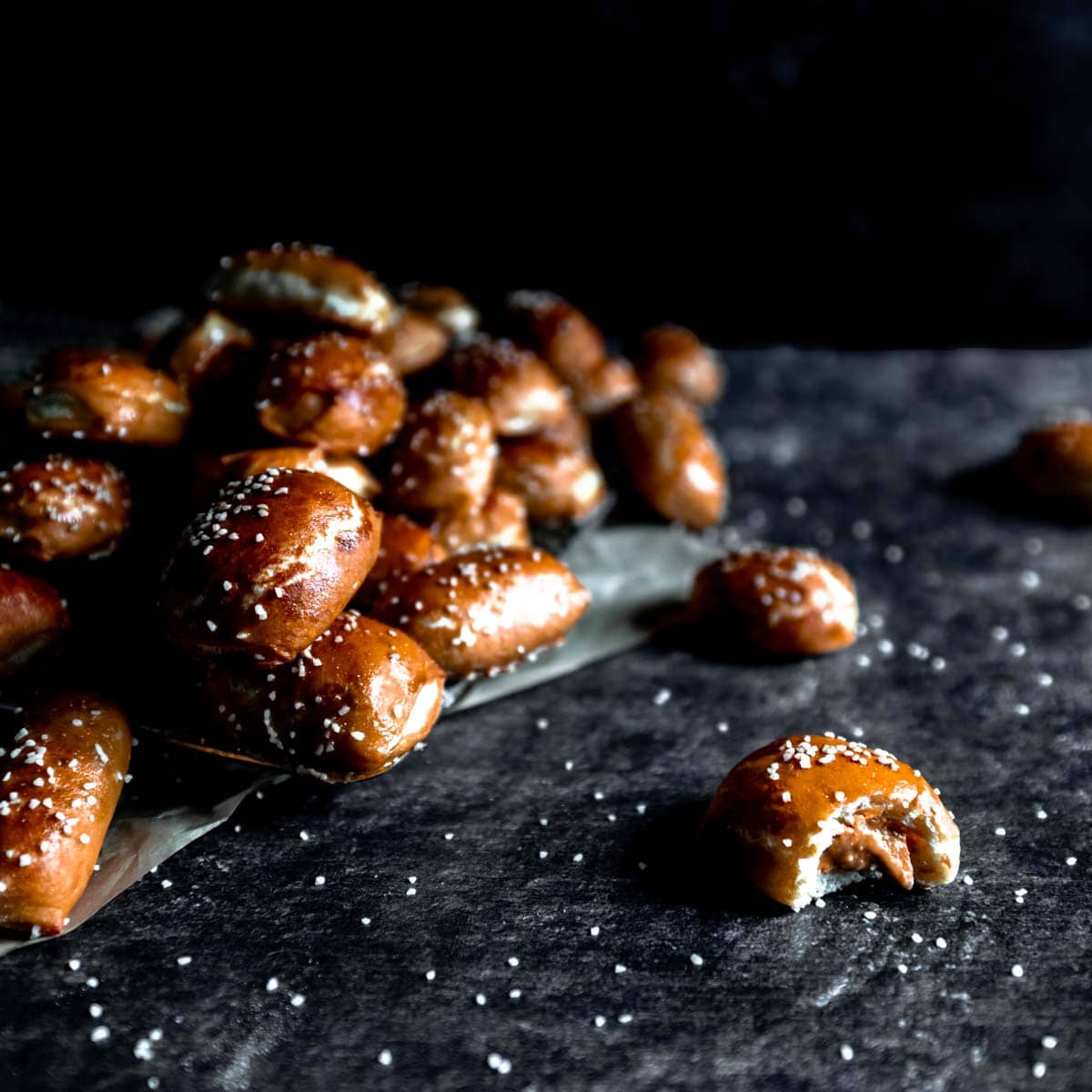 How to Fill Pretzels with Peanut Butter
So, HOW do you get the peanut butter into the pretzel!? This is the BIG question, right? Well, question no more! Filling your pretzel nuggets with peanut butter is actually pretty easy! Check out our quick, how-to video to watch how it's done!
Rolling and Shaping the Pretzel Nuggets
Once the dough has proofed, it is ready to be punched down and rolled. Punching down the dough expels any trapped air from the first rise and results in pretzels with a tightly-knit, springy crumb structure. (As opposed to, say, sourdough that is not punched down and has large, irregular holes.) Roll the dough into a large rectangle, about ¼ inch thick. Keep the dough's thickness as even as possible. If it begins to spring-back, or resists rolling, allow the dough to rest (covered with a damp kitchen towel) for 5 - 10 minutes.
Cut long strips of the dough, about two inches wide. Then, pipe small, one inch or so, segments of the chilled peanut butter down the center of the strip of dough.
Using your thumb and pincer finger, seal the dough around each segment of peanut butter to create individual pockets. Start by pinching the dough closed between each nugget.
Then, carefully, seal the dough along the top, creating a long seam that fully encloses the peanut butter.
On a floured work surface, roll the strip of still-attached nuggets until the sealed seam is on the bottom.
Use your fingers to press between each nugget and shape into little rectangles. Tightly seal the dough around each pocket of peanut butter.
Finally, cut each segment into individual nuggets. Set nuggets aside on a floured work surface or parchment-lined baking sheet until ready to boil.
Choosing the Best Peanut Butter
We tested this recipe with several brands of peanut butter. Ultimately, we chose to use a natural, fresh-ground peanut butter for the most-superb tasting nuggets. The natural peanut butters tend to be looser and have more fresh peanut oils. This added moisture helps the peanut butter from becoming overly dry in the oven. So, natural peanut butter is our best recommendation. If your local grocery store has an option to grind your own fresh peanut butter - even better!
That being said, we weren't too disappointed with the better-known peanut butter brands, either. Those big-brand peanut butters chilled firmer, making them easier to work with. However, they did bake to be drier than the natural peanut butter nuggets. If you would like, we found adding a couple tablespoons of honey to the commercially-processed peanut butter helped to keep it a little softer, albeit sweeter, during the bake.
Secrets to Success: Tips for Filling Pretzels with Peanut Butter
Keep the peanut butter cold! Cold peanut butter will hold it's shape and be less sticky than room-temperature peanut butter. Keep the peanut butter in the fridge or freezer until your dough is rolled and ready. If the peanut butter gets too warm during the shaping process, pop it back in the freezer while shaping each row.
Seal tightly! Make sure to pinch the dough snugly around each section of peanut butter. Loose ends will leak peanut butter during the bake!
Work quickly! Your pretzel dough will continue to proof and soften as you are shaping your nuggets. To avoid over-proofing, shape your nuggets as quickly as possible. If needed, you can refrigerate the rolled dough (to slow the rising) and shape one section at a time.
Flour your hands and work surface! The pretzel dough is rather soft, slightly tacky and has the potential to stick to your hands and work surface. Lightly flour your work surface and hands BUT be careful not to flour the top-surface of the dough. You will need the top of the dough to remain tacky so it seals easily around the peanut butter.
Do not overfill your nuggets! We get it! You want those nuggets STUFFED with peanut butter. We do too. Just be cautious that you have enough dough to seal smoothly around the peanut butter. If peanut butter gets in your seal, it will likely leak out during the boil or bake.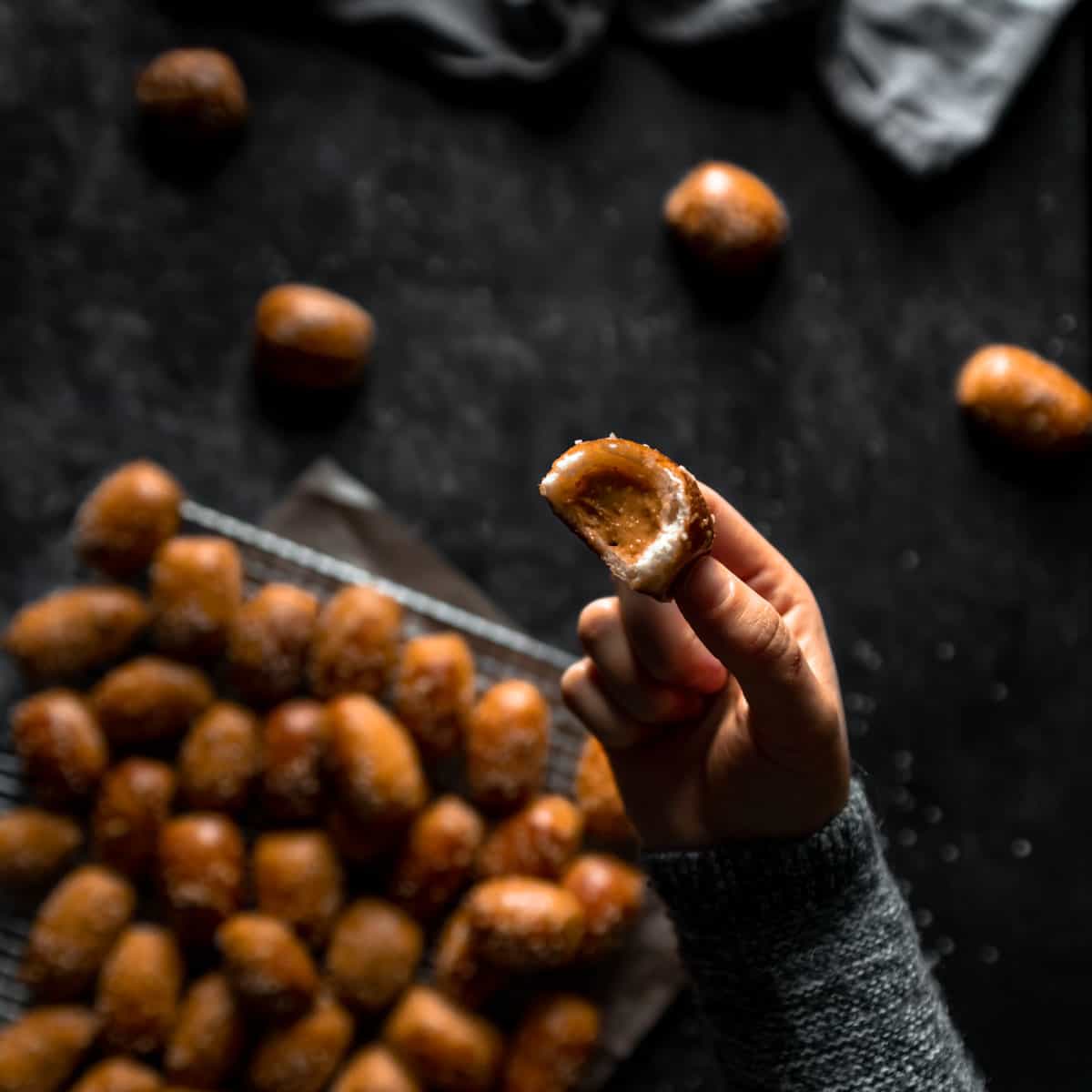 Why do you Boil Pretzels?
Boiling the shaped pretzel nuggets is ESSENTIAL to that characteristic chew, mahogany coloring and shiny exterior. These Peanut Butter Filled Pretzel Nuggets don't have to boil for long - about 15 seconds will do.
When you boil the pretzel dough in the baking soda solution, the outer exterior of the dough gelatinizes. The gelatinized dough is more easily browned by the Maillard reaction (hello, chemistry class!), and allows a deep color without over-baking or hardening the dough. The boiling process is also responsible for the classic chewy texture that separates the great breads from the great pretzels.
Baking Soda Water Bath? Lye? But, Why?
The distinct flavor and texture of soft baked pretzels is due to the addition of alkali on the doughs surface. Now, this may sound super scientific, but, truth is, you've probably got some alkali in your pantry at this very moment. In fact, our most common household alkali - sodium bicarbonate (also known as baking soda), finds it's way into plenty of baked goods.
This is a little different though. Pretzels are made with yeast and do not require baking soda for leavening. Instead, the alkali used for pretzel making is mainly for dark coloring, alkali flavor and that shiny, chewy, almost-crunchy crust. Adding baking soda to water alters the pH making it alkaline. Adding the dough to this alkaline solution causes a chemical reaction that effects the way the dough bakes. Aside from becoming darker, the pretzels develop a smooth, shiny skin. We can thank a similar alkaline reaction for making ramen noodles so slurp-able and dish soap so slippery. Cool, huh?
Food-grade lye is the most powerful alkaline solution you can cook with, but it does have it's disadvantages. For one, it's difficult to find and must (usually) be purchased online. For two, the lye requires safety gloves, long clothing, and goggles. It can burn your skin. The results of lye-dipped pretzels are superior, but often, not worth the hassle. Instead, we bake baking soda to concentrate the alkaline properties and provide similar results.
How to Boil Pretzels in Baking Soda Solution
Preheat the oven to 250° Fahrenheit (121° celsius).
On a parchment-lined baking sheet, bake 58 grams (¼ cup) of baking soda for one hour. The baking soda will maintain it's volume but weigh less (due to evaporation) after baking. Be careful not to handle the baked baking soda directly - it can irritate your skin.
Keep the baking soda in an airtight container until ready to use. This process can be done in larger batches and kept in your pantry for several months.
Once ready to use, bring water to a rolling boil over high heat. Carefully, add the baked baking soda to the water to create an alkaline solution.
Boil pretzels in the solution for 15 - 20 seconds before transferring to the baking sheet.
Once cooled, carefully dispose of the alkaline solution by pouring it down your kitchen drain.
Technically speaking, you can skip this baking process. It does require a little extra time. Nevertheless, we'd recommend you give it a try. It's minimal effort and the results are fantastic.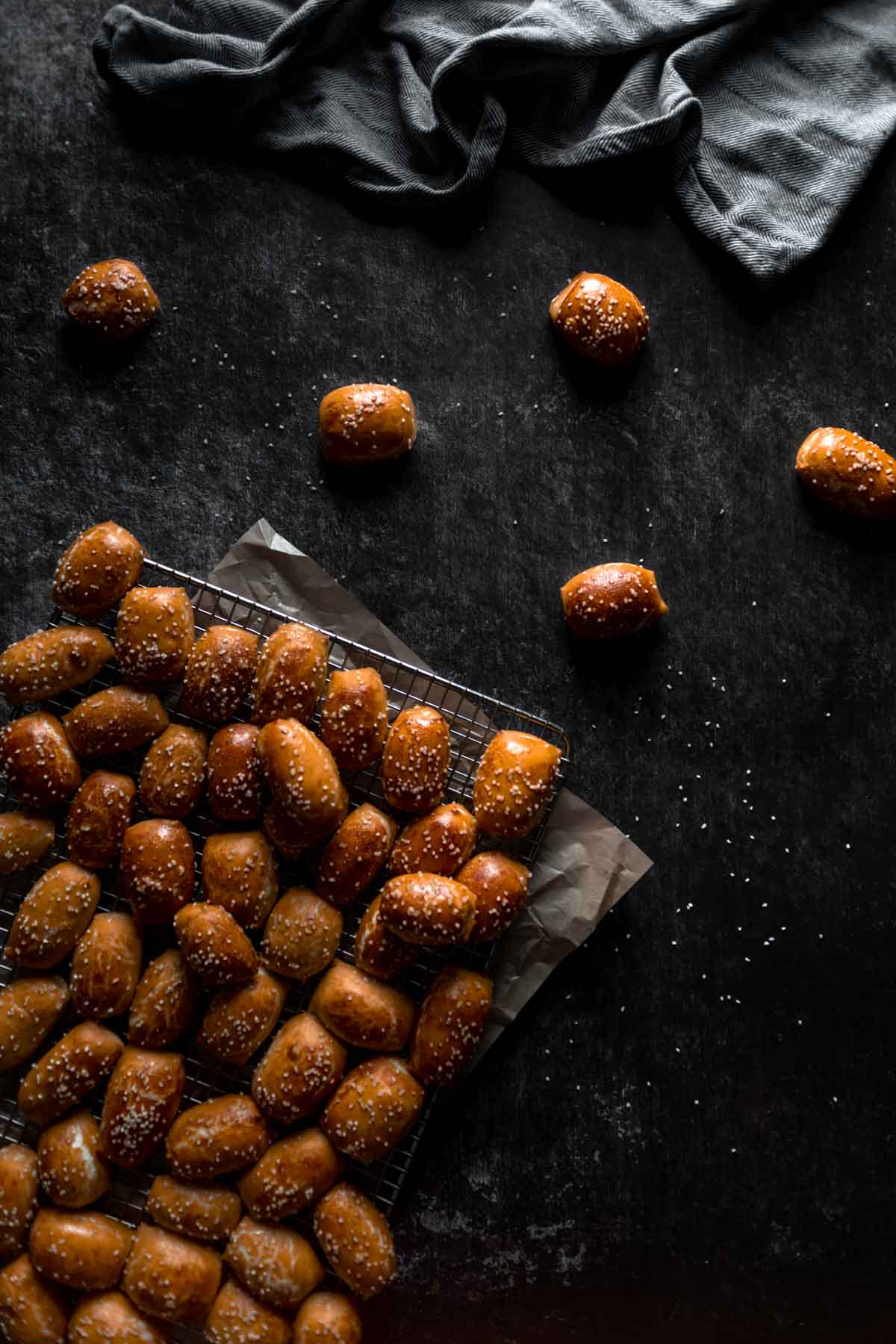 What is Pretzel Salt?
Pretzel salt is a form of large-crystal rock salt. We splurged and bought some online to give our Peanut Butter Filled Pretzel Nuggets that iconic food-court-flare. That being said, you could substitute other salt (or cinnamon sugar!), just the same. Larger grains of salt tend to work best for soft pretzels. Coarse Kosher, sea salt of Fleur de Sel would all work well. Personally, we love the flaky crackle of Maldon Sea Salt for a prettier, gourmet look. (Not a sponsor, just good salt).
More Recipes You May Like...
Recipe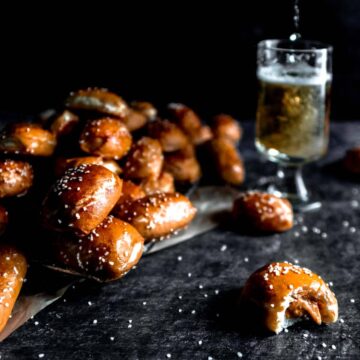 The Best Peanut Butter Filled Pretzel Nuggets
Homemade peanut butter filled pretzel nuggets are the best snack! Soft pretzel dough is filled with peanut butter, boiled in alkaline solution and baked to salty-bronzed perfection! Grab a cold beer or tall glass of milk and enjoy!
ADJUST SERVINGS
Special Equipment
Stand Mixer with Dough Hook Attachment (Optional)

Pastry Wheel, Pizza Cutter or Sharp Knife

Pastry Brush

Piping Bag (or Large Ziplock-style bag with a corner cut off, See Note: b.)

Spider Utensil (or Large Slotted Spoon)
Ingredients
Pretzel Dough & Peanut Butter Filling
1

Cup

whole milk

1

Tablespoon

light brown sugar

2 ¼

teaspoons

active dry yeast

2 ¼ teaspoons is equivlent to 1 package

¼

Cup

unsalted butter

melted and cooled, plus more to grease a mixing bowl

½

Cup

lager or wheat beer or additional whole milk, (See Why Add Beer to Pretzel Dough? text, above)

4⅓

Cups

all-purpose flour

plus more to prevent sticking, as needed

2

teaspoons

fine kosher salt*

1

Cup

peanut butter

chilled in piping or ziplock-style bag, *fresh ground peanut butter is preferred (See Notes: a. & b.)
Alkaline Solution
¼

Cup

baking soda baked for one hour (See How to Boil Pretzels in Baking Soda Solution text above)

2 ½

quarts

water
Finishing the Pretzel Nuggets
Egg Wash: 1 egg yolk plus 2 teaspoons of water

lightly beaten, to egg wash nuggets

2

Tablespoons

pretzel salt or other coarse salt

optional
Instructions
Pretzel Dough
Gather, measure and prepare the ingredients as listed. For the most consistent results, we recommend using metric weight measurements whenever possible. To view metric measurements, toggle the US Customary/Metric switch at the top of this recipe card.

Mixing the Dough: Combine the whole milk and light brown sugar and warm to approximately 105° Fahrenheit (40° celsius). This can be done in the microwave for about 45 seconds or on the stovetop. Stir in yeast to bloom (hydrate) and set aside for 5 minutes until frothy.

In the bowl of a stand mixer fitted with the dough hook attachment, or a medium mixing bowl, add the milk, sugar and yeast mixture. Then, add the butter, beer, all-purpose flour and salt. Stir or mix on low speed for one minute or until a shaggy dough is formed. 

Increase the speed of the stand mixer to medium, or knead by hand. Knead for 4 - 6 minutes until dough is smooth and elastic. Meanwhile, use some additional butter to grease a medium mixing bowl.

Turn the dough onto a lightly floured work surface and knead once or twice to shape into a round. Transfer the dough into the greased mixing bowl and cover with a damp kitchen towel, or plastic wrap. Allow dough to proof (rise), covered, in a warm place for about 40 minutes, or until doubled in size.

Preheat the Oven: Arrange two racks in the center third of the oven. Preheat the oven to 425° Fahrenheit (218° celsius)

Shaping the Nuggets: On a lightly floured work surface, turn out your proofed dough and punch down to deflate. Roll dough into a large rectangle, about ¼ inch (6 millimeters) thick. 

Using a pastry wheel, pizza cutter or sharp knife, cut strips of dough about 2 inches (5 centimeters) wide.

Pipe 1 inch (2 ½ centimeter) lines of chilled peanut butter down the center of the strip of dough. Be sure to leave space to be able to seal the dough around each segment of peanut butter. 

Seal the dough around the peanut butter and cut into nuggets. (See How to Fill Pretzel Nuggets with Peanut Butter text, images and How-To video, for technique clarification). Repeat process with the remainder of the dough.
Alkaline Solution
Meanwhile, prepare your alkaline solution (baking soda water bath). Bring water to a rolling boil over high-heat. 

Once boiling, add your baked baking soda to create your alkaline solution. (See Note: c.) Maintain the solution at a rolling boil.

In small batches, about 8 - 10 at a time, carefully drop your pretzel nuggets into the alkaline solution. Boil nuggets for 15 - 20 seconds.

Using a kitchen spider utensil or slotted spoon, remove the pretzel nuggets from the solution. Allow any extra water to drip off the pretzels before transferring them to a parchment-lined baking sheet. As soon as you are able to handle the pretzel nuggets, arrange them on the baking sheet, seam side down. Do not allow the boiled dough to stay in contact for too long, they will begin to stick together as they cool and dry.

Continue this process until all pretzels have been boiled in alkaline solution. 
Finishing the Pretzel Nuggets
Before baking, brush each pretzel nugget with egg wash.

Sprinkle pretzels with pretzel salt, as desired.

Bake Peanut Butter Filled Pretzel Nuggets for 12 - 16 minutes, rotating the pan about halfway through baking. These Pretzel Nuggets are done when they are deeply browned and puffy. 

Allow Peanut Butter Filled Pretzel Nuggets to cool for 5 minutes before transferring to a cooling rack. Once cooled, enjoy! Leftover pretzel bites (as if!) can be frozen for up to two weeks. 
Notes
a. We recommend using natural or fresh-ground peanut butter for the best results, in this recipe. However, if you would like to use your favorite brand of peanut butter, feel free! We suggest adding 2 tablespoons of honey to big-brand peanut butters to help maintain a softer texture while baking. 
b. We recommend piping the peanut butter onto the dough for this recipe. If you do not have a piping bag, you can use a ziplock style bag with the corner cut off. In the video above, we used a #805 pastry tip for the peanut butter. You can chill the peanut butter directly in the piping bag while you prepare the dough, or overnight. 
c. Baking your baking soda prior to making the solution will result in more desirable pretzel texture and color. See How to Boil Pretzels in Baking Soda Solution text above
* A Note About Salt
Unless otherwise noted, all recipes on The Sage Apron are developed using Diamond Crystal Kosher salt. It is a great all-purpose salt for cooking and baking. If using table salt, reduce quantities by about half.
Nutrition
Calories:
725
kcal
|
Carbohydrates:
85
g
|
Protein:
25
g
|
Fat:
33
g
|
Saturated Fat:
11
g
|
Polyunsaturated Fat:
7
g
|
Monounsaturated Fat:
13
g
|
Trans Fat:
1
g
|
Cholesterol:
52
mg
|
Sodium:
4787
mg
|
Potassium:
499
mg
|
Fiber:
6
g
|
Sugar:
8
g
|
Vitamin A:
344
IU
|
Vitamin C:
1
mg
|
Calcium:
102
mg
|
Iron:
5
mg