The classic margarita cocktail has been given a fresh, vibrant green glow-up with the addition of matcha powder and a matcha salted rim! This Matcha Margarita recipe is a delicious, herbaceous twist that is easy to make and easier to drink!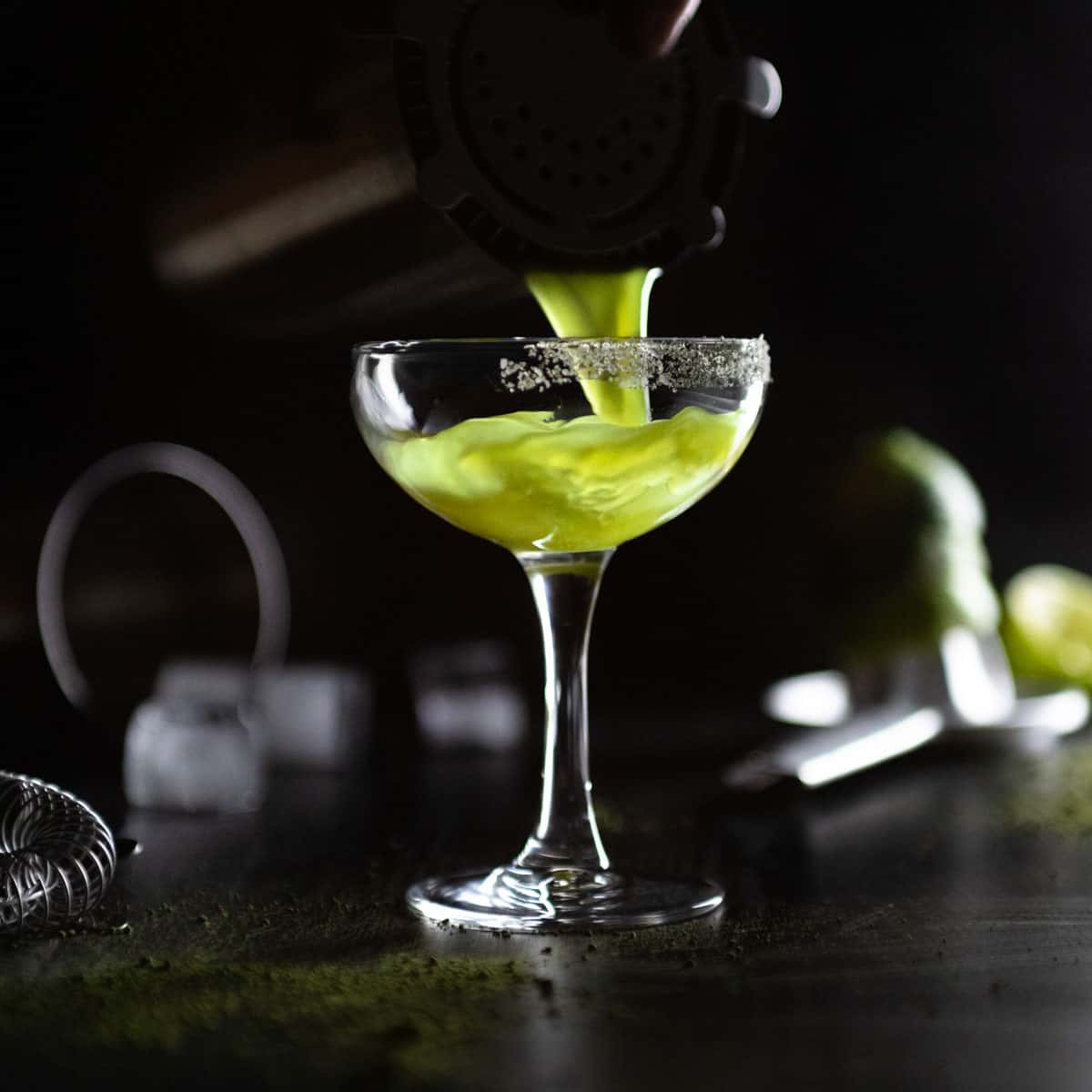 Matcha is the fine, powder of ground green tea leaves hailing from East Asia. Matcha powder is best known for it's nutrient-rich, energizing and even weight-loss properties. And, hey, we're no experts but that sounds like the perfect companion for fresh-squeezed lime and Tequila. It's all about the balance, baby. Pair that practically healthy green tea cocktail with a matcha salted rim and you might as well be a mixologist. Swanky soiree at your place, any night of the week.
For another tasty green drink, try our Cucumber Mojitos!
Jump to:
Matcha Talking about? What is Matcha?
The secret weapon in this refreshing green tea margarita is the magnificent matcha! Matcha is a fine tea powder made from dried green tea leaves. The amazing vibrant color comes from the high chlorophyll levels in the leaves. The young tea bushes are shaded from the light, producing more chlorophyll and amino acids.
As a result, matcha is a tea that is grassy, lightly bitter and subtly sweet. Unlike the more typical infused teas, matcha is ground to a powder so you can consume the entire leaf when you drink. This leads to even extra added health benefits.
Matcha Salted Rim
This Matcha Margarita cocktail is all about that powerful green tea flavor! To really send it home, we've added a bit of matcha powder to our salted rim. Simply combine matcha powder and kosher salt for a beautifully green, full-flavor kick that looks as good as it tastes!
To salt the rim, wet the edge of your glass with a fresh cut lime wedge. Then, dip the glass edge into the Matcha Salt before shaking the cocktails. We like to salt just half of our glasses, keeping the rest of the rim clean and salt-free. Half-salted glasses not only look elegant but they give us and our guests a choice to indulge in just as much salt as they'd like.
This recipe makes a good amount of Matcha Salt, enough to modestly salt the rims of about twelve glasses. With just two ingredients, you can easily adjust the quantities to best suit your own taste.
Feeling Fine with Tequila and Lime
Choosing the Perfect Tequila for Margaritas
Tequila is the worldwide admired distillate hailing from Mexico's blue agave plant. While you may best (or worst?) remember this spirit alongside a shriveled lime wedge at your college bar - Tequila is a finely nuanced craft spirit with hundreds of years of history.
Needless to say, not all Tequilas are created equal. We recommend investing in a quality made Tequila from a reputable producer. Leave the economically-priced plastic handles in your dormitory - you will thank us in the morning.
For this Matcha Margarita recipe (and most margaritas), we recommend using a Silver (blanco), or un-aged, Tequila. These crystal clear Tequilas share grassy, herbaceous notes that pair beautifully with matcha's earthy flavor. You should save your copper-colored, oak-aged Reposado (rested) and Añejo (aged) Tequilas for a special after-dinner sipper.
Matcha Margs in the Limelight
For the best-tasting, fancy bar quality margaritas - fresh-squeezed lime is a MUST! There is simply no comparison for the lip-puckering tartness of fresh lime juice. Pre-squeezed limes and sour mixes are often laden with chemical preservatives and tons of sugar.
We promise, once you start squeezing fresh you will never want to go back to the jug mix again. The average lime yields about one ounce (or thirty milliliters) of juice, enough to make one Matcha Margarita.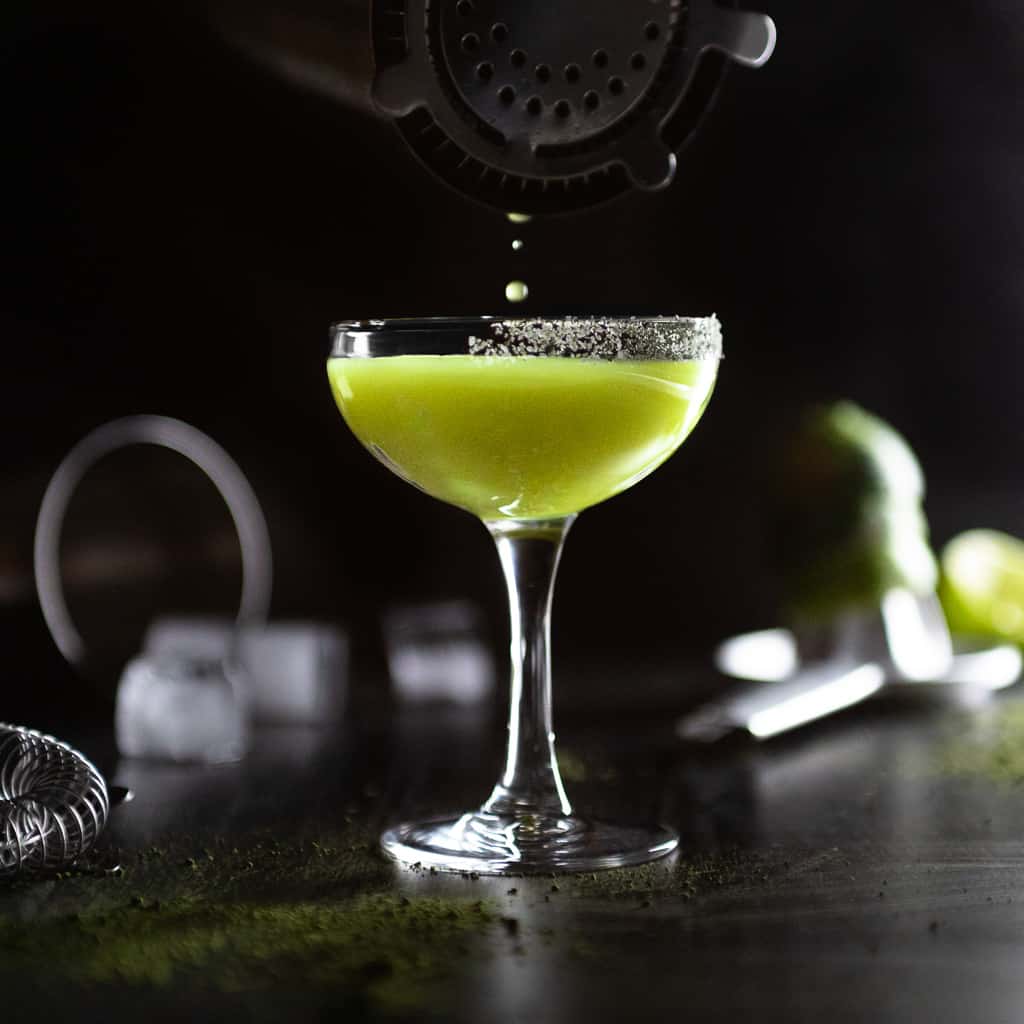 Blender Simple Syrup? Why We Skipped the Stovetop
You are probably already familiar with simple syrup: a quick combination of sugar and water. Basic simple syrup is used in countless cocktails and confections. Simple syrup can sweeten your tea, moisten your cakes, balance your cocktails and takes on any flavors you chose to infuse.
Usually, we make simple syrup on the stove top but for this Matcha Simple Syrup, we have opted for the blender instead. Using room-temperature water, sugar powder and matcha powder will ensure that your matcha maintains it's fresh, vegetal flavor without over-steeping or becoming unpleasantly bitter. Furthermore, stovetop matcha syrup easily clumps and can leave green sludge at the bottom of your glass. No thank you!
To make this syrup, simply load all the Matcha Simple Syrup ingredients into a blender. Then, blend on high speed until fully emulsified and foamy. That's it! This syrup will add tons of bright green hues and invigorating green tea flavor to your Matcha Margaritas! Cheers to that!
Storing Your Extra Matcha Syrup
This Matcha Simple Syrup recipe will yield enough for about twelve drinks - perfect for your next dinner party. If you will be shaking just one or two of these green tea cocktails, good on ya! This syrup will hold in the refrigerator for up to one month.
Furthermore, you could also experiment with trying this syrup with other beverages such as flavoring for a quick vodka soda or as the sweetener in your homemade lemonade!
More Margarita Recipes (& a Smoky Paloma!)
For a strong stirred mezcal cocktail, try our Negroni Fumo Bianco (White Negroni with Mezcal) recipe, too!
Recipe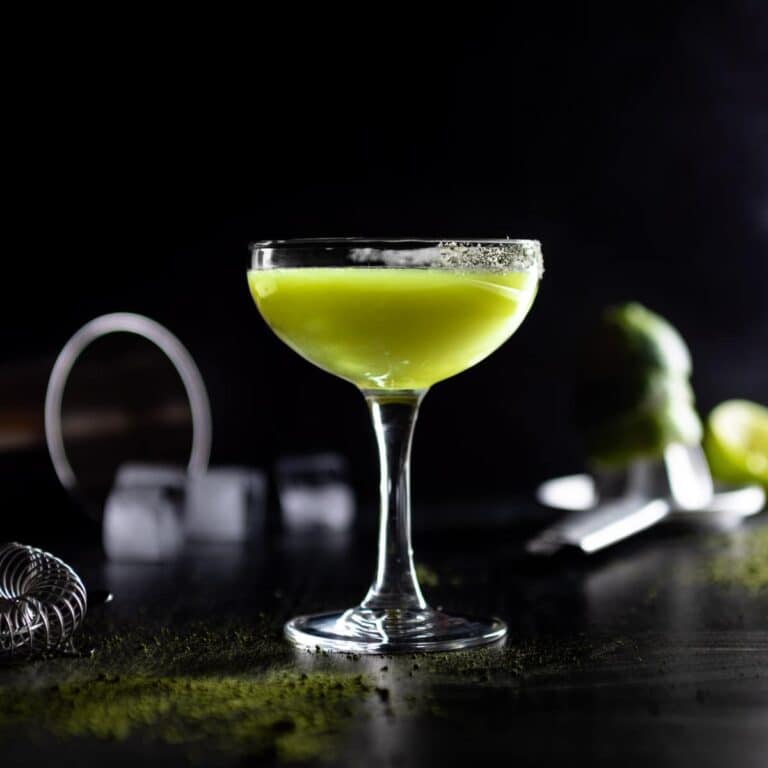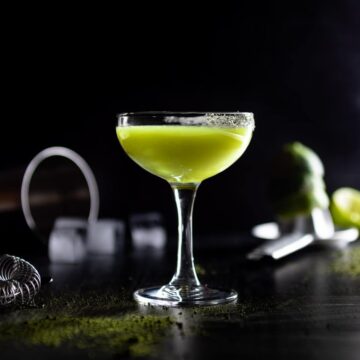 Matcha Margarita with a Matcha Salted Rim
The classic margarita cocktail has been given a fresh, vibrant green tea glow-up with the addition of matcha powder and a matcha-salted rim!
ADJUST SERVINGS
Special Equipment
Cocktail Shaker

Hawthorne Cocktail Strainer
Ingredients
Matcha Salt (Enough for 12 Cocktails)
1

Tablespoon

fine kosher salt*

¼

teaspoon

matcha powder
Matcha Simple Syrup (Enough for 12 Cocktails)
½

Cup

filtered water

room-remperature

½

Cup

granulated sugar

1

Tablespoon

matcha powder
Matcha Margarita (1 Cocktail)
Lime wedges

as needed for salting glasses

Partial

recipe

Matcha Salt

as desired

2

ounces

silver Tequila high-quality preferred (See Choosing the Perfect Tequila for Margaritas Text Above)

1

ounce

lime juice

fresh-squeezed

½

ounce

dry Curaçao or Triple Sec

(See Note: a)

½

ounce

Matcha Simple Syrup
Ice

as needed for shaking and serving
Instructions
Matcha Salt
Gather, measure and prepare the Matcha Salt ingredients as listed. To view metric measurements, toggle the US Customary/Metric switch at the top of this recipe card.

Combine kosher salt and matcha powder in a shallow dish or side plate. Set aside until you are ready to salt your glassware.
Matcha Simple Syrup
Gather, measure and prepare the Matcha Simple Syrup ingredients as listed.

Combine water, granulated sugar and matcha powder in a blender. Blend on high speed until emulsified and foamy, about one minute. Matcha Syrup is ready to be used, extrasyrup can be stored in an airtight container in the refrigereator for up to one month.
Matcha Salted Margarita
Gather, measure and prepare the Matcha Salted Margarita ingredients as listed.

Using a lime wedge to wet your glass's rim, salt the rim of your cocktail glasses with Matcha Salt, as desired. (See Note: b.)

Combine silver Tequila, lime juice, dry Curaçao and Matcha Simple Syrup into a cocktail shaker. Fill Shaker with ice and secure the lid. Shake vigorously for 30 seconds or until the shaker is frosted and nearly too cold to handle. 

Strain the margarita through a Hawthorne strainer directly into your salt-rimmed glass (with or without fresh ice, as desired). Serve immediately. Cheers!
Notes
a. Curaçao and Triple Sec are both sweetened orange flavored liquors common in many cocktails like the classic margarita. You can feel free to use Curaçao or Triple Sec interchangeably in most cocktail recipes. Triple Sec is a neutral, column-distilled spirit where Curaçao is a brandy-based pot distillate. We typically prefer a dry (less sweet) Curaçao for it's higher-quality and richer-flavors.
b. This Matcha Salted Margarita recipe is equally delicious up or on the rocks. Feel free to add ice to your Matcha Salted glasses or serve up, in coups, as pictured.
* A Note About Salt
Unless otherwise noted, all recipes on The Sage Apron are developed using Diamond Crystal Kosher salt. It is a great all-purpose salt for cooking and baking. If using table salt, reduce quantities by about half.
Nutrition
Calories:
269
kcal
|
Carbohydrates:
17
g
|
Protein:
8
g
|
Fat:
1
g
|
Saturated Fat:
1
g
|
Polyunsaturated Fat:
1
g
|
Sodium:
7094
mg
|
Potassium:
49
mg
|
Fiber:
1
g
|
Sugar:
15
g
|
Vitamin A:
826
IU
|
Vitamin C:
9
mg
|
Calcium:
14
mg
|
Iron:
4
mg