This white Negroni cocktail with mezcal takes just three ingredients to create an intoxicatingly delicious sweet, smoky and bitter sipper.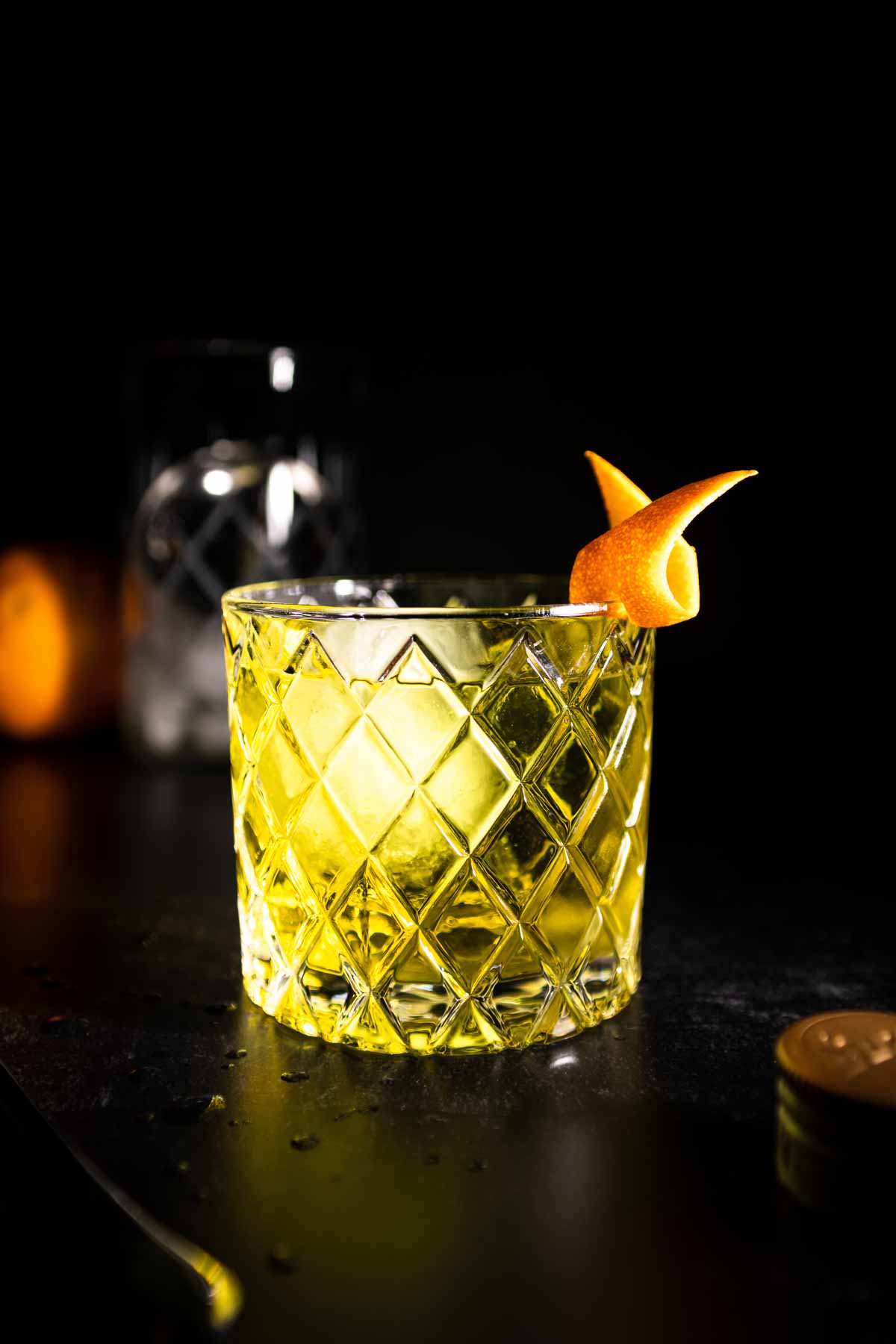 If you love mezcal cocktails, be sure to check out our Spicy Mezcal Margaritas and our Mezcal Sour, too!
What is a Negroni Fumo Bianco?
If you're a cocktail drinker, chances are you've had your share of Negroni and Negroni-inspired cocktails. A Negroni is a classic Italian cocktail made from equal parts of gin, sweet vermouth and a bitter aperitif, called Campari. You may have even had the London-famous White Negroni that swaps the bright red Italian Campari for France's sweeter, softer cousin - Suze.
This Negroni Fumo Bianco (white smoke) cocktail is a beloved riff on a White Negroni that uses mezcal, sweet vermouth and Suze. Like the traditional negroni, this cocktail recipe is a smooth and enticing balance of sweet, bitter and herbaceous botanical flavors.
Why You'll Love This Drink
This cocktail is one of our go-to libations after a long week. A mezcal based negroni is brimming with complexity and intriguing flavors. Yet, all you need is three simple ingredients.
The drink comes together in seconds, using equal parts of each ingredient stirred over ice. (No complicated specs or measurements, you'll remember this one forever). It's strong yet smooth with a rounded mouthfeel and lingering notes of smoke, dandelion and bitter citrus. It's easy to get lost in this drink and sure to impress your cocktail-loving friends, too.
Can you tell I love this one? It's a favorite and pairs especially well before or after a big meal. Please, sit back and enjoy.
Ingredients for This Cocktail
The good news is all you need is three ingredients (plus ice and an orange twist). The bad news is that you likely don't have a bottle of Suze lying around. Yet! (... but if you do, bravo! Tell us your favorite Suze drinks in the comments!)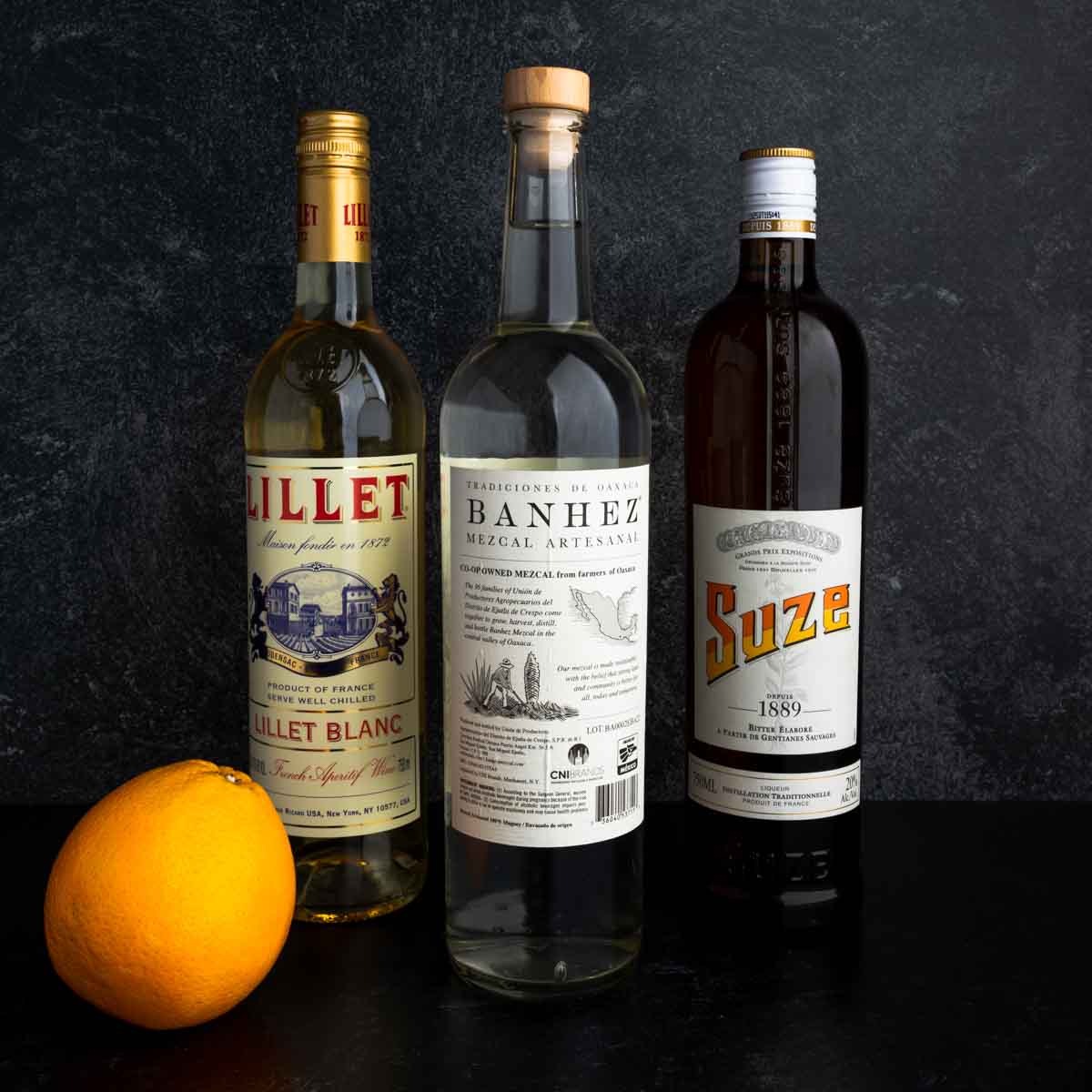 Mezcal - Banhez, Sombra and Ilegal are our brands of choice
Sweet Vermouth - We recommend Lillet Blanc, but whatever you have will work fine.
Suze - Ah, the mysterious French beauty. More on Suze below.
Ice - Regular cubes work for stirring and serving. However, if you have an over-sized cube, I recommend serving with that. The minimal dilution is appreciated for this smoky sipper of a cocktail.
Orange Twist - The orange oils really help to accentuate the floral, citrusy notes of the Lillet and the Suze. Don't skip it! Lemon or grapefruit will work, too.
What is Suze?
Suze is a gentian based aperitif liqueur from the Alps. Similar to Italy's more common amari (like Aperol or Campari), Suze is a sweet and bitter liqueur typically enjoyed before a meal to whet the appetite.
Suze is flavored with gentian and numerous herbs and botanicals collected from the French and Swiss Alps. The liqueur gets its signature yellow coloring and bitter flavors from over a year of maceration with wild and farmed gentian root. This unique French liqueur has a lovely and complex flavor with vegetal notes of dandelion, hints of warm vanilla and a bitter citrus finish.
Suze is enjoyable on its own, with a few ice cubes or in a simple spritz or tonic. It's only 15% alcohol so despite its' unique flavors, it's an easy sipper. Once you develop a liking to Suze, it's a very fun ingredient to experiment with in cocktails. Start with this Negroni Fumo Bianco and see where the adventure takes you next.
How To Make This Cocktail
This white negroni with mezcal is a simple stirred cocktail that only takes a minute, or so, to prepare. We use a glass cocktail mixing vessel (called a yari) that can be purchased online or in most craft bottle shops. You can also just use a mason jar or another wide mixing glass.
Bartender's Manual: Shaken or Stirred? - You may be wondering when to shake and when to stir a cocktail? Well, it's pretty simple (unless you're James Bond, of course).
Shaken cocktails (like a margarita, Cosmopolitan or daiquiri) typically contain citrus (or olive) juice. The abrasive shaking helps to emulsify the juice into the ingredients while also incorporating air and tiny fragments of ice.
Stirred cocktails (like an old fashioned, Manhattan or negroni) are generally based off spirits, vermouths and liqueurs. The more gentle stirring slowly dilutes water into the cocktail without shards of ice or creating a cloudy, "bruised" beverage.
1. Combine the mezcal, sweet vermouth and Suze in your mixing vessel. Top with ice and use a long bar spoon to give it a good stir, for about 30 seconds.
2. Strain this smoky Negroni into an old fashioned glass, over ice. To minimize further dilution, I recommend using a large ice cube, if you have one. Express and orange twist on this cocktail. Then, if you'd like, you can manicure the peel, as we did, by slicing it into a ribbon and making a pretty garnish. Cheers!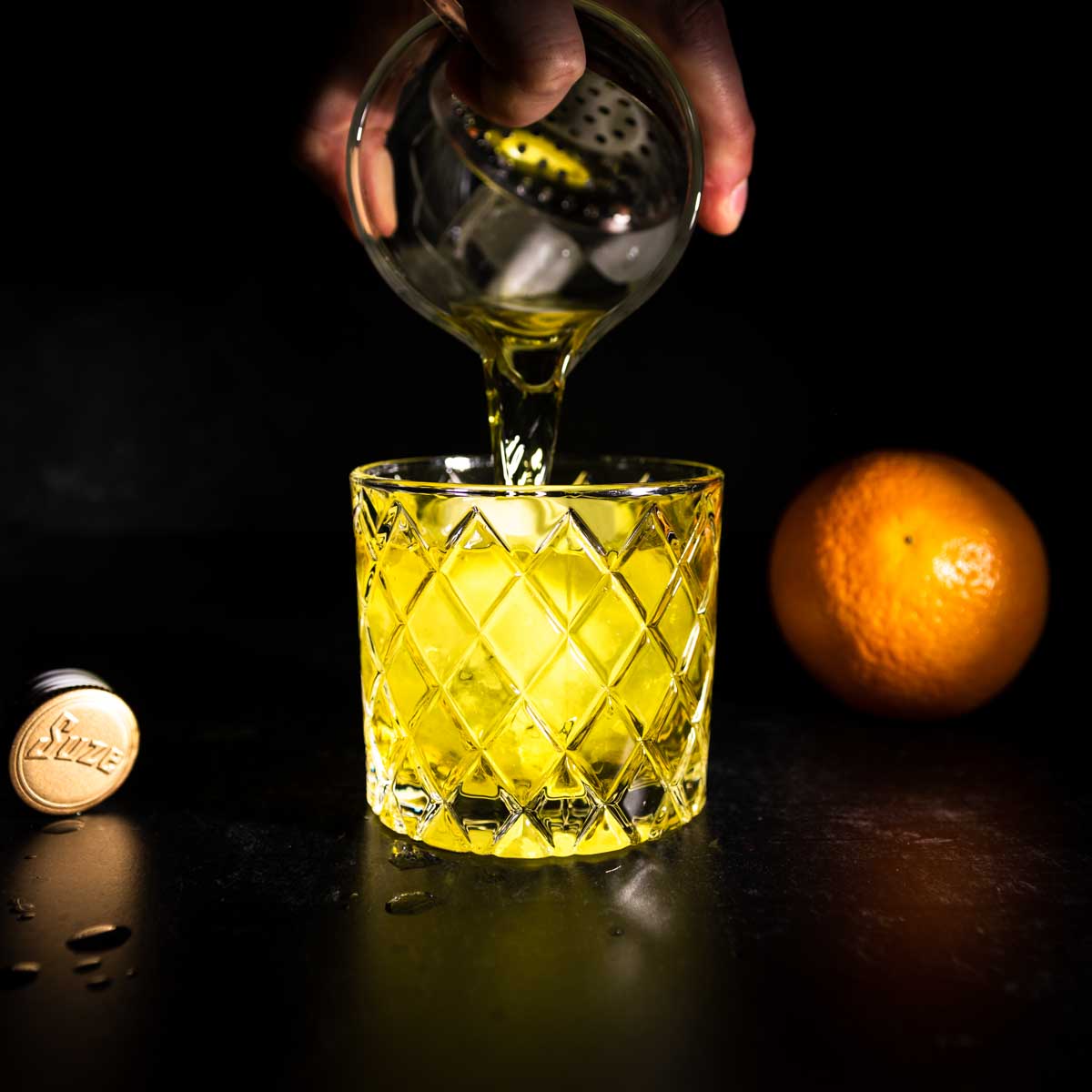 Bartender's Manual: Expressing Citrus on a Cocktail
The citrus twist on martinis, Negronis and other classic cocktails isn't simply for looks. In fact, when you find a citrus peel in your cocktail, it likely plays an important role in the flavors and aromas of your drink. Citrus peel is loaded with natural oils that impart enticing flavors in many libations.
How To: To properly express citrus zest on your drink, start with fresh, aromatic citrus fruit. You can use lemon, lime, grapefruit or orange - depending on the flavor profile of your cocktail. Peel off a wide swath and squeeze the peel over the surface of your drink in the glass. The citrus oils will spray out and smell amazing. Then, wipe the citrus peel around the lip of the glass. Now that those citrus oils are expressed, you can drop the whole peel in, or trim it up to make it pretty. Dealer's choice.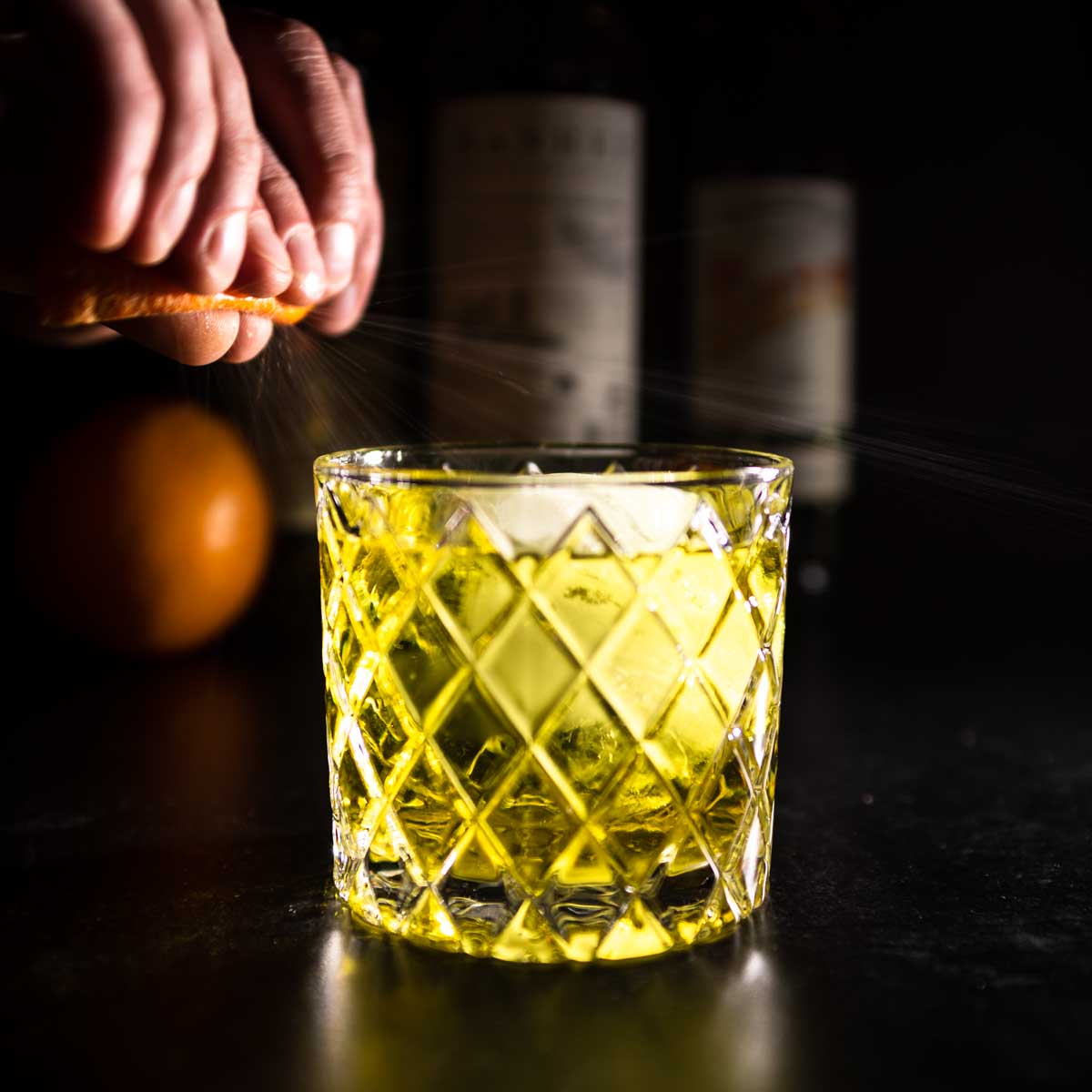 More Cocktails You May Like…
If you love this drink, be sure to try our Cynar Toronto recipe, too!
Recipe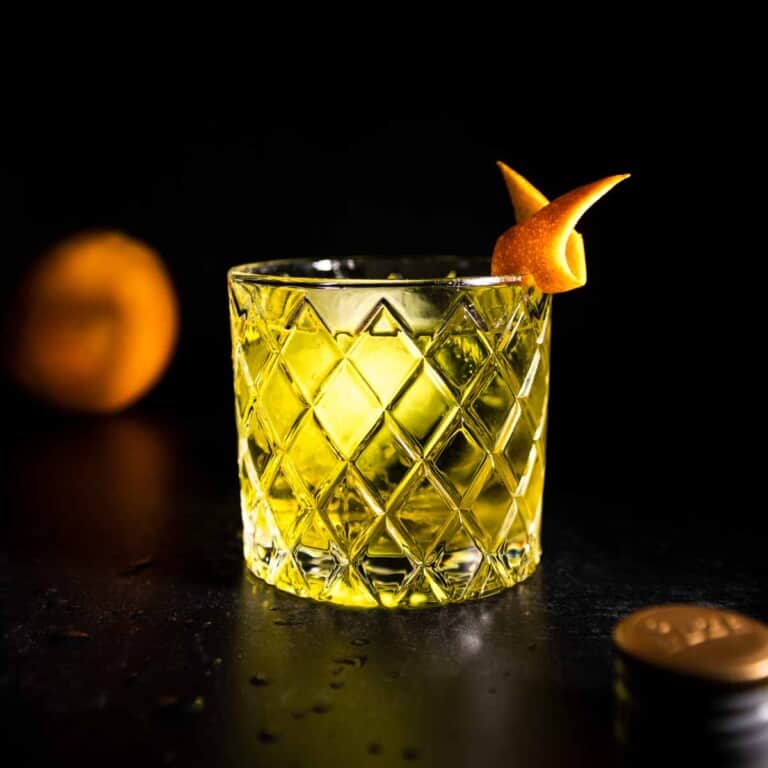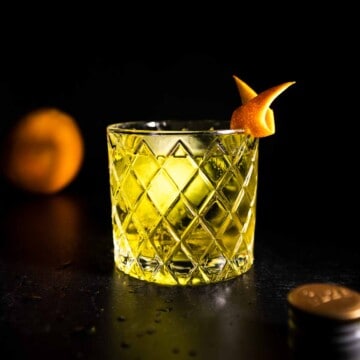 Negroni Fumo Bianco (White Negroni with Mezcal)
This stirred cocktail has a smooth balance of sweet, smoky and bitter flavors.
ADJUST SERVINGS
Special Equipment
1 Yari (or equivalent cocktail mixing vessle)

1 Bar spoon

1 Cocktail Strainer
Ingredients
1

ounce

mezcal

1

ounce

sweet vermouth

(We use Lillet Blanc)

1

ounce

Suze
Ice

as needed

1

Orange Twist

OR lemon twist OR grapefruit twist
Instructions
Combine mezcal, sweet, vermouth, and Suze in a yari (or large mason jar). Fill with ice and use a bar spoon to stir for 30 seconds or until icy cold.

Strain cocktail into an old fashioned glass filled with ice (preferably a large cube). Express and orange twist over the cocktail and use as a garnish. Cheers!
* A Note About Salt
Unless otherwise noted, all recipes on The Sage Apron are developed using Diamond Crystal Kosher salt. It is a great all-purpose salt for cooking and baking. If using table salt, reduce quantities by about half.
Nutrition
Calories:
198
kcal
|
Carbohydrates:
13
g
|
Protein:
0.2
g
|
Fat:
0.02
g
|
Sodium:
1
mg
|
Potassium:
26
mg
|
Fiber:
1
g
|
Sugar:
2
g
|
Vitamin A:
50
IU
|
Vitamin C:
16
mg
|
Calcium:
19
mg
|
Iron:
0.1
mg