A mezcal paloma is a smoky, sweet and refreshing cocktail made with freshly squeezed grapefruit juice, lime juice, simple syrup and a splash of soda.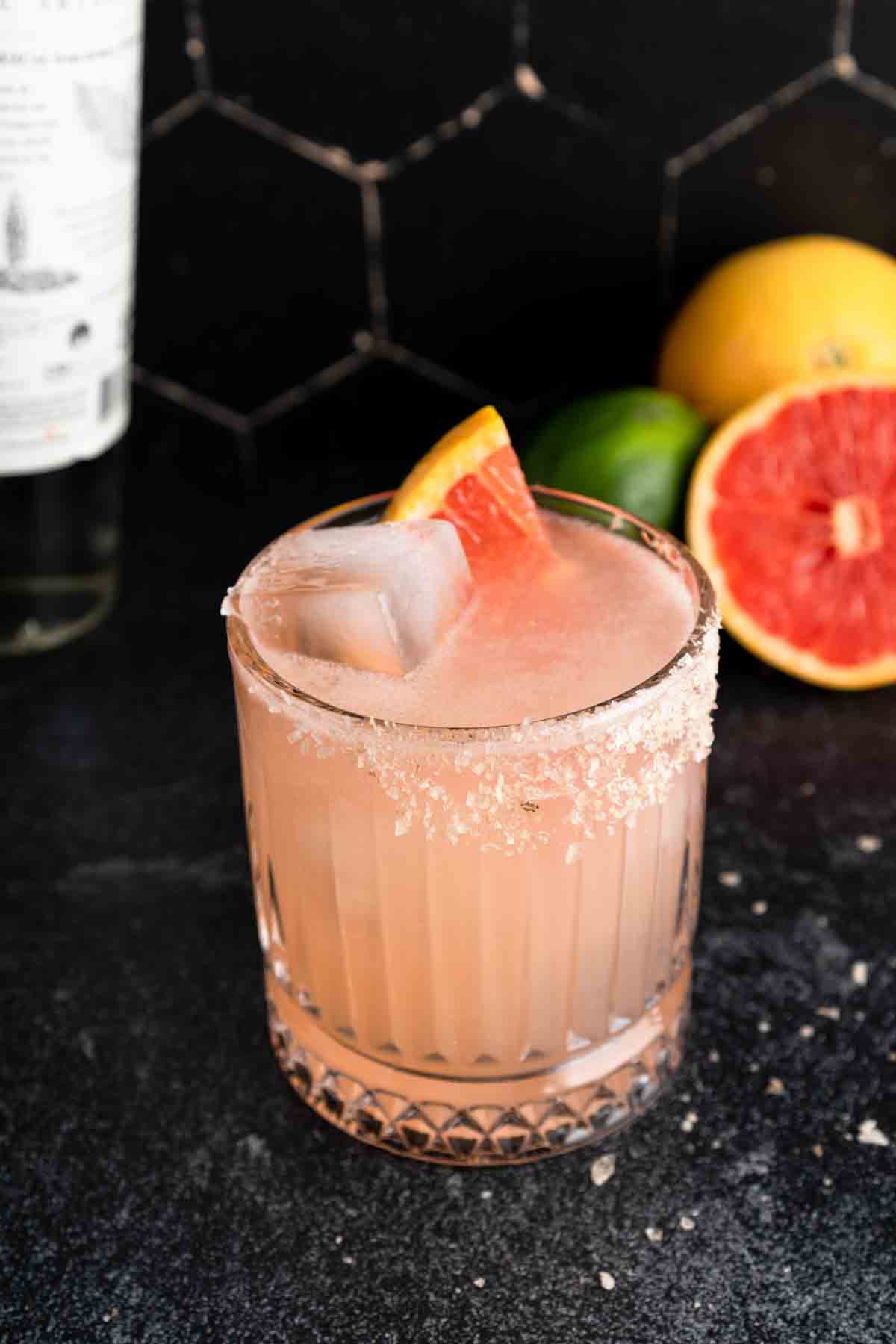 I love a Paloma made with mezcal because that smoky flavor pairs so well with the tart and bitter citrus juice. It's perfectly balanced, so refreshing and phenomenal to pair with sunshine and tacos!
For another citrusy mezcal cocktail, try our Spicy Mezcal Margaritas or our Mezcal Sour with Pineapple!
What is a Classic Paloma?
The original Paloma was a simple 2 ingredient highball consisting of 1 part tequila and 3 parts grapefruit soda. Since its Mexican debut in the 1950's, the Paloma has become a bartenders' favorite and taken on many, many iterations.
If you order a Paloma from an American cocktail bar today, it is unlikely they stock grapefruit soda. For this reason, you are more likely to get a lowball cocktail made with tequila, fresh grapefruit and lime juice, simple syrup, and just a splash of soda.
A Modern Mezcal Spin
This mezcal Paloma cocktail recipe is a modern take - shaken with fresh fruit juices and served in a short glass, on the rocks with a smoky salted rim. It's the perfect drink for an adventurous margarita drinker and all lovers of mezcals signature smoky flavors.
Ingredients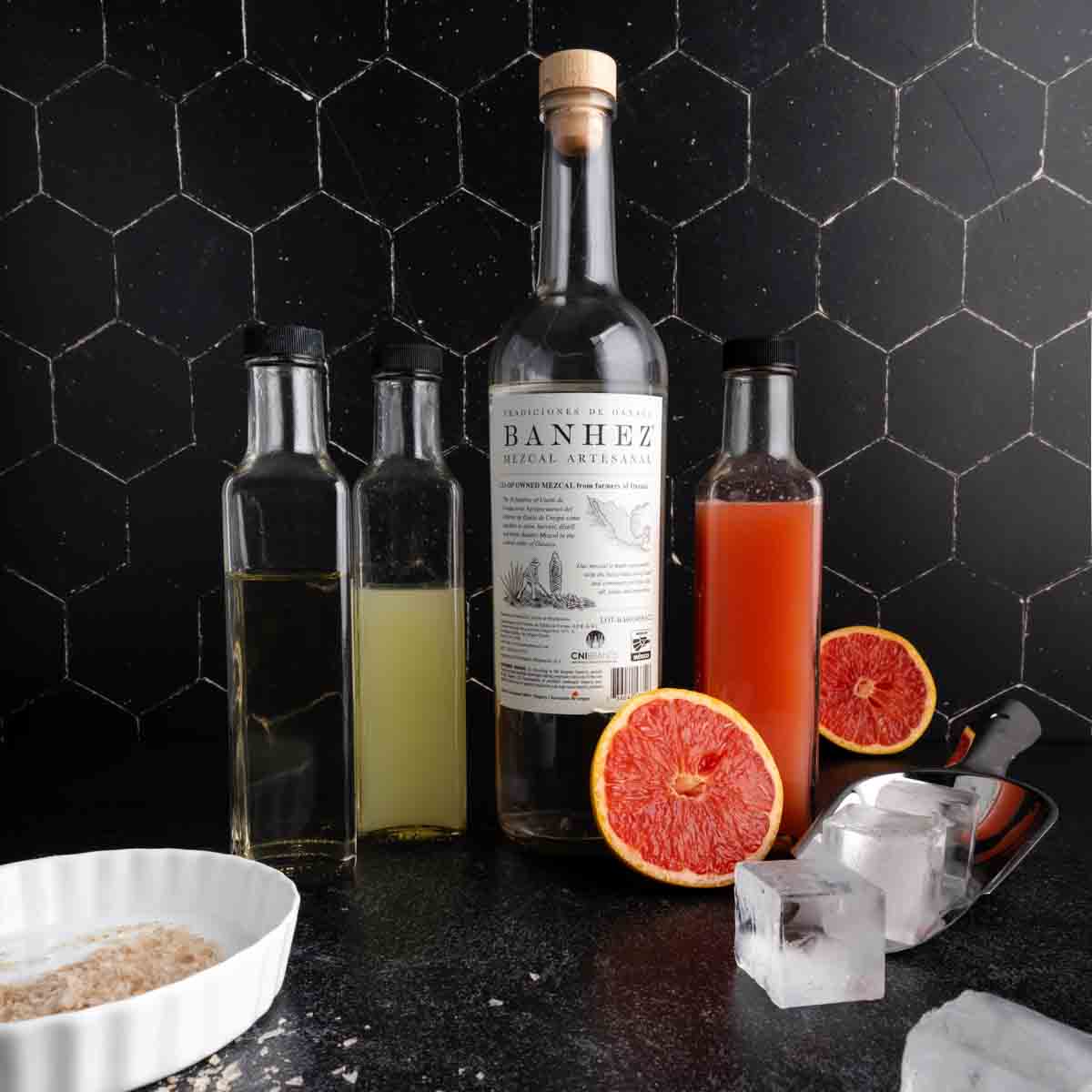 Mezcal - We use all mezcal because we love the smoky intensity! If you are looking for just a subtle hint of smoke, replace half of the mezcal with a tequila (blanco or reposado).
Grapefruit Juice - Freshly squeezed! We recommend using the sweeter pink grapefruit, if you can find them. If you can't find pink, ruby grapefruit works great too. If yo have. particularly bitter batch, you can always add a touch more simple syrup.
Lime Juice - Also freshly squeezed, please!
Simple Syrup - We like to use our 1:1 honey simple syrup because the flavor pairs so well with agave based spirits, but any simple syrup will work. The grapefruit goes really well with our thyme simple syrup too, if you like a more herbal flavor.
Club Soda - Not pictured, whoops! I like to use just a splash of soda for a touch of fizz. For a more spritz-style/ sessionable cocktail, you can use a taller glass and fill it up.
Smoked Salt, Salt or Chili Lime Salt - Optional, for rimming the glass. I liked mine with smoked salt!
How To Make This Cocktail
A paloma is a quick and easy drink to make. Start by preparing a drinking glass with a salted rim (if using) and fill with fresh ice.
Then, add the grapefruit juice, lime juice, honey syrup (or other simple syrup) and mezcal to a cocktail tin (or mason jar). Add ice and shake vigorously for 30 seconds until ice cold. Strain into the prepared drinking glass.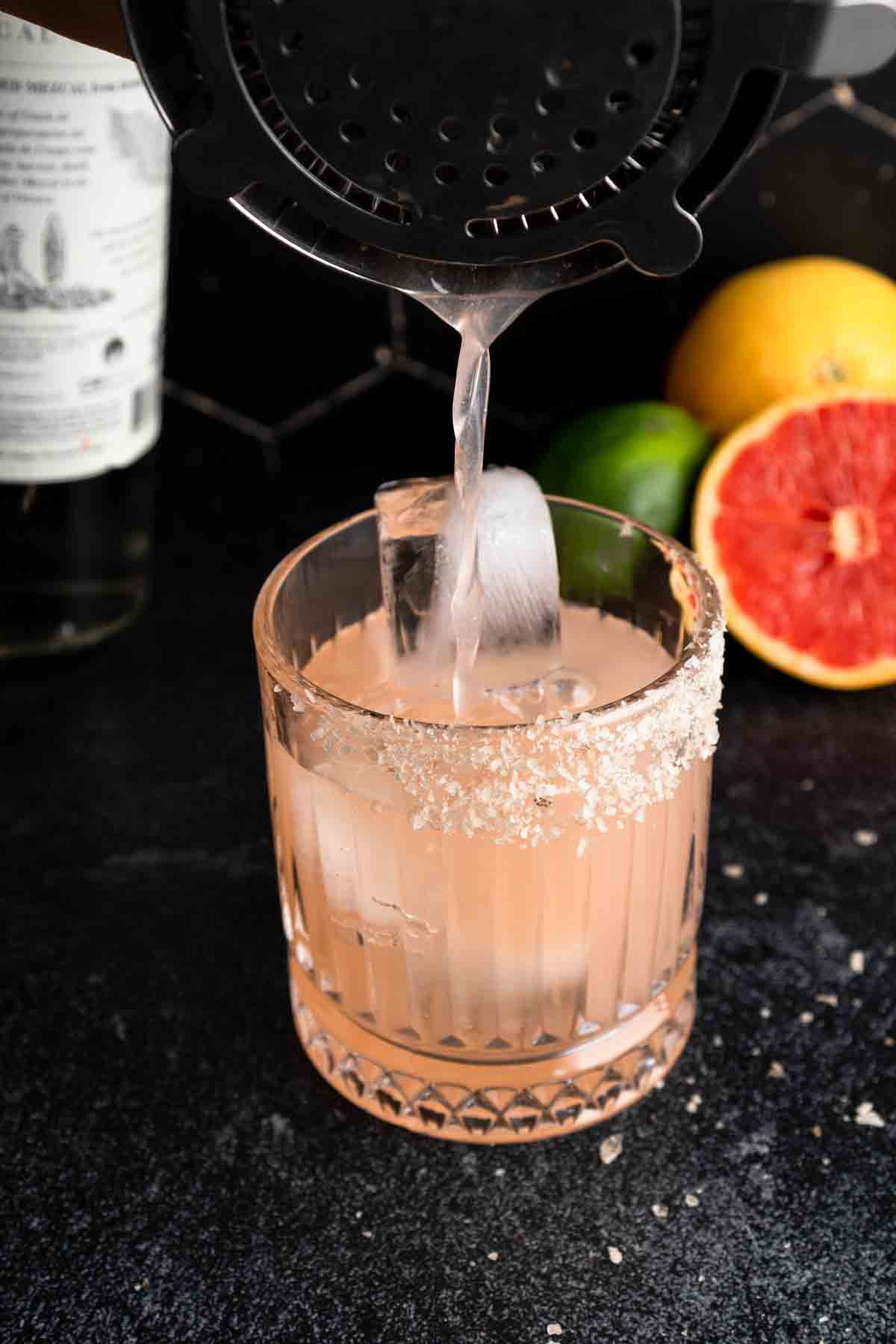 Top with soda water. I like a punchier marg-style drink so I just use a splash of soda. For a fizzier highball preparation, you can use 2 - 3 ounce of soda. Garnish with a slice of grapefruit and enjoy!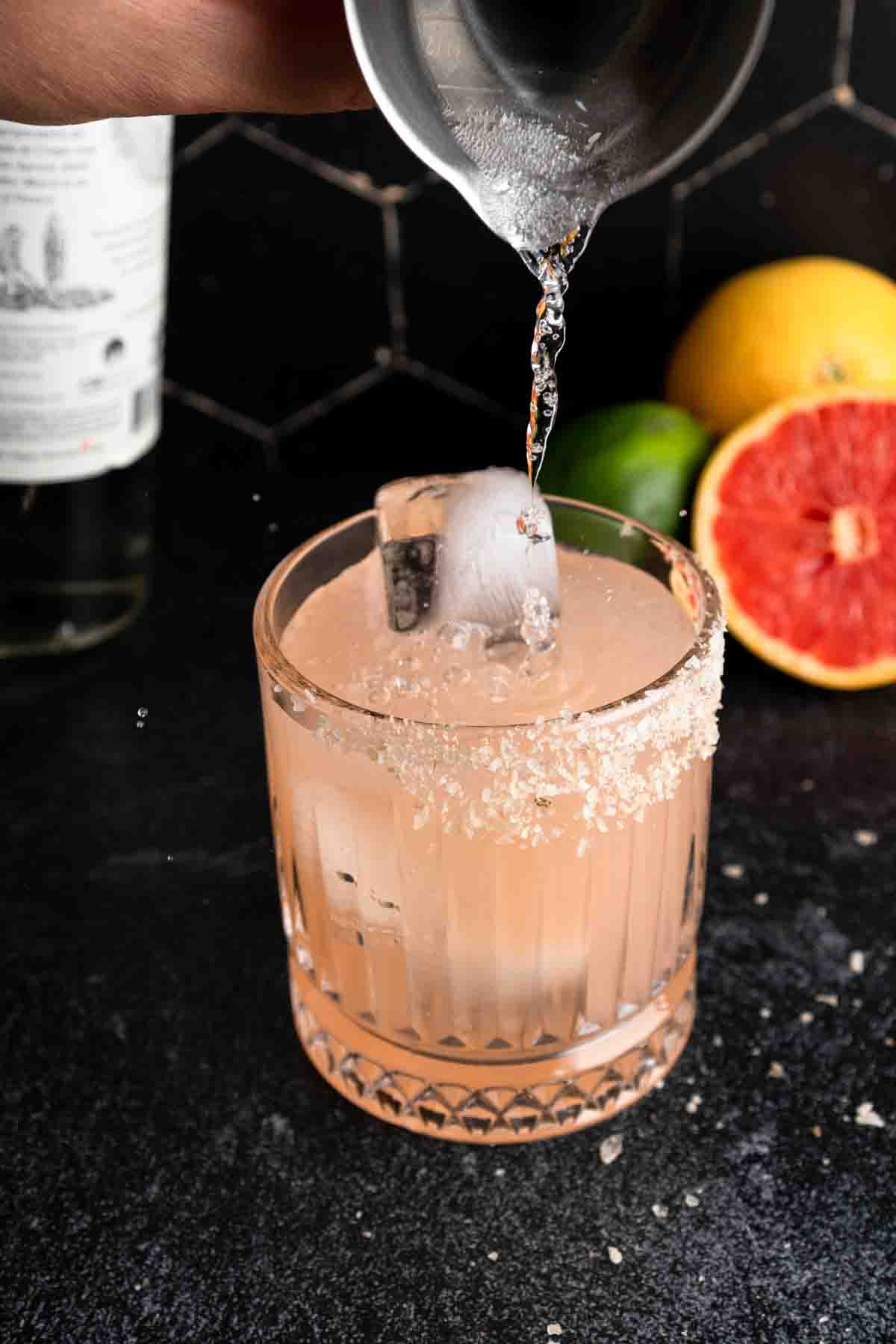 More About Mezcal
Mezcal is a distilled spirit that is made from roasted agave. (Fun Fact: Tequila is actually a type of mezcal that comes from a specific place and is made from only blue agave!)
How is Mezcal Made?
Mezcal gets its signature smoky flavor from a specific roasting process. Piñas (the heart of the agave plant) are roasted on hot rocks in underground pits. The roasted piñas are mashed and then fermented in vats of water. After fermentation, the mezcal is distilled in clay or copper pots.
Mezcal production is a very important piece of Mexican culture and their economy. We highly suggest choosing a mezcal that is still owned and made my Mexicans who are preserving this cherished tradition.
Choosing The Best Mezcal for Cocktails
Mezcal can be made from over 200 varietals of agave and, like wine, they all have different tasting notes and characteristics. When choosing a mezcal, the most important factor is choosing a small, sustainable producer. Small Mexican-owned mezcal producers have perfected their craft and are creating the highest-quality product on the market.
Some of our favorite brands of mezcal include:
Bahnez
Ilegal (American owned, but with a cool story that directly supports tiny-production Mexican mezcal distillers)
Del Maguey
These brands all make some fantastic single varietal mezcals that are incredible for sipping. In most cases, the entry-level (read: least expensive) mezcals are made from a blend of agave varietals and are best suited for mixing in cocktails.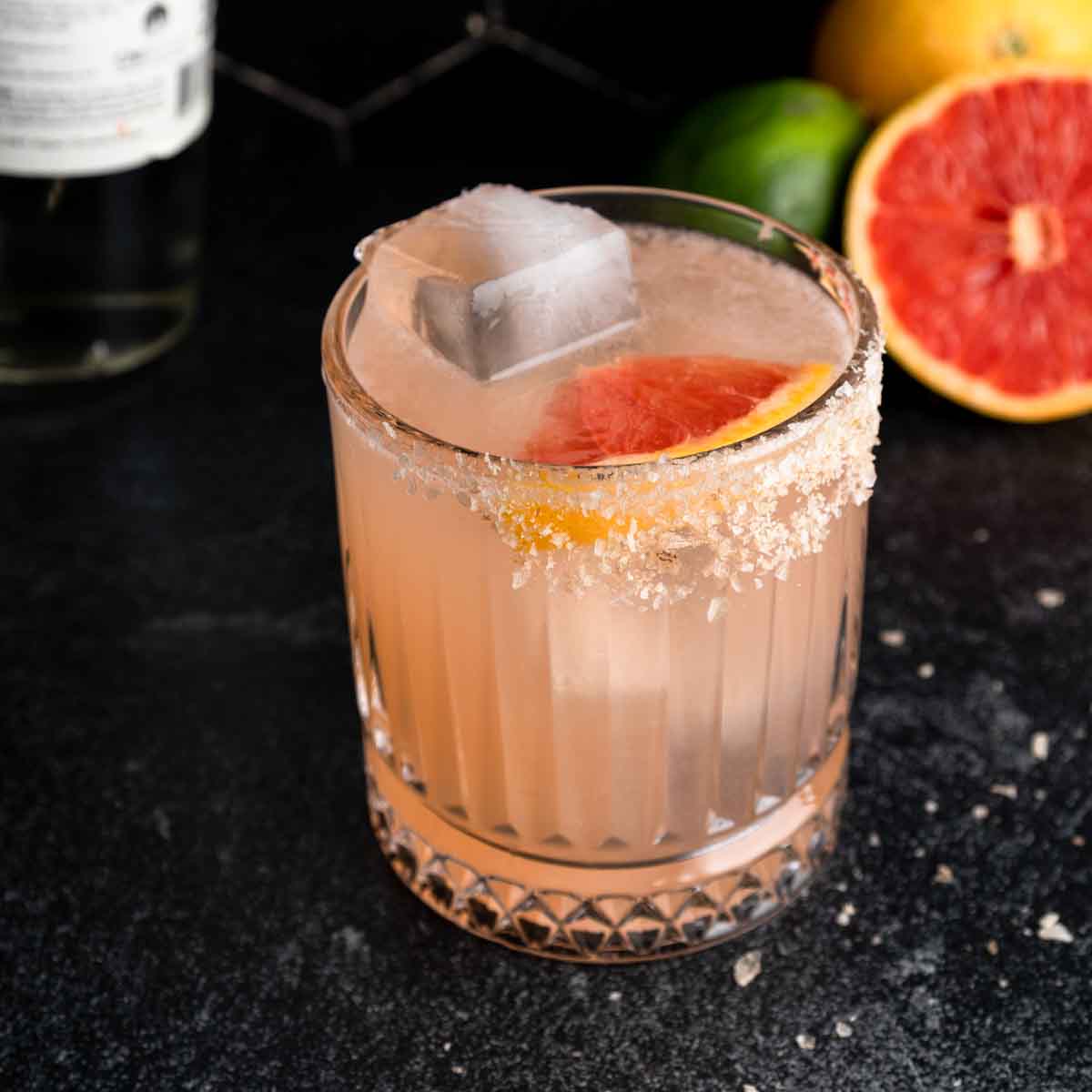 Frequently Asked Questions
Why is the drink called a Paloma?
Paloma means "dove" in Spanish and the cocktail is thought to be named after "La Paloma", and old Spanish folk song.
What kind of mezcal is best for Palomas?
A high-quality joven mezcal made from a blend of agave is perfect for using in cocktails. We like the brands Bahnez, Ilegal and Del Maguey.
What type of grapefruit is used for Palomas?
We recommend using a sweeter varietal of grapefruit, like pink grapefruit. Ruby grapefruit also works.
You May Also Like...
Recipe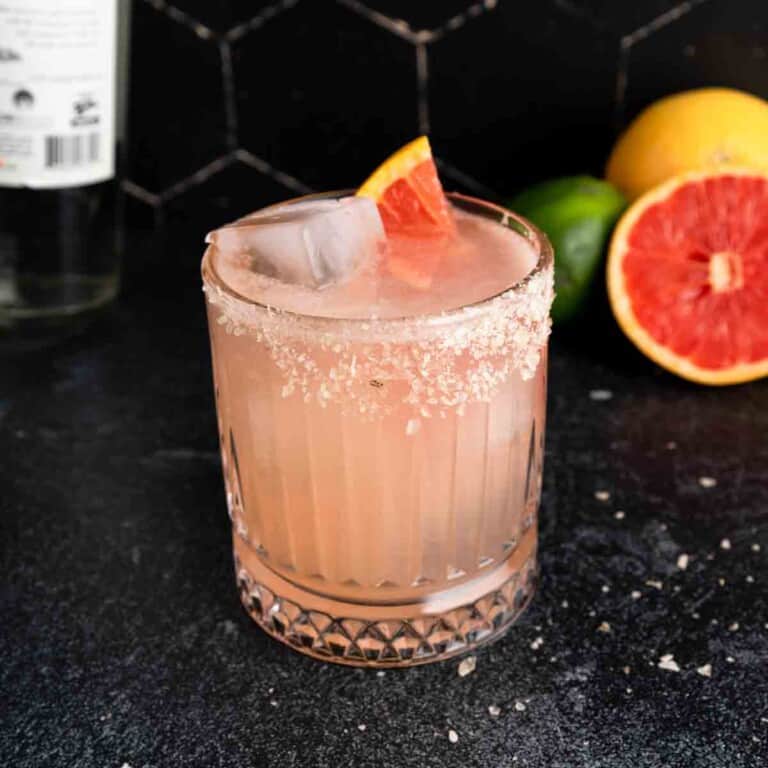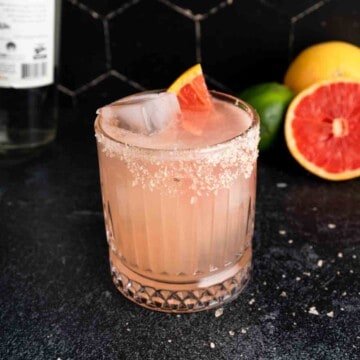 Mezcal Paloma - Smoky, Sweet & Citrusy
This refreshing cocktail is a spin on a classic Paloma using mezcal and fresh lime and grapefruit juices.
ADJUST SERVINGS
Special Equipment
Cocktail Shaker (or Mason Jar with Lid)

Hawthorne Strainer (Cocktail Strainer)
Ingredients
2

ounces

mezcal

joven

1

ounce

grapefruit juice

freshly squeezed

½

ounce

lime juice

freshly squeezed

½

ounce

simple syrup we like to use honey syrup
Ice

as needed for shaking and serving

½ - 3

ounces

soda water

as desired, see Notes

1

Tablespoon

smoked salt, fine kosher salt or chili lime salt + lime wedge

optional for rimming the glass, we like Malden smoked salt

1

small

grapefruit slice

optional garnish
Instructions
If rimming your cocktail glass with salt, start by preparing you glasses. Wet the rim of your cocktail glass with a fresh-cut lime wedge. Then, dip the wet rim of the glass into Tajín sprinkled on a shallow plate. Fill glasses with fresh ice cubes.

In a cocktail shaker (or mason jar), combine mezcal, grapefruit juice, lime juice, and simple syrup. Fill tin (or jar) with ice. Cover and shake vigorously for 30 seconds. Strain cocktail through a Hawthorn strainer directly into the cocktail glass.

Top with soda water, as desired. Garnish with a slice of grapefruit and enjoy!
Notes
Top with soda water as desired. I prefer a tart and citrusy drink with just a splash of soda. For a more classic highball style, top with 2 - 3 ounces of soda.
For a cocktail with just a hint of smokiness, replace half of the mezcal with a blanco or reposado tequila. 
For variations on this cocktail, try making it spicy by adding a few slices of fresh chili peppers to the cocktail tin. For an herbaceous flavor, try making this drink with our Thyme Simple Syrup.
* A Note About Salt
Unless otherwise noted, all recipes on The Sage Apron are developed using Diamond Crystal Kosher salt. It is a great all-purpose salt for cooking and baking. If using table salt, reduce quantities by about half.
Nutrition
Calories:
186
kcal
|
Carbohydrates:
15
g
|
Protein:
0.2
g
|
Fat:
0.04
g
|
Sodium:
13
mg
|
Potassium:
73
mg
|
Fiber:
0.1
g
|
Sugar:
14
g
|
Vitamin A:
9
IU
|
Vitamin C:
12
mg
|
Calcium:
7
mg
|
Iron:
1
mg