This mezcal sour cocktail is tart and smoky featuring lime, pineapple juice, Angostura bitters and a frothy egg white.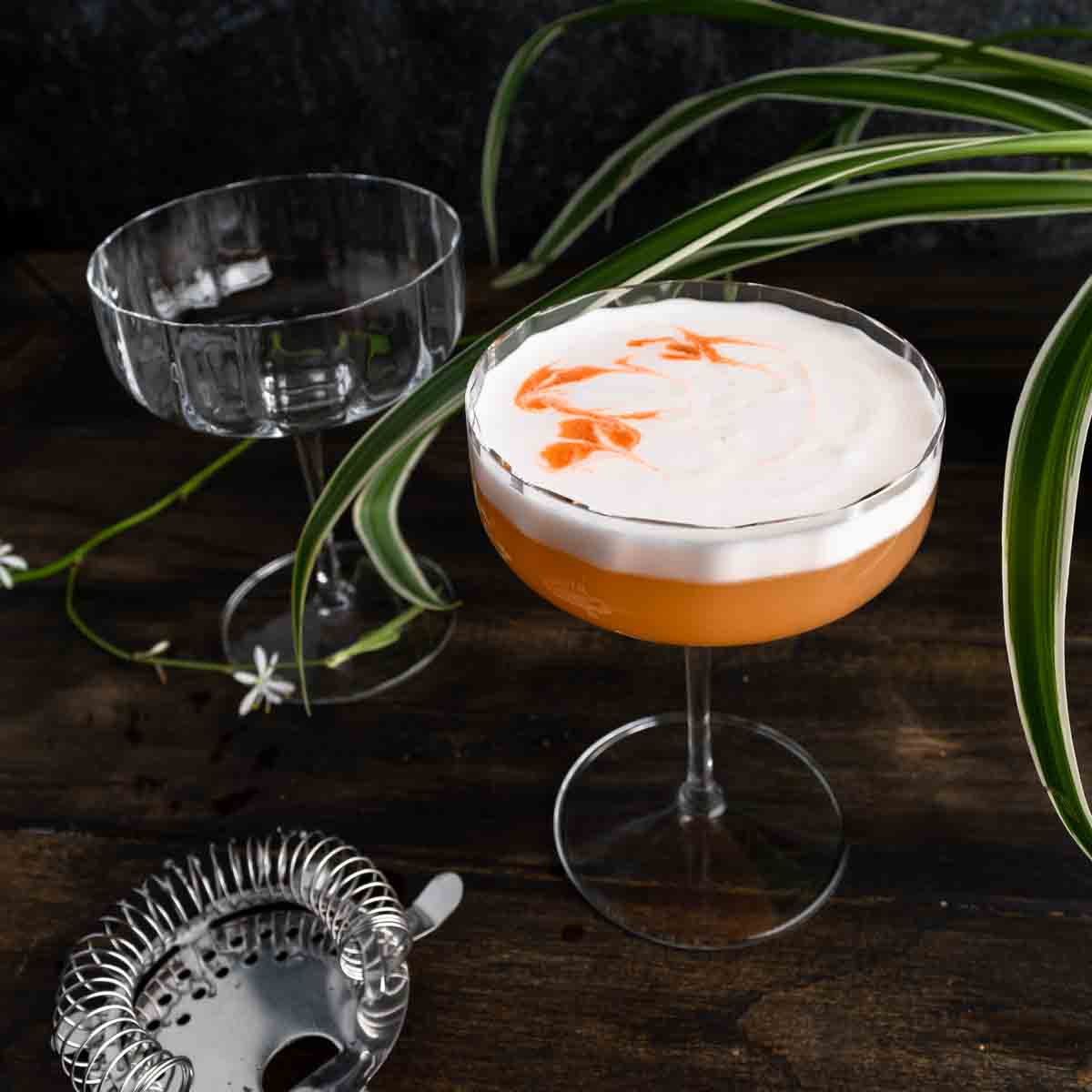 This cocktail recipe uses an egg white for a creamy textured cocktail layered with a frothy whipped topping.
For another delicious mezcal cocktail, try our Spicy Mezcal Margaritas!
Ingredients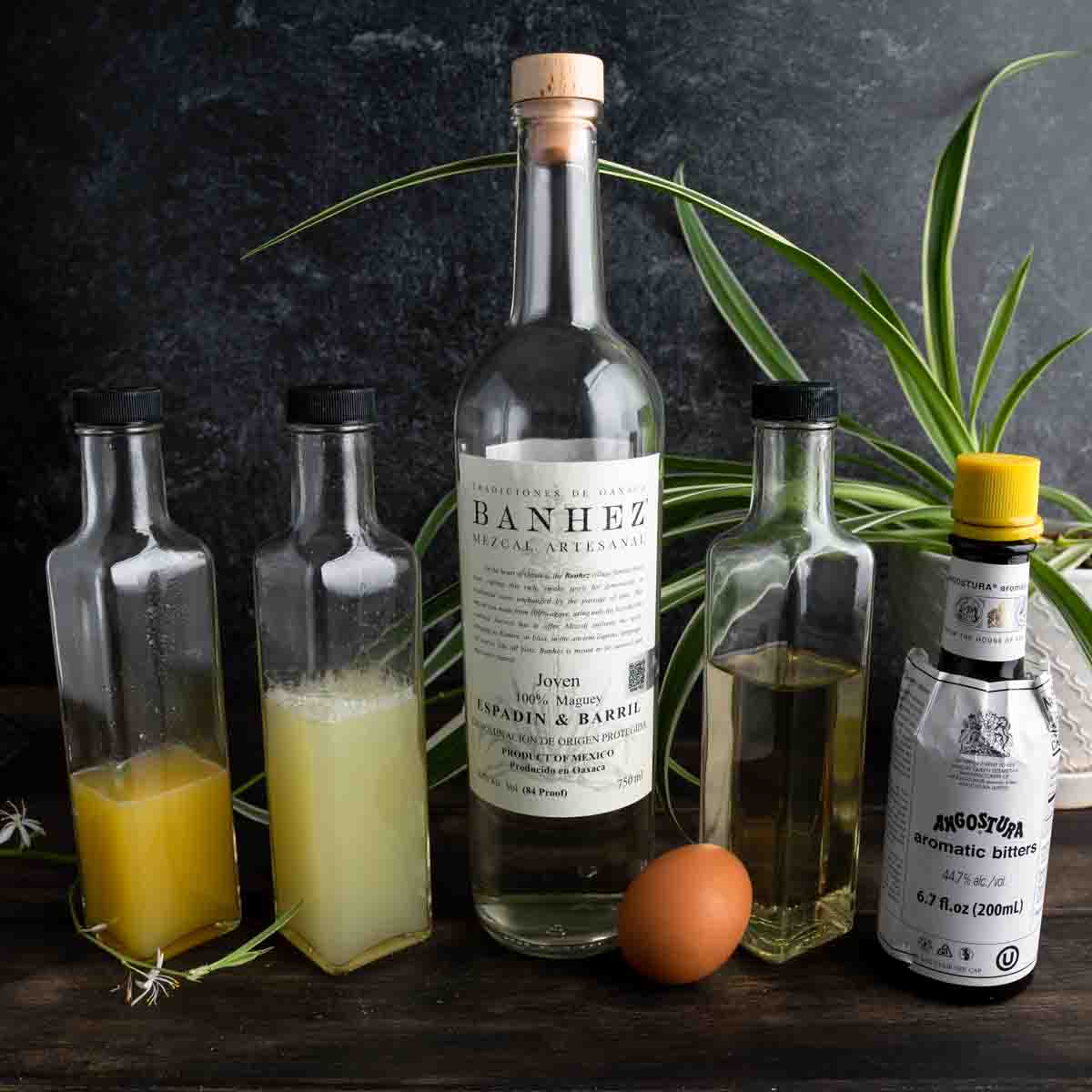 Mezcal
Pineapple Juice
Lime Juice
Simple Syrup
Angostura Bitters
Egg White
Choosing The Best Mezcal
Mezcal is a distilled spirit made from the hearts of roasted agave plants. The roasting process gives this spirit its signature smooth and smoky flavor.
For the highest quality, we recommend choosing a small sustainable mezcal producer.
Our favorite brands of mezcal include:
Bahnez
Ilegal
Sombra
Del Maguey
Most lines of mezcal will include some higher-end single varietal of agave spirits that are best suited for sipping neat. For making cocktails, a joven (young/ clear) mezcal made from blended agave is ideal.
How To Make An Egg White Sour
The key to making a sour style cocktail with a creamy texture and frothy egg white topping is a double shake. Here's how it's done:
Add the mezcal, pineapple juice, lime juice, simple syrup, egg white and 2 dashes of Angostura bitters to a cocktail tin. Add ONE ice cube. Shake vigorously for 30 seconds. (See the Bartender's Note, below!)
Then, fill the tin with ice and shake again for 20 - 30 seconds until ice cold. Strain the drink into a chilled coupe or martini glass.
Finish the drink with a few drops of Angostura bitters. We like to drag a toothpick through the drops of bitters to create hearts or decorative swirls for a classic sour garnish.
If you love an egg white sour, be sure to try our Lavender Empress Gin Sour, too!
Bartender's Note: The Double Shake - Egg white cocktails almost always benefit from a double shake. The first shake whips the egg white and creates a creamy texture. The second shake is with ice and chills and dilutes the drink.
Bartenders will achieve this frothy texture (on the first shake) a few different ways. Most common, you will find the "dry shake" - which uses no ice at all. We like to use just one ice cube, that helps to break up the egg white and incorporate a little more air.
Finally, some bartenders will use the spring from a Hawthorne strainer added directly to the cocktail tin. This method seems fun but is ultimately messy and unnecessary, in our opinions. It does make good whipped cream, though!
How To Garnish With Bitters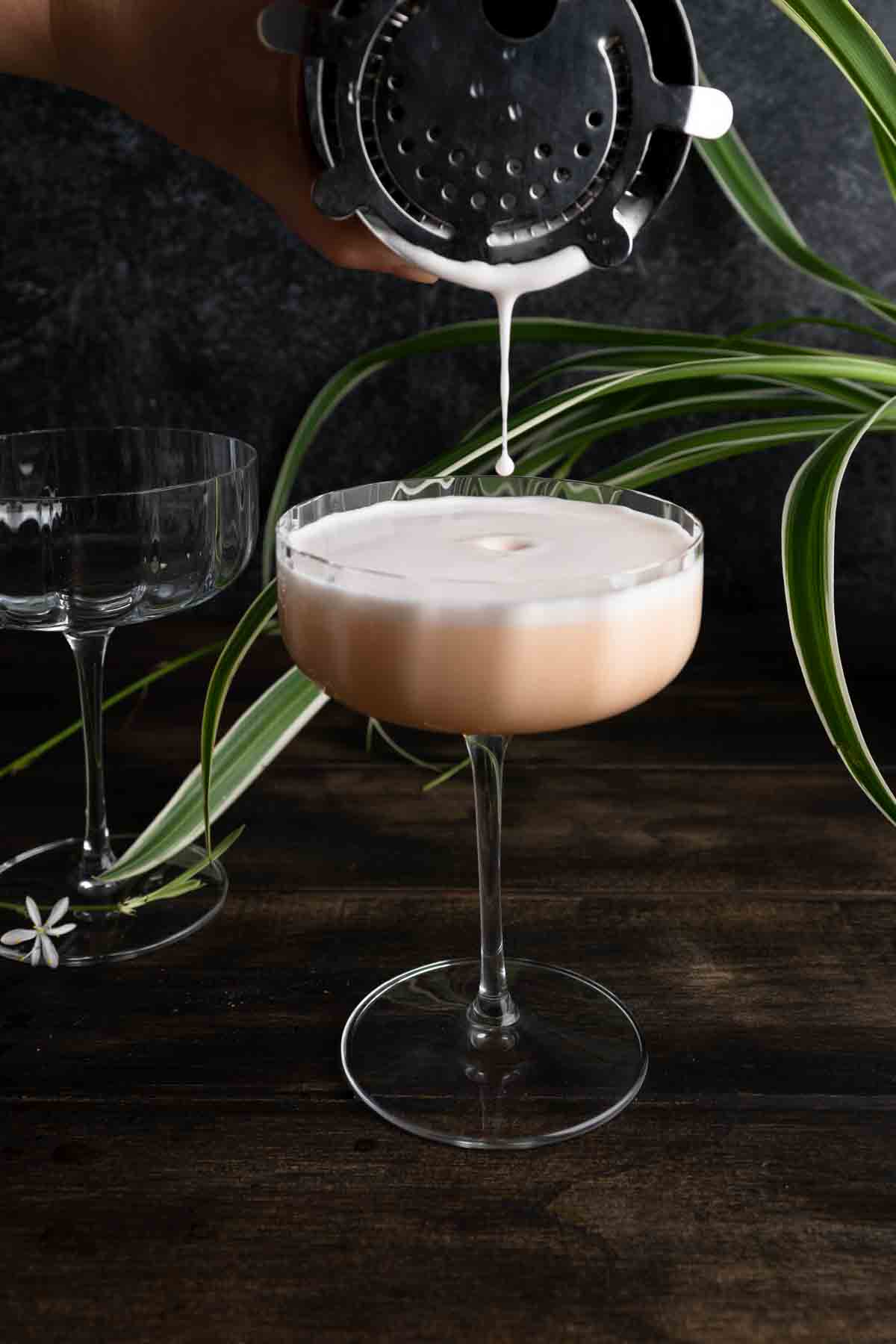 After double shaking, the strained cocktail will naturally separate creating two distinct layers. The frothy egg white topping creates the perfect nest to hold your bitters. Carefully dash a few droplets of bitters on the surface of the drink. Then, use a cocktail pick (or toothpick) to drag the bitters through the droplets to create a heart pattern or dramatic swirls.
Frequently Asked Questions
Is it safe to use a raw egg white in a sour cocktail?
Yes! In the United States, the FDA requires that eggs be pasteurized and refrigerated. Pasteurization is a rapid heating process that effectively kills bacteria, including salmonella.

If you are outside of the United States, I recommend using pasteurized eggs for sours and other raw preparations.
What can I substitute for an egg white in a sour cocktail?
If you are uncomfortable using raw eggs in a sour cocktail you can substitute one egg white for 2 Tablespoons of aquafaba (the liquid from a can of chickpeas).

Aquafaba is a vegan alternative that will mimic the egg whites creamy and frothy textures.
You May Also Like...
Recipe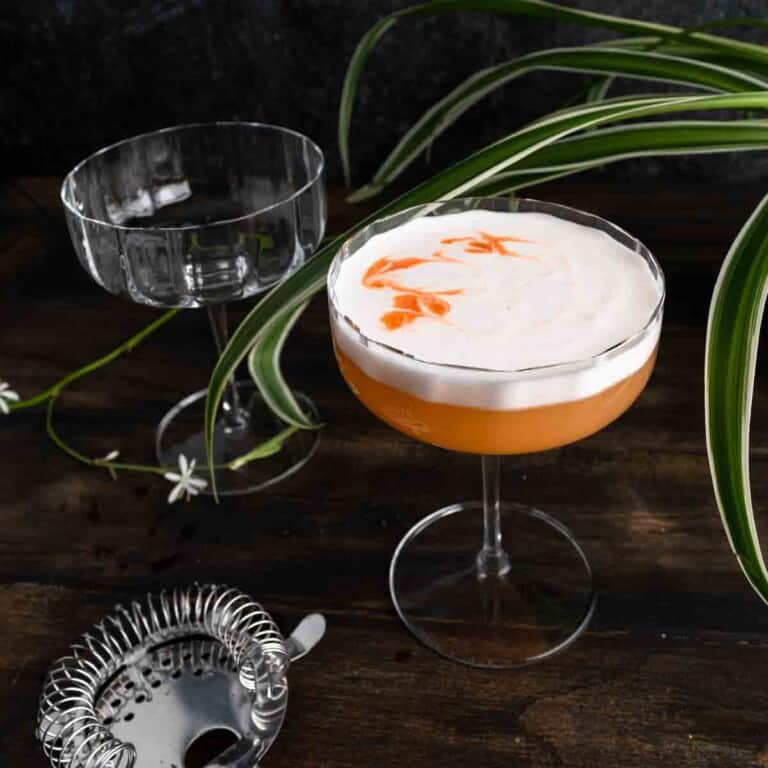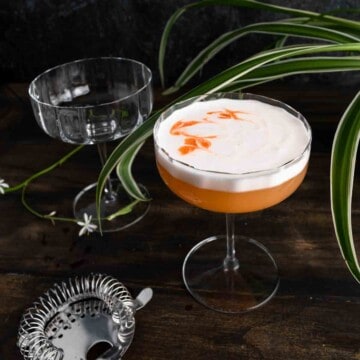 Mezcal Sour
This delicious drink balances tart smoky and sweet flavors with a note of tropical pineapple and a rich and creamy texture.
ADJUST SERVINGS
Special Equipment
Cocktail Shaker (or Mason Jar with Lid)

Hawthorne Cocktail Strainer

Cocktail Pick (or toothpick)

(for garnishing with bitters)
Ingredients
2

ounces

mezcal

1

ounce

pineapple juice

1

ounce

lime juice

freshly squeezed

1

ounce

simple syrup

1

large

egg white pasteurized** or

2

Tablespoons aquafaba

2

dashes

Angostura bitters

plus more for garnishing

Ice

as needed for shaking
Instructions
Add mezcal, pineapple juice, lime juice, simple syrup, egg white and 2 sages of Angostura bitters to a cocktail tin. Add 1 ice cube and shake vigorously for 30 seconds, to wipe the egg white.

Fill the cocktail tin with more ice and shake again for 20 - 30 seconds or until icy cold. Use a Hawthorne strainer to strain into a chilled coupe or martini glass.

(Alternatively, you can serve this drink over a large cube in a rocks glass.)

To garnish, carefully dash a few droplets of Angostura bitter on the surface of the drink. Use a cocktail pick (or toothpick) to swirl the droplets into a pretty pattern. Cheers!
Notes
** All eggs sold in the United States are pasteurized in-shell as mandated by the FDA. 
* A Note About Salt
Unless otherwise noted, all recipes on The Sage Apron are developed using Diamond Crystal Kosher salt. It is a great all-purpose salt for cooking and baking. If using table salt, reduce quantities by about half.
Nutrition
Calories:
256
kcal
|
Carbohydrates:
28
g
|
Protein:
4
g
|
Fat:
0.1
g
|
Polyunsaturated Fat:
0.02
g
|
Sodium:
73
mg
|
Potassium:
143
mg
|
Fiber:
0.2
g
|
Sugar:
25
g
|
Vitamin A:
16
IU
|
Vitamin C:
11
mg
|
Calcium:
14
mg
|
Iron:
1
mg