This stirred cocktail recipe uses whiskey, amontillado sherry and bitters for a simple twist on a classic!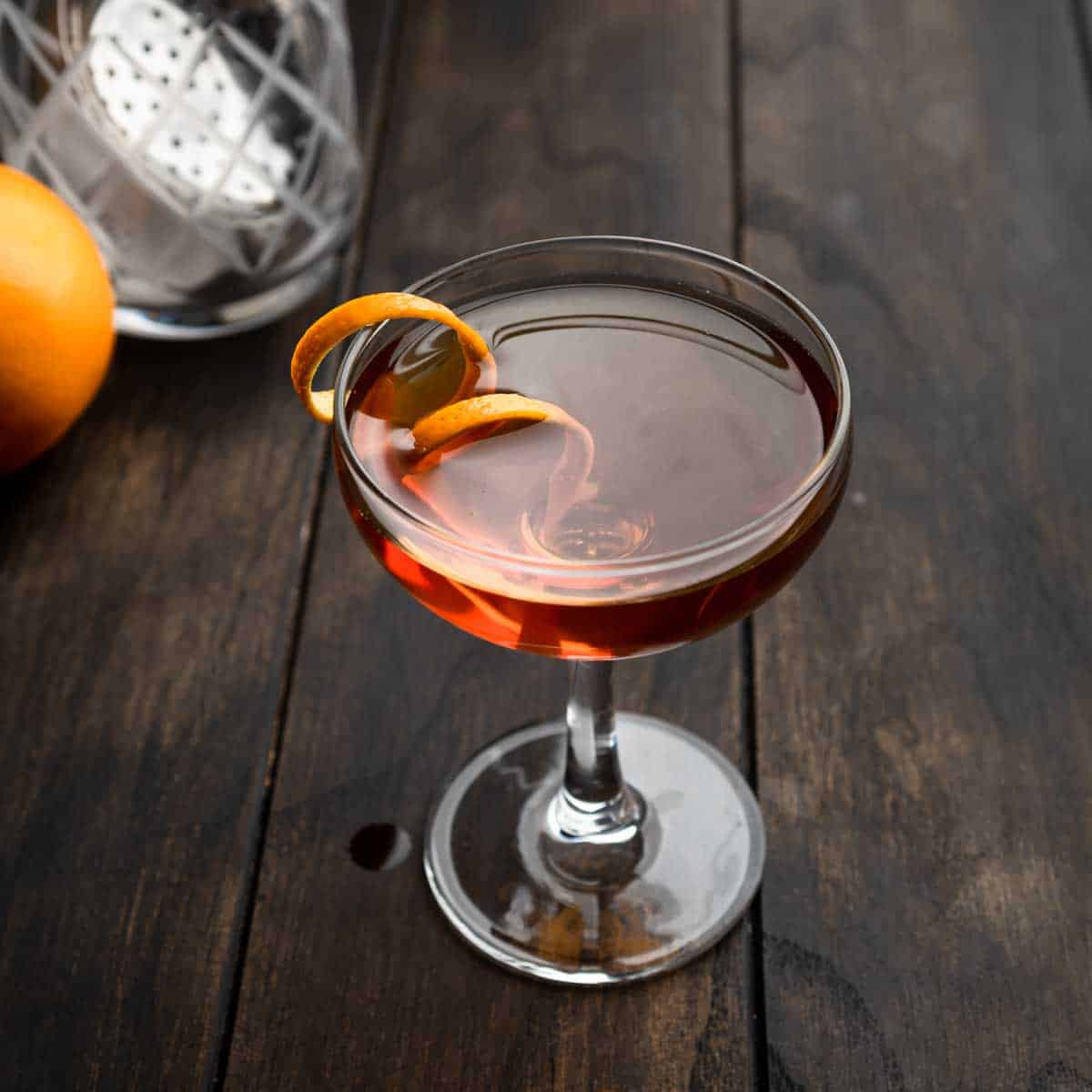 This amontillado sherry manhattan substitutes a sherry wine in place of a manhattans' usual vermouth. The swap lends an yummy nutty flavor and a mild oxidixed caramel note. It's a delicious play that will be loved by old fashioned and manhattan drinkers.
If you love this cocktail, you'll want to try our Cynar Toronto (Amaro Old Fashioned), too.
Ingredients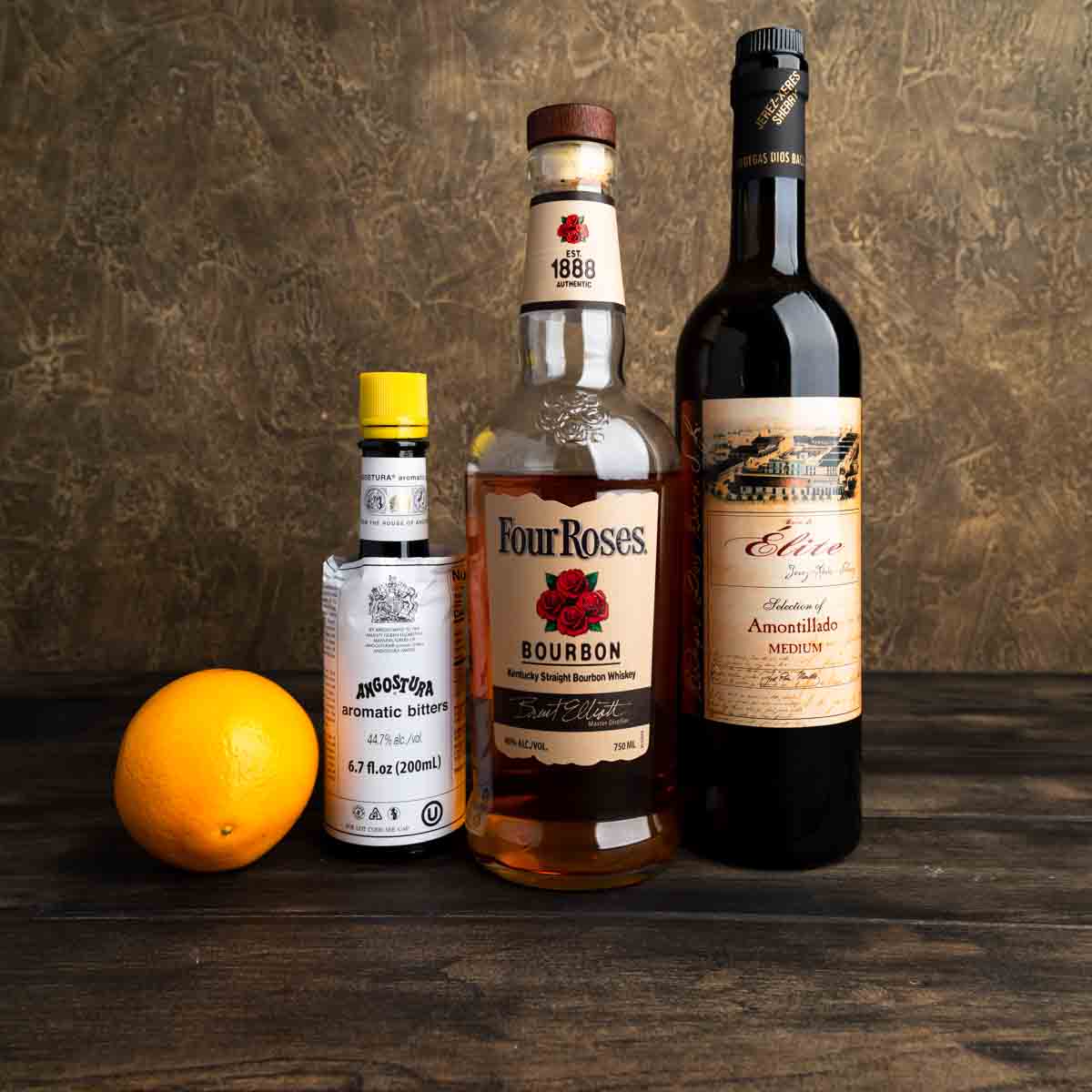 Whiskey - We made ours with a bourbon to enhance the caramel-like flavors. For a drier, spicier style, use rye whiskey.
Amontillado Sherry - Amontillado is a dry sherry wine from Spain. Read more about it below.
Angostura Bitters - A classic bitter used to balance sweetness with notes of cinnamon bark and clove.
Orange Twist
What is Amontillado Sherry?
Amontillado sherry is a dry, fortified wine from Southern Spain. This specific style of sherry is fermented, fortefied and then aged under a veil of yeasts (called flor). After the flor dies the wine continues to be oak aged and intentionally oxidized for at least two years. The combination of yeast contact and extended oxidation in barrels helps amontillado sherry develop rich complexity and notes of hazelnuts, caramel, tobacco oak and dried fruits.
Despite the common misconception, amontillado sherry is dry - not sweet. This style of sherry can be found in most decent wine shops and liquor stores. We do not recommend substituting another style of sherry (or California "sherry" Eeek!) for this cocktail.
Fun Fact: Amontillado's Cousin Fino - There are several types of sherry from different regions across Southern Spain. (Most of them are dry!) In fact, amontillado sherry actually starts out as a different style called 'Fino'. Fino sherry comes from the same region, from the same grapes and is aged under the same flor (yeasts). However, fino sherry is younger and unoxidized. So, Fino never develops the darker color or richer flavors. Fino is lightly colored with notes of brine, herbs and fresh dough.
How To Make This Manhattan
An Amontillado sherry manhattan is a simple stirred cocktail recipe. It couldn't be easier to make.
Simply add the biters, whiskey and sherry to a yari (or other cocktail stirring vessel). Top with ice and use a long bar spoon to stir for 30 seconds, or until icy cold.
Strain the cocktail into a chilled coupe or martini glass. We recommend serving this cocktail up, not on the rocks, to avoid over-diluting the flavors of the sherry. If you insist on ice, use a large cube or sphere.
Garnish this cocktail by expressing an orange twist on the surface of the drink. The fresh orange oils compliment the nutty, caramel flavors perfectly.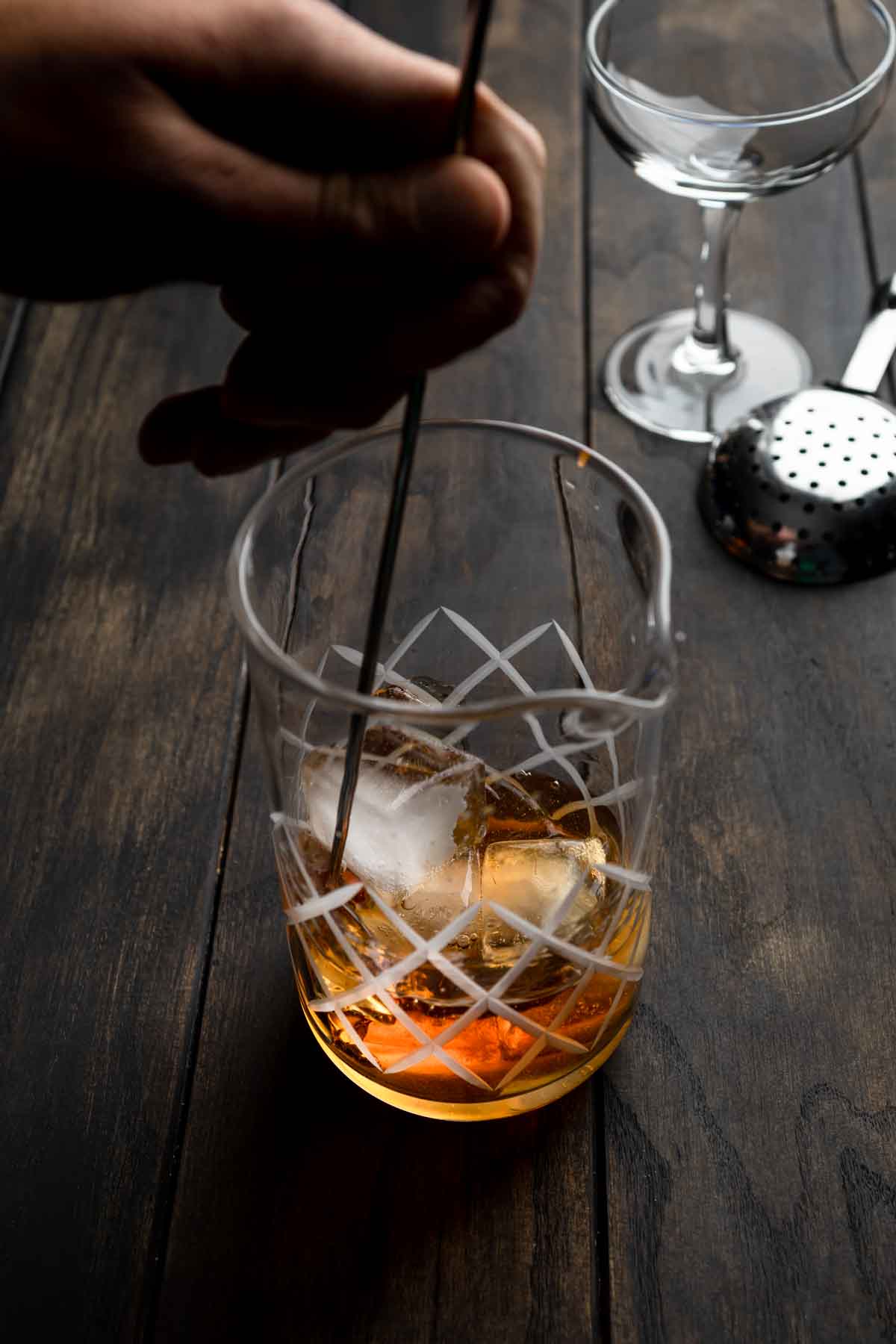 Bartender's Manual: Expressing Citrus on a Cocktail
The citrus twist on martinis, Negronis and other classic cocktails isn't simply for looks. In fact, when you find a citrus peel in your cocktail, it likely plays an important role in the flavors and aromas of your drink. Citrus peel is loaded with natural oils that impart enticing flavors in many libations.
How To: To properly express citrus zest on your drink, start with fresh, aromatic citrus fruit. You can use lemon, lime, grapefruit or orange - depending on the flavor profile of your cocktail. Peel off a wide swath and squeeze the peel over the surface of your drink in the glass. The citrus oils will spray out and smell amazing. Then, wipe the citrus peel around the lip of the glass. Now that those citrus oils are expressed, you can drop the whole peel in, or trim it up to make it pretty. Dealer's choice.
When To Serve This Cocktail
An Amontillado sherry manhattan is a versatile cocktail that is great to enjoy whenever the mood strikes. Unlike other cocktails that can overpower the palette, we find this drinks' lighter wine-like quality to actually pair well with a number of foods.
Try this sherry cocktail with seafood, like our Lobster and Grits with Saffron, or simple chicken dishes like our Herbs de Provence Roast Chicken. This drink could even pair well with bolder flavors, like barbecued pork.
Personally, we like to serve this cocktail after dinner, as a nightcap. It's a great way to finish a meal and impress your guests with something simple, interesting and delicious. Pair it with not-too-sweet desserts with ingredients like brown butter, dried fruits and nuts. It tastes delicious with our Dark Chocolate Dipped Pistachio Biscotti.
Recipe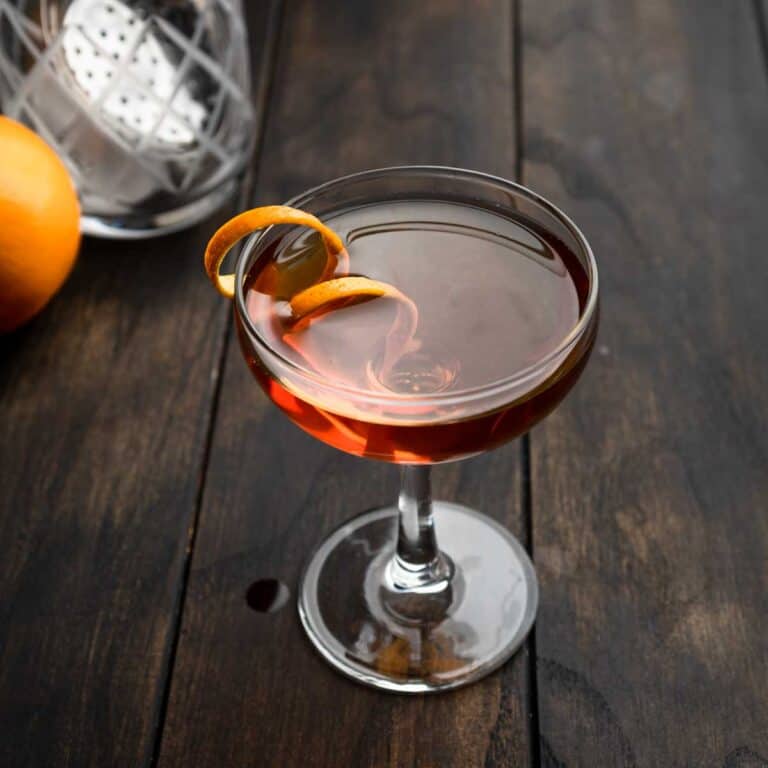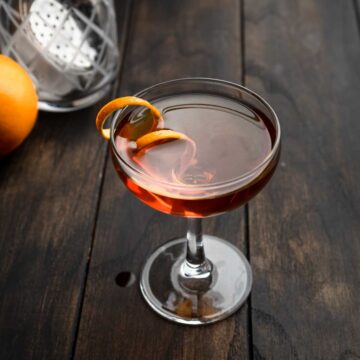 Amontillado Sherry Manhattan
This play on a classic Manhattan uses Amontillado sherry in place of vermouth. It results in a pleasant sipper with notes of caramel, oak and toasted nuts.
ADJUST SERVINGS
Special Equipment
1 Yari (or equivalent cocktail mixing vessle)

(You can use a large mason jar)
Ingredients
2

Dashes

Angostora bitters

2

Ounces

whiskey

bourbon or rye

1

Ounce

Amontillado sherry

1

Orange Twist
Ice

as needed for stirring
Instructions
Start by dashing bitters into the yari (or other cocktail mixing vessel). Add whiskey and sherry. Fill with ice and use a bar spoon to stir for 30 seconds or until icy cold.

Strain cocktail into a coupe or martini glass. filled with ice (or over a large cube). Express an orange twist over the cocktail and use as a garnish. Cheers!
* A Note About Salt
Unless otherwise noted, all recipes on The Sage Apron are developed using Diamond Crystal Kosher salt. It is a great all-purpose salt for cooking and baking. If using table salt, reduce quantities by about half.
Nutrition
Calories:
186
kcal
|
Carbohydrates:
5
g
|
Protein:
0.2
g
|
Fat:
0.02
g
|
Sodium:
2
mg
|
Potassium:
46
mg
|
Fiber:
1
g
|
Sugar:
1
g
|
Vitamin A:
50
IU
|
Vitamin C:
16
mg
|
Calcium:
22
mg
|
Iron:
0.2
mg