To pair with the subtle nuances of this gin, The Lavender Empress Cocktail has been prepared in the style of a gin sour made with lemon juice, curaçao, egg white and a Butterfly Pea Blossom and Lavender Syrup. This lovely cocktail has beautiful purple color and the delightful flavor of flowers, citrus and subtle spice.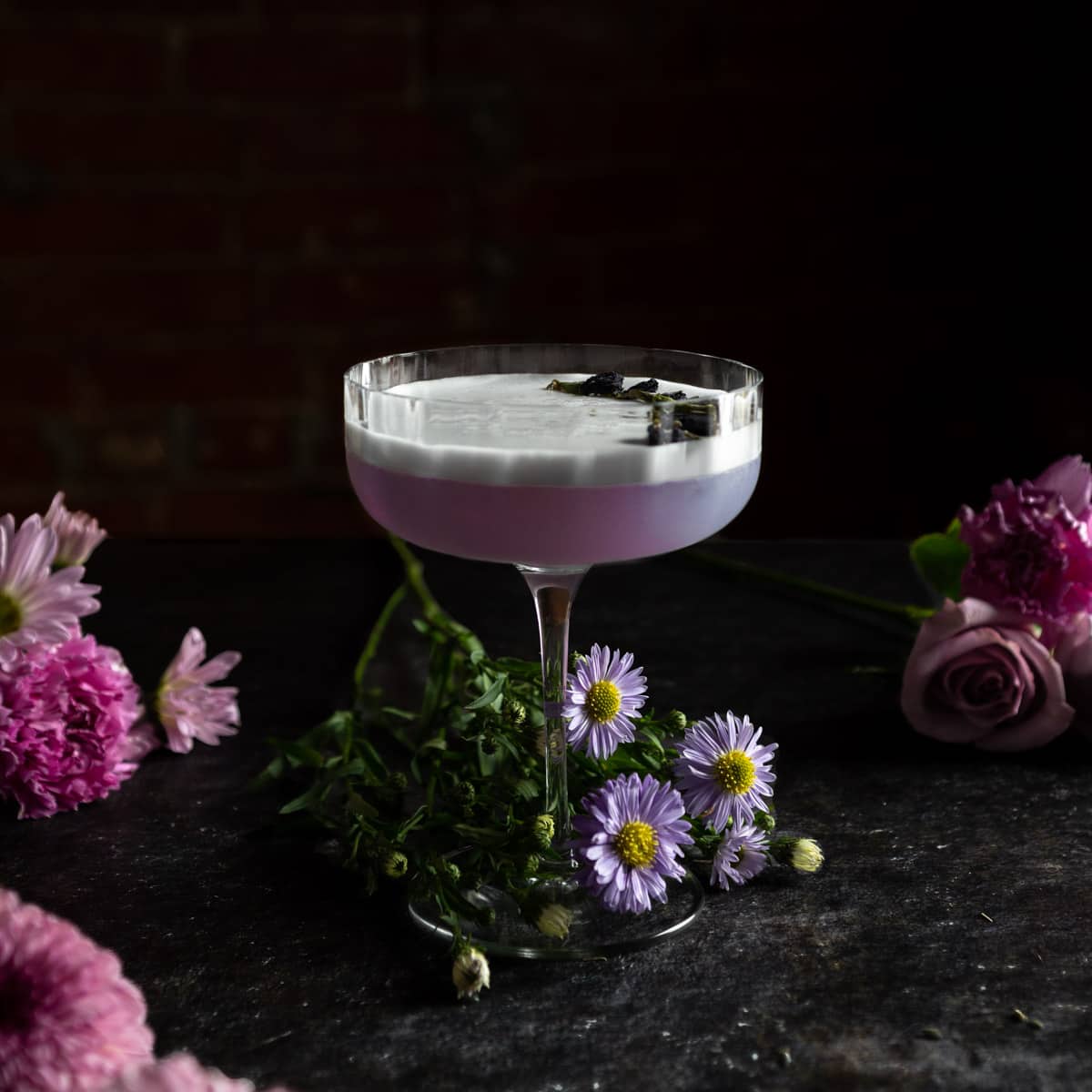 This original cocktail recipe was designed specifically to be used with Empress 1908 Gin. This lovely gin is known for it's elegant floral notes and natural indigo color.
For another delicious gin drinks try our Blackberry Bee's Knees!
Jump to:
Empress 1908 Gin: Royally Delicious
Empress 1908 Gin is as delicious as it is beautiful. This gin is a copper-pot distilled spirit that is flavored, infused with and naturally-colored by botanicals. This gin has Old Word notes of juniper paired with a soft, delicate pallet of earthy, citrus and floral flavors. Learn more about this vibrantly colored modern gin and how we used it to create this original gin sour, below.
Gin Story: History
Empress 1908 Gin was created in honor of the fit-for-a-Queen tea service provided at the Empress Hotel in Victoria, British Colombia. Since 1908, the grand Empress Hotel has been hosting world-travelers and royalty, alike.
Among it's grandeur is the hotel's world-renowned tea service. This tradition is celebrated with the Empress's own tea blend curated of hand-picked leaves from Assam, Kenya, South India, Ceylon and China. This special tea not only sparked the inspiration for this gin - it is also used as one of the flavorings for this unique spirit.
Beautiful Botanicals
Empress 1908 Gin is infused with eight botanicals that create the elegant flavors and unique coloring. Those botanicals are as follows:
Butterfly Pea Blossom - Used for it's warm earthy flavors and all-natural indigo coloring.
Fairmont Empress Tea - This tea is the unique signature blend served at afternoon tea time at British Colombia's Empress Hotel.
Juniper - While some style of gin are quite juniper-forward, Empress 1908 uses a more subtle and delicately flavored varietal.
Grapefruit Peel - The grapefruit lends a pleasant citrusy aromatic and a touch of bitterness.
Coriander Seed - Coriander adds a warm, citrusy spice to palette of this gin.
Cinnamon Bark - A touch of cinnamon accentuates the notes of citrus, spice and ginger.
Rose Petal - Whole rosebuds from India are infused in this gin to lend a sultry floral flavor.
Ginger Root - Fresh ginger gives this gin a nice , peppery spice note.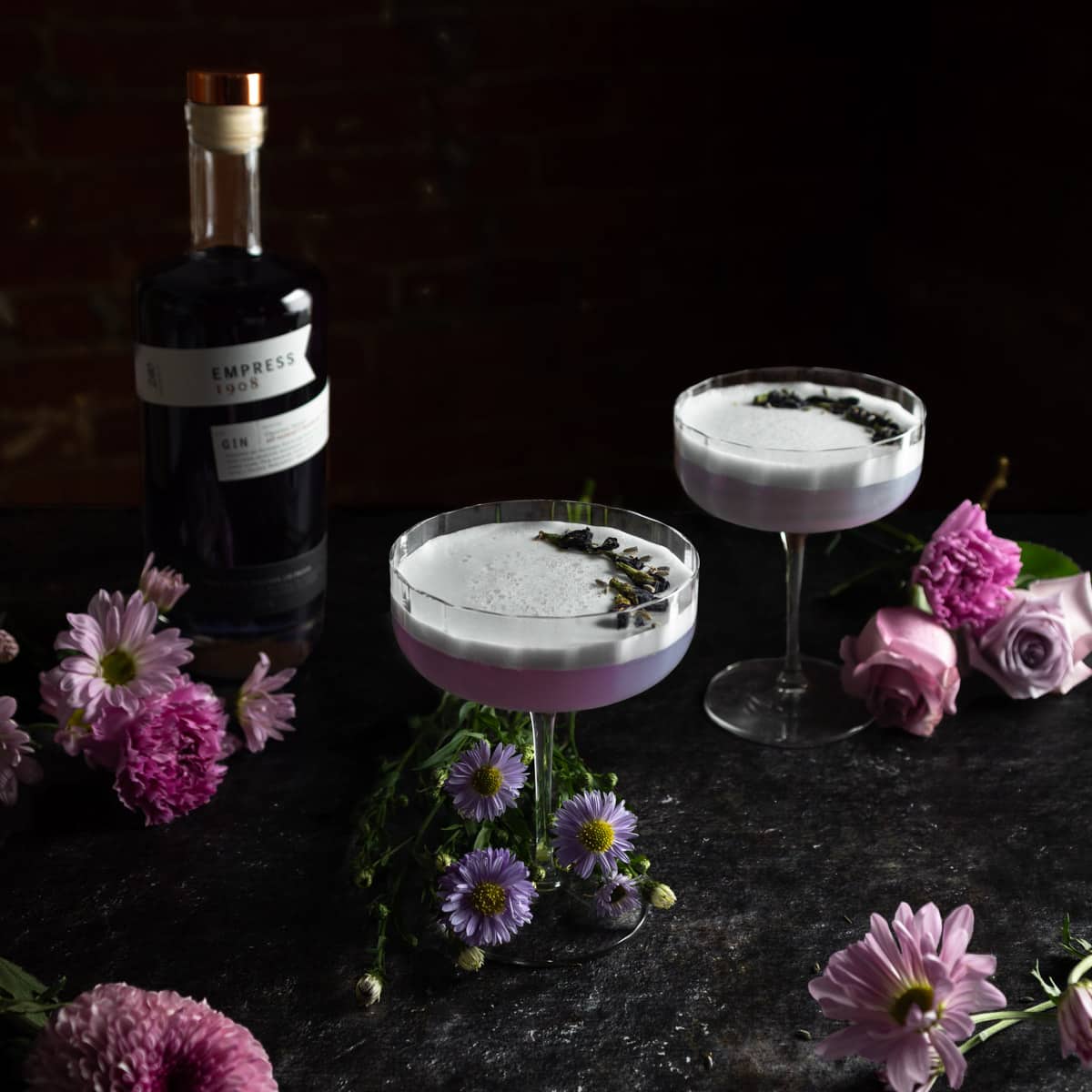 What is Butterfly Pea Blossom?
Butterfly pea blossom, otherwise known as butterfly pea flower tea, or blue tea, is an herbal tea native to South East Asia. The whole flowers or petals are cherished for their deep indigo coloring. The butterfly pea blossoms are dried and traditionally steeped to be enjoyed as an herbal tea.
A Touch of Bartender Magic
As lovely as the coloring is, this tea actually changes colors in reaction to different pH levels. In fact, when lemon juice or tonic water are added to this tea or Empress 1908 Gin, the colors transform from deep purple to bright shades of lavender, pink and fuchsia. Quite a smashing bar trick, if you ask us!
Here is what Empress 1908 Gin has to say about Butterfly Pea Blossoms on the Empress website:
"Butterfly pea blossom gives Empress 1908 its distinct indigo hue. Discovered in another bespoke Empress tea blend, the pea blossom imbues the gin with a distinctive earthy note that balances traditional citrus notes and yields a rich pigmentation. This deep indigo hue changes to bright lavender, soft pink, or fuchsia depending on the mixer, adding to the rich sensory experience of enjoying an Empress 1908 cocktail."
-Empress 1908 Gin
Butterfly Pea Blossom & Lavender Syrup
This Butterfly Pea Blossom & Lavender Syrup was designed specifically to be paired with this delicately flavored gin. Together, the Empress 1908 Gin and this syrup accentuate each other's pretty floral flavors and hues of blue and purples.
This syrup is also a lovely addition to a slightly more simply prepared: gin and tonic or a non-alcoholic lemonade. Butterfly Pea Blossom tea and dried lavender is sold online, in some health food stores and botanical medicine stores. Occasionally, you may find these products in your local grocery store (we bought ours at Whole Foods).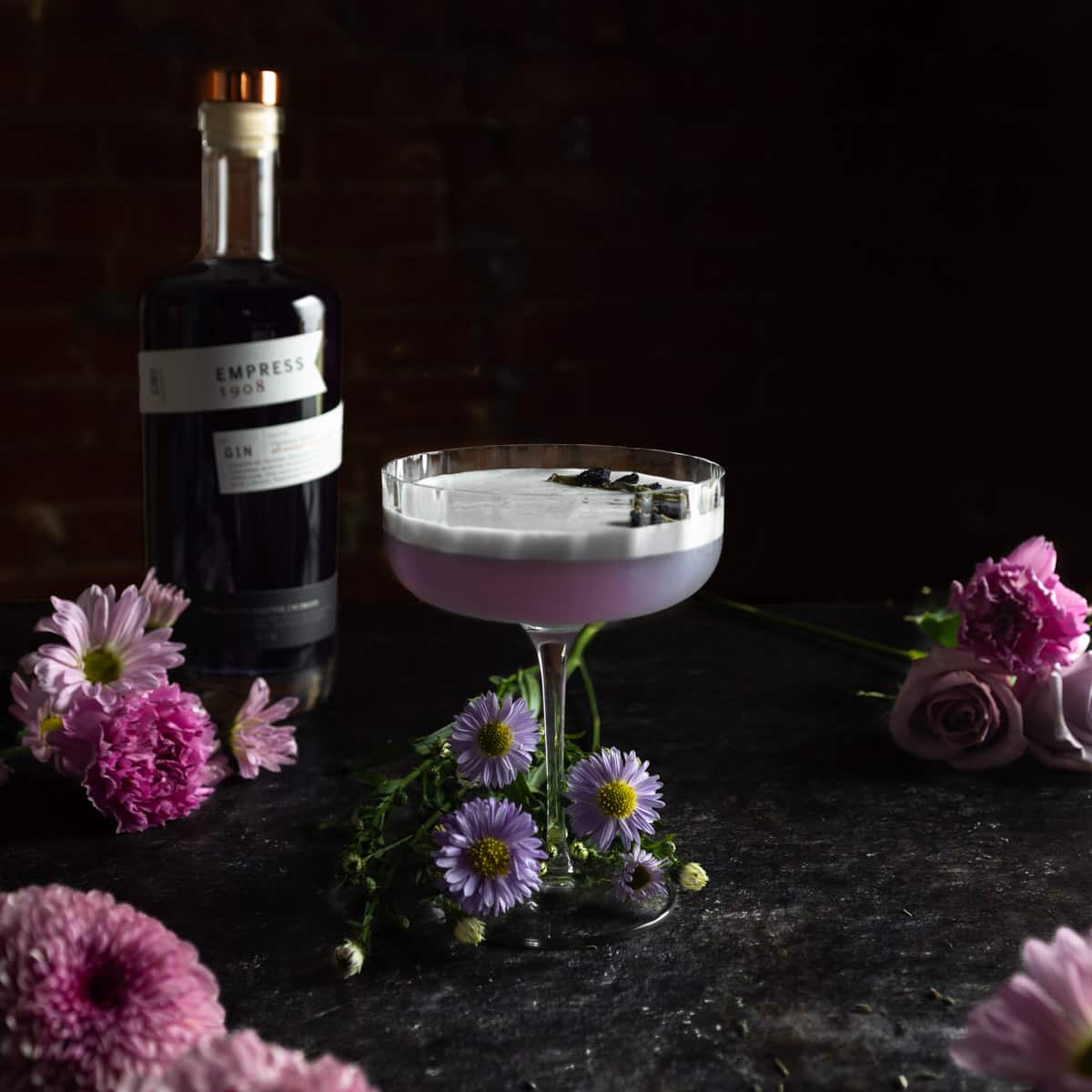 Flower Power Sour: A Pretty Twist on a Classic
Classically, a gin sour consists of gin, lemon juice, sugar and (sometimes) an egg white. To accentuate the purple coloring and delicate flavors of Empress 1908 Gin, we gave this classic cocktail a modern twist. The addition of curaçao (brandy-based orange flavored liqueur) and our homemade Butterfly Pea Blossom & Lavender Syrup pair beautifully with our gin of choice: Empress 1908. The Lavender Empress cocktail is a Spring-inspired sipper that celebrates this gin's indigo coloring and infusion of flowers, herbs and spices.
Rich & Silky Mouthfeel: The Power of an Egg White
Egg whites have been used in cocktails for many, many years and lend a lovely texture to many classic libations. When shaken, the egg white whips to a rich and frothy foam that sits pleasantly on the surface of the drink. We love the way an egg white balances the sharper citrus notes and marries the flavors of Empress 1908 Gin, citrus and lavender in this cocktail.
Moreover, the egg white makes The Lavender Empress cocktail look even more lovely by creating distinct layering and providing a lovely bed for the butterfly pea blossom garnish. All that being said, if you prefer to skip the egg white, go ahead and omit it from this recipe.
You May Also Like...
Recipe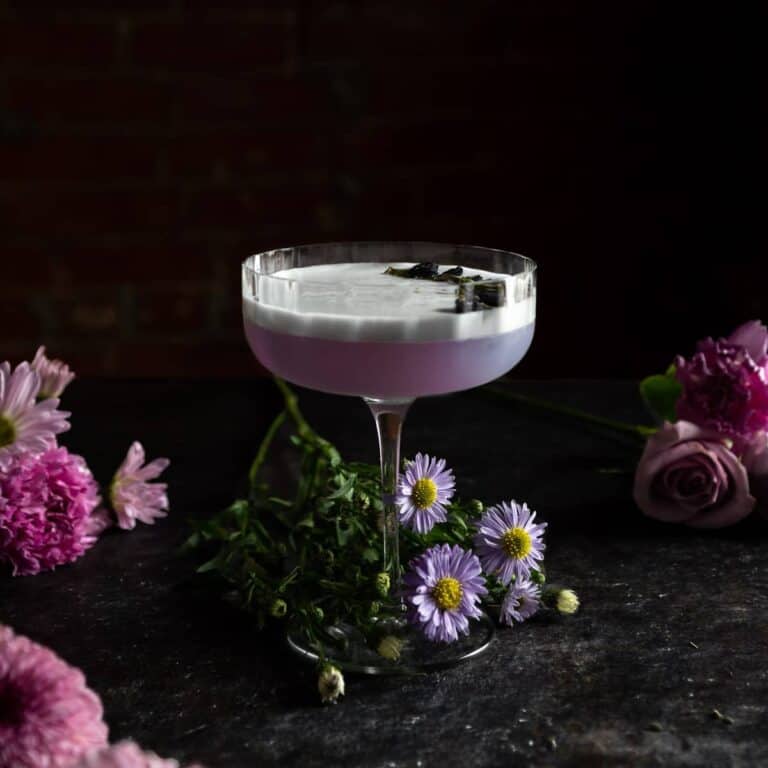 The Lavender Empress: A Gin Sour Cocktail
The Lavender Empress is a gin sour made using Empress 1908 Gin, curaçao, lemon juice, an egg white and homemade Butterfly Pea Blossom and Lavender Syrup.
ADJUST SERVINGS
Special Equipment
Cocktail Tin

Hawthorne Strainer (Optional, but recommended. See Note: a.)
Ingredients
Butterfly Pea Blossom & Lavender Syrup (About 16 Servings)
1

Cup

filtered water

1 ½

Tablespoons

dried lavender

1

Cup

granulated sugar

2 heaping

teaspoons

dried butterfly pea blossoms

(sometimes called butterfly pea tea)
The Lavender Empress (1 cocktail)
1 ½

ounces

Empress 1908 Gin

½

ounce

curaçao

½

ounce

Butterfly Pea Blossom & Lavender Syrup

¾

ounce

freshly-squeezed lemon juice

1

large egg white
Ice

as needed for shaking

Dried butterfly pea blossoms

optional garnish
Instructions
Butterfly Pea Tea Blossom & Lavender Syrup
Gather, measure and prepare the Butterfly Pea Blossom & Lavender Syrup ingredients as listed. To view metric measurements, toggle the US Customary/Metric switch at the top of this recipe card.

In a medium saucepan, bring the water and lavender to a boil over medium-high heat.

Reduce heat to simmer. Add sugar and stir to dissolve. Continue to simmer for 15 minutes.

Remove from heat. Add the butterfly pea blossoms and stir to combine. Steep for 5 minutes.

Strain Butterfly Pea Tea & Lavender Syrup through a fine mesh strainer. The syrup is ready to be used in The Lavender Empress or will keep in the refrigerator for up to one week.
The Lavender Empress
Gather, measure and prepare The Lavender Empress ingredients as listed. 

Combine all ingredients (Empress 1908 Gin, curaçao, syrup, lemon juice and egg white) in a cocktail tin with ice. Add Hawthorne Strainer spring, if using. (See Note: a) Shake vigorously for 60 seconds.

Strain the contents of the tin into a coupe, martini or other cocktail glass for serving. 

If using, garnish the cocktail with dried butterfly pea blossoms. Serve immediately and enjoy! Cheers!
Notes
a. Egg white cocktails need to be shaken vigorously to achieve the rich, foamy head and mouthfeel. We recommed shaking for a full 60 seconds, at least. If you have a Hawthorne Strainer in your home bar, we recommend removing the spring and adding it to the cocktail tin during the shake. The spring will act as a whisk and help to properly whip this cocktail. Hawthorne strainers can be purchased online, in restaurant supply stores, and anywhere kitchen tools and utensils are sold. 
* A Note About Salt
Unless otherwise noted, all recipes on The Sage Apron are developed using Diamond Crystal Kosher salt. It is a great all-purpose salt for cooking and baking. If using table salt, reduce quantities by about half.
Nutrition
Calories:
210
kcal
|
Carbohydrates:
19
g
|
Protein:
3
g
|
Fat:
1
g
|
Saturated Fat:
1
g
|
Polyunsaturated Fat:
1
g
|
Sodium:
53
mg
|
Potassium:
80
mg
|
Fiber:
1
g
|
Sugar:
17
g
|
Vitamin A:
5
IU
|
Vitamin C:
8
mg
|
Calcium:
7
mg
|
Iron:
1
mg