These little party toasts make for the easiest appetizer! Whipped ricotta with lemon is spread over crunchy crostini and finished with a dusting of toasted walnuts, a drizzle of honey and a sprinkle of flaky salt. Simply divine!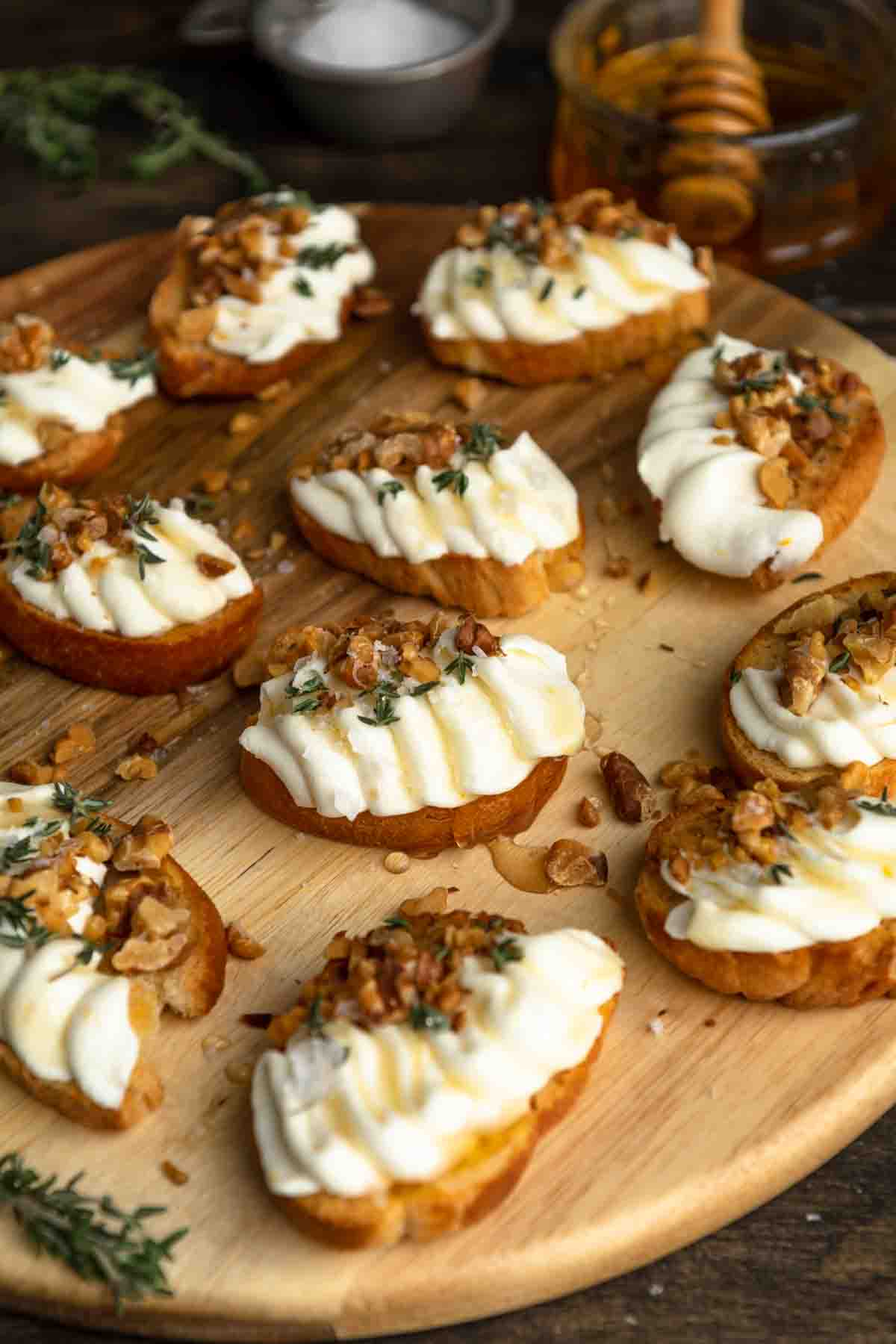 Why You'll Love This Recipe
Ready in minutes! These ricotta crostini are perfect for a last minute addition to your spread! They are super simple and ready in 20ish minutes!
Completely customizable! Think of these little ricotta toasts as a blank canvas for all of your seasonal variations! More ideas below!
Easy to modify for allergies. Gluten free? Use your favorite gluten free bread or cracker. Nut allergen? No problem, add a little crunch with toasted pepitas. Dairy free? We can do that too! Try making this recipe with A Pinch of Parsley's vegan cashew ricotta. It's delish!
It's a crowd pleaser! With the perfect balance of crunchy, creamy, sweet and salty - this ricotta appetizer is totally addicting and easy to be enjoyed by all!
Ingredients (& Suggested Substitutions)
These simple crostini are as easy as they sound! Here's what you'll need: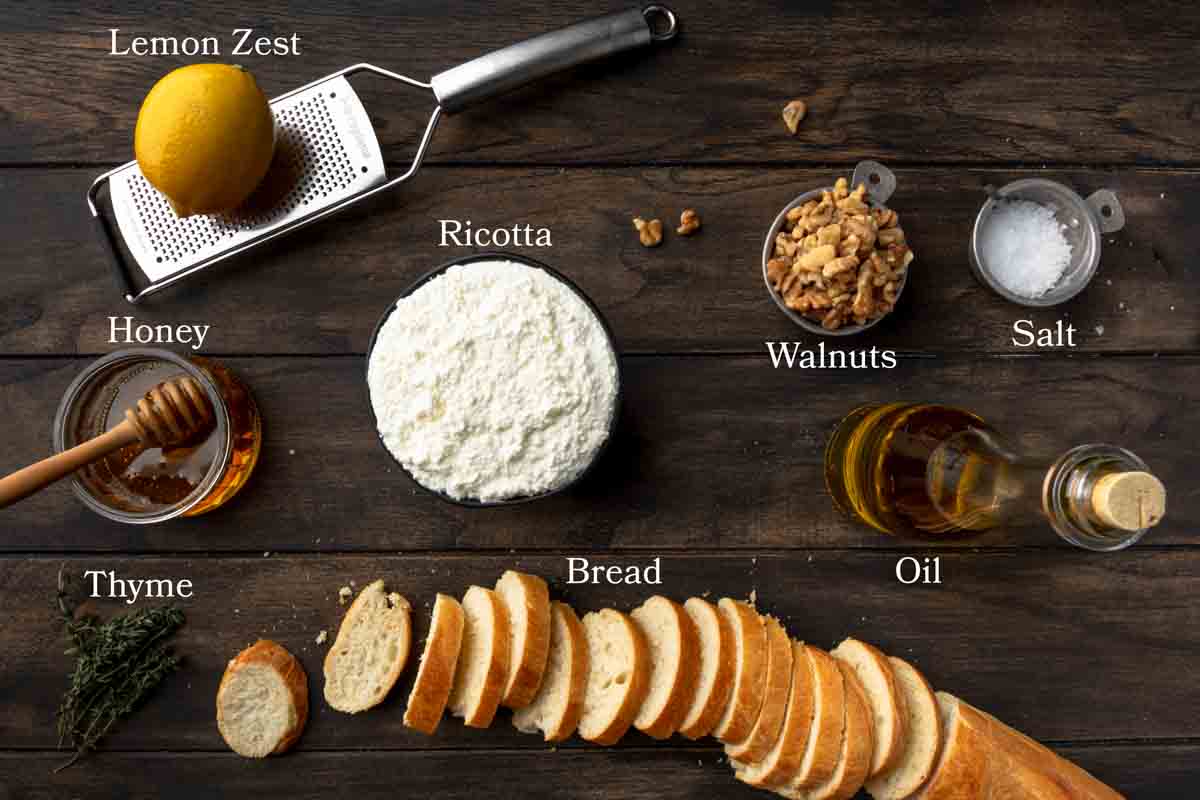 Bread - I like to use a sourdough baguette because they make the perfect bite-size rounds. Focaccia also works well and, of course, a gluten-free bread is always an option.

For an even quicker crostini, a crisp style cracker works really well too. I love the rosemary raisin crisps from Trader Joe's.

Whole Milk Ricotta Cheese - For this recipe, I really really recommend using whole milk ricotta. The full fat content is what gives these toasts their luscious, creamy texture. You can even make your own in under an hour with our homemade ricotta recipe! (With only 3 ingredients!)

Note: You really want the best ricotta you can get your hands on! Avoid overly processed products with stabilizers and/or preservatives. For some grocery store brands of ricotta you may need to add a splash of heavy cream or olive oil to get it to a nice whipped consistency.

Olive Oil - For perfectly golden toasted crostini.
Lemon Zest - Technically optional but whipping this ricotta with a bit of zest gives it a really nice, bright flavor.
Walnuts - I like walnuts for their buttery crunch but I've also made these toasts with marcona almonds, pistachios, pine nuts and pecans. Can confirm: all delicious!
Honey - I recommend using a flavorful local honey, if you can. Wildflower honey is especially nice but you could also use a truffled or spicy honey here, too!
Thyme Leaves - These are optional but they add a nice savory flavor and an eye-appealing speckle of green! Basil, oregano and mint are other tasty choices!
Flaky Sea Salt - Don't skip it! Malden sea salt is my favorite for it's flaky delicate crystals that crackle and provide the perfect salty seasoning.
How To Make Whipped Ricotta Crostini
Whipped Ricotta: Add ricotta, lemon zest, and salt to a food processor fitted with a blade attachment. Process for 20 - 30 seconds until creamy and smooth.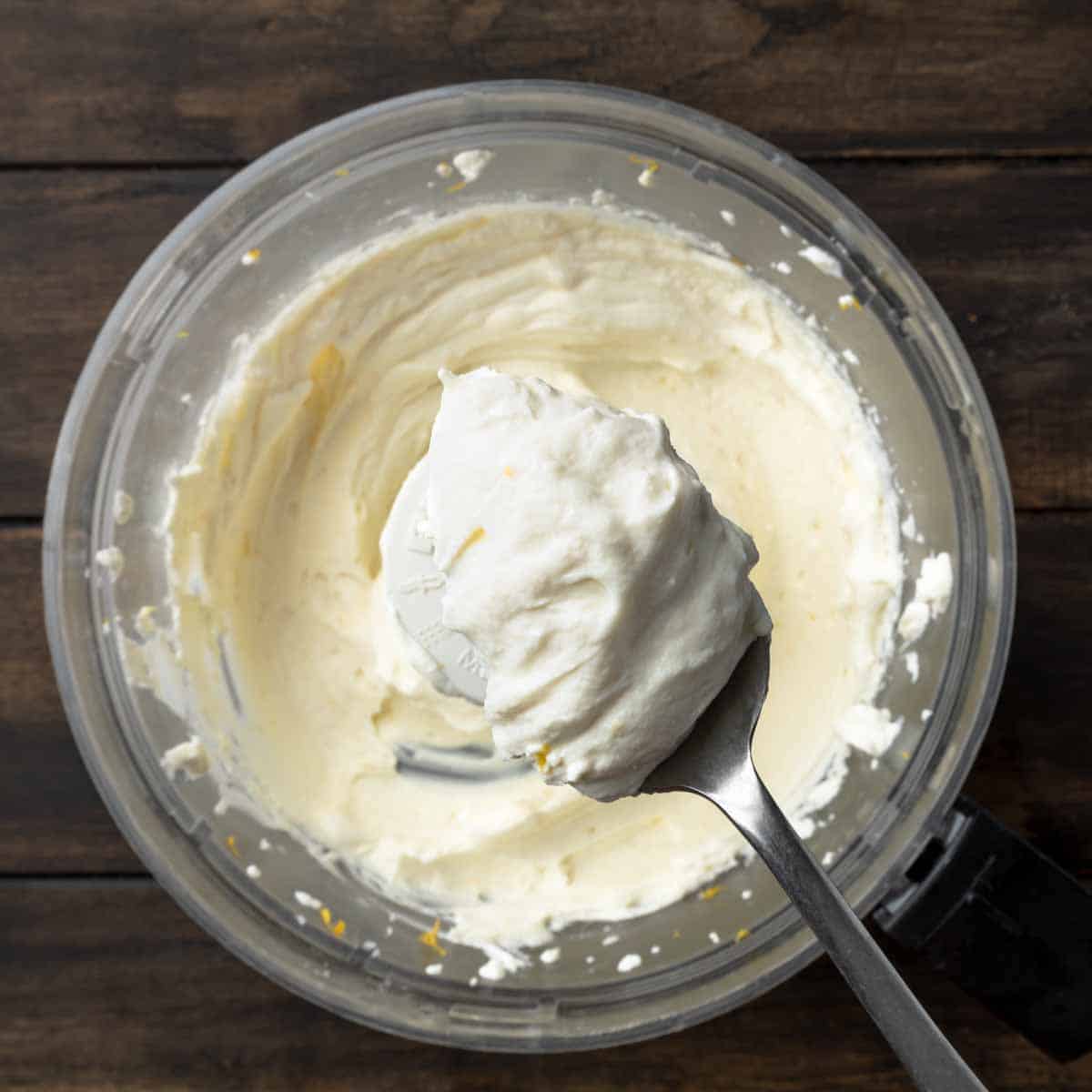 *If the ricotta seems at all chalky or stiff, you can add a small splash of olive oil or heavy cream. Whipped ricotta can be made ahead of time and stored in the refrigerator for 2 - 3 days. I like to store it directly in a piping bag.
Pro Tip: Runny Ricotta - For this recipe you really need to use a full-fat whole milk ricotta cheese. Part skim and low-fat ricotta will be too runny, less creamy and make your crostini soggy much quicker. It's also important to note that some brands of whole milk ricotta will have a higher water content. If there is any visible liquid in your ricotta, strain it in a fine mesh strainer for 5 - 15 minutes before whipping.
Crunchy Crostini: To make crostini start by preheating your oven to 450° Fahrenheit. Slice the bread thinly into bite-sized rounds (or squares, if using focaccia).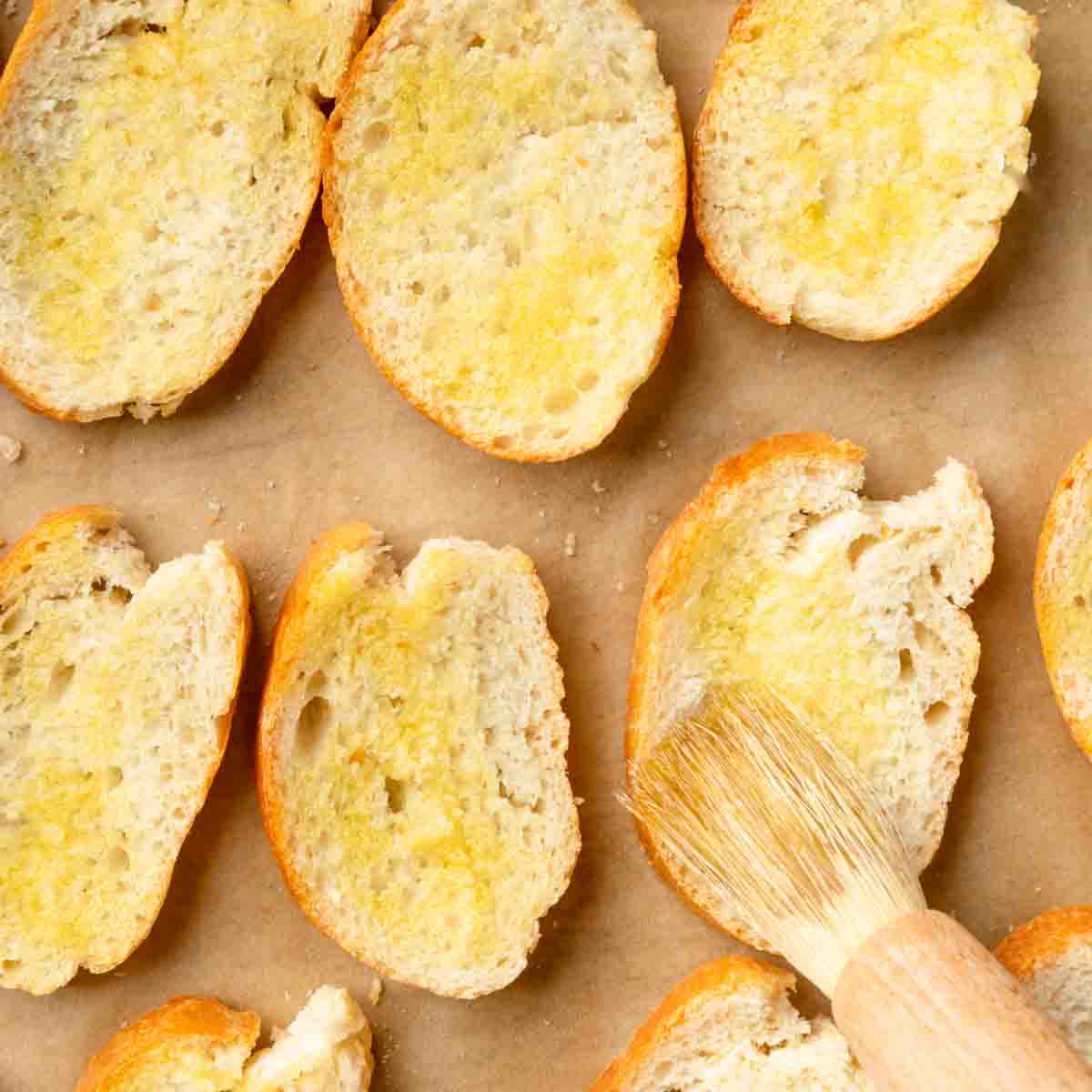 Use a pastry brush to lightly brush a nice olive oil over the tops of each cracker. Bake for 5 - 7 minutes or until this toasts are lightly golden with a crispy crunchy edge and a soft and fluffy center.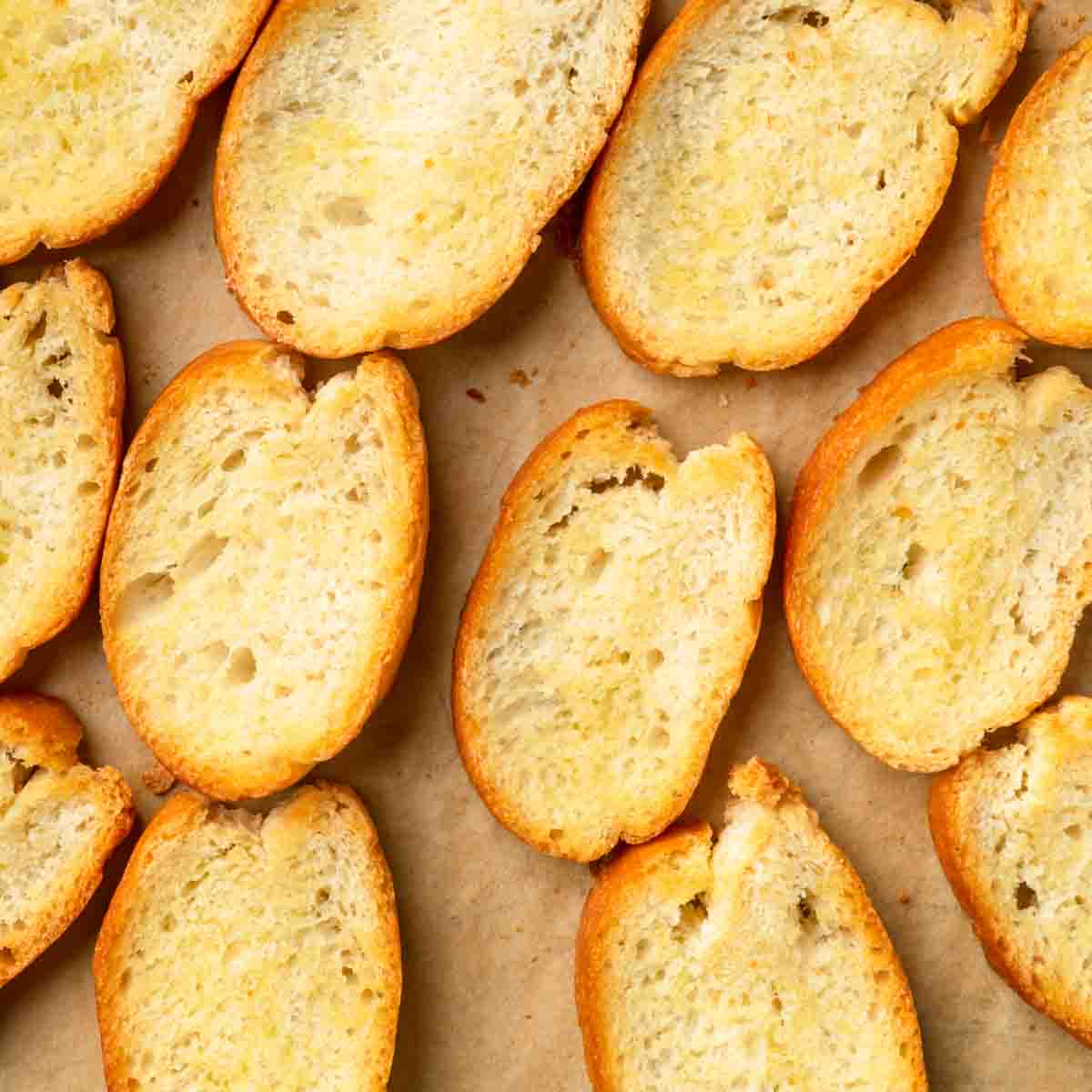 Assembling the Whipped Ricotta Crostini:
Top each crostini with a generous portion of whipped ricotta. You can use a piping bag (or a ziplock bag with the corner cut off), if you are feeling fancy. I used a large petal decorating tip to create a ribbon look. For a more rustic look, just swoosh some ricotta on each toast with the back of a spoon.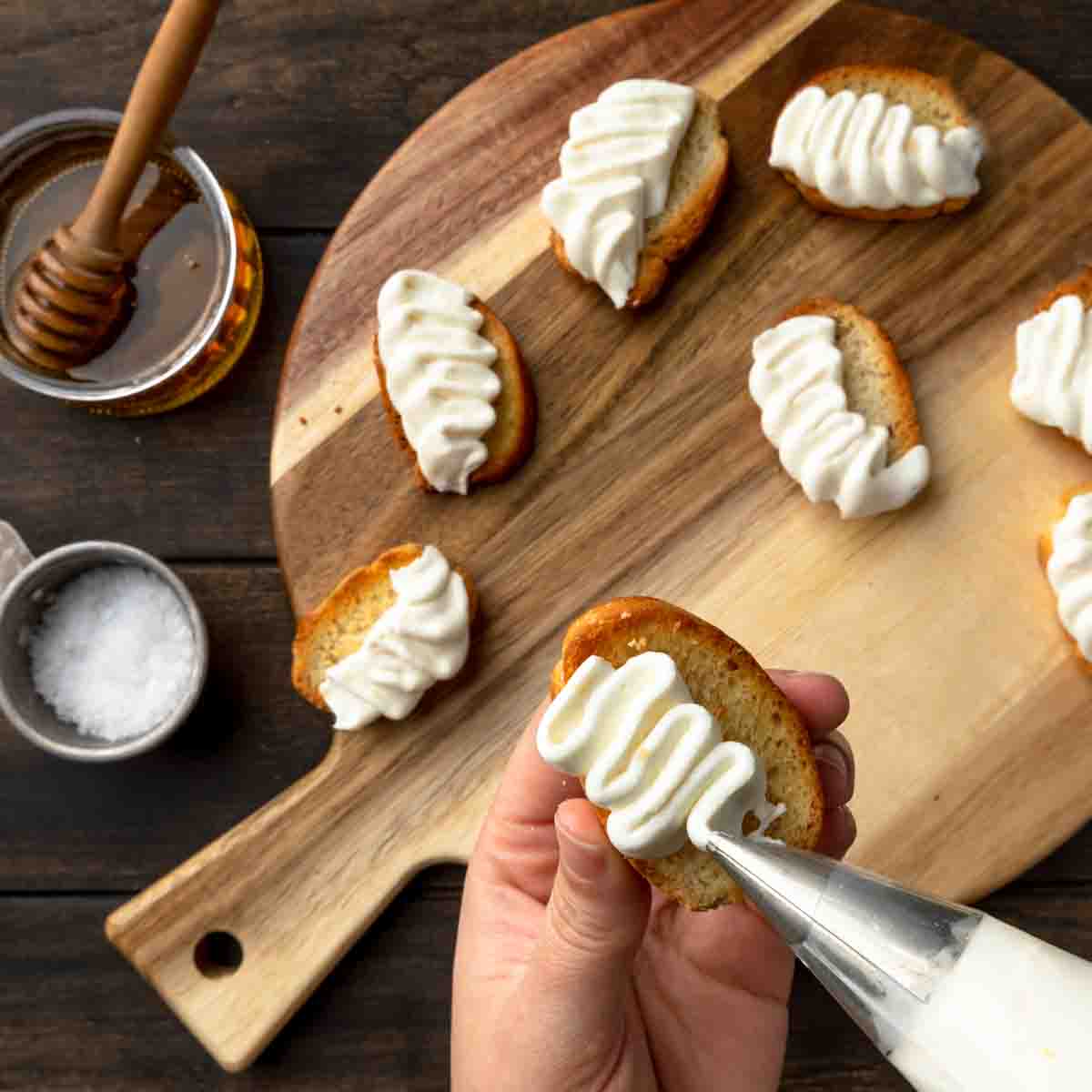 Top each ricotta crostini with a sprinkle of toasted walnuts, thyme leaves and a drizzle of honey. Don't forget to top with a touch of flaky sea salt! That's it! Easy, beautiful, scrumptious and ready to party!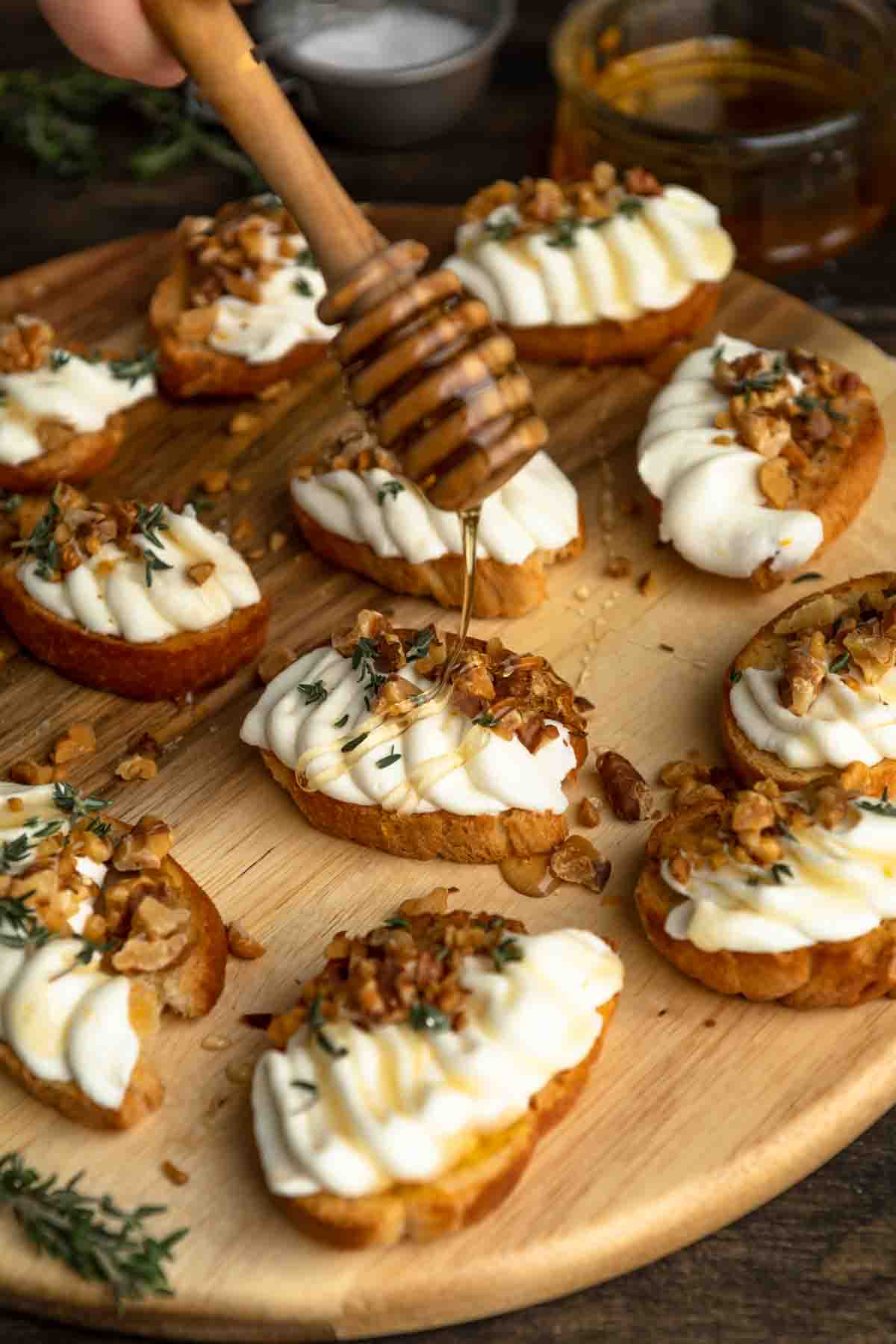 Suggested Variations
There are literally a million ways to enjoy these tasty little ricotta toasts! Here are a few ideas for additional toppings and variations that we love the most! You can even set these toppings out on a little build-your-own cheese board for a fun, interactive app!
Add fruit! Fresh seasonal fruits or jams and jellies work great for these toasts. I recommend fresh figs, peach slices, a touch of raspberry jam or fresh berries.
Serve with charcuterie. These crostini with honey are paired perfectly with salty cured meats like prosciutto and salami.
Swap out the honey. I love these toasts with a little Balsamic Glaze, for a more sweet and savory flavor!
Add olives or capers. For a tangy, briny note add some chopped green olives, a little tapenade or a few capers!
For a savory Spring appetizer, make our Grilled Asparagus & Whipped Ricotta Toast with mint and balsamic!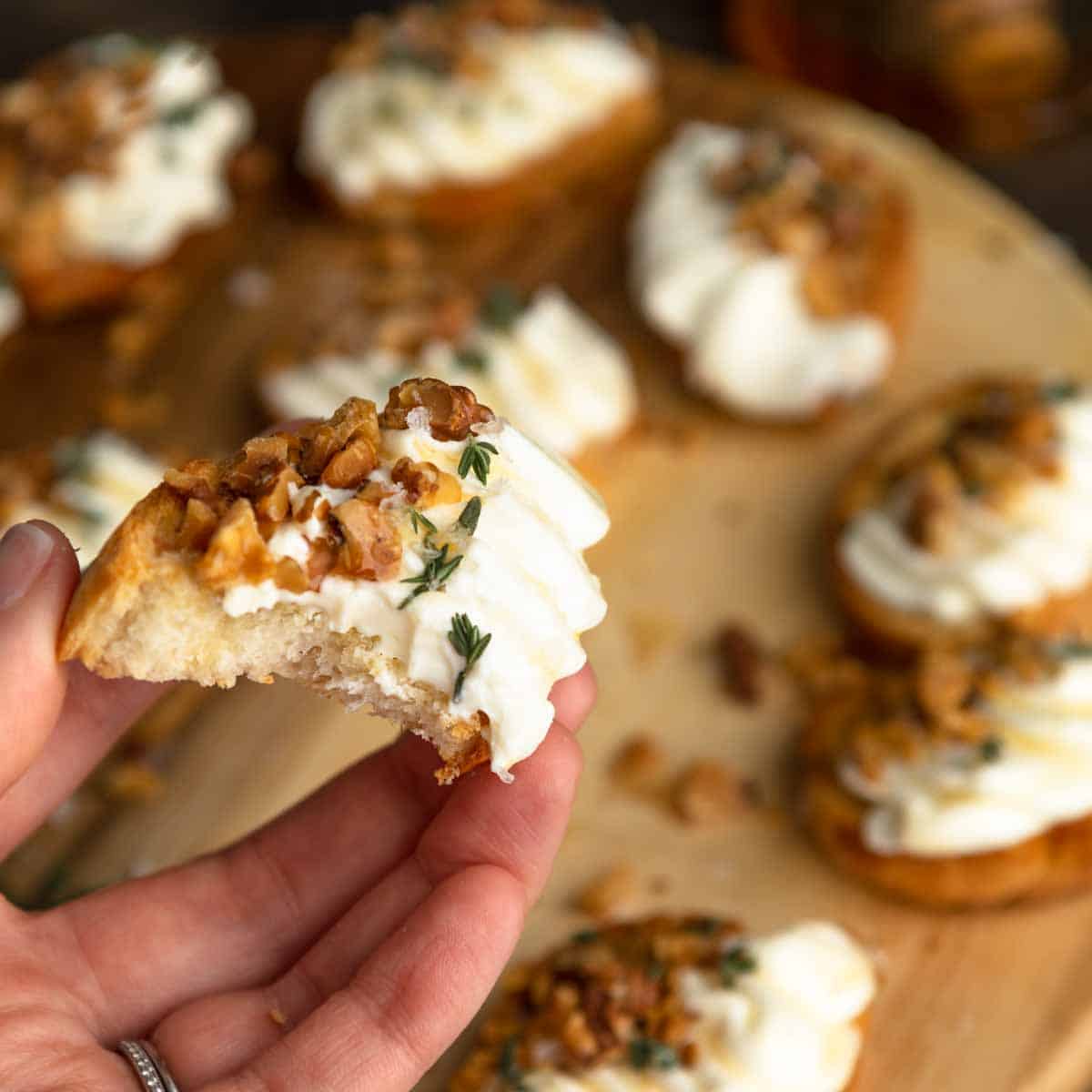 Frequently Asked Questions
What are crostini?
Crostini are bite-sized toasts that are commonly served as appetizers or hors d'oeurves. Crostini are usually round pieces of bread that are toasted with olive oil and can be served with various savory toppings. Crostini are a smaller version of the Italian bruschetta.
Why is my ricotta runny?
Some brands of whole milk ricotta may need to be drained of excess moisture (in a fine mesh strainer or cheesecloth) before whipping. I do not recommend using low-fat ricotta for this recipe.
How do you prevent ricotta crostini from becoming soggy?
Use well-drained whole milk ricotta. Brush each slice of bread with olive oil well, before toasting until golden. Then, prepare ricotta crostini just before serving.

Inevitably, ricotta crostini will begin to become soggy within a few hours of assembling. You can always serve the whipped ricotta as a dip with toasted walnuts and honey on top and crostini on the side, if you are worried about leftovers and/or sogginess.
Recipe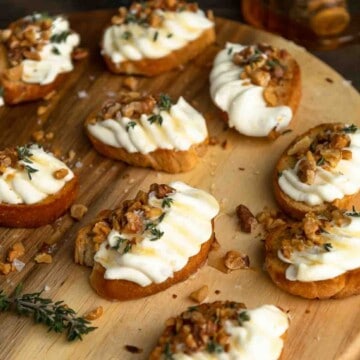 Whipped Ricotta Crostini with Walnuts & Salted Honey
These tasty little toasts have the perfect balance of crunch, creamy whipped ricotta, toasted walnuts and salted honey!
ADJUST SERVINGS
Special Equipment
Food Processor with Blade Attachment

(or Electric Hand Mixer)

Piping Bag with Petal Decorating Tip

(optional)
Ingredients
1

pound

whole milk ricotta strained of any excess moisture (Try our homemade ricotta recipe)
Zest of

½ - 1

lemon

to taste

fine kosher salt* to taste (about

1

teaspoon

1

baguette (or focaccia)

sliced into bite-sized rounds

2

Tablespoons

olive oil

½

Cup

walnuts

chopped

¼

Cup

honey

3 - 4

sprigs

fresh thyme
Flaky finishing salt

to taste
Instructions
Arrange a rack in the center third of the oven and preheat to 400° Fahrenheit (205° celsius).

To make the whipped ricotta, add ricotta cheese, lemon zest and kosher salt into a food processor fitted with the blade attachment. Process on high speed for 1 minute until smooth and creamy. Transfer to a piping bag fitted with a petal decorating tip, if using. Refrigerate until ready to assemble the crostini.

Arrange the sliced baguette (or focaccia) on a baking sheet. Use a pastry brush to brush a little olive oil on the tops of each slice. Toast in the oven for about 7 minutes or until the edges of the crostini are lightly golden.

Toast the chopped walnuts for about 5 minutes or until golden and aromatic.

Assemble the crostini just before serving. Pipe (or spread) a portion of the whipped ricotta on each crostini. Top each crostini with a sprinkle of toasted walnuts, fresh thyme leaves and a drizzle of honey. Finish with flaky sea salt, to taste.
* A Note About Salt
Unless otherwise noted, all recipes on The Sage Apron are developed using Diamond Crystal Kosher salt. It is a great all-purpose salt for cooking and baking. If using table salt, reduce quantities by about half.
Nutrition
Calories:
67
kcal
|
Carbohydrates:
6
g
|
Protein:
2
g
|
Fat:
4
g
|
Saturated Fat:
1
g
|
Polyunsaturated Fat:
1
g
|
Monounsaturated Fat:
1
g
|
Cholesterol:
7
mg
|
Sodium:
55
mg
|
Potassium:
32
mg
|
Fiber:
0.3
g
|
Sugar:
2
g
|
Vitamin A:
68
IU
|
Vitamin C:
0.4
mg
|
Calcium:
37
mg
|
Iron:
0.4
mg