These pistachio biscotti dipped in dark chocolate are the perfect accompaniment for a nice cup of hot coffee! We love making these yummy Italian cookies to share at breakfast, for a midday pick-me-up or as a simple dessert. They also make a wonderful addition to festive holiday season cookie boxes and can make beautiful gifts for friends, neighbors and teachers.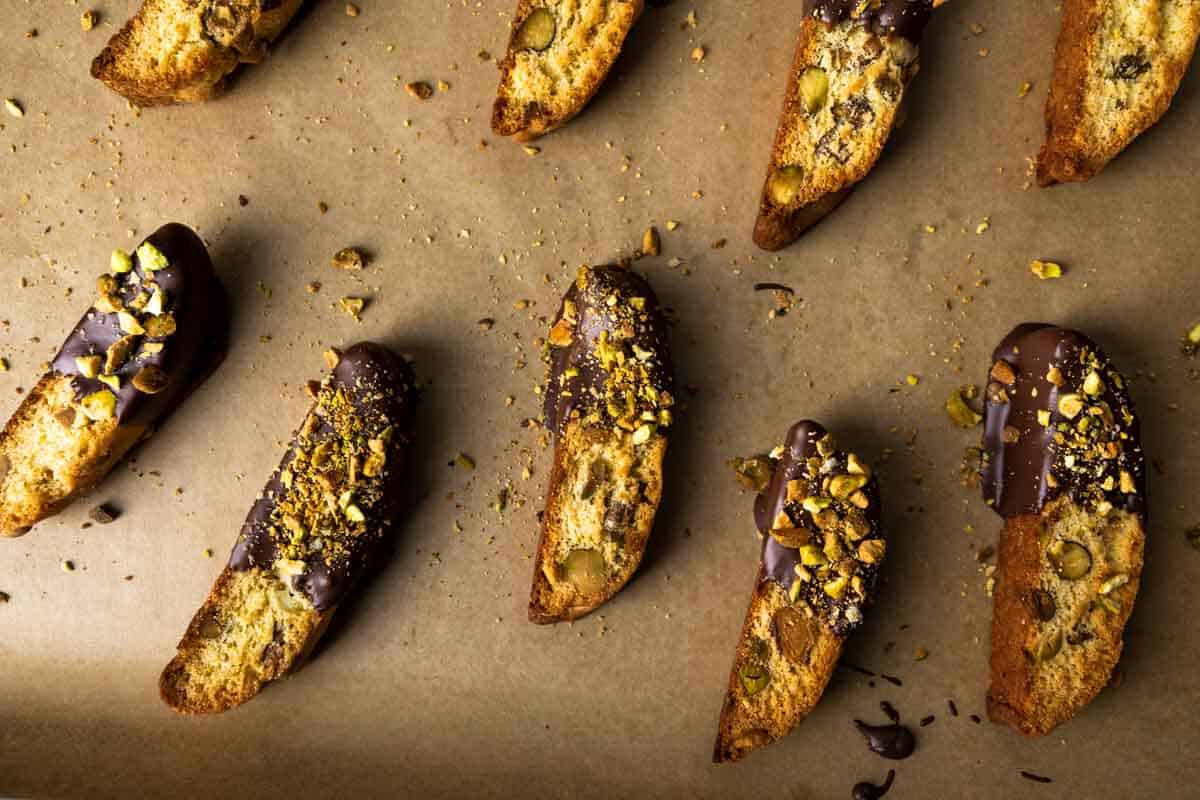 If you've never had homemade biscotti before - you are in for a special treat! Unlike the rock hard plastic-wrapped biscotti, fresh biscotti have a crispy golden exterior with a satisfying crunch and crumbly, yet soft, center. These classic Italian cookies are twice baked and delicious right off the baking sheet, but we like to dip ours in melted chocolate for a bit of added richness.
For another holiday cookie recipe, try our Billionaire Alfajores with Homemade Dulce de Leche!
Ingredients
This pistachio biscotti recipe transforms a few simple ingredients into a delectable sweet treat! Here's what you'll need: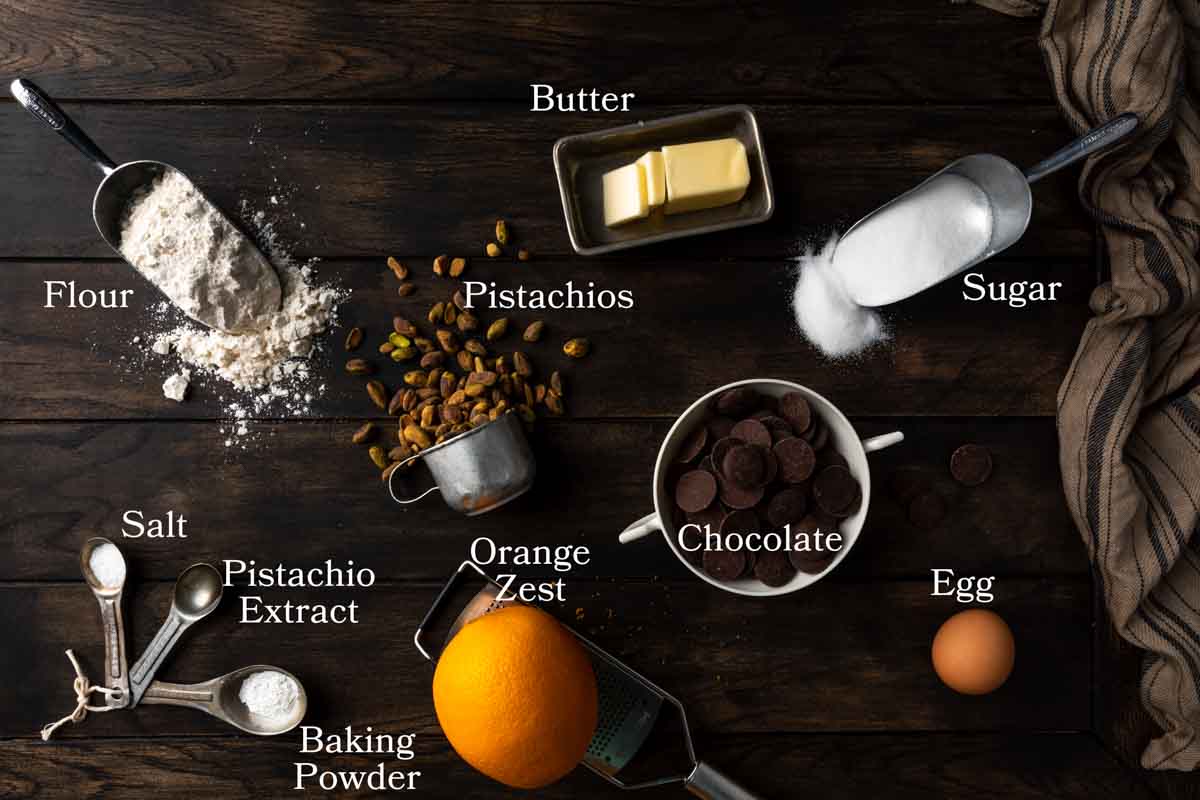 Key Ingredients
Pistachio Nuts - Of course, you'll need our star ingredient! We recommend using shelled pistachios that have been roasted and salted. The salty crunch adds a wonderful balance to the cookies' sweetness.
Pistachio Extract - Pistachio extract actually isn't made from pistachios at all! It is an alcohol based extract with flavors or orange and vanilla. It pairs wonderfully with pistachios and helps to accentuate their flavors. We bought ours online, here. However, we also tested this recipe substituting almond extract and vanilla extract - the results were all wonderful.
Butter - You may have heard traditional biscotti is made with olive oil, not butter, and that may be true in some recipes. Personally, we found that using olive oil in this recipe made these cookies undesirably hard and imparted a strong flavor. We opted for butter for that superior flavor and melt-in-your-mouth tenderness.
Chocolate - The chocolate is optional but oh, so recommended. We used dark chocolate disks but a chopped chocolate bar or chocolate chips would work here, as well. You can also substitute white chocolate, which goes beautifully with pistachios and looks especially gorgeous during Christmastime.
How To Make This Recipe
Homemade biscotti cookies are simple to make with just a few ingredients. They are always a wonderful quick addition to a gathering or holiday party. Here's how we make our pistachio biscotti:
Mixing The Dough
1. Start by preheating your oven to 350° Fahrenheit (175° celsius). In a small bowl, whisk your all-purpose flour, salt and baking powder together. Set the dry ingredients aside.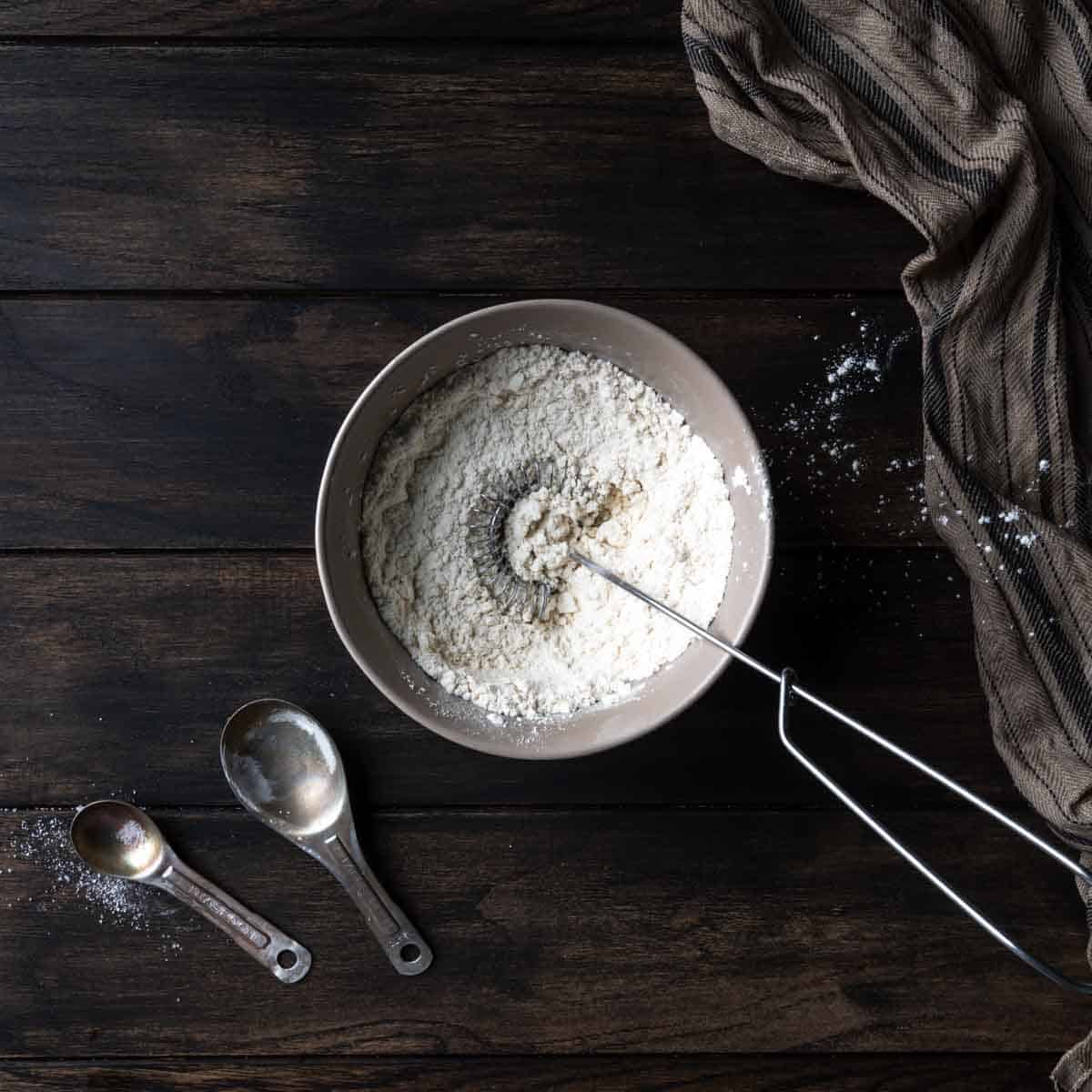 2. Then, using a stand mixer fitted with the paddle attachment or a medium bowl and a hand mixer, cream the softened butter and sugar together, scraping the bowl as necessary, until pale for about 3 - 5 minutes.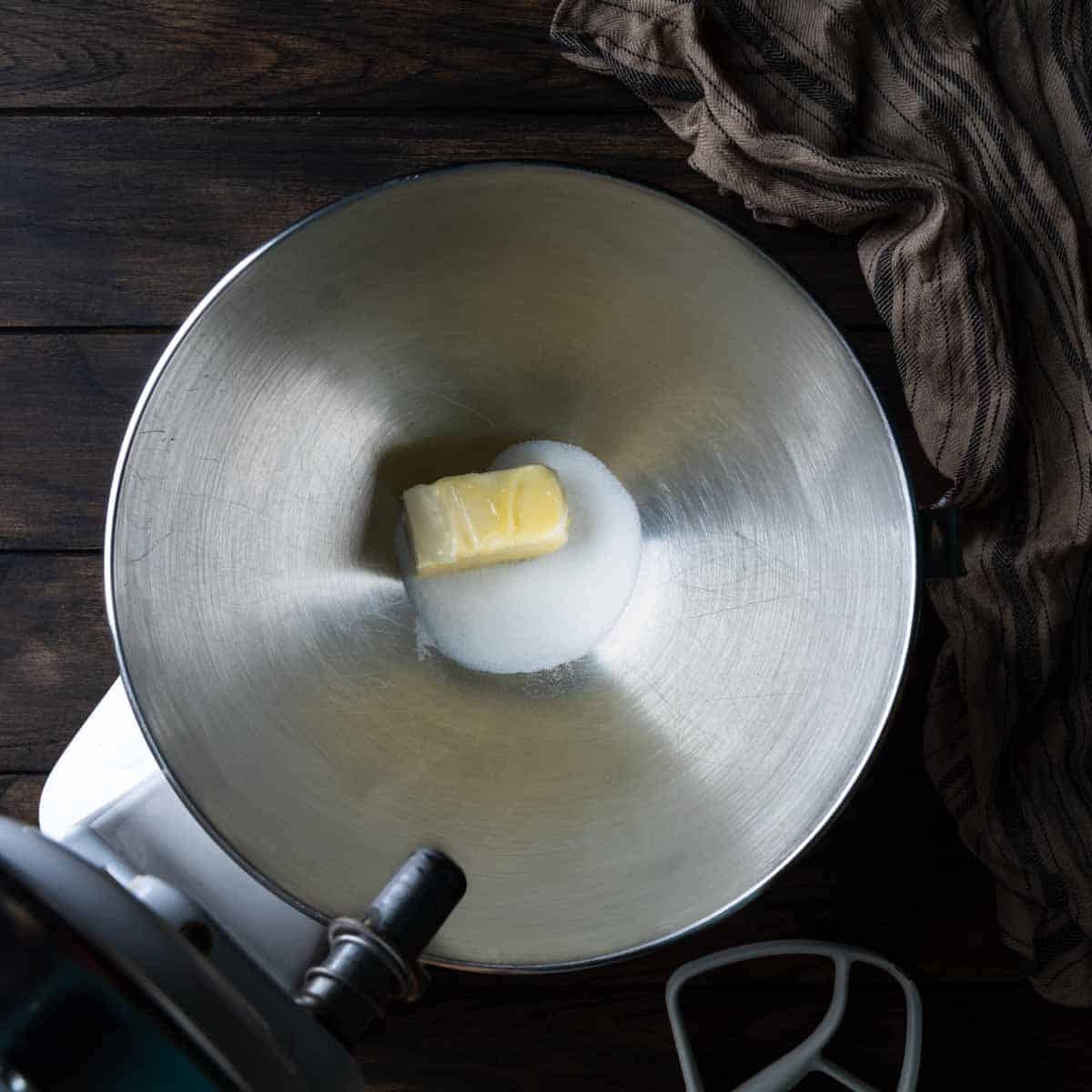 3. Add in the egg, orange zest and extract and mix until well combined.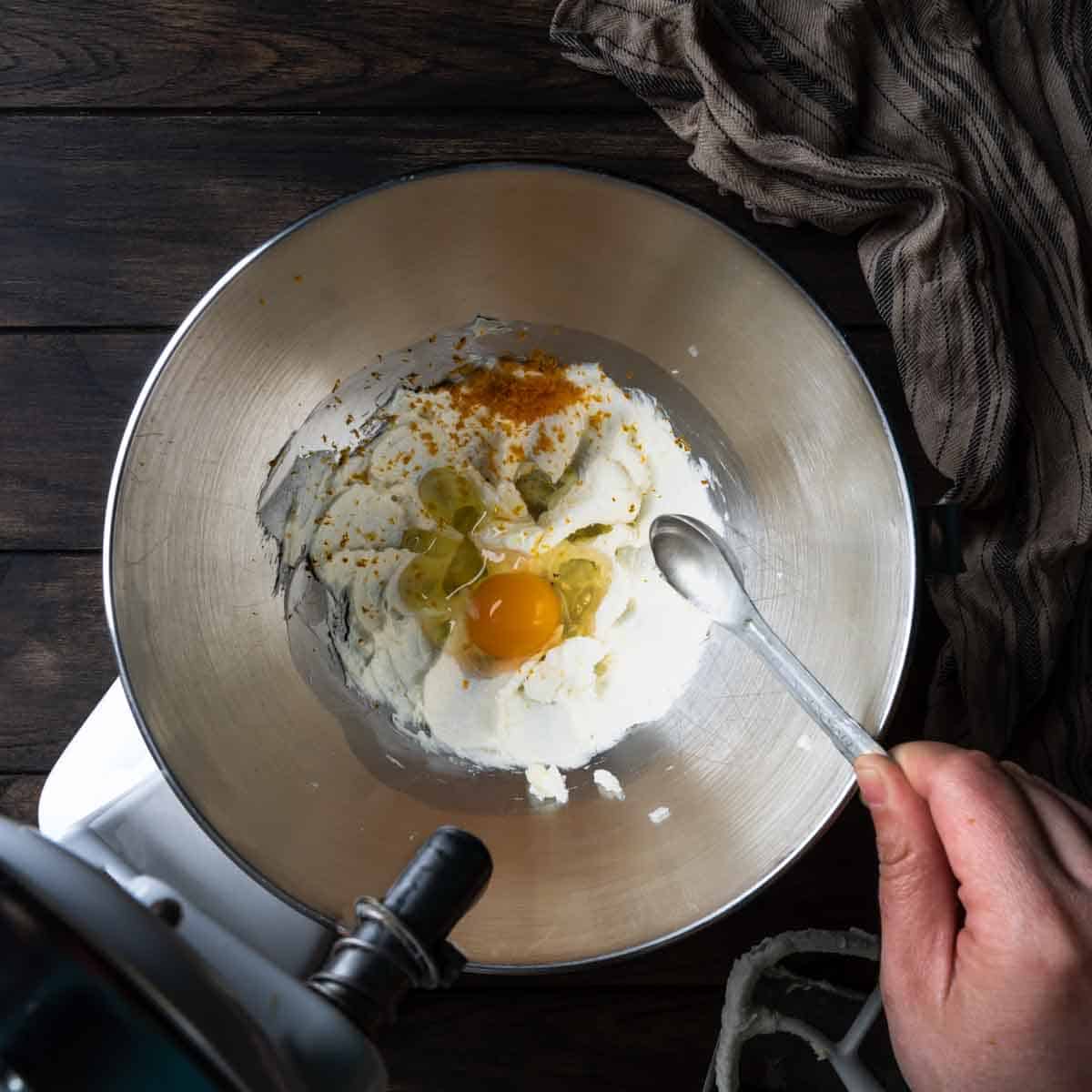 4. Next, add in the flour mixture. Mix on low speed (or by hand) until the dough forms and is just combined. Be careful not to over mix.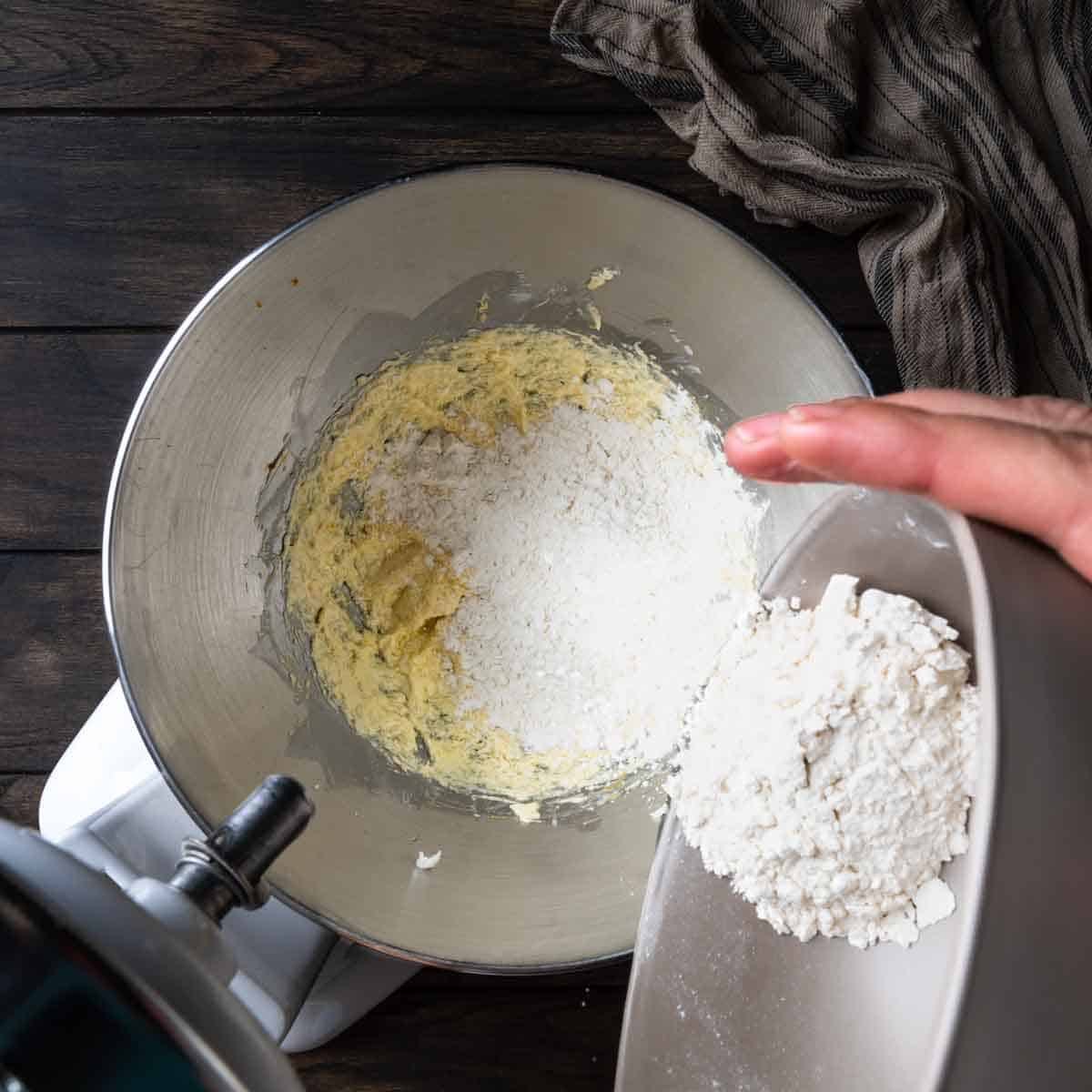 5. Then, stir in the pistachios. If using a hand mixer, fold in the pistachios with a rubber spatula. Otherwise, lightly pulse the stand mixer on the lowest speed. I like the way the paddle attachment crushes a few of the pistachios throughout the cookie dough.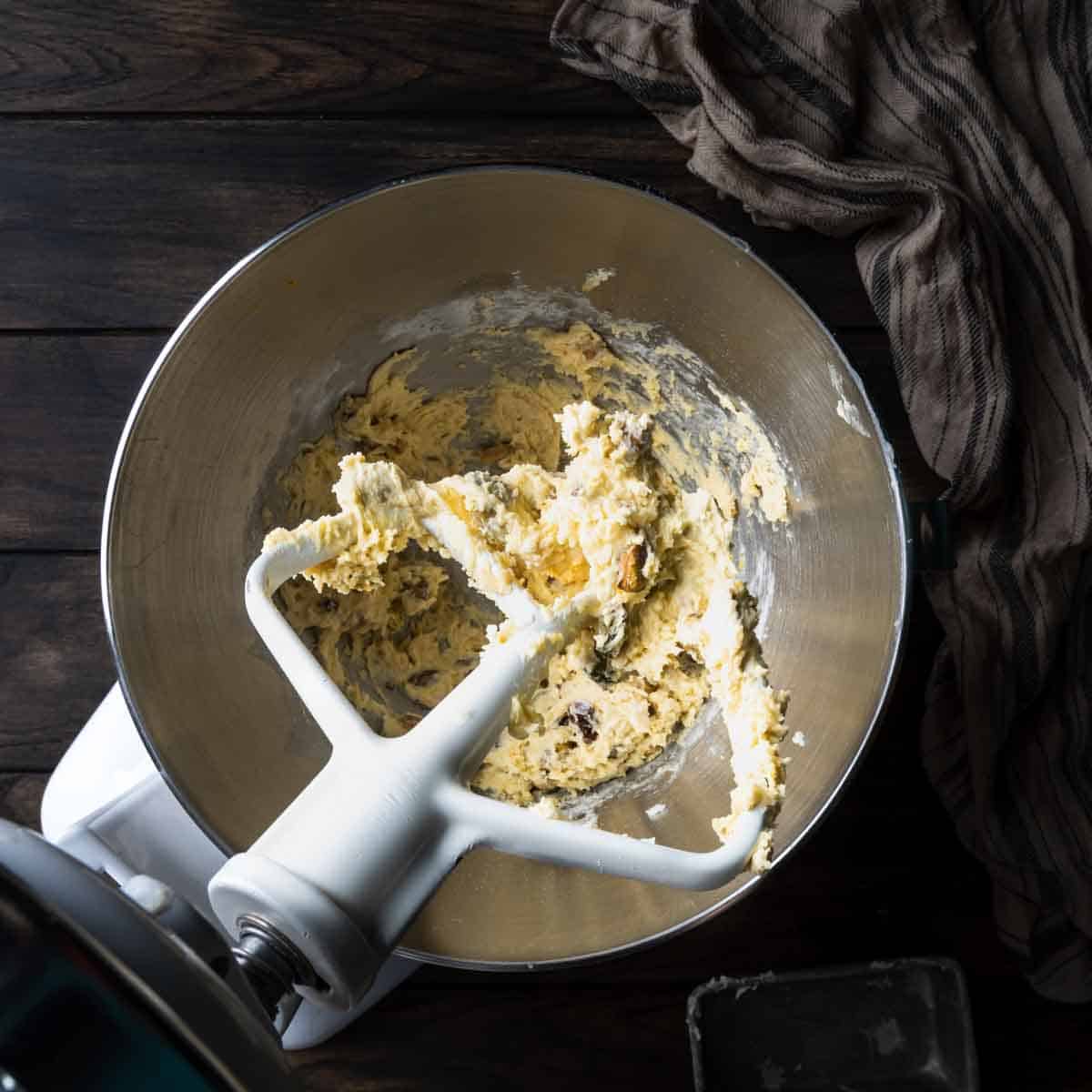 The First Bake
Good biscotti dough is very sticky. I recommend using a rubber spatula and wet hands to help shape the dough into a log directly on your baking sheet.
6. Line a baking sheet with parchment paper. Then, use a rubber spatula to scoop up some of the sticky dough. Plop the dough in the center of the baking sheet. Repeat the process with the remaining dough to line the dough in a long log down the center of the pan. It doesn't have to be perfect, we'll clean it up in the next step.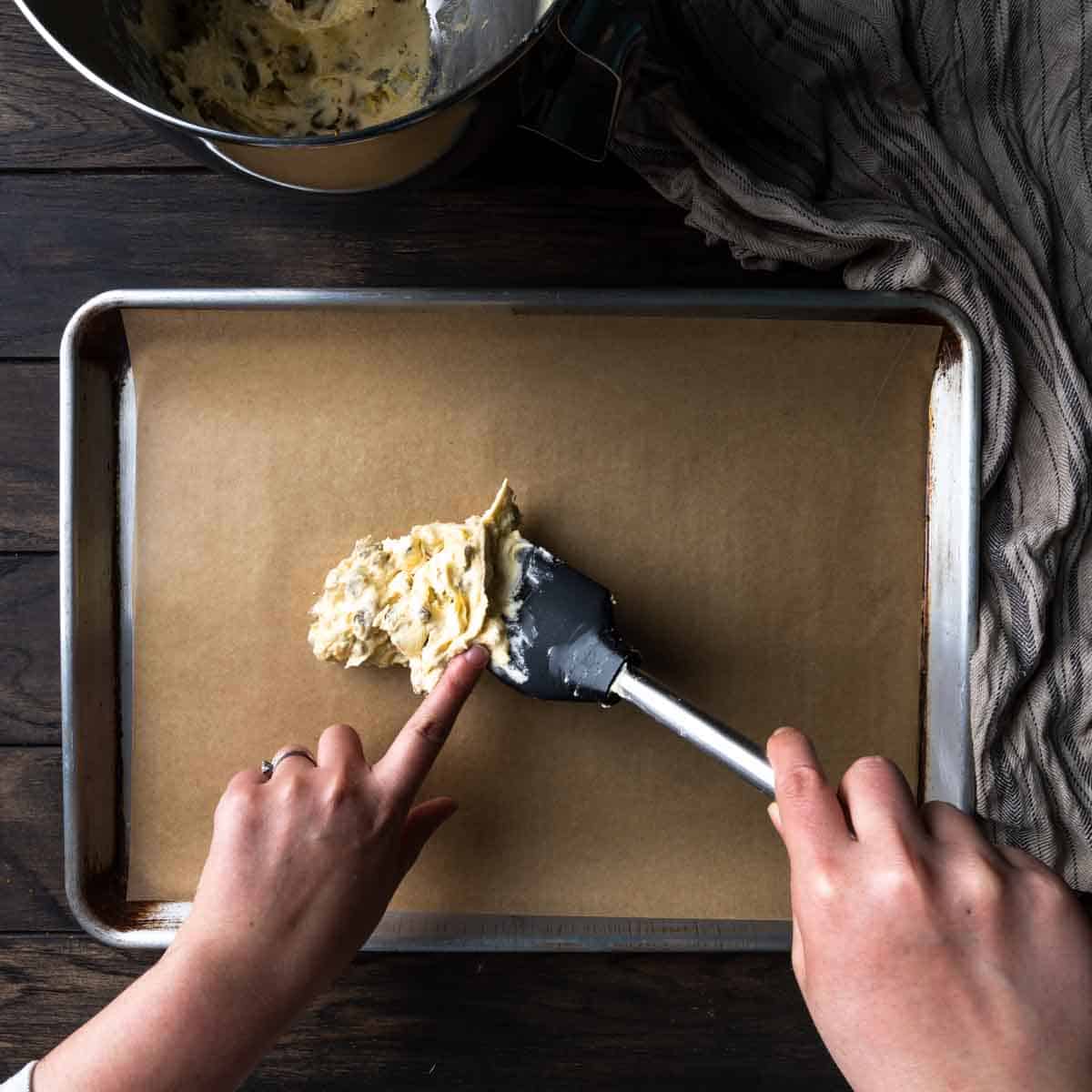 7. Once you have the dough on the baking sheet, it's time to start forming a more uniform log. Wet your hands at the sink with room-temperature water. Use your wet fingertips to press the dough into a thin, even log. Remember that the pistachio biscotti will spread significantly in the oven. Keep the log of dough a thin even length with nearly 1 inch of height.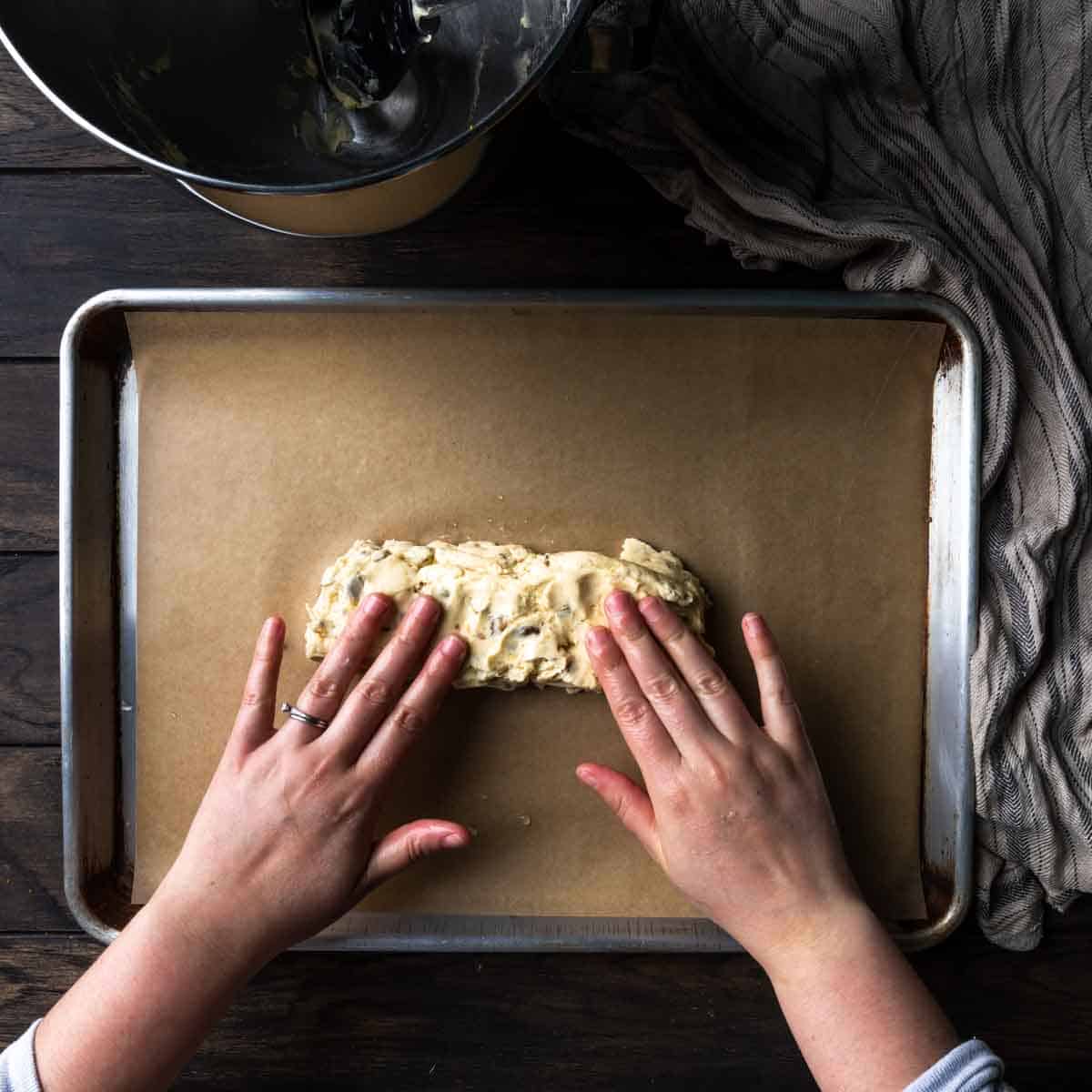 Baker's Journal: If doubling this recipe, we recommend dividing the dough to create two logs, on two separate baking sheets.
8. Bake the biscotti log for 25 minutes, until the cookie has puffed up and the edges are golden.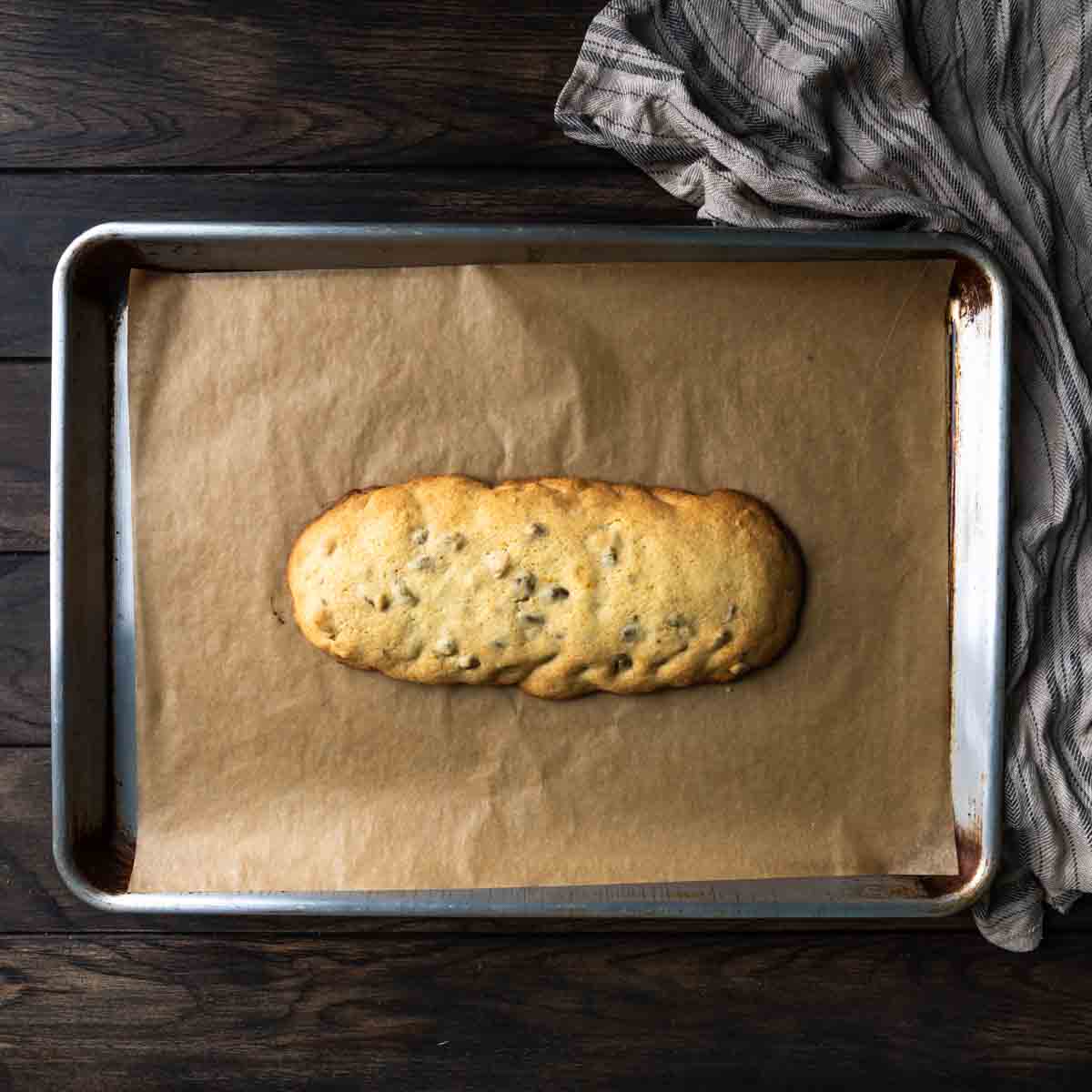 Cooling & Slicing
9. Then, WAIT TEN MINUTES. This is very important, so set a timer. The key to having smoothly sliced biscotti is to cut them at the perfect, still warm but not hot, temperature. Use a sharp knife to cut the biscotti directly on the baking sheet. We like ours about 1 inch thick, but you are welcome to create thinner, daintier biscotti if preferred.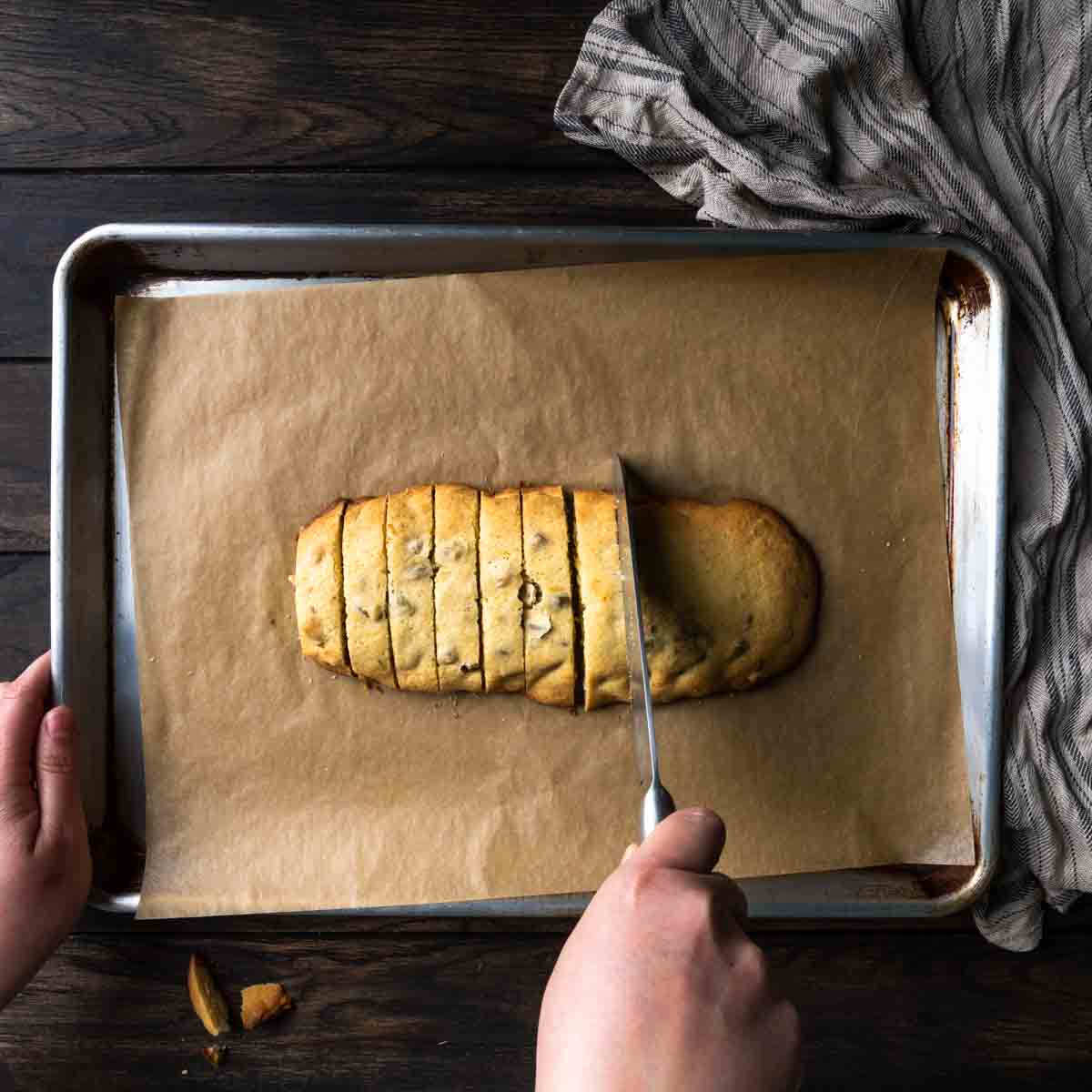 Baker's Journal: Perfectly Sliced Pistachio Biscotti - While some bakers swear by slicing biscotti with the gentle sawing of a serrated knife, I found that did not work well for this recipe. In fact, the serrated knife would catch on the pistachio nuts and dislodge them from the sweet cookies. I was left with a crumbly mess. For the best results with this recipe, I recommend using a sharp chef's knife and slicing down in one quick motion. This method works as long as you are cutting the biscotti at the correct temperature, ten minutes after the first bake.
As you cut the biscotti, flip them over to a cut side and arrange them across the same baking sheet.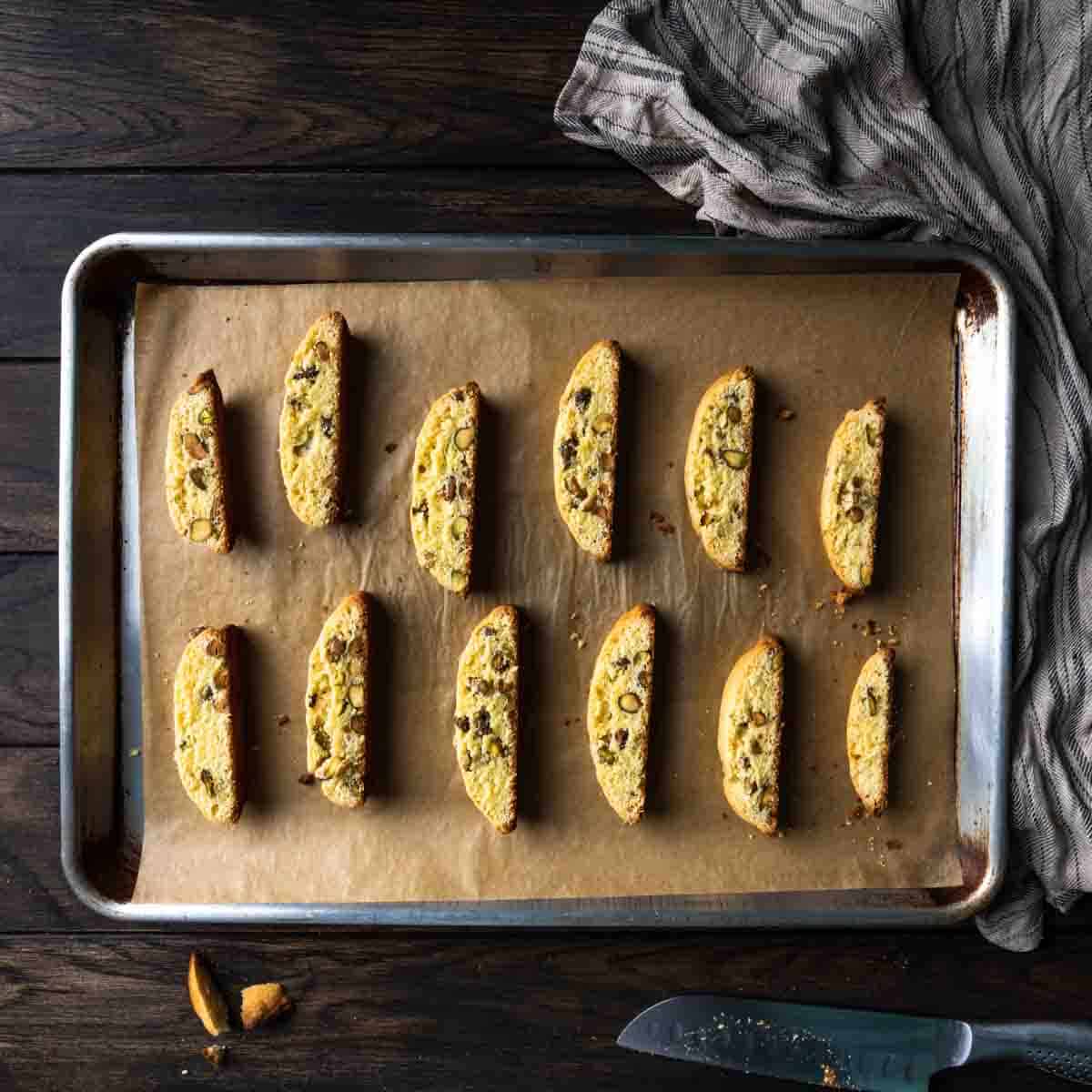 The Second Bake
10. Now it is time for the second bake. The exact timing of the second bake is up to you and how thinly or thickly you've sliced your biscotti. As pictured, these biscotti were baked until golden brown for an additional 15 minutes, flipping the cookies over about half way through. If you prefer your biscotti on the softer side, you can bake them a little less. For an extra crispy crunchy biscotti, you can dry them in the oven for a few extra minutes.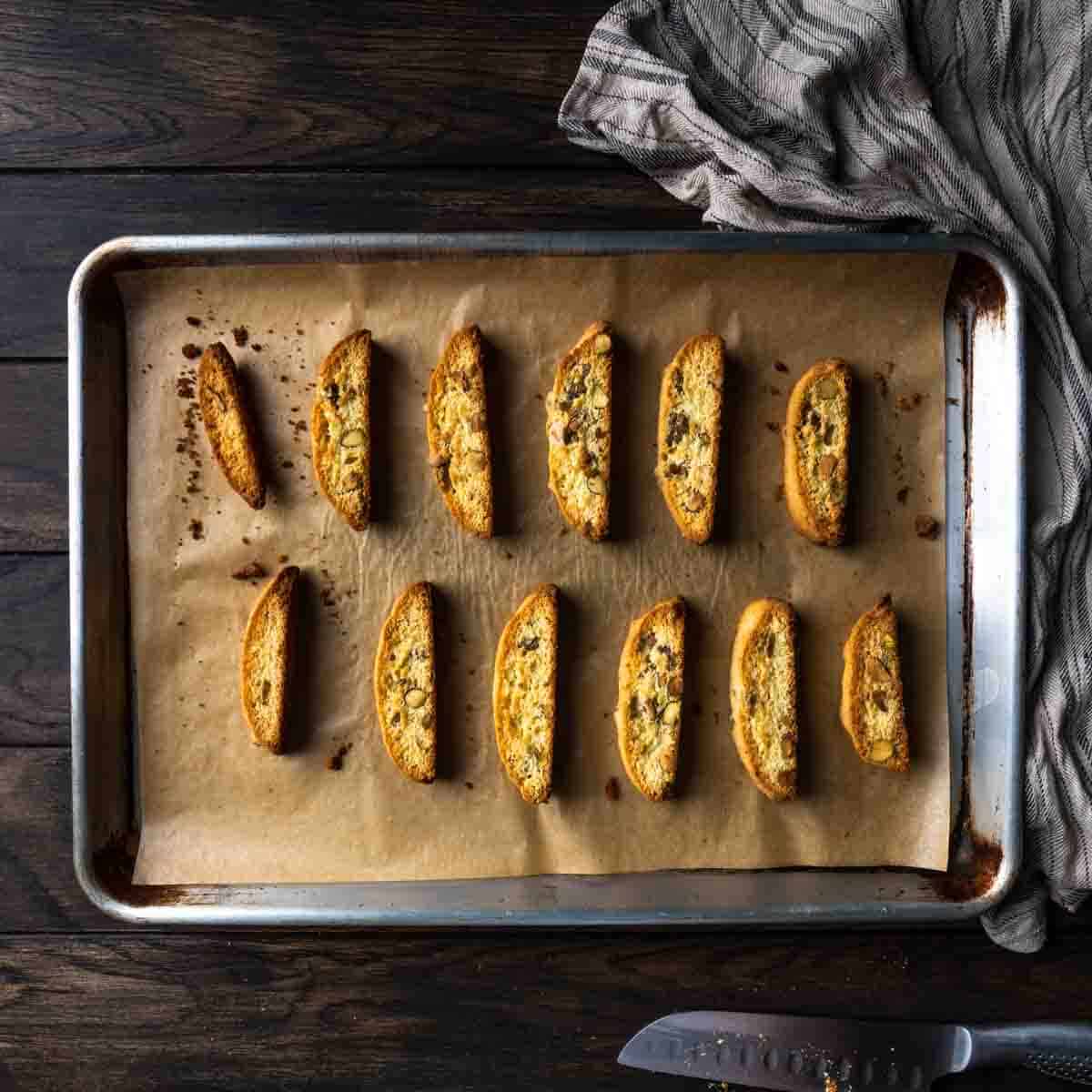 Once the cookies are fully baked, transfer them to a wire rack to finish drying and cooling completely. Once cooled you can enjoy these crunchy cookies immediately, save them for later or move right on to the decadent chocolate dipping.
Chocolate Dipping
11. Melt your chocolate gently over a double boiler or in short increments in a heatproof bowl in your microwave at 50% power. Once your chocolate is completely melted and liquid, transfer it to a tall glass or jar. Dip the cooled biscotti into the chocolate one at a time. I like to do a half chocolate dip. Let the excess chocolate drip off of the pistachio biscotti, back into the jar.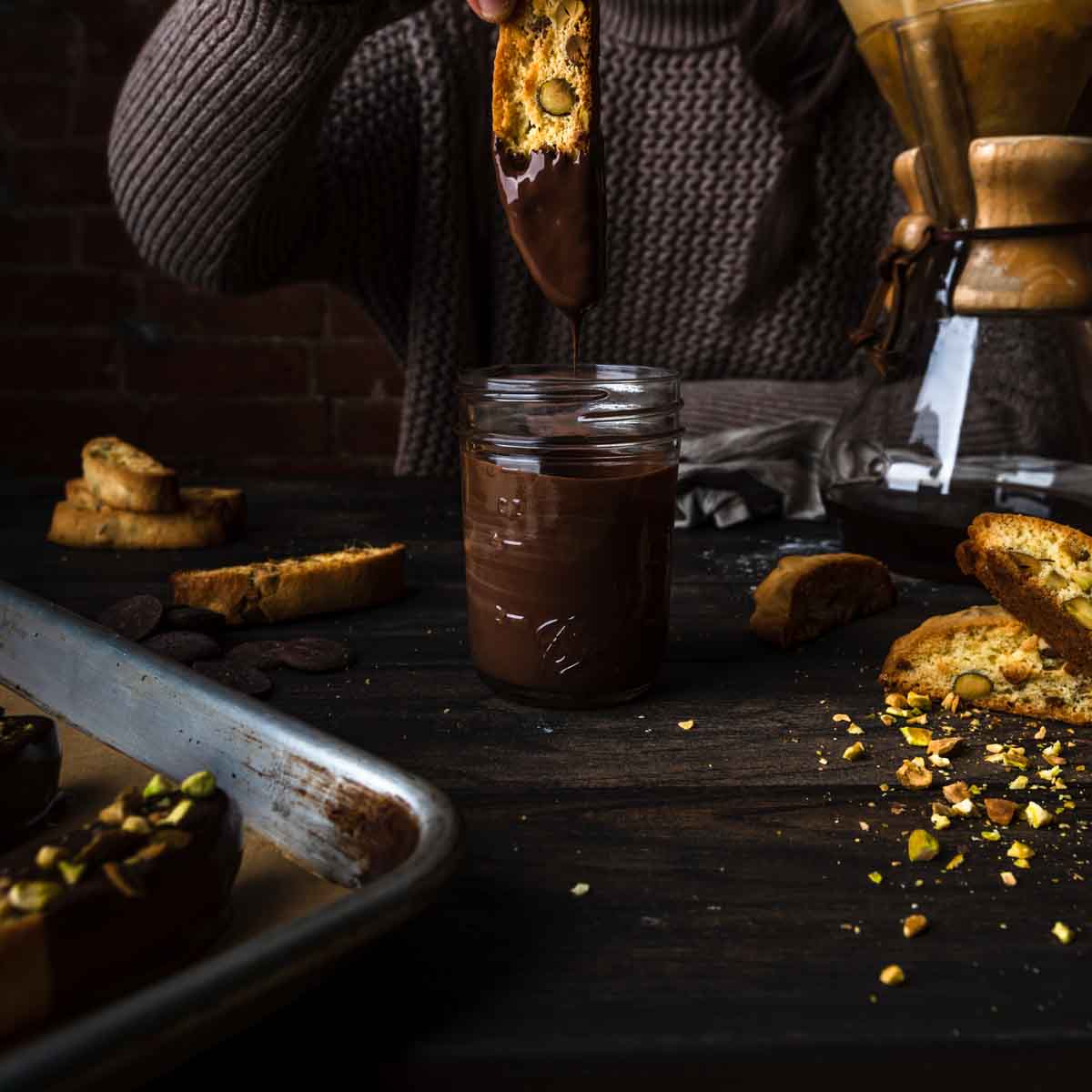 Baker's Journal: Melting Chocolate - Chocolate is a delicate product and can be a bit temperamental. To melt, it is important that you use gentle heat and stir often. I prefer to use the double boiling method. Since I don't have an official double boiler - I make my own with a metal bowl and small saucepan. It's quite simple.

To do this, put about 1 inch of water in the pan, then put the metal bowl on top. Make sure the bowl does not touch the water. Place the chocolate in the bowl and be careful to not get any water on the chocolate - they do not mix. Place the saucepan over a medium flame. The water will steam creating a gentle heat at the base of the bowl. Whisk or stir until the chocolate is completely melted and smooth.
12. Transfer the chocolate dipped biscotti onto a freshly prepared baking sheet. While the chocolate is still melted, sprinkle a dusting of chopped pistachios onto each cookie. Let the chocolate set at room temp, or speed it up with a few minutes in the fridge.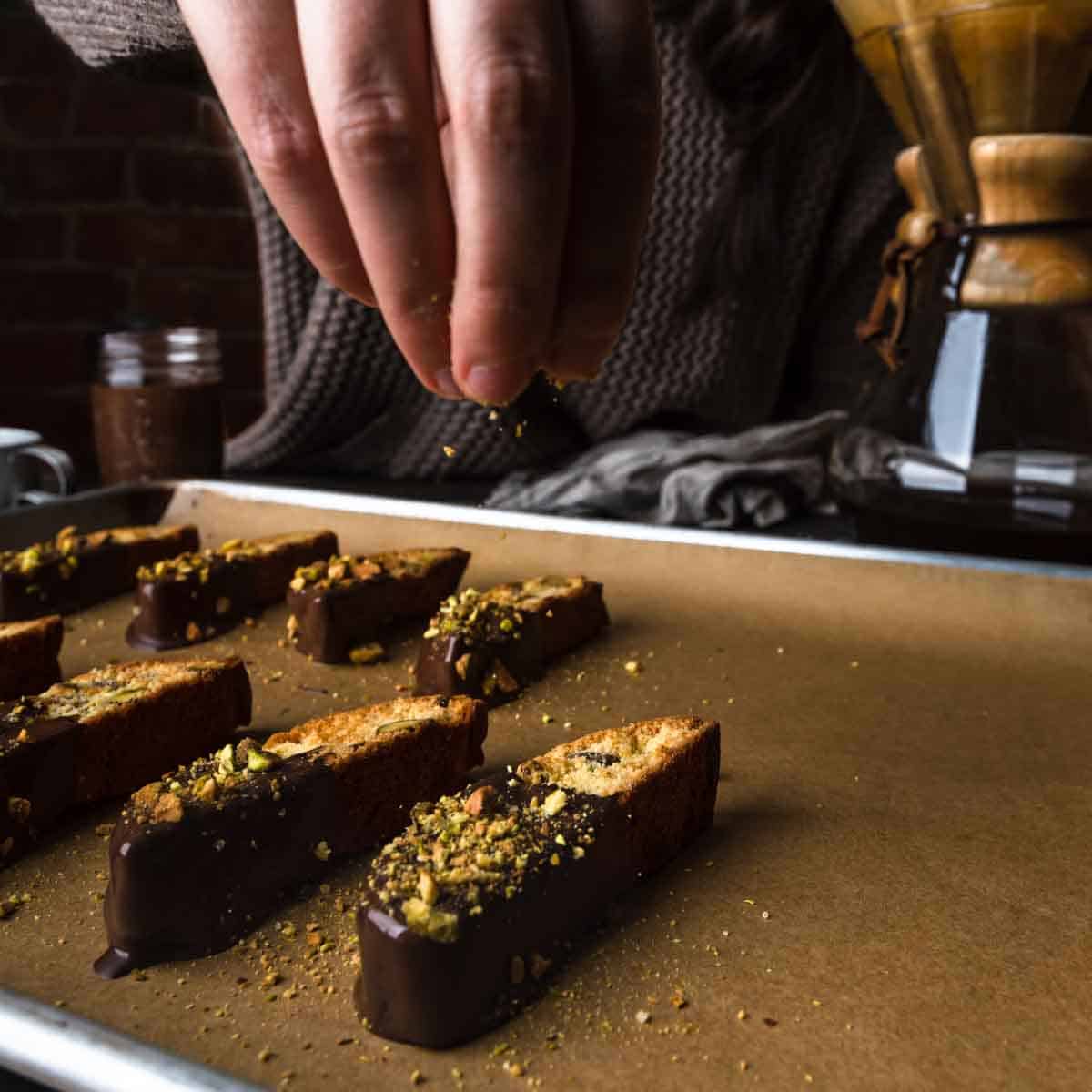 Serving
Do as the Italians would and serve biscotti with a small glass of vin santo, or a hot beverage. I like mine with my freshly-brewed morning coffee, your kids might like theirs with a hot cocoa.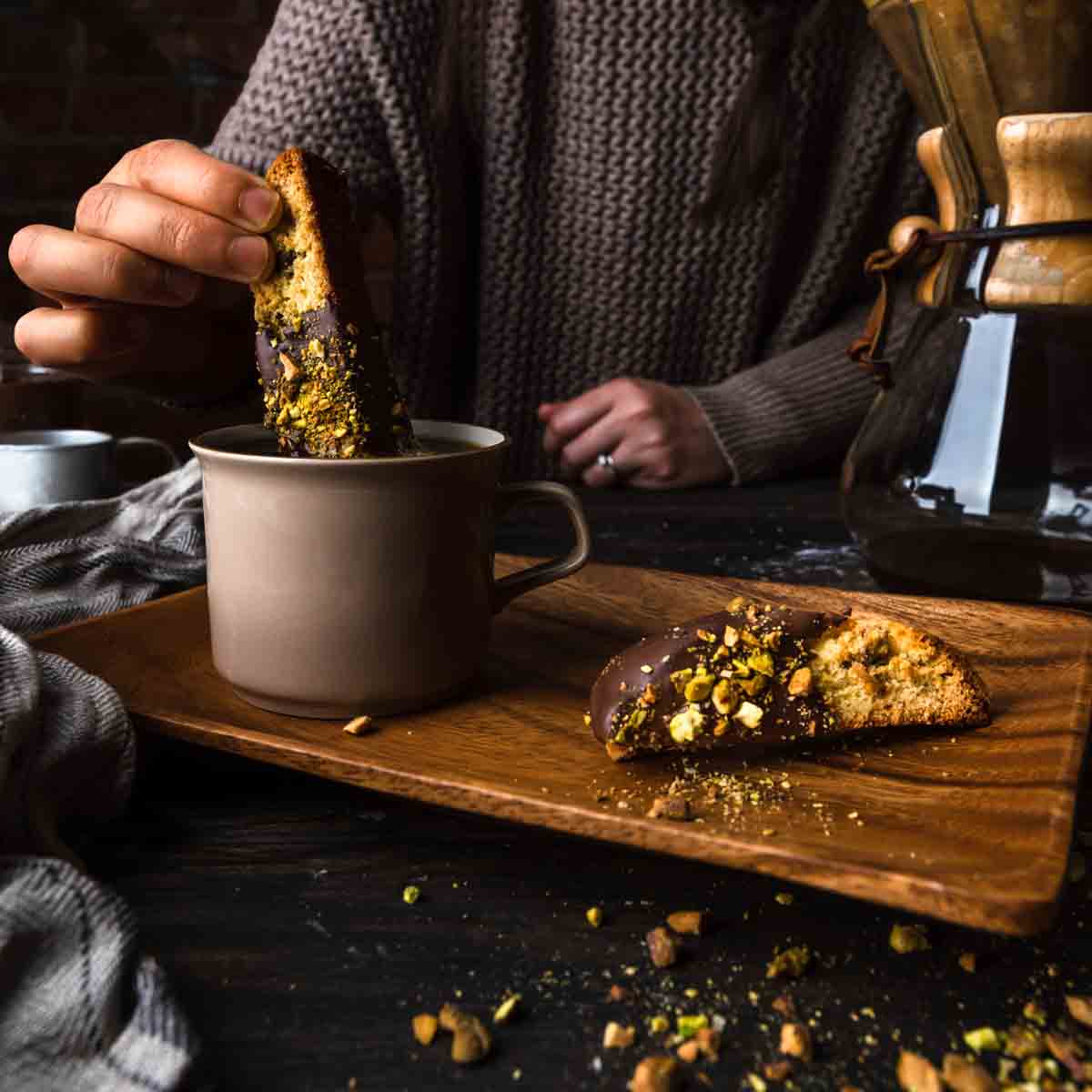 As mentioned, I also love these classic Italian cookies in a Christmas cookie box. If you are doing a lot of holiday baking, you may also be interested in our Billionaire Alfajores recipe. These South American cookies are also perfect for holidays, made with almond flour and sandwiched with homemade dulce de leche. Quite the treat!
Storing & Saving Biscotti
One great thing about biscotti is that they have an exceptionally long shelf life. You can make a double batch and keep them in an airtight container in the cupboard for up to two weeks, or more. If you are planning to store these pistachio biscotti for an extended period of time, I recommend storing them plain - before being dipped in chocolate. The chocolate coating has moisture that will soften the crisp cookies over time.
Troubleshooting Soggy Biscotti
It's also worth mentioning that the humidity of your area will impact your cookie's shelf life. I live in a dry climate, where my biscotti stay crisp and crunchy for weeks. In a more humid area, your biscotti are likely to soften. Fear not, biscotti (sans chocolate coating) can be re-crisped in the oven.
To Re-Crisp Biscotti: Preheat the oven to 375° degrees Fahrenheit and bake again for about 5, or so, minutes. Once cooled, your biscotti will have crisped back to have a satisfying crunchy texture.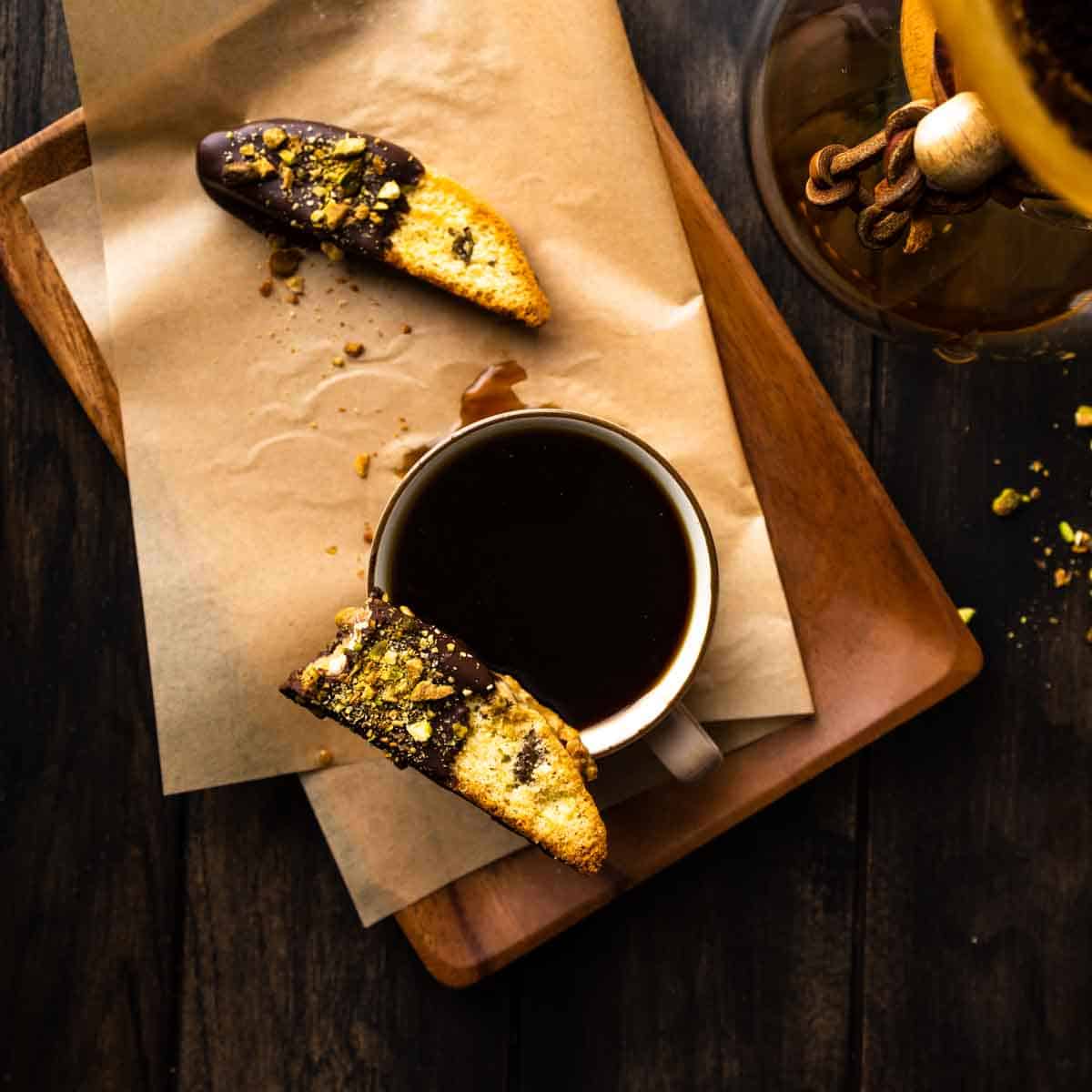 You May Also Like...
Take a look at some of our other favorite holiday baking recipes:
Recipe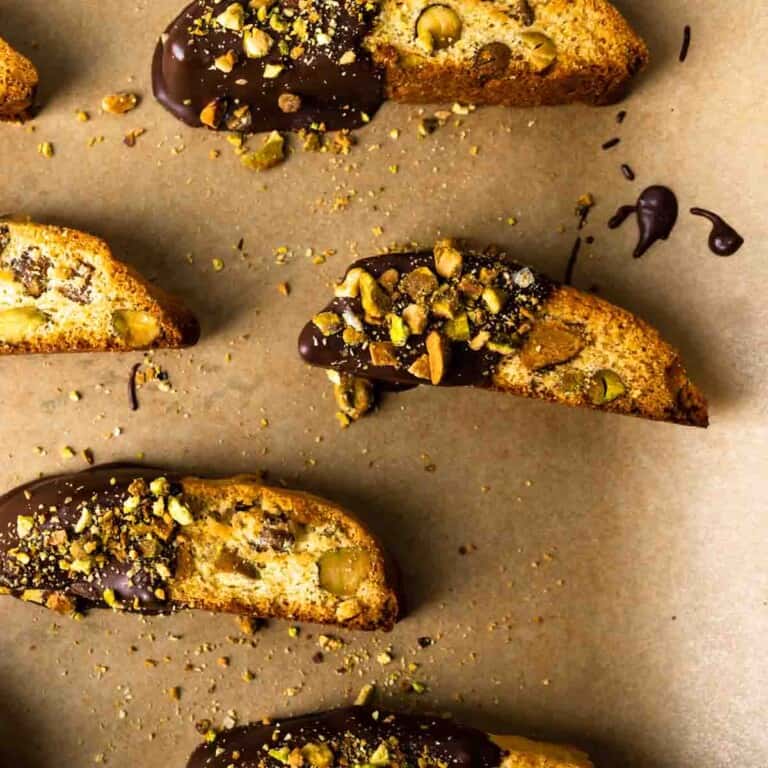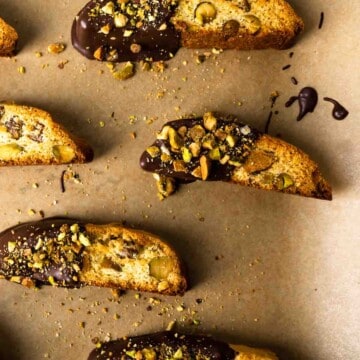 Pistachio Biscotti Dipped in Dark Chocolate
These classic Italian cookies are crispy, twice-baked delights that are loaded with salty pistachios and dunked in dark chocolate. They are perfect with your morning coffee, for a low-maintenance dessert or in a Christmas cookie box.
ADJUST SERVINGS
Ingredients
¾

Cup

all-purpose flour

½

teaspoon

fine kosher salt*

½

teaspoon

baking powder

¼

Cup

unsalted butter

softened to room temperature

⅓

Cup

granulated sugar

1

large

egg

room temperature

1

teaspoon

orange zest

1

teaspoon

pistachio, almond or vanilla extract

½

Cup

pistachios

shelled, roasted and salted

8

ounces

dark chocolate

disks, chips or chopped; optional

¼

Cup

chopped pistachios

optional
Instructions
Gather, measure and prepare the Pistachio Biscotti ingredients as listed. Arrange a rack in the center third of the oven and preheat the oven to 350° Fahrenheit (175° celsius). Prepare a baking sheet with parchment paper and set aside.

In a small bowl, add flour, salt and baking powder. Whisk to combine and set aside.

In the bowl of a stand mixer fitted with the paddle attachment (or medium mixing bowl with an electric hand mixer), cream butter and sugar together on medium speed until pale, about 3 - 5 minutes.

Add egg, orange zest and extract. Mix until well combined. Add flour mixture and mix on low speed until a dough forms. Do not over mix. Add in the

½ Cup

of pistachios and mix (or fold) the nuts into the dough until well distributed. The dough will be very sticky.

Using a rubber spatula, plop the dough onto the prepared baking sheet to form a long log shape. With hands wet from the sink, shape the dough into a thin, even log. The dough should be about 11 - 12 inches long, a few inches wide and have about 1 inch of height. Remember, the dough will spread significantly in the oven. Bake the biscotti log for 25 minutes, or until the center appears matte dry and the edges are golden.

Remove the biscotti log from the oven and cool, on the baking sheet, for ten minutes. Set a timer, it is important to slice the biscotti log at the correct temperature. After ten minutes, use a sharp chefs knife to slice the biscotti log into 12 cookies. Arrange the cookies on one cut side across the baking sheet.

Put the cookies in the oven for the second bake. Bake for 15, or so, minutes, flipping once until golden brown on both sides. For softer biscotti, bake less. For extra crispy biscotti, you can extend the baking time. Remove the cookies from the oven and, when cool enough to handle, transfer to a wire rack to cool completely. Serve immediately as is, save in an airtight container or proceed to chocolate dipping!

Chocolate Dipping: Melt chocolate over a double boiler (or in short increments in a heatproof bowl in the microwave at 50% power). Once melted and smooth, transfer chocolate to a tall glass or mason jar. Dip biscotti cookies halfway, one at a time, allowing the excess chocolate to drip back into the cup. Transfer cookies to a lined baking sheet. While the chocolate is still wet, sprinkle with chopped pistachios, as desired. Allow the chocolate to set and serve with a nice, hot beverage. Buon appetito!
* A Note About Salt
Unless otherwise noted, all recipes on The Sage Apron are developed using Diamond Crystal Kosher salt. It is a great all-purpose salt for cooking and baking. If using table salt, reduce quantities by about half.
Nutrition
Calories:
249
kcal
|
Carbohydrates:
23
g
|
Protein:
4
g
|
Fat:
16
g
|
Saturated Fat:
8
g
|
Polyunsaturated Fat:
2
g
|
Monounsaturated Fat:
5
g
|
Trans Fat:
1
g
|
Cholesterol:
26
mg
|
Sodium:
127
mg
|
Potassium:
231
mg
|
Fiber:
3
g
|
Sugar:
11
g
|
Vitamin A:
183
IU
|
Vitamin C:
1
mg
|
Calcium:
37
mg
|
Iron:
3
mg