This 20 minute recipe features skewers of grilled shrimp tossed in a homemade chimichurri butter. The flavors are amazing - buttery, garlicky and herbaceous with chimichurri's classic zippy finish.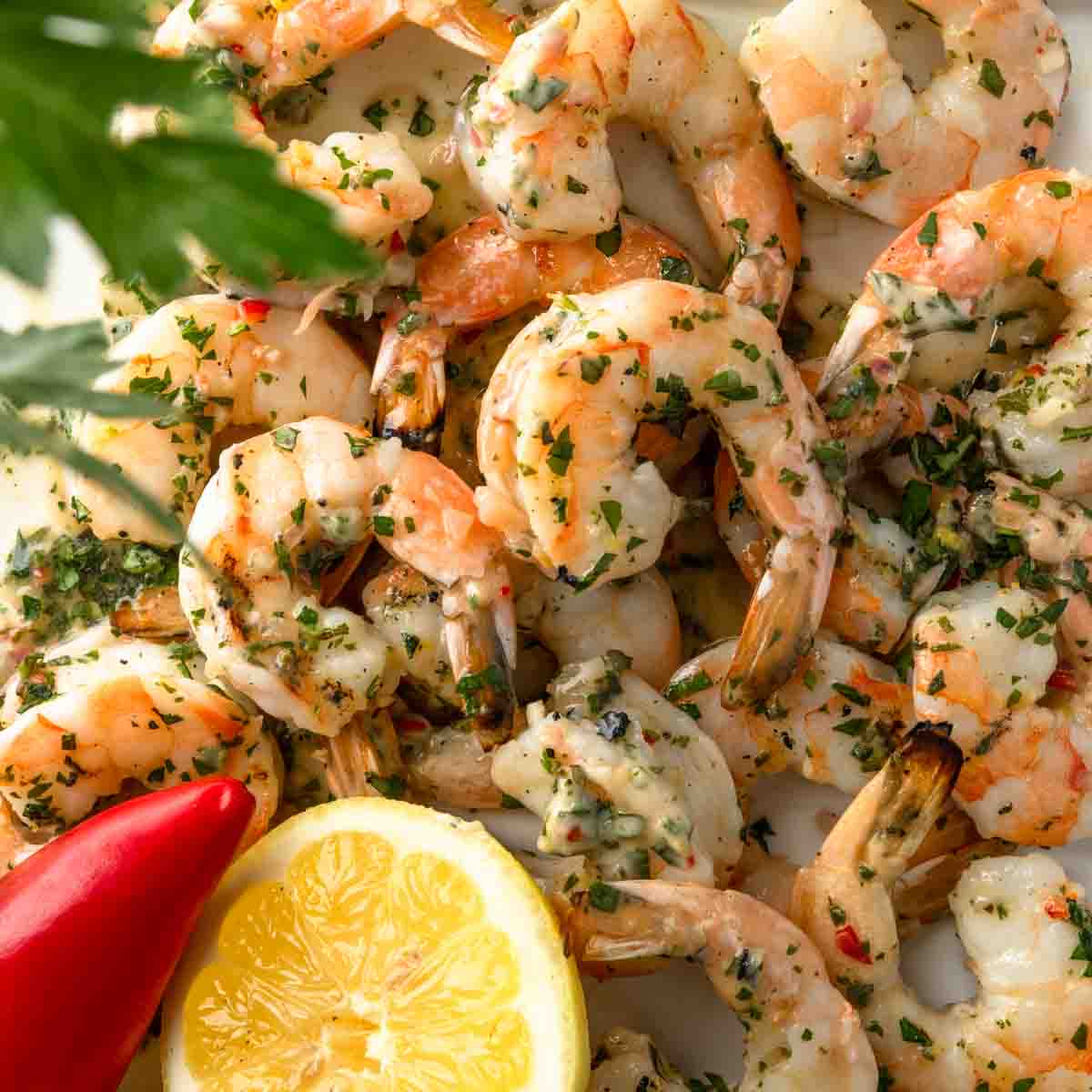 Don't stop with shrimp! Chimichurri butter is the perfect condiment to melt over potatoes, vegetables and, of course, steak! Try it on our perfectly grilled ribeye recipe.
Jump to:
Why You'll Love This Recipe
Super speedy - This recipe comes together in just twenty minutes.
Buttery yum - Using our chimichurri butter recipe for these shrimp gives you the best of both worlds with tons of fresh herbs, tangy citrus and vinegar with a rich buttery finish.
Perfect for anytime - This recipe is great for entertaining, serving at barbecues, packing for camping trips or for quick and easy weeknight dinners. You can even make the compound butter ahead of time and cook the shrimp on your outdoor grill or indoors on a grill pan.
Ingredients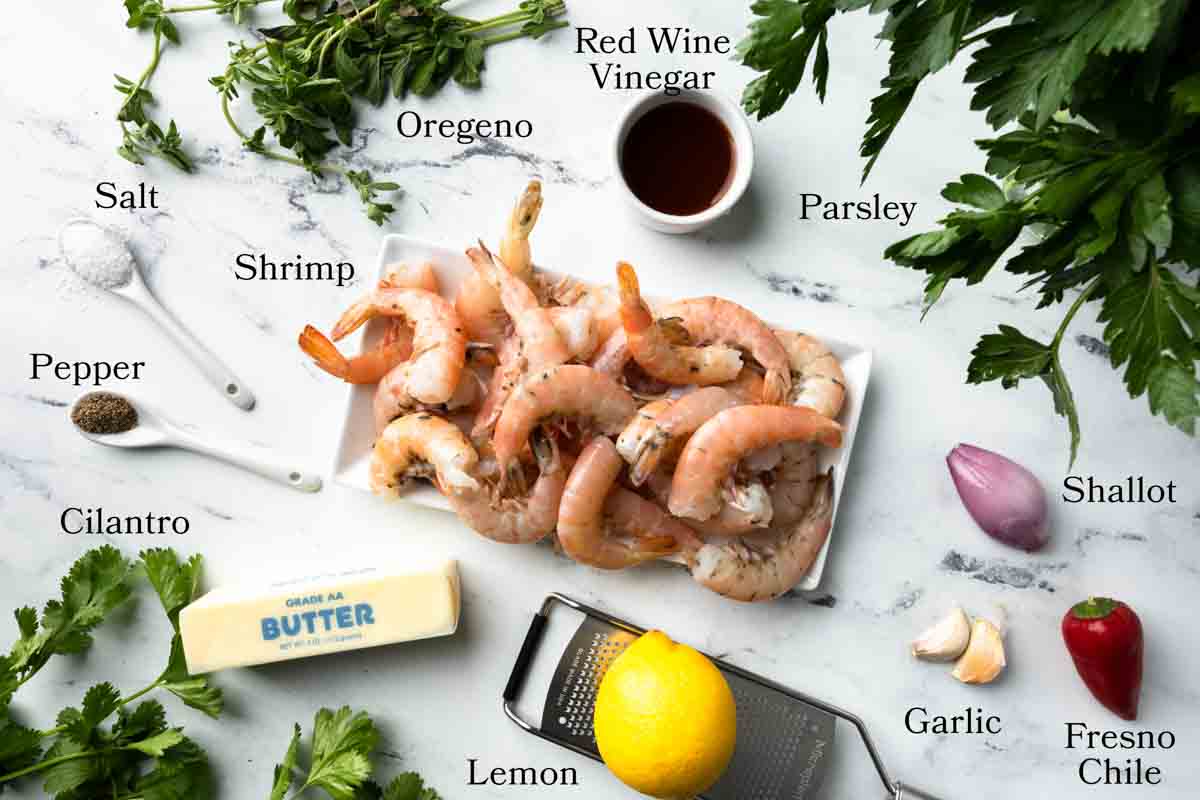 Shrimp - You can use fresh or frozen shrimp for this recipe. I recommend using large shrimp - ideally 31/35 or 26/30. You can also use jumbo shrimp (21/25s or larger), but you will need to slightly increase the cooking time.
Chimichurri Butter - Butter, oregano, cilantro, parsley, shallot, garlic, fresno, lemon zest, and red wine vinegar.

You can substitute chili flakes for the fresh fresno pepper. Also, feel free to omit the cilantro if you have an aversion.
Did You Know? Sizing Shrimp - Shrimp sizes are classified based on how many shrimp (of any particular size range) will equate to 1 pound. For example 31/35 sized shrimp will have between 31 and 35 shrimp per pound. As the numbers get smaller, the shrimp get bigger.
What Is Chimichurri?
Chimichurri is an herb-driven condiment popular in Argentinian and Uruguayan cuisine. It is an un-cooked sauce that is made from fresh herbs, garlic, chili, vinegar and olive oil. The flavors are bright and fresh with a hint of spice. It is a tangy, acid-driven sauce that is typically paired with meats and vegetables.
Instead of using oil in this recipe, I opted to replace the olive oil with butter. The butter adds a delicious flavor and makes it so you can make the chimichurri ahead of time, without it quickly oxidizing.

Naturally, butter and shrimp are a match made in heaven and the combination of flavors is one of my favorites!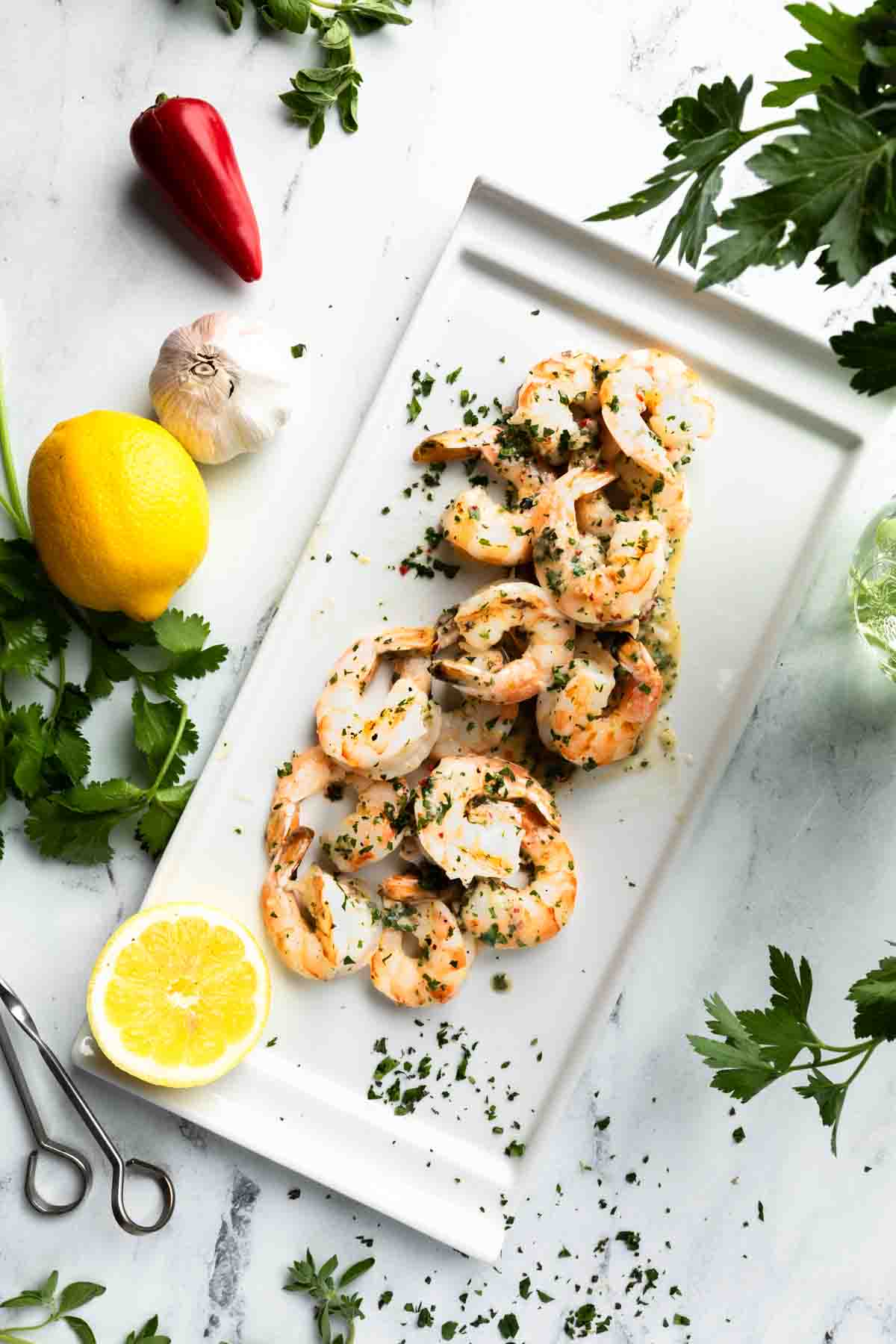 How To Make Chimichurri Butter
Chimichurri butter can be made quickly and easily either by hand with a sharp knife, or in a small food processor. Personally, I prefer to make the butter by hand to keep the ingredients a bit more defined. Either way is quick and easy.

Feel free to check out the entire chimichurri butter recipe post for more details and other serving suggestions. It's a delicious addition to so many foods!
Use a sharp knife (or food processor) to mince the garlic, shallot, Fresno chili and fresh herbs.
In a small mixing bowl, combine the minced ingredients, lemon zest, salt, pepper and softened butter. Stir until evenly combined.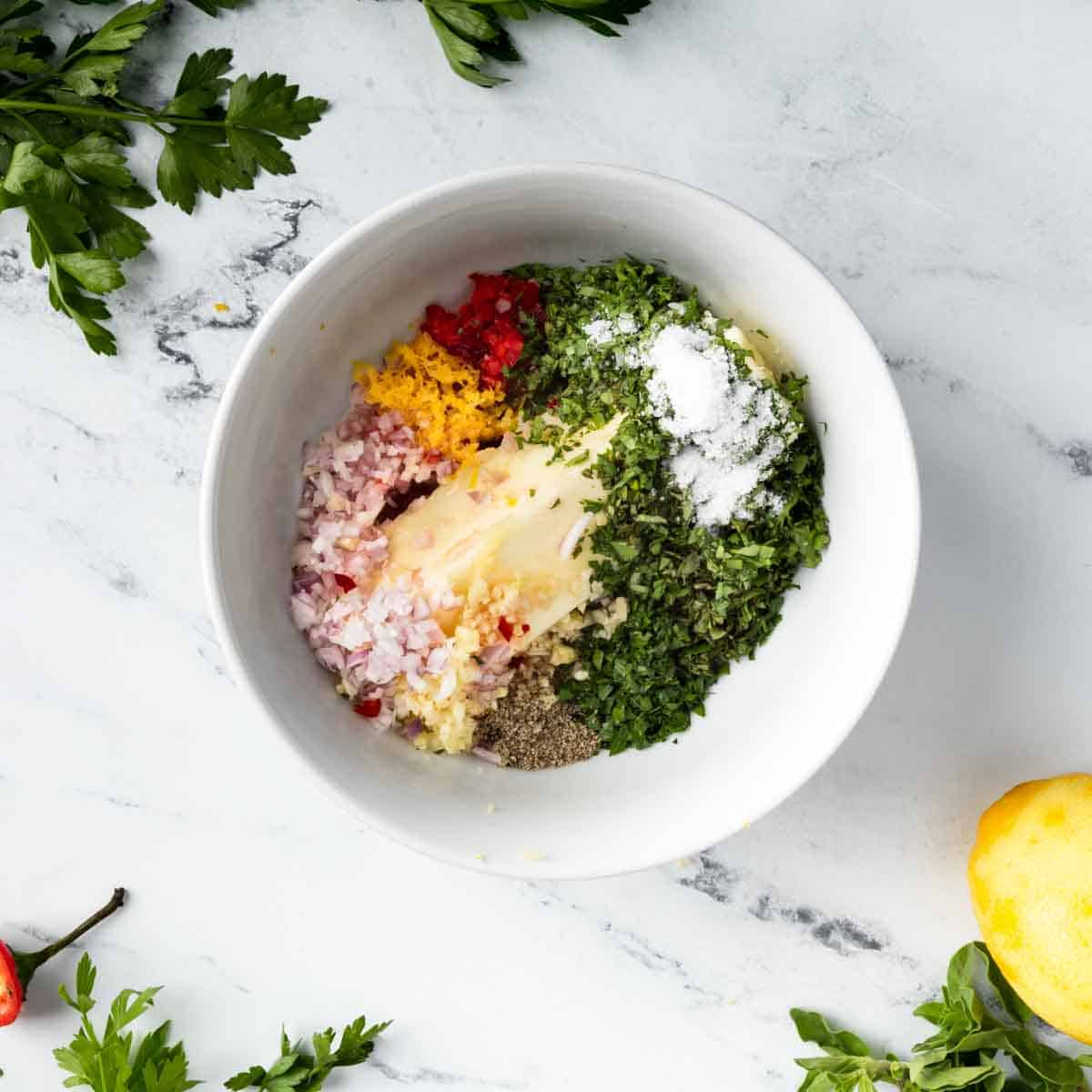 Add in the red wine vinegar a small splash at a time. Mix well between each splash. Since butter and vinegar don't mix well (like oil and water), you will need to add the vinegar in small increments and stir vigorously between each addition.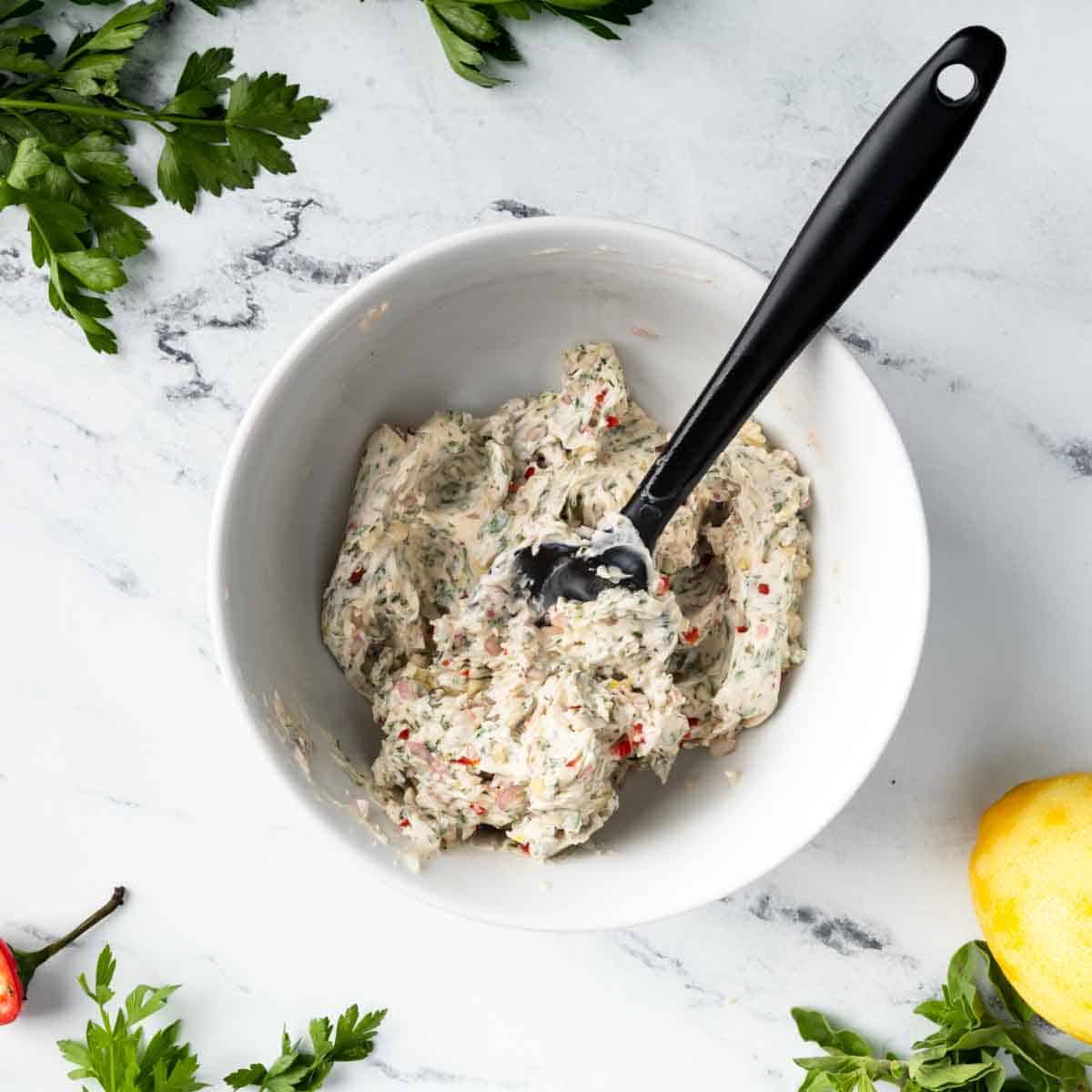 The butter is ready to be used and works best in its softened state for this recipe. However, if you are making the butter ahead of time, I recommend using the torchon method, to shape the butter into a log for refrigeration.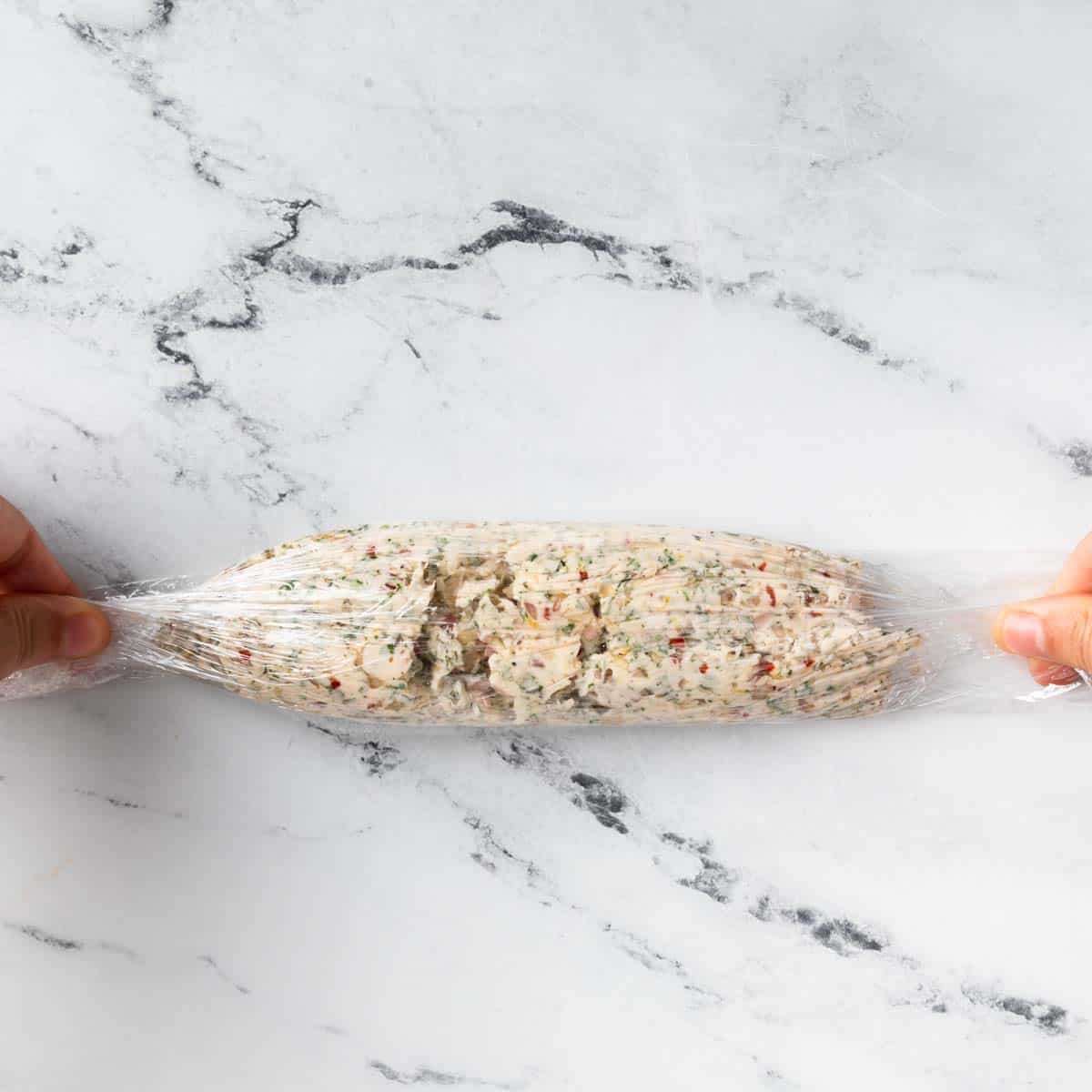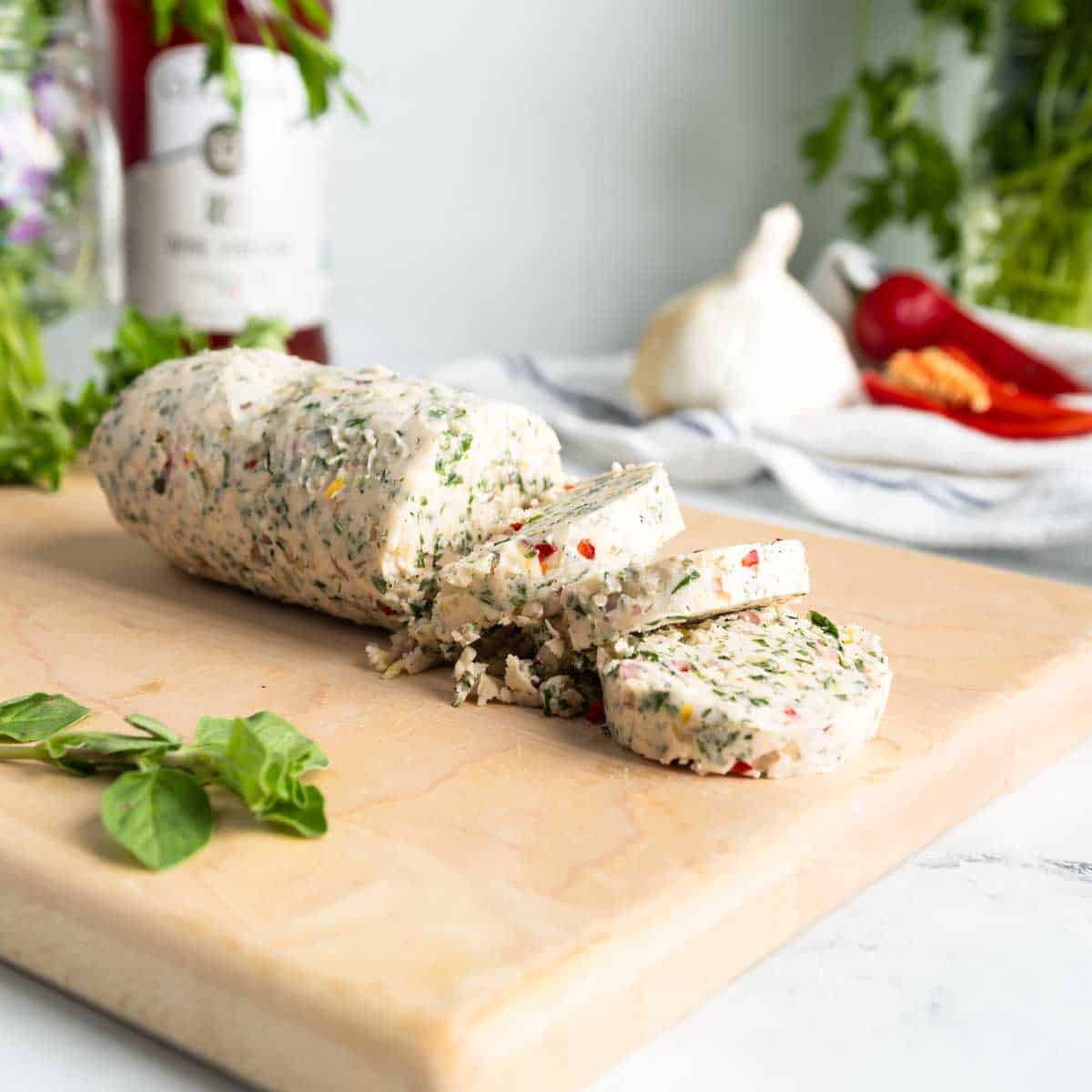 How To Peel & Devein Shrimp
To keep this recipe quick and simple, I usually like to buy shrimp that have already been cleaned and prepared for cooking. However, it is often less expensive to clean the shrimp yourself - and it doesn't take too much time.
If you need to peel and devein your shrimp, here's how it's done:
If your shrimp are head on, begin by grabbing the head and twisting it off.
To peel the shrimp, force your thumbs under the shell from the bottom of the shrimp, where the legs are. Peel away the shells. For this recipe, I like to leave the tails on, but you can remove those too, if you'd like.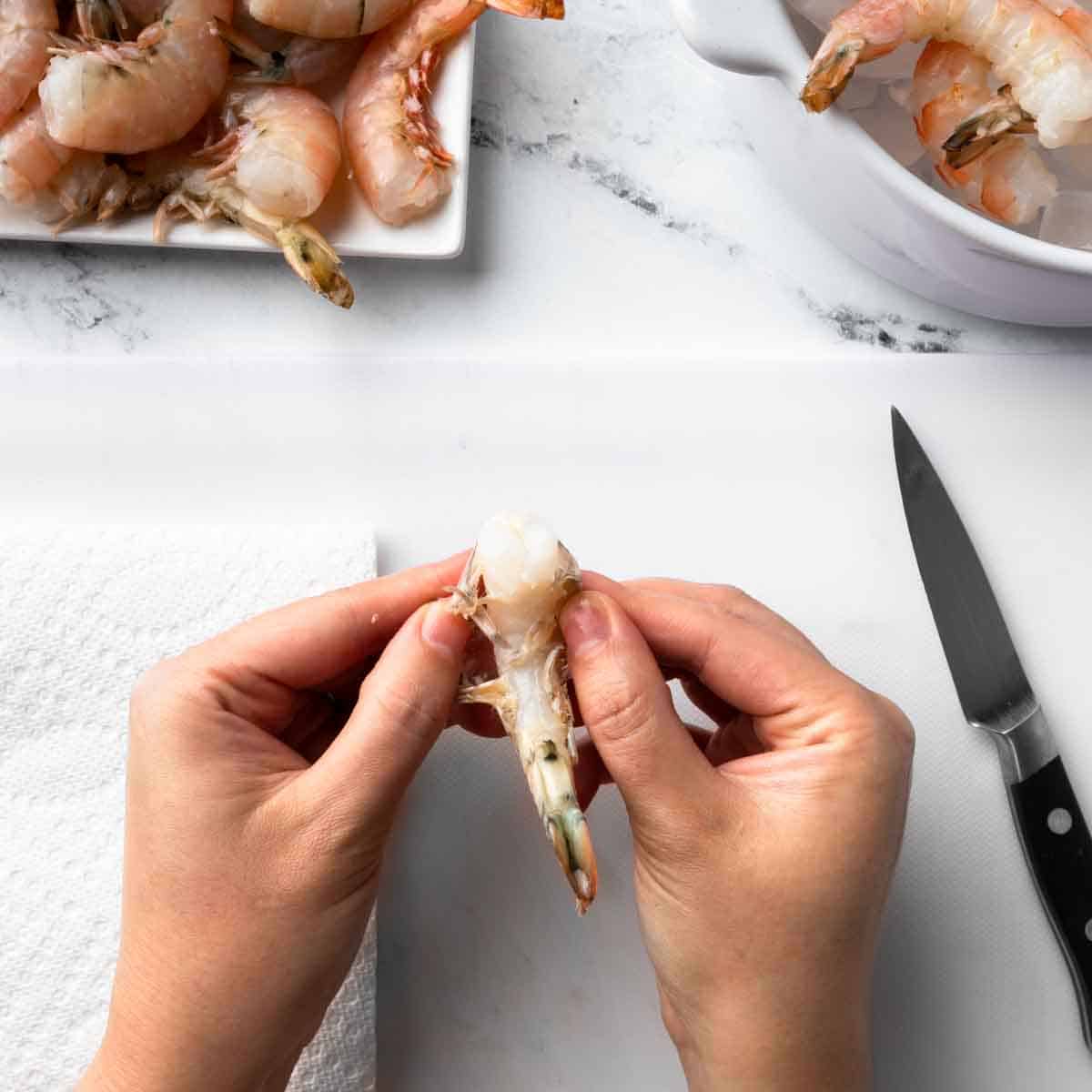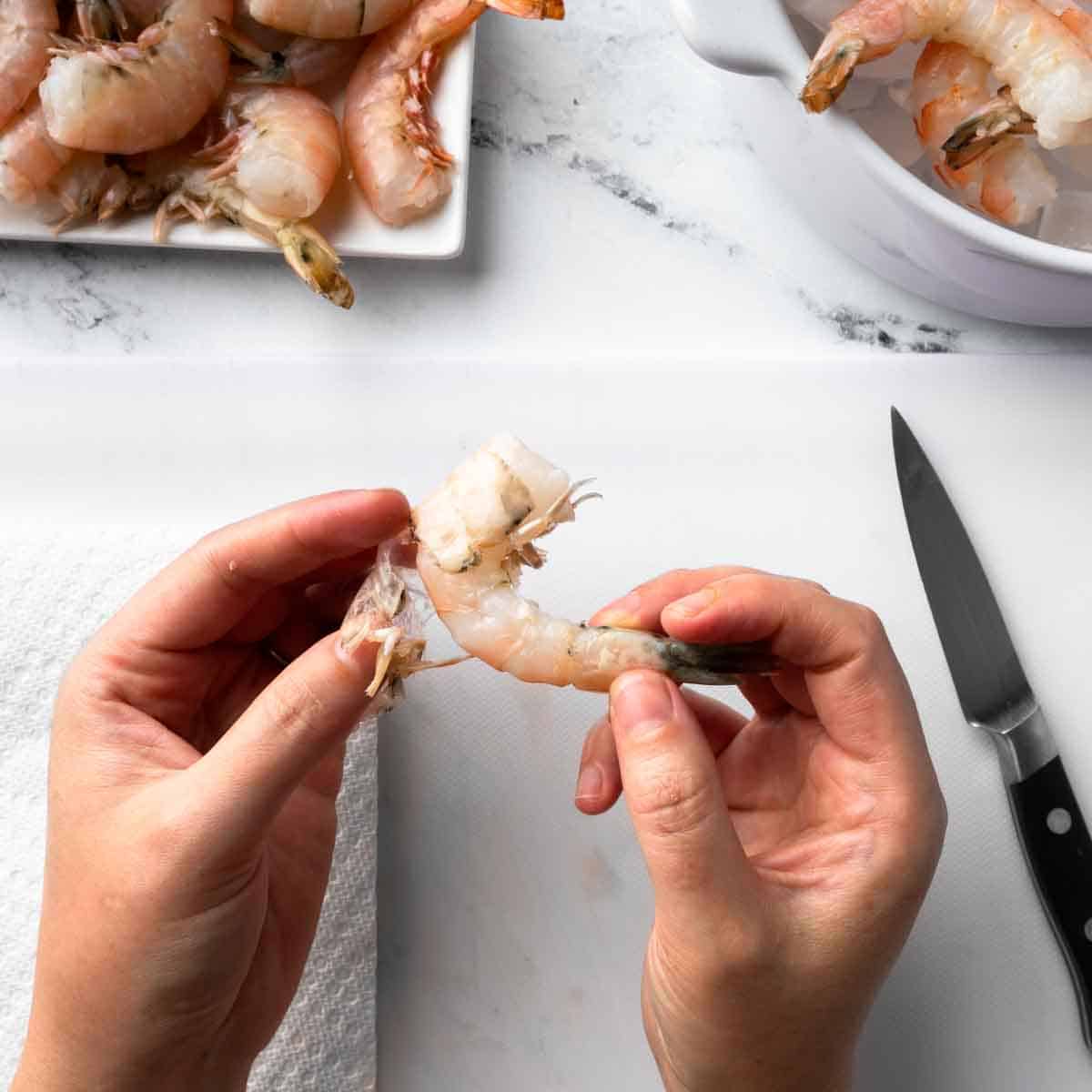 If you'd like, you can save the heads and shrimp to make a flavorful stock.
To devein, use a sharp paring knife to cut a small slit along the length of the shrimp's back. Be careful not to cut too deep. Use the side of the knife to carefully scrape the vein out of the shrimp and discard.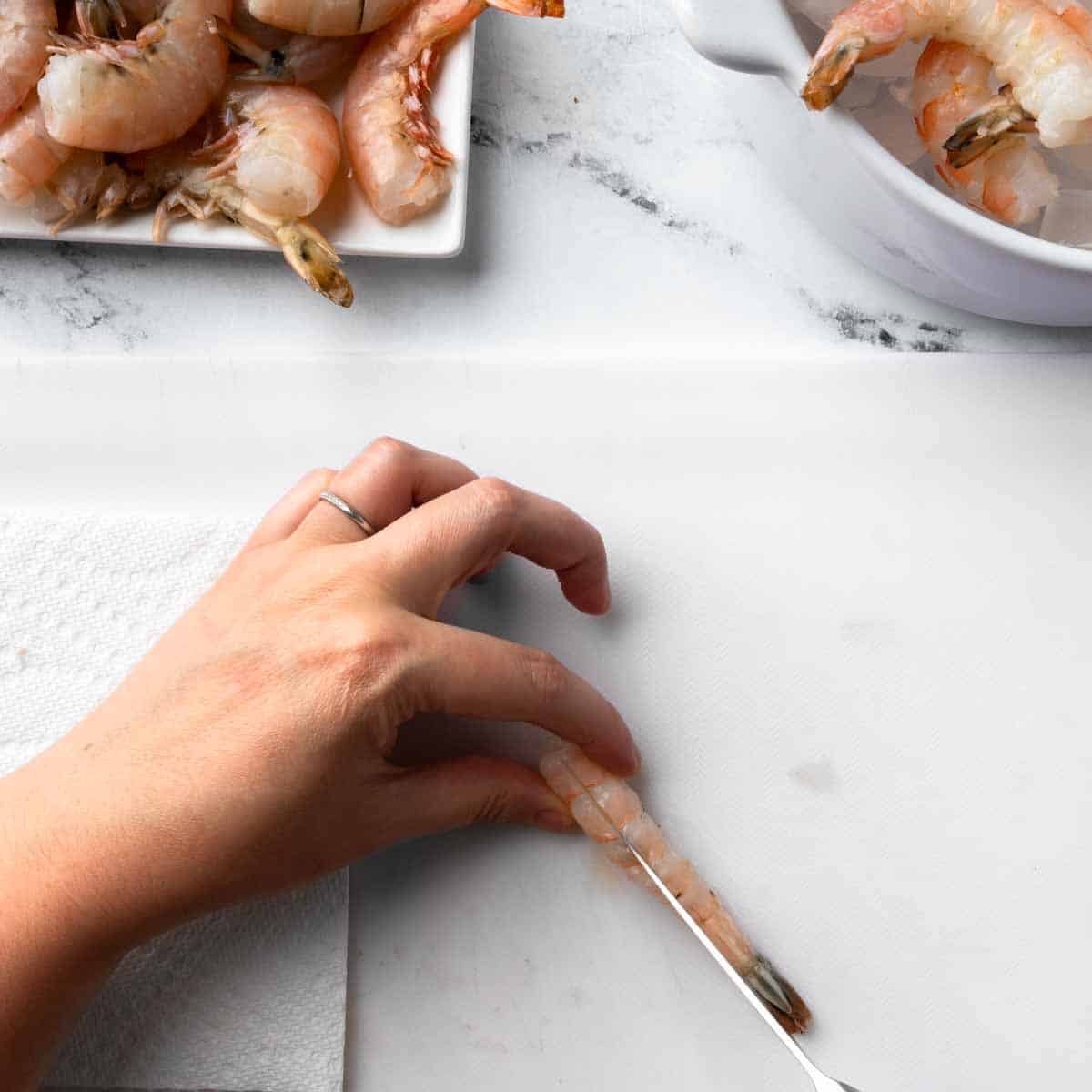 Note: Occasionally, the vein is removed when removing the shrimp head. If you cut into the shrimp and cannot find the vein, don't worry, it was likely already removed.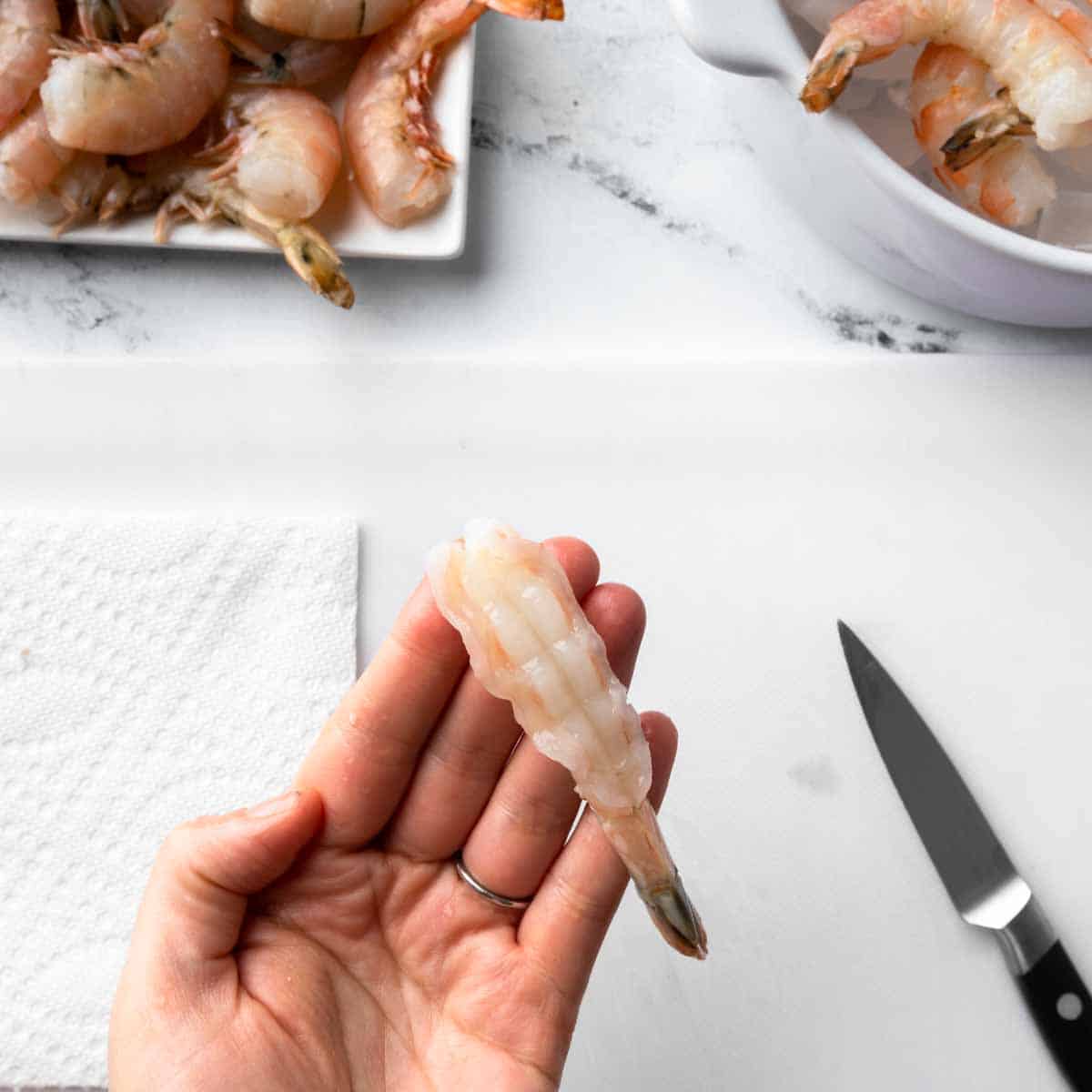 Shrimp should be kept cold. If peeling several shrimp, I recommend keeping them on ice throughout the process.
Grilling Shrimp Skewers
Skewering the shrimp is optional, but it does makes them easier to flip on the grill.
Once the shrimp are cleaned and ready to cook, skewer them through the sides so that they lay flat and can cook evenly. I like to insert the skewer just above the tail and through part of the thickest piece of the shrimp body.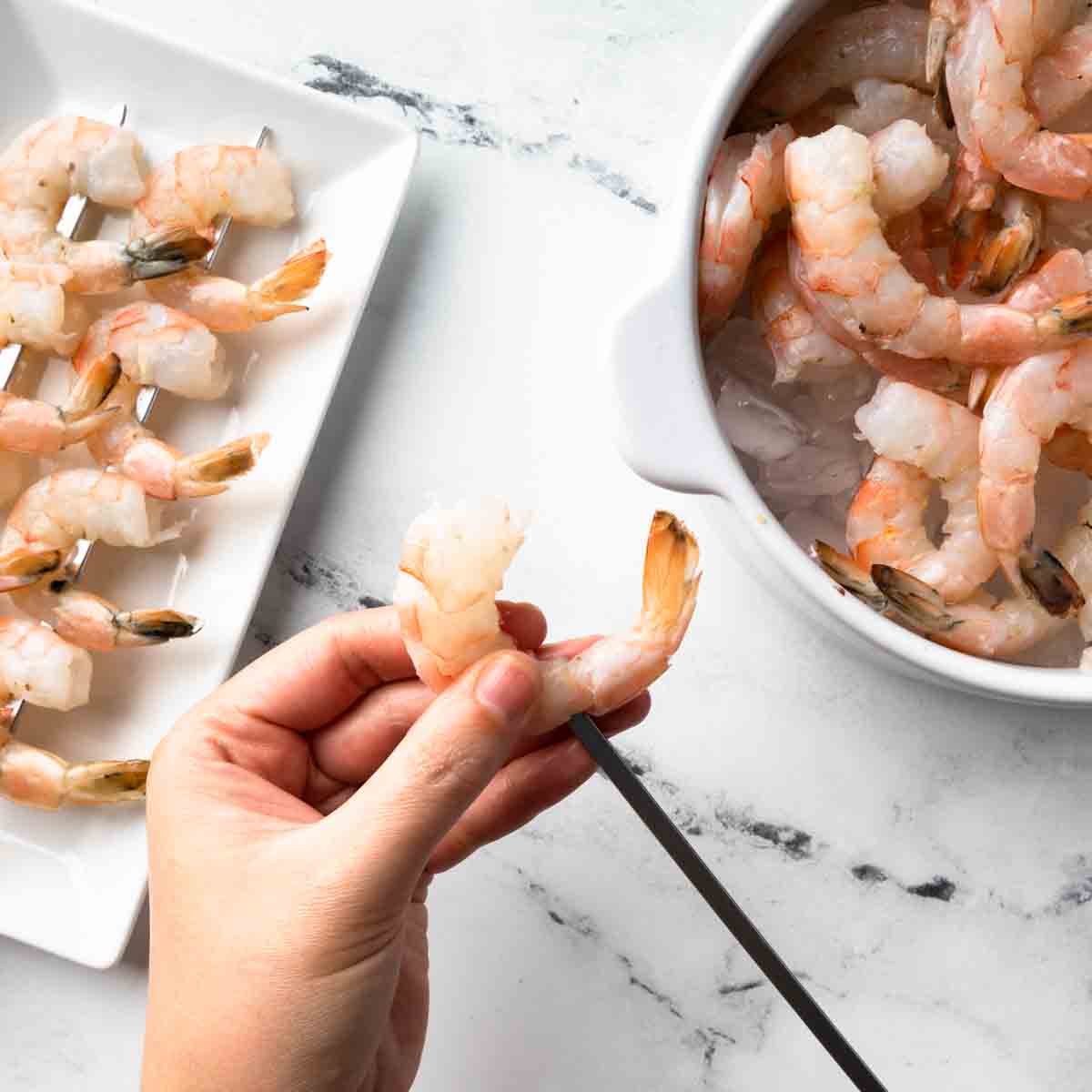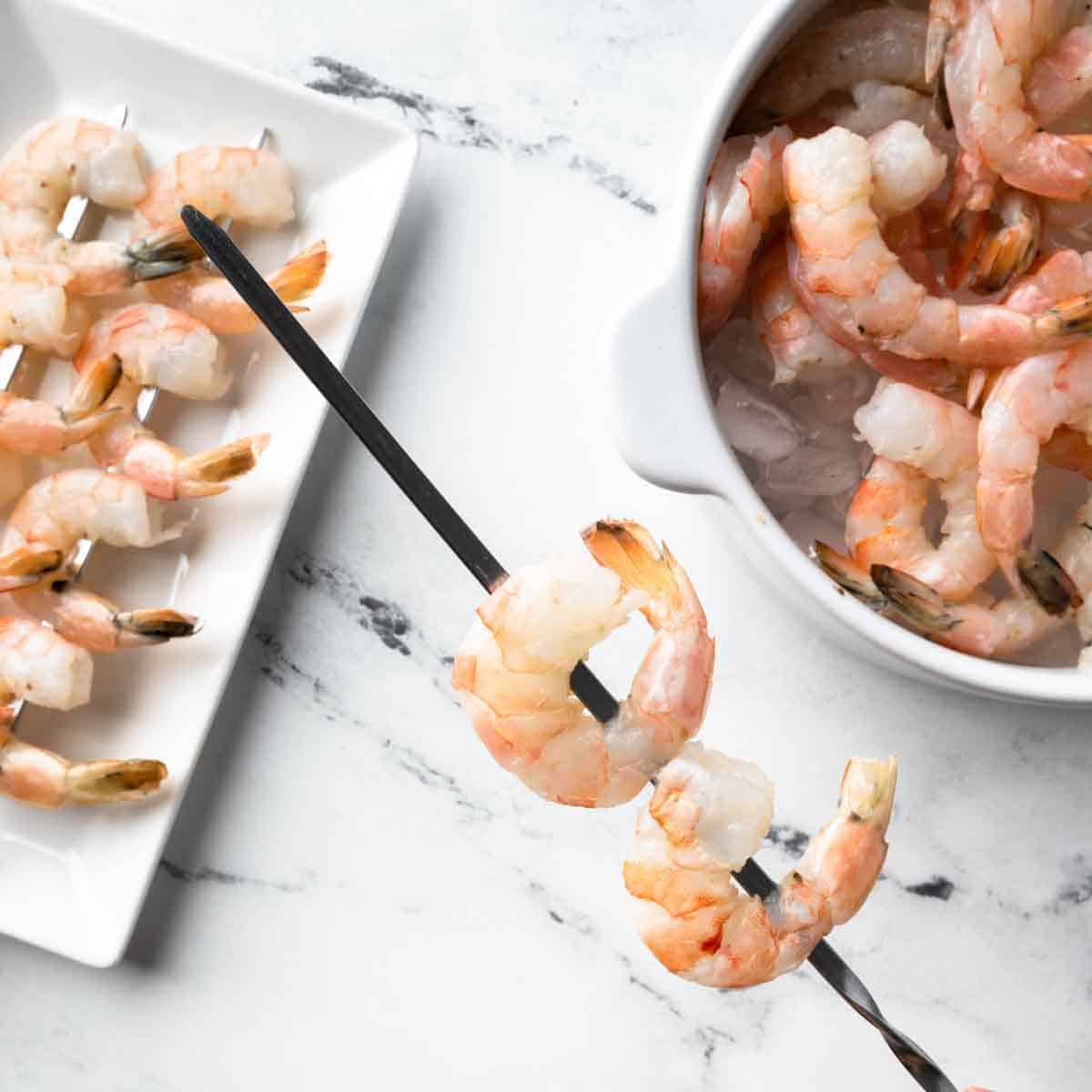 Pro Tip: Best Skewers for Successful Shish
We recommend using flat metal skewers for grilling. They are an inexpensive reusable option and the flat prong helps to keep the meat from spinning when being flipped on the grill.
If using wooden or bamboo skewers, soak the skewers in a lukewarm water bath for 30 minutes before skewering. Soaking the skewers will help them to avoid burning on the grill.
Meanwhile, preheat the grill to 425° Fahrenheit. Allow the grill to preheat for at least, ten minutes to properly heat the grates and prevent sticking.
If you would like, you can lightly brush the shrimp with a little olive oil, but I usually skip it.
Grill the shrimp 2 - 3 minutes per side. Be careful not to overcook. The shrimp are ready once they have become opaque and reach an internal temperature of 120° Fahrenheit. (We use an instant read ThermoWorks One thermometer for an accurate temperature in under 1 second.)
Carefully remove the shrimp from the skewers and add to a medium mixing bowl. Add half of the chimichurri butter and stir until the butter has melted and is coating each shrimp. Serve immediately, with lemon wedges, as desired.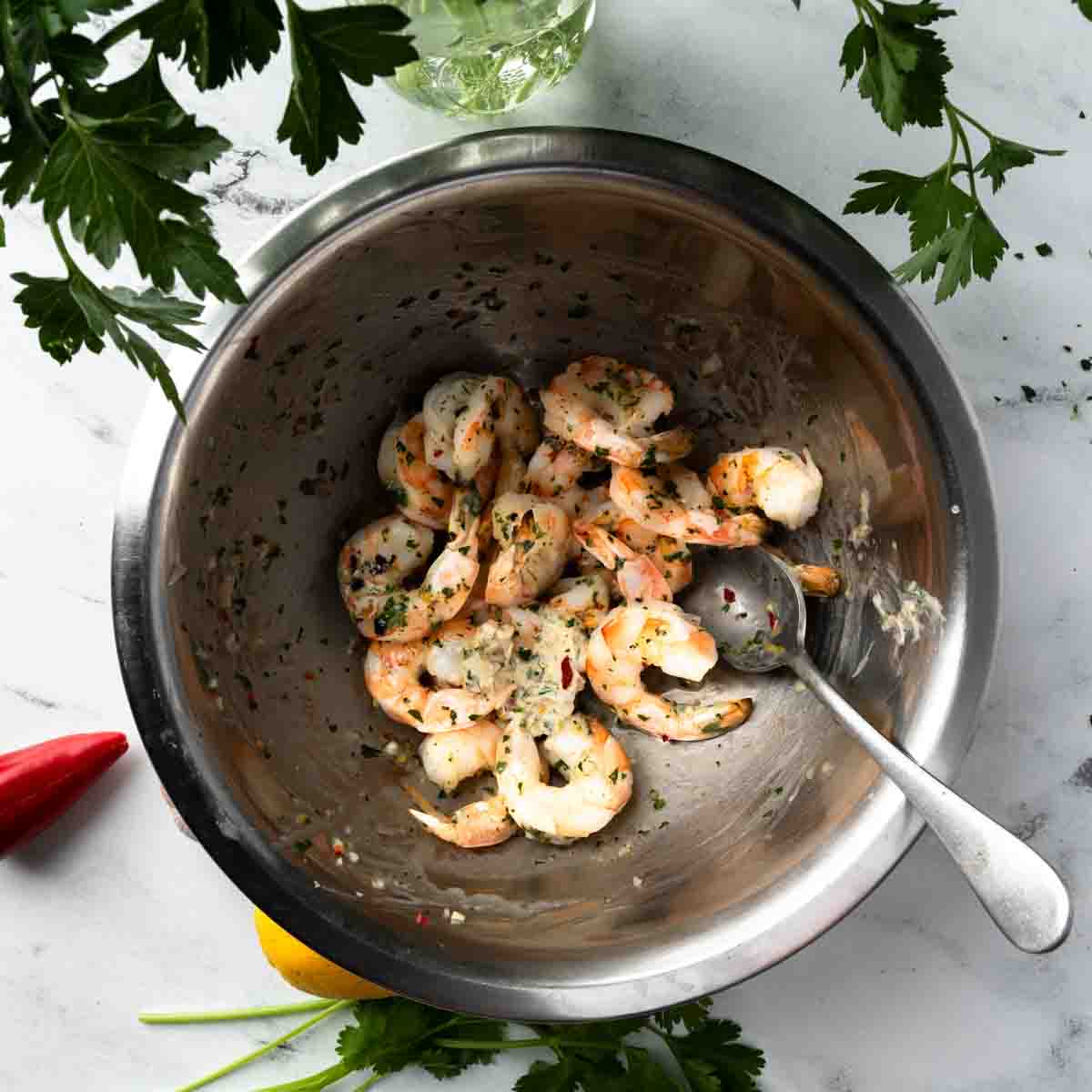 Serving Suggestions
These shrimp make for a quick and simple meal. For a real treat, serve chimichurri shrimp with a perfectly grilled ribeye for a surf and turf delight!
Side Dishes:
Potatoes - Roasted, mashed or our grilled fingerlings with lemon
Rice
Green salad
Coleslaw - A nice crunchy coleslaw full of fresh cabbage and veggies is the perfect light pairing for hot Summer evenings.
Grilled Vegetables - Make an Argentinian inspired grilled veggie platter with eggplant, onions, peppers and sweet potatoes.
Corn on the cob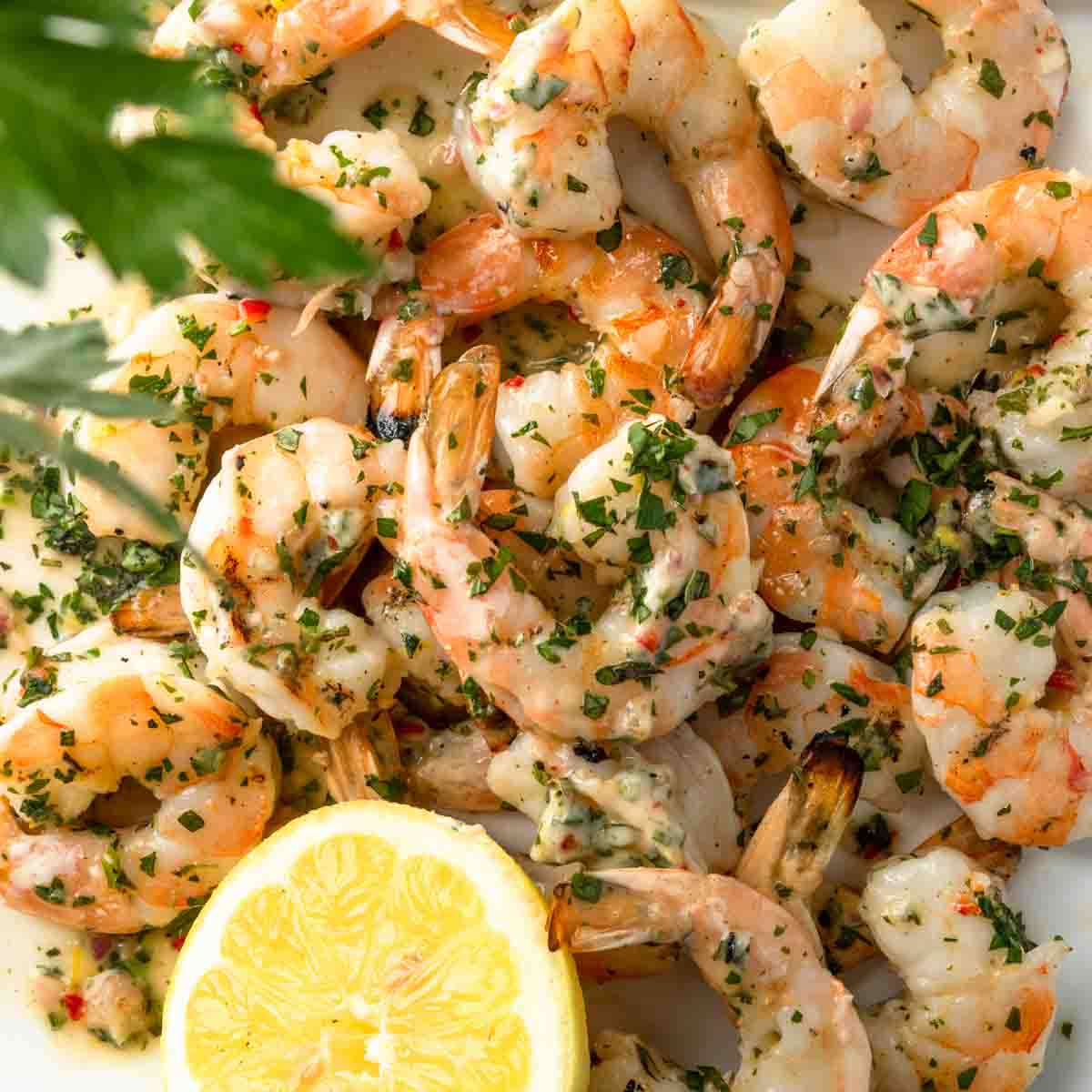 Saving & Storing
Like most seafood, these shrimp are best when prepared fresh. If needed, the grilled shrimp can be stored in the refrigerator for up to 2 - 3 days.
Reheated foods should be brought to an internal temperature of 155° Fahrenheit.
Frequently Asked Questions
How long does it take to cook shrimp on the grill?
Grilling shrimp is a quick cooking method that usually takes between 4 - 7 minutes (depending on the size of the shrimp). Grilled shrimp are fully cooked when they become opaque and reach an internal temperature of 120° Fahrenheit. The shrimp will curl slightly, but tightly coiled shrimp are overcooked!
What do you use to grill shrimp?
We recommend using flat metal skewers to prevent the shrimp from spinning on the skewer when flipping. Alternatively, you can skip the skewer and grill individual shrimp directly on the grill grates.
Why did my shrimp stick to the grill?
Food that sticks to the grill grates is often caused when the grates are not hot enough. Preheat the grill for 10 - 15 minutes before cooking. Shrimp sticking to the grill can also be cause by trying to flip too early.

If you would like, you can lightly brush the shrimp with a touch of cooking oil to help prevent sticking.
Why are my shrimp dry or rubbery?
Shrimp that has a tough or rubbery texture are likely overcooked. Grilled shrimp should have a juicy interior and a tender, bouncy texture. For consistent results, we recommend using an instant read thermometer and cooking to an internal temperature of 120° Fahrenheit.
Recipe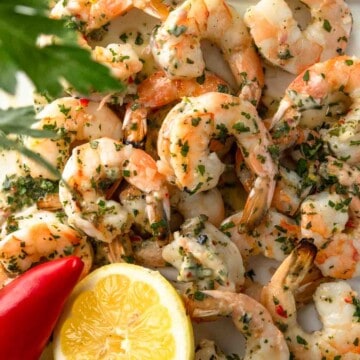 Grilled Chimichurri Shrimp
This quick and easy recipe features grilled shrimp tossed in a tangy chimichurri compound butter made with lots of fresh herbs!
ADJUST SERVINGS
Ingredients
Chimichurri Shrimp
1

pound

large shrimp

peeled and deveined, we recommend using shrimp sized as 26/30 or 31/35

½

recipe

Chimichurri Butter
Lemon wedges

as desired, for serving
Chimichurri Butter
8

Tablespoons

butter softened to room temperature (

1

stick)

¼

Cup

fresh herbs, we used oregano, parsley and cilantro

finely chopped

½

small

shallot

minced

3

cloves

garlic

minced

½

fresno chile

seeds removed, minced

lemon zest from

½

lemon

2

teaspoons

fine kosher salt*

to taste, (less if using salted butter)

½

teaspoon

Freshly-ground black pepper

to taste

2

Tablespoons

red wine vinegar
Instructions
Chimichurri Butter
In a small mixing bowl combine butter, herbs, shallot, garlic, fresno, lemon zest and salt and pepper. Mix until well combined. Add red wine vinegar a small splash at a time, mixing vigorously after each addition.

Toss with shrimp immediately or torchon for refrigeration: 

Place a large piece of plastic wrap on a clean, slightly moistened work surface. Place the chimichurri butter on the center of the plastic. Fold the plastic away from you, over the butter. Try to avoid trapping any air bubbles. With each respective hand, hold either side of the plastic wrap. Roll the butter away from you, into a log, while the plastic twists to secure either end. Refrigerate until firm and slice disks, as needed for serving.
Chimichurri Shrimp
Preheat the grill to 400° Fahrenheit for 10 - 15 minutes. In the meantime, prepare shrimp on skewers, if using.

Place shrimp directly on the hot grill grates. Grill for 1 - 2 minutes or until the shrimps edges are becoming lightly pink and opaque. Flip the shrimp and continue cooking for an additional 2 - 3 minutes or until the shrimp are lightly curled, opaque and reach and/or internal temperature or 120° Fahrenheit.

Remove shrimp from skewers (if using). In a medium mixing bowl, toss shrimp with half of the chimichurri butter until fully melted and coating each shrimp. Serve immediately with extra lemon wedges, as desired.
* A Note About Salt
Unless otherwise noted, all recipes on The Sage Apron are developed using Diamond Crystal Kosher salt. It is a great all-purpose salt for cooking and baking. If using table salt, reduce quantities by about half.
Nutrition
Calories:
192
kcal
|
Carbohydrates:
1
g
|
Protein:
11
g
|
Fat:
16
g
|
Saturated Fat:
10
g
|
Polyunsaturated Fat:
1
g
|
Monounsaturated Fat:
4
g
|
Trans Fat:
1
g
|
Cholesterol:
136
mg
|
Sodium:
943
mg
|
Potassium:
100
mg
|
Fiber:
0.1
g
|
Sugar:
0.1
g
|
Vitamin A:
616
IU
|
Vitamin C:
1
mg
|
Calcium:
48
mg
|
Iron:
0.2
mg