This simple Roasted Parsnip Soup is the perfect cold weather companion! Roasted parsnips and celery root are blended with a little onion, garlic, nutmeg, olive oil and stock to create a smooth, cozy soup.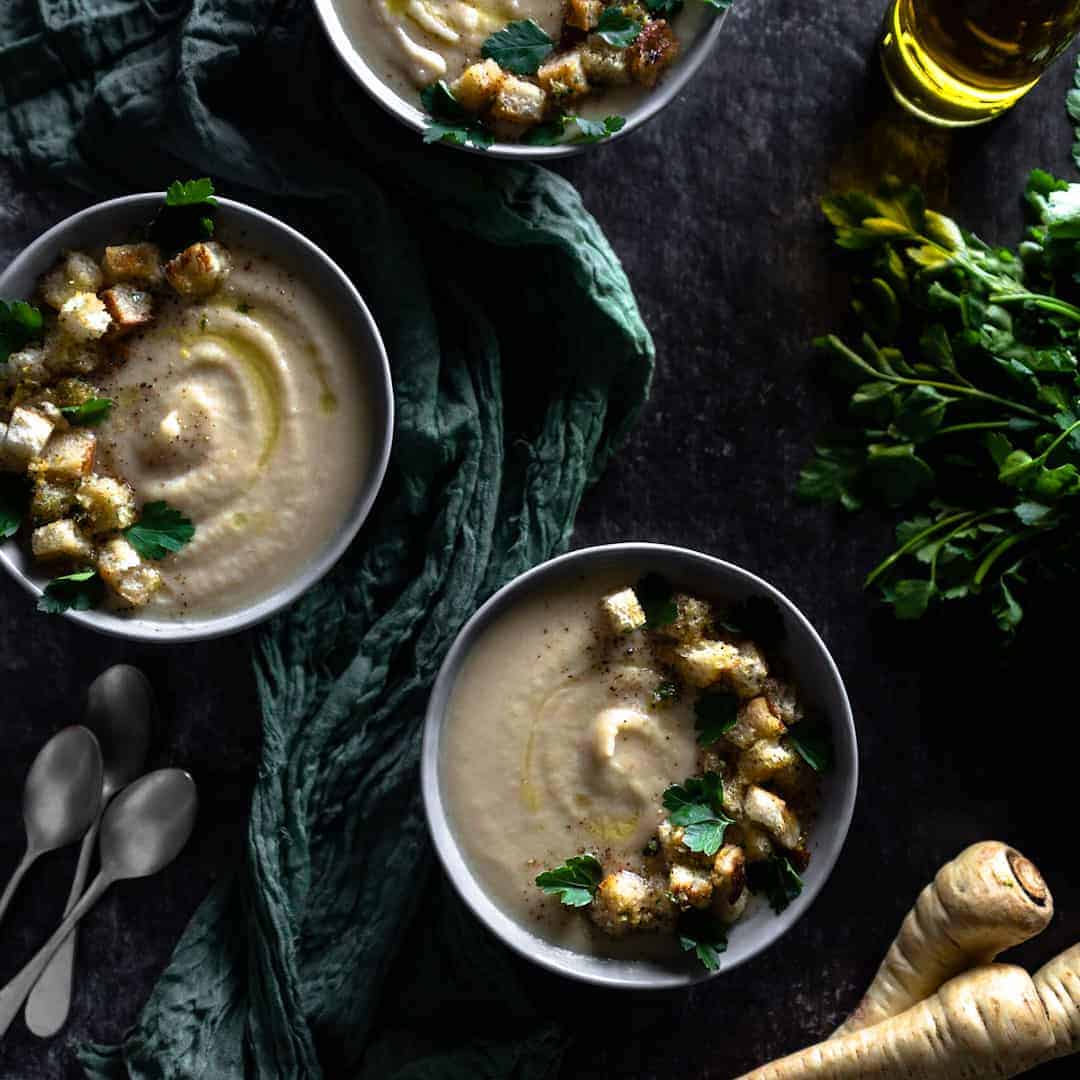 The soup is dairy free and easily prepared vegetarian or vegan. Toasted Gremolata Croutons are made from stale bread tossed with parsley, lemon and garlic. The croutons are optional, of course, but make for a delicious garnish that pairs perfectly with the root vegetable flavors.
For another cozy soup and crouton recipe, try this Pumpkin & Sweet Potato Soup with Pancetta & Sage!
Jump to:
Ingredients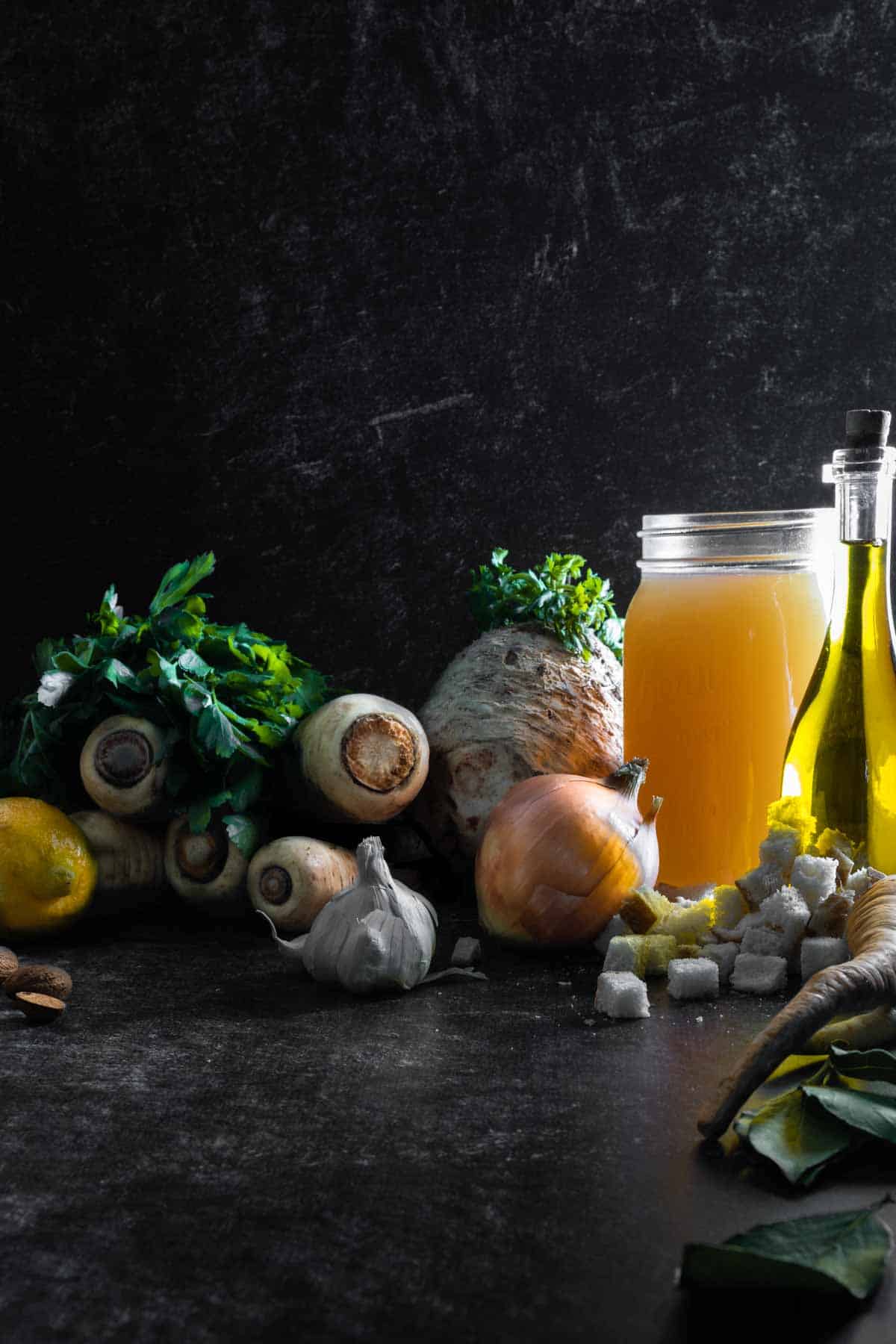 Soup Puree
parsnips
celery root
onion
garlic
vegetable or chicken stock (We use homemade chicken bone broth)
olive oil
bay leaves
lemon
nutmeg
salt + pepper
Gremolata Croutons (Optional)
stale bread
parsley
lemon zest
garlic
olive oil
salt + pepper
How to Prepare Parsnips and Celery Root for Soup
For this recipe, we are roasting the parsnips and celery root to deepen their flavors and coax out the parsnips natural sweetness. Be sure to clean the parsnips and celery root very well. We recommend using a produce brush to scrub the vegetables free of any dirt or grit.
Peeling, Cutting & Roasting the Roots
Preheat the oven to 450° Fahrenheit (230° celsius). Prepare a sheet pan with tin foil or parchment paper.
To prepare the parsnips for the soup, cut off the widest part (the top) of the taproot. If your parsnips are small, young and fresh, there is no need to peel them before roasting. For larger or older parsnips with thicker skin, we recommend using a vegetable peeler to remove the tough exterior. Sometimes, very large parsnips develop a woody, fibrous core. If this is the case (and it is fairly uncommon), avoid using the core and instead use only the creamy white flesh. Large dice the parsnips into equally sized pieces.
Celery root, otherwise known as celeriac, lends a lovely, earthy flavor to this recipe. To prepare the celery root, we peel it in a similar fashion to a melon. First, cut off either end of the celery root. Then, stand the celery root up on one of the cut ends. Using a sharp knife, carefully slice along the curvature of the root to remove a section of the brown skin and as little of the white flesh as possible. Rotate the celery root and repeat the process until the entire vegetable is peeled. Dice the celery root into pieces that are about the same size as your parsnips.
Toss the parsnips and celery root in a large bowl with a couple tablespoons of olive oil and a generous pinch of salt. Lay the vegetables in a single layer on the sheet pan. Roast for about 40 minutes or until the root vegetables have taken a lightly golden color and have begun to caramelize in the oven. Once roasted, the celery root and parsnip can be added to the soup to continue cooking.
How to Puree Soup
To create a smoothly textured Roasted Parsnip Soup, this recipe needs to be pureed. You can puree this soup with an immersion blender, standard kitchen blender or food processor. We like to enjoy this soup fairly thick, but feel free to add additional stock or water until your desired consistency is achieved. For the best results, strain the pureed soup through a fine mesh sieve once or twice before serving.
Immersion Blender: This is the fastest and easiest way to puree soups. This is our preferred method because the soup can be pureed directly in the cooking pot. Simply submerge the stick blender into the soup and blend on high speed until smooth.
Blender: Transfer the soup to the blender in small batches (about the amount of half of the blenders capacity). First, remove the small cap from the blender's lid to allow steam to escape. Then, cover the top of the blender with a kitchen towel to avoid splattering. Puree on high speed until smooth.
Food Processor: Transfer the parsnip soup (in a few batches) to a food processor fitted with the blade attachment. Puree on high speed until smooth. This may take a few minutes. Soups pureed in food processors tend to be less-smooth than those pureed in blenders.
What is Gremolata?
Traditionally, gremolata is a Northern Italian condiment used originally on veal ossobuco. Classically, gremolata is made from finely minced parsley, raw garlic and lemon zest.
Today, many chefs from around the world have taken creative liberties to put their own spin on gremolata. Menus will feature "gremolata" using everything from nuts and seeds, to other citrus fruits, to different herbs and spices.
For this recipe, however, we are using a classically prepared gremolata tossed with some olive oil toasted croutons. The croutons add a nice texture and contrast to the parsnip soup puree while the gremolata brings freshness, color and complimentary flavors.
You May Also Like...
Recipe
Roasted Parsnip Soup with Gremolata Croutons
This simple Roasted Parsnip Soup with Gremolata Croutons is the perfect cold weather companion! This pureed soup is delicious, dairy-free and easily made vegetarian or vegan!
ADJUST SERVINGS
Special Equipment
Immersion, Standard Blender or Food Processor

Fine-Mesh Strainer
Ingredients
Roasted Parsnip Soup
4 - 6

medium

parsnips

arge diced

1

medium

celery root

large diced (See Note: a.)

½

Cup

olive oil

divided

1

medium

yellow onion

large diced

3 - 5

cloves

garlic

lightly smashed

½

teaspoon

nutmeg

freshly-grated

2 ½ - 3

quarts

chicken or vegetable stock

as needed, preferably homemade

4

fresh bay leaves or

2 dried bay leaves

Freshly-ground white or black pepper

to taste

fine kosher salt*

to taste

Freshly-squeezed lemon juice

to taste, about ½ lemon
Gremolata Croutons
2

slices

stale bread

small cubed

2

Tablespoons

olive oil

plus more for garnish, as desired

½

teaspoon

fine

sea or kosher salt

¼

teaspoon

freshly-ground black pepper

1

clove

garlic

grated (See Note: b.)

Zest of 1 lemon

1

Tablespoon

parsley leaves

minced

Additional parsley leaves

as desired, for garnish
Instructions
Roasted Parsnip Soup
Gather, measure and prepare the Roasted Parsnip Soup recipe ingredients as listed. To view metric measurements, toggle the US Customary/Metric switch at the top of this recipe card.

Preheat the oven to 450° Fahrenheit (232° celsius). Prepare a baking sheet with tin foil or parchment paper. 

In a large bowl, toss diced parsnip, celery root and a pinch of salt in 2 tablespoons of olive oil. Arrange the mixture on the prepared baking sheet in a single layer. Roast for 30 - 40 minutes or until vegetables are beginning to brown and caramelize.

Meanwhile, in a large dutch oven or stock pot, warm

2 Tablespoons

of olive oil over medium heat until shimmering. Add onion and garlic and cook until onion is soft and translucent, about 3 minutes.  Stir in nutmeg.

Add the roasted parsnips, celery root, and

2½ quarts (or liters)

chicken or vegetable stock and bay leaves to the pot. Increase heat to bring to a boil. Once boiling, reduce heat to simmer and cook, uncovered for 15 - 20 minutes or until parsnips are fork-tender. Remove the bay leaves and discard.

Using an immersion blender, countertop blender or food processor, puree the soup until smooth. While pureeing, stream in the remaining olive oil. If needed, add additional chicken or vegetable stock to thin to desired consistency. For smoother soup, strain the puree through a fine mesh strainer once or twice. 

Return the soup to its dutch oven or pot. Season to taste with salt, white or black pepper and lemon juice.

Serve hot with Gremolata Croutons a drizzle of olive oil and additional parsley leaves. 
Gremolata Croutons
Gather, measure and prepare the recipe ingredients as listed.

Arrange a rack a few inches from the oven's broiler. Preheat the broiler to medium heat. Prepare a baking sheet with tin foil or parchment paper.

In a medium mixing bowl, toss the stale bread, olive oil, salt and pepper together. Arrange the oiled bread on the baking sheet and broil, for 1 - 2 minutes or until golden brown. Toss the croutons around the pan to flip and broil for an additional 1, or so, minutes, watching closely to avoid burning. 

Return the toasted croutons to the mixing bowl and add the garlic, lemon zest and minced parsley leaves. Toss to combine. Spoon the Gremolata Croutons over the soup and garnish, as desired, with additional parsley leaves. Enjoy!
Notes
a. The celery root (AKA celeriac) in the photograph was very large and more than we needed to prepare this recipe. We used about half of the celery root in the image. If you are lucky enough to get a fresh celery root with the greens still attached, the leaves will make a lovely additional garnish for the soup. 
b. Gremolata is best when the garlic is finely grated or minced. If you have a microplane, this works best. Pro Tip: First, grate the garlic on the microplane and then zest your lemon. The citrus oils will help to eliminate the strong garlic odor on the microplane. If you do not have a microplane, a fine cheese grater works well, too. You can also finely mince the garlic with a sharp knife. 
* A Note About Salt
Unless otherwise noted, all recipes on The Sage Apron are developed using Diamond Crystal Kosher salt. It is a great all-purpose salt for cooking and baking. If using table salt, reduce quantities by about half.
Nutrition
Calories:
579
kcal
|
Carbohydrates:
68
g
|
Protein:
20
g
|
Fat:
26
g
|
Saturated Fat:
5
g
|
Polyunsaturated Fat:
3
g
|
Monounsaturated Fat:
17
g
|
Cholesterol:
20
mg
|
Sodium:
1034
mg
|
Potassium:
1692
mg
|
Fiber:
11
g
|
Sugar:
22
g
|
Vitamin A:
66
IU
|
Vitamin C:
44
mg
|
Calcium:
136
mg
|
Iron:
3
mg