This easy tutorial demonstrates how to use parchment paper as an easy substitute for muffin or cupcake liners.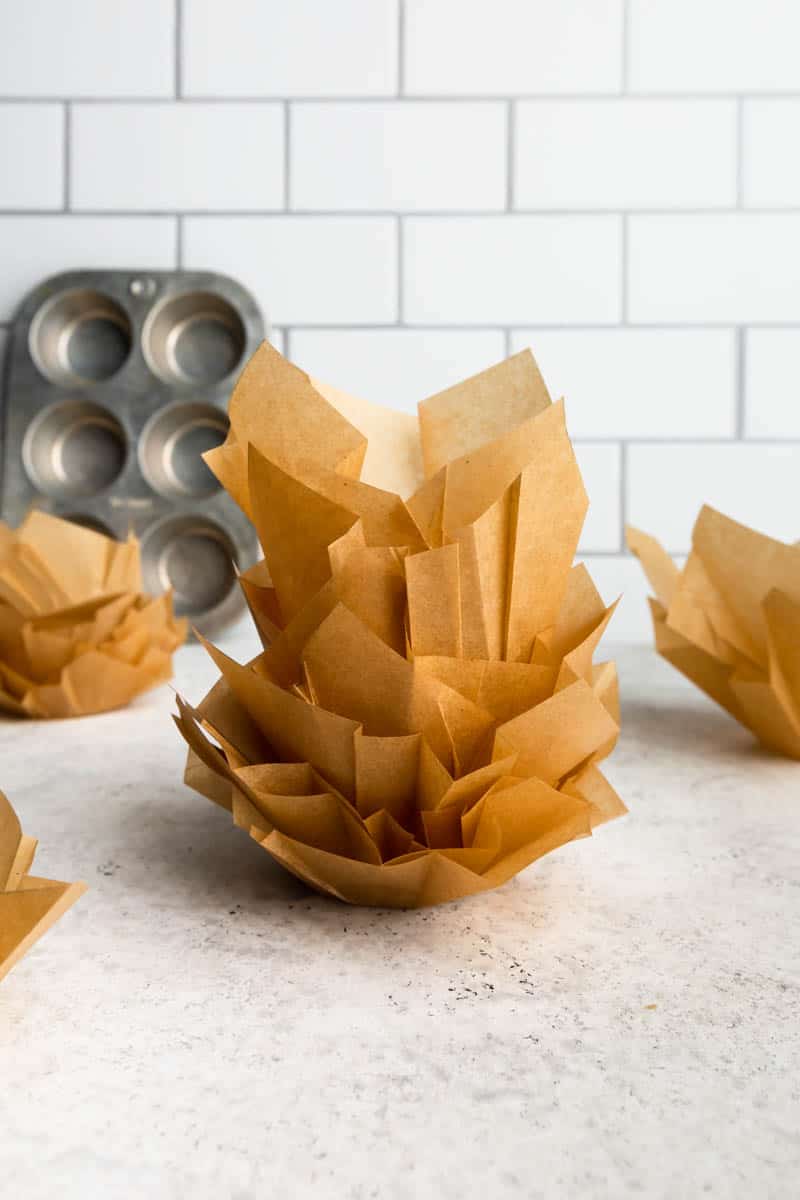 Do you ever have the hankering for a fresh baked muffin only to make the batter and realize you don't have any paper liners!? Honestly, same! Fear not, with a bit of parchment paper you'll never have to buy muffin or cupcake liners again!
This method is both easy and beautiful! Since starting to make my own muffin liners, I tend to prefer parchment paper liners for their beautiful fresh-from-the-bakery look! I have received so many questions and compliments on these simple liners, I figured it was about time I shared a quick How To!
Tools Needed For Homemade Muffin Cups
To make these liners at home, all you will need is some parchment paper, a ruler, some scissors and a pint glass (or small can)!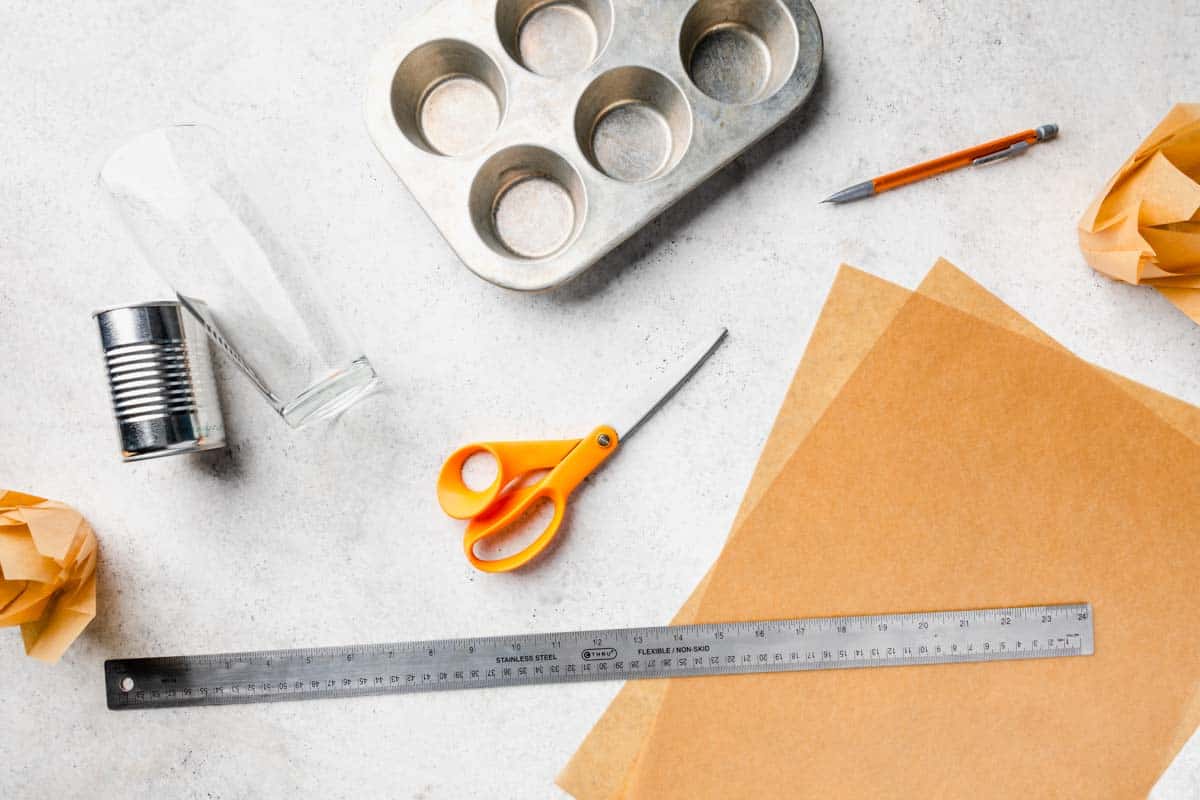 Parchment Paper - Make sure you are not using wax paper! You can use the white or brown parchment paper - I just tend to prefer the brown coloring. Some parchment paper even comes with a grid on it, making cutting these squares extra easy!
Glass or Can - Or anything small and cylindrical that fits in your muffin tin! This "tool" is just used to shape the paper around. A pint glass works perfectly because the sides taper out to create the perfect muffin shape. A small can (like the ones tomato paste typically come in), also work and have the perfect little size! I like to use the little can for cupcakes, especially.
How To Make Parchment Paper Cupcake and Muffin Liners
1. Use a ruler and scissors to cut the parchment paper into squares. You can even use zigzag or patterned scissors to give the liners extra flare!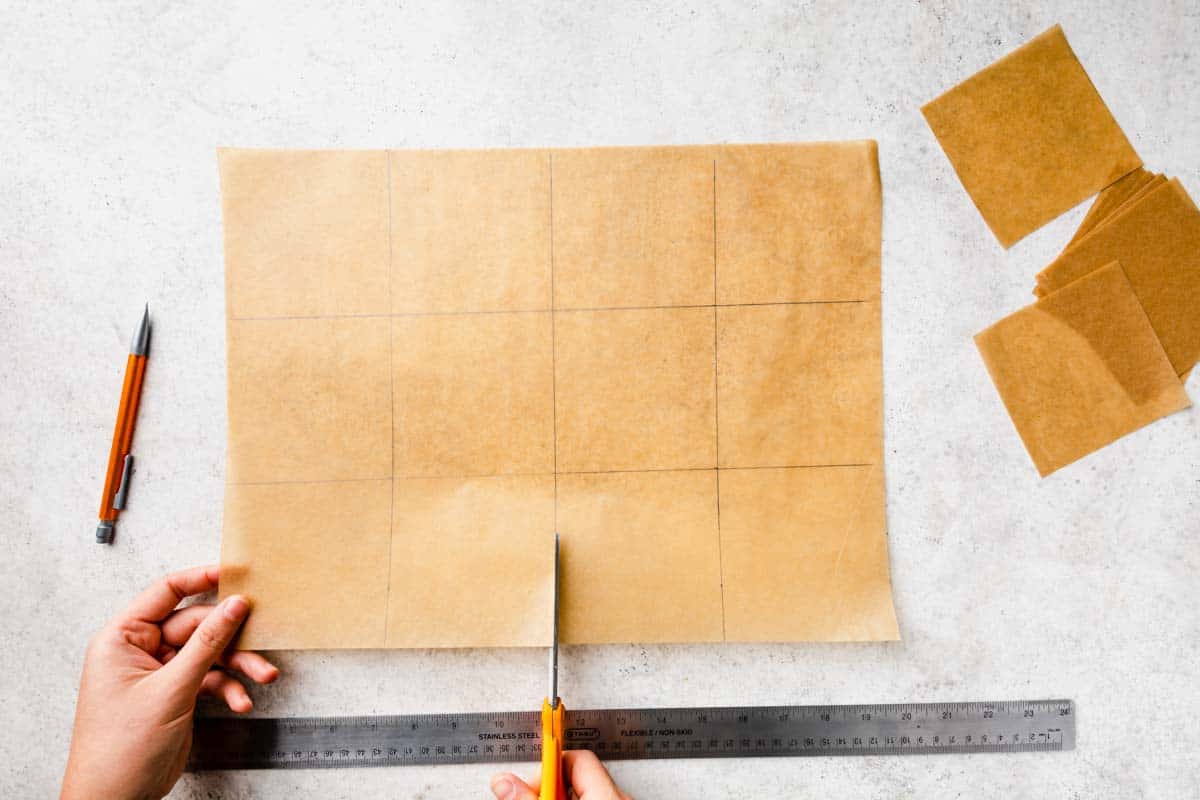 The size of the parchment paper square will depend on your desired effect! I like to make my cupcake squares smaller, so that they don't interfere with the frosting. For muffins, on the other hand, I prefer the parchment paper to stick up, giving the muffin an artisan bakery look!
Here is a good sizing guide:
| | |
| --- | --- |
| Size of Baked Good | Parchment Paper Square |
| Standard Cupcake | 4 - 4 ½ Inch Squares |
| Standard Muffin | 5 Inch Squares |
| Jumbo Muffin | 6 - 6 ½ Inch Squares |
2. Once your squares are cut to your desired size, all you need to do is shape the liners! Place a square of parchment paper over the base of your pint glass, small can (or other cylindrical tool)! Press the parchment around the edges to pleat the paper into a cup shape.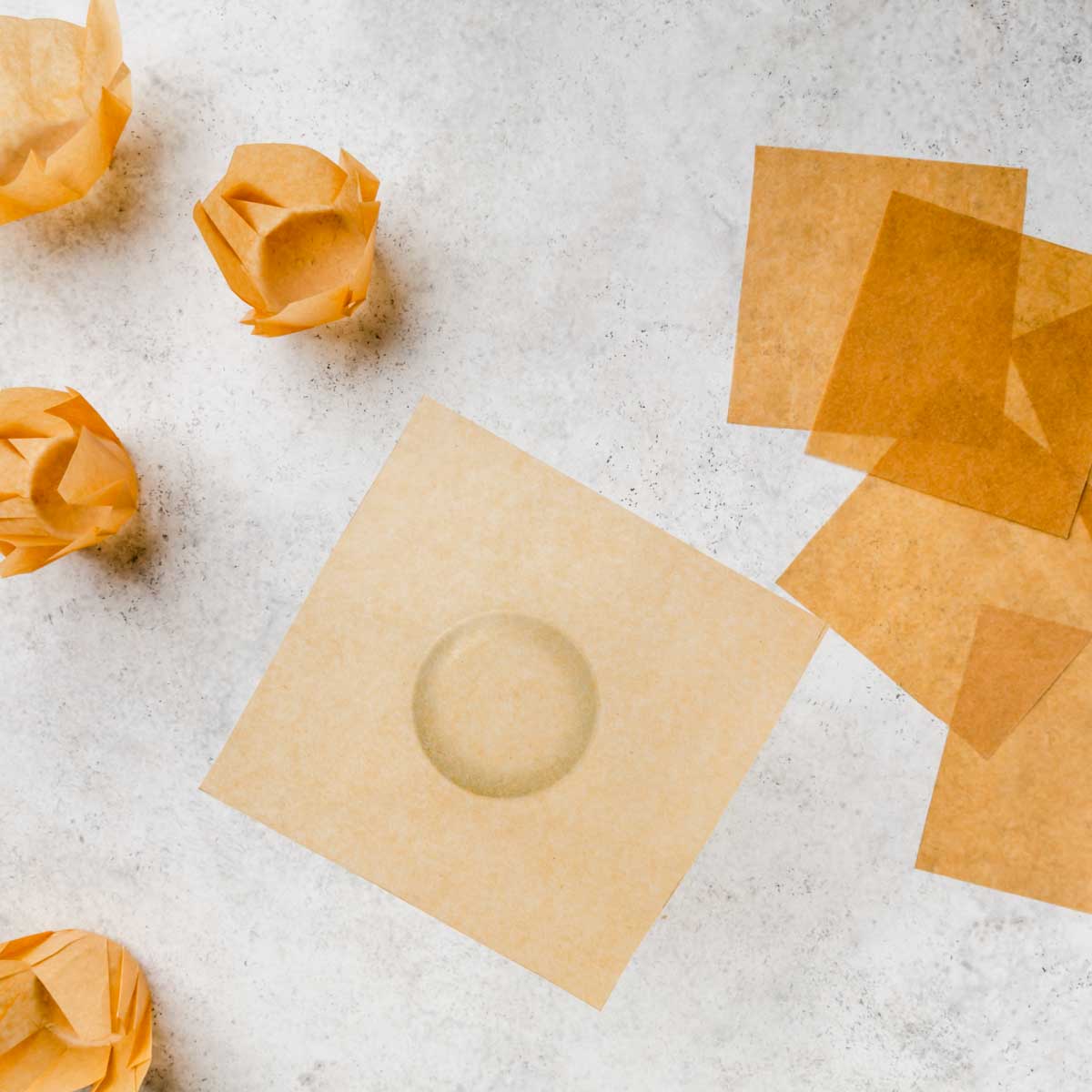 That's it! It couldn't be any simpler! You can make a bunch of these ahead of time and keep them on hand or whip up a quick batch whenever the baking mood strikes!
Baking With Parchment
You can use this cupcake and muffin liner substitute with any of your favorite cupcake and muffin recipes. Try it with my favorite breakfast: our Cinnamon Streusel Muffins!
To avoid spills, I recommend filling the liners with about ⅔ full of batter! Parchment paper is safe to use at baking temperatures up to 500° Fahrenheit.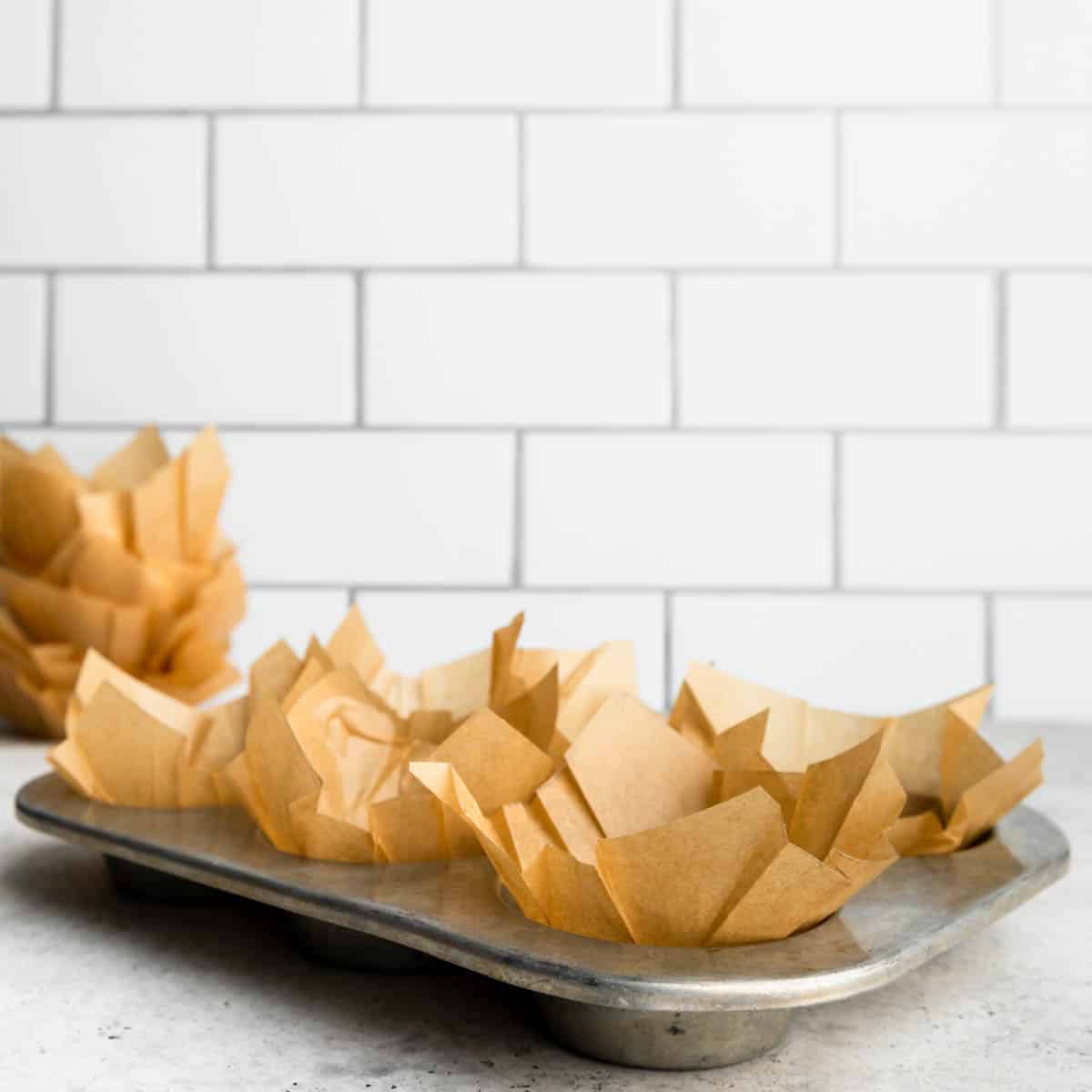 Baker's Journal: Greasing the Liners - For cupcakes and muffins that release cleanly from their paper cup (whether using a traditional liner or a parchment paper muffin liner substitute), I recommend greasing the paper!

All you need to do is give the paper liners a quick spritz with some nonstick cooking spray. You can also use a pastry brush to wipe a little softened butter in the cup! For homemade muffin liners that will be used immediately, you can grease the parchment squares before shaping them, to make it even easier.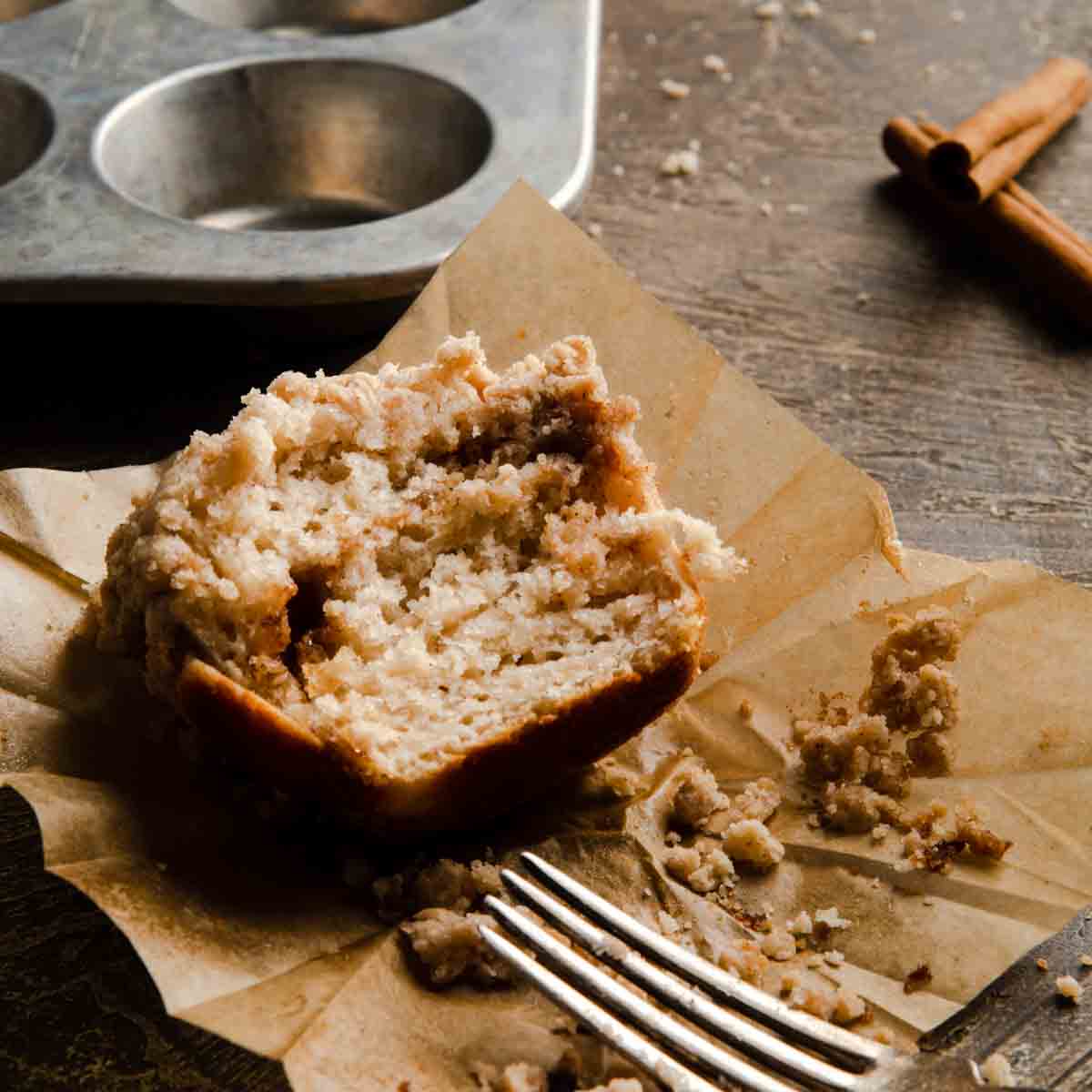 7 Tips for Baking Cupcakes & Muffins
No matter what recipe you are using, there are some universal tips and tricks for making magnificent muffins and cupcakes! Here is what I'd recommend:
Bake with room temperature ingredients. For even baking, avoid cold butter, dairy and eggs!
Do not over mix! For recipes using flour, over mixing the batter can create too much gluten and tough, chewy baked goods! Mix only until the flour mixture is JUST combined! This also helps to prevent holes (called tunneling) in tender baked goods!
For muffins, bake batter in every other space in your baking tin! This trick helps to circulate hot air around each muffin helping ensure you get the perfectly risen, domed top! This is less important for flat-topped cupcakes!
Avoid sunken fruit and add-ins! To avoid your mix-ins sinking to the bottom, dust them with a little flour before folding them into the batter! Especially for fresh of frozen fruit! The flour helps keep the additions suspended within each little muffin cup!
Don't over-fill the liners! To account for rise in the oven, most cupcake and muffin recipes will recommend filling the liner between ⅔ and ¾ full.
Achieve the perfect bake with The Spring Test! There are several ways to make sure your muffins or cupcakes are perfectly baked. My favorite is the spring test! To use this method, gently poke the center of a muffin or cupcake in the center of your pan. If it gently springs back, it's ready! (Dented baked goods are under baked and no spring means it is probably over baked!) You can also use a toothpick or cake tester, or bake to an internal temperature of 190° Fahrenheit.
Transfer baked goods to a cooling rack. This is my top tip for avoiding dried out muffins and cupcakes! Since carryover cooking continues to bake your treats after removing them from the oven, it is important to let them cool on a rack!
Follow us on social media @TheSageApron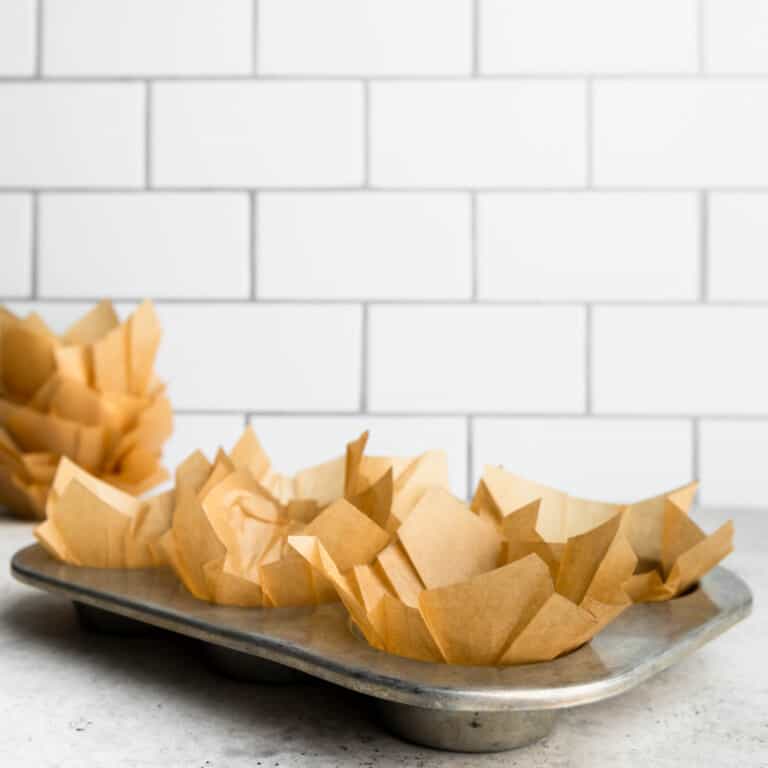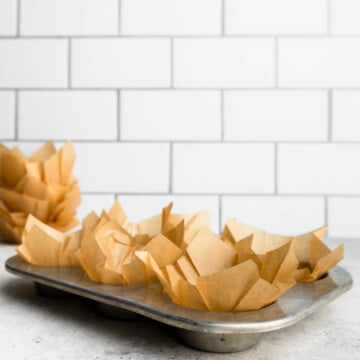 How To Make Your Own Cupcake & Muffin Liners (SO EASY!)
Get that artisan bakery look with easy homemade parchment paper pastry liners!
ADJUST SERVINGS
Special Equipment
1 Pair of Scissors

1 Ruler

1 Pint Glass, Small Can or Other Cylindrical Object

(*Make sure this object fits into the base of your cupcake or muffin baking tin)
Ingredients
Parchment Paper

as needed
Instructions
Start by measuring and cutting parchment paper into 12 squares (or as needed).

For cupcakes I recommend 4½ inch squares. For muffins use 5 inch squares. For jumbo muffins use 6 - 6½ inch squares.

Use the base of a pint glass, small can (or other cylindrical object) to shape each square of paper into a cup shape. Center the square over the object and use your hands to fold the parchment paper along the sides of your molding object. Repeat with remaining parchment squares.
* A Note About Salt
Unless otherwise noted, all recipes on The Sage Apron are developed using Diamond Crystal Kosher salt. It is a great all-purpose salt for cooking and baking. If using table salt, reduce quantities by about half.