This vibrant Purple Sweet Potato Pie with torched meringue is as delicious as it is beautiful!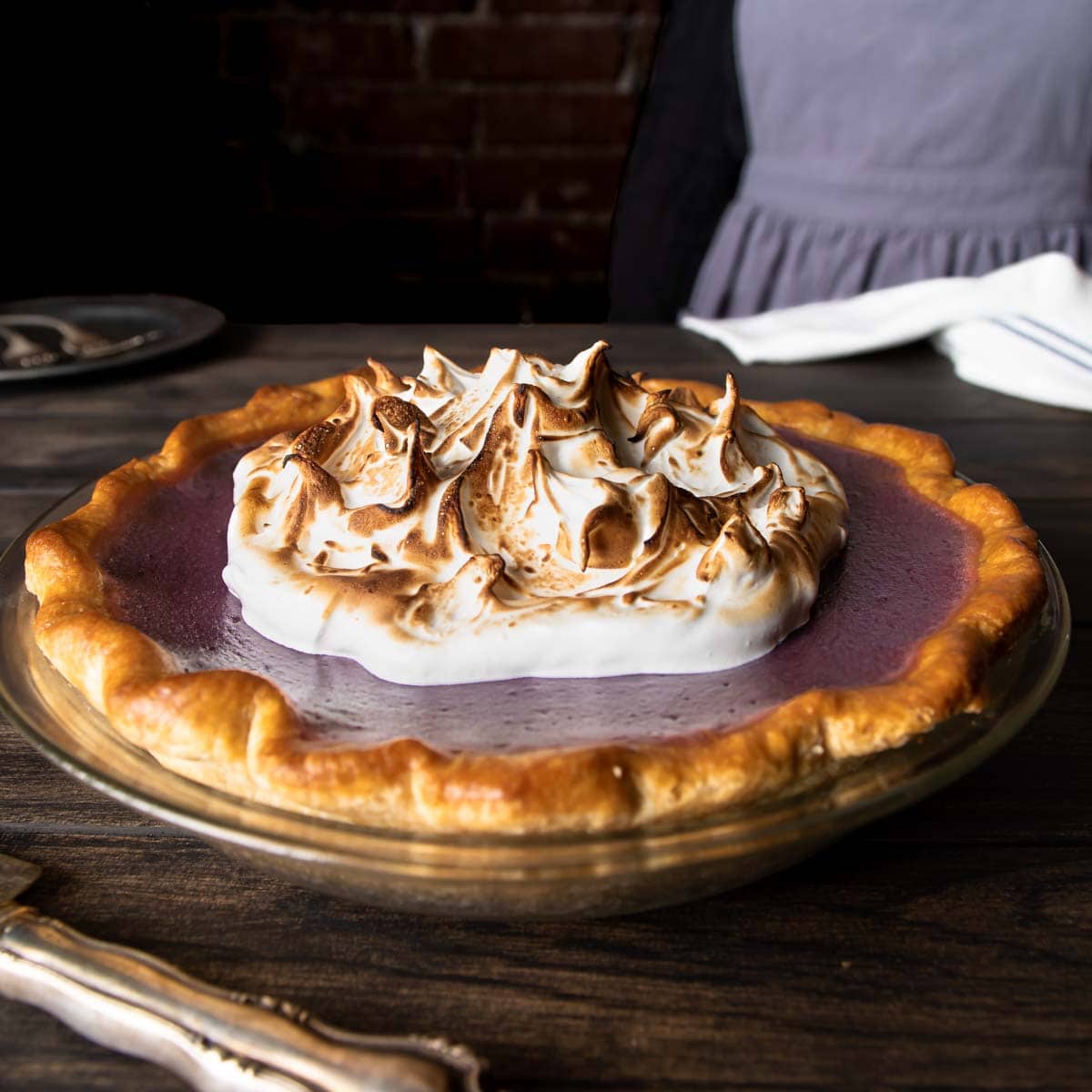 This vibrant Purple Sweet Potato Pie as a colorful alternative to Thanksgiving's darling pumpkin pie. However, this one is so yummy and fun, I can see making it at Halloween, Christmas and Easter, too!
This recipe for Purple Sweet Potato Pie features homemade, buttery pie dough filled with a creamy, smooth filling of lightly-spiced purple sweet potato custard topped with a sweet, toasted Swiss meringue. It's easy, delicious, and oh-so beautiful!
For more great holiday bakes, try our Plum and Apple Crumble or Eggnog Bundt Cake!
Ingredients For Purple Sweet Potato Pie
This pie uses all the usual suspects of a classic sweet potato pie with one major exception - purple flesh sweet potatoes!
Purple Sweet Potatoes - Make sure you buy sweet potatoes with purple flesh, not just purple skins! We used stokes purple sweet potato varietal that is readily available in our local Whole Foods. However, Okinawan sweet potatoes or even ube yams could also work.
Pie Crust - We recommend using Our Favorite Buttery Pie Dough recipe but a store-bought pie dough would also work in a pinch! We like the Pillsbury brand best.
Evaporated Milk - One can of evaporated milk gives this pie filling its rich, creamy mouthfeel. Make sure you are using evaporated milk and NOT sweetened condensed milk. Full-fat coconut milk can work as a replacement.
Brown Sugar - Light brown sugar enhances the purple sweet potato's sweetness and lends a subtle caramel-like flavoring.
Butter - We use unsalted butter for this recipe.
Eggs - Three large eggs make this sweet potato pie filling into a rich custard.
Vanilla & Spices - Vanilla extract, cinnamon, ground ginger, nutmeg, salt and a pinch of ground clove subtly flavor the filling ingredients without overpowering the natural sweet potato flavor.
What Are Purple Sweet Potatoes?
Purple Sweet Potatoes are one of nature's vibrant gifts! They are an all-natural root vegetable that grows underground like all other potatoes. This special purple sweet potato pie recipe requires NO food coloring. Like regular orange sweet potatoes, purple sweet potatoes are a little starchy and have a naturally sweet flavor.
While often confused, sweet potatoes are not the same thing as yams. Yams actually grow on vines and many varietals are harder and starchier than sweet potatoes. However, for this recipe, purple ube yams can be used. Furthermore, ube extract is sometimes used as an all-natural food coloring. A dash of ube extract can be added to this pie filling to further enhance its bright purple coloring, if desired.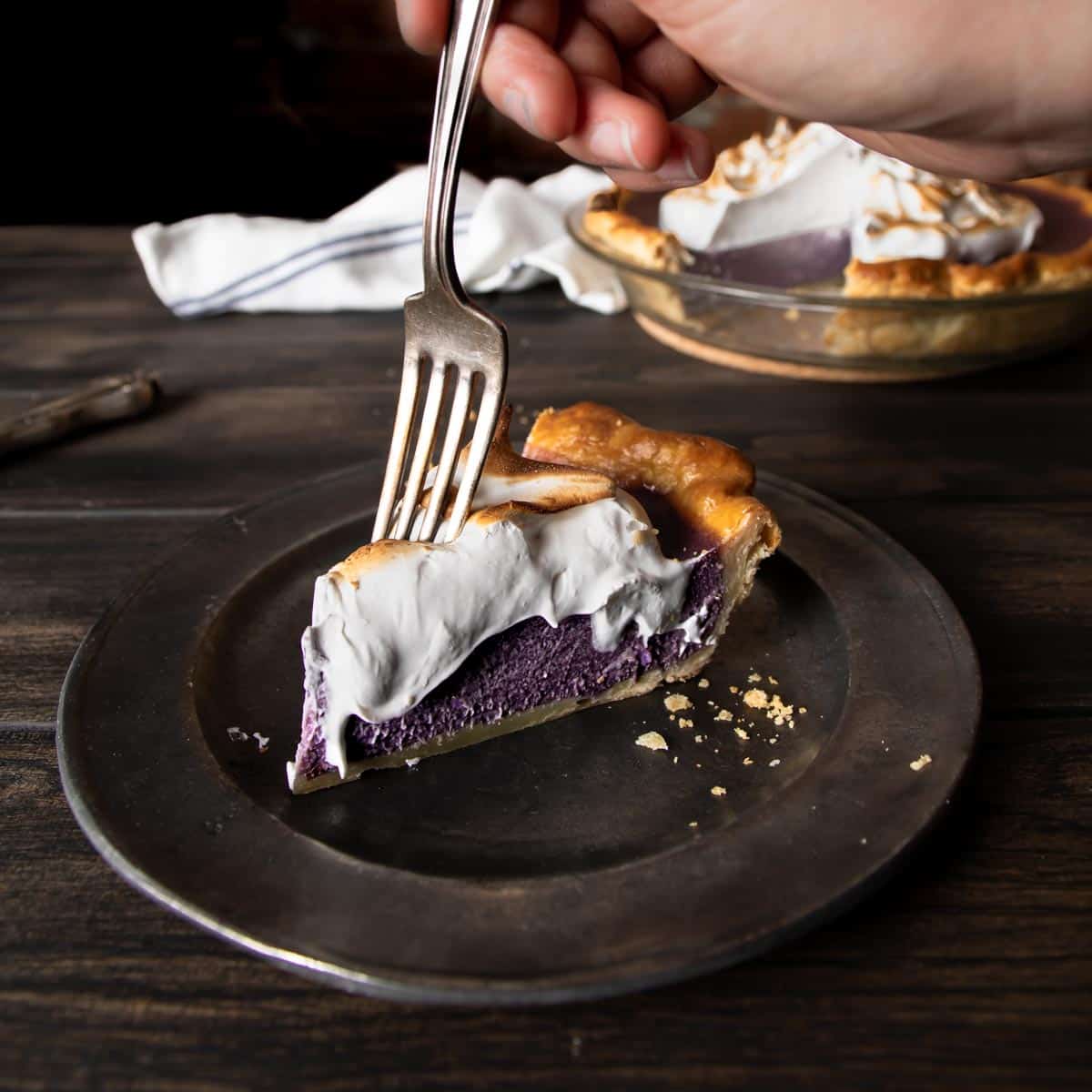 Ingredients For Swiss Meringue Topping
Swiss meringue makes the perfect sweet and fluffy topping for this Purple Sweet Potato Pie! It's more stable than French meringue, easier than Italian meringue and can be enjoyed stark white or when toasted with a culinary torch. Best of all, it only takes a few ingredients. See the text under Tips & Tricks for Flawlessly Fluffy Meringue for more advice on whipping up this special topping!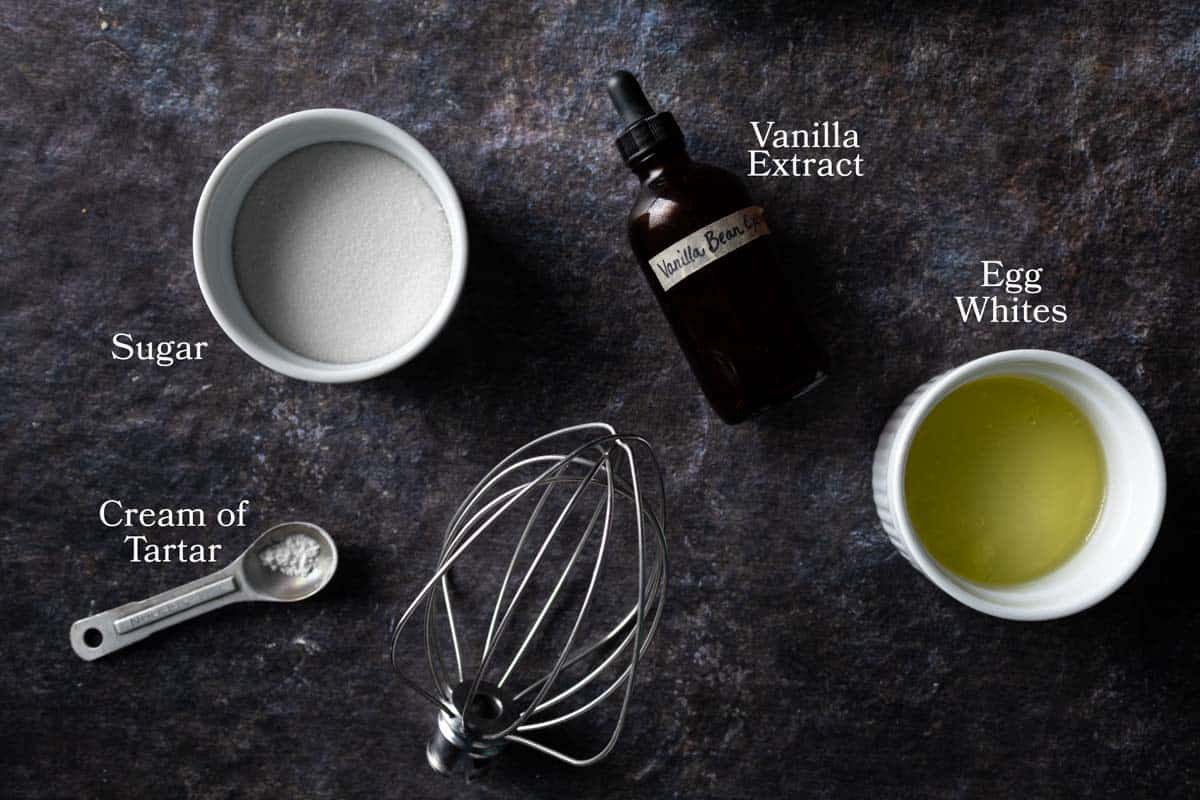 Egg Whites - Heated egg whites magically transform into a glossy whipped dream!
Sugar - Sugar flavors the meringue, helps it keep it's stiff peaks and caramelizes to a toasty golden brown when torched.
Vanilla Extract - For a hint of vanilla flavor that pairs perfectly with purple pie!
Cream of Tartar - You CAN make Swiss meringue without cream of tartar, if needed. But, I like to add it for a little additional stability. If you don't have any cream of tartar, I recommend making this meringue topping just before serving the pie.
Best Practices & How To Make This Purple Pie
This Purple Sweet Potato Pie Recipe is pretty easy! Here are a few of our tips, tricks and best practices for making this recipe.
The Best Buttery Pie Crust
This beautiful purple dessert starts with our homemade pie crust recipe! (Go ahead and use a store-bought crust if you're in a pinch for time!) Our recipe is a simple, all butter pie dough that is flaky, delicious and doesn't require any special equipment. As you would expect, cold butter is cut into the dry ingredients until the butter is in the size of peas. Then, we slowly drizzle in some ice cold water and, if you have it, our special ingredient: vodka!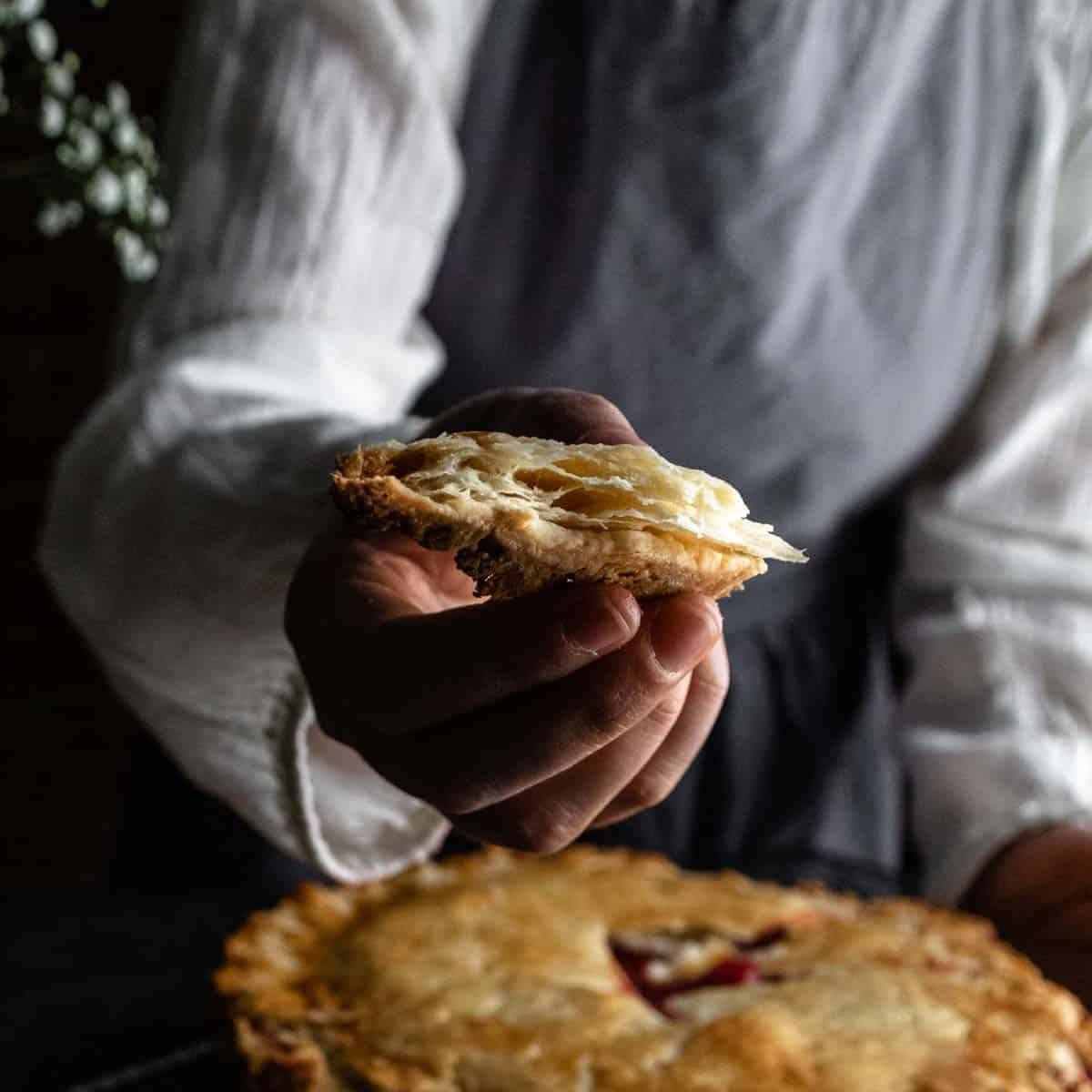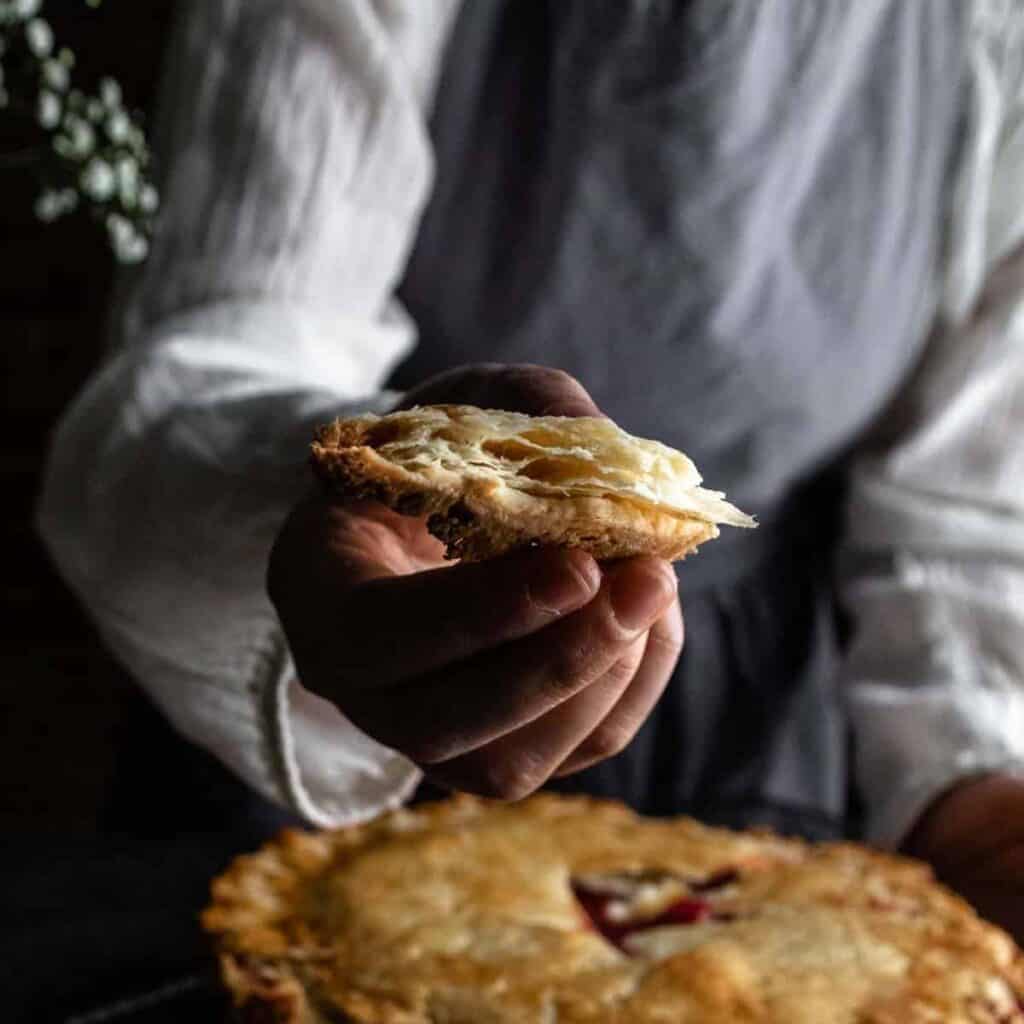 Our homemade pie crust recipe uses all butter and is made completely by hand. No special equipment required! Check out the entire post for best practices and a quick How To Video.
That's right! We use a splash of vodka in our pie dough for the flakiest results around. We've included the recipe below but you can check out the full post for more in-depth pie making content.
Tips for Perfect Pie Crust
After mixing, chill the dough for AT LEAST 30 minutes. Or, make the dough and keep refrigerated up to 3 days ahead of time.
Once fitted to your pie pan, CHILL AGAIN until completely firm. The best pie doughs go into the oven cold!
Blind bake the pie crust with pie weights (we use dried beans and rice) to avoid shrinking.
Remove the pie weights and bake a little longer for a bottom that is anything but soggy!
Use tin foil or pie shields to avoid burning the edges, if necessary, during the final bake.
Purple Sweet Potato Custard
This is our favorite purple sweet potato recipe for obvious reasons. I mean, that gorgeous color at the dessert table? Yes please! Here are the most important things to remember when making this sweet potato filling:
Bake the potatoes! Baking the purple sweet potatoes makes them soft while concentrating their flavor and adding any additional liquids. Boiling the potatoes may be a little faster, but the added water content takes away from their flavor and texture.
Puree the potato filling until just smooth! Don't over-do it! Over mixing in this step will create a stodgy, gluey texture!
Stir eggs in one at a time to room temperature filling! If the purple sweet potato puree is still hot, you can scramble your eggs and ruin the custard! Let it cool!
Bake the pie at no hotter than 300 degrees Fahrenheit! This low oven temperature ensures an evenly baked, silky smooth custard that never curdles!
Cool pie on a cooling rack completely before topping and serving! In fact, we prefer this pie chilled from the fridge!
Tips & Tricks for Flawlessly Fluffy Meringue
Swiss meringue is sweet, fluffy and a lovely contrast to the flavors and gorgeous color of this yummy dessert. We designed this meringue recipe to be a petit portion, perfect for topping this pie, as pictured. For a billowy, show-stopping meringue cloud - feel free to double the ingredients for this portion of the recipe. Here's a few meringue tips:
Always make this meringue in a double-boiler! You don't need anything fancy, we just put a metal bowl on top of a sauce pot.
Use fresh eggs! The fresher your egg whites, the fluffier your meringue!
Use an instant read thermometer. Take out the guess work and temp your meringue before whipping.
Lightly torch and be careful! Culinary torches are fun, but can be a little dangerous! Clear your counter space and watch your fingertips (and eyebrows)!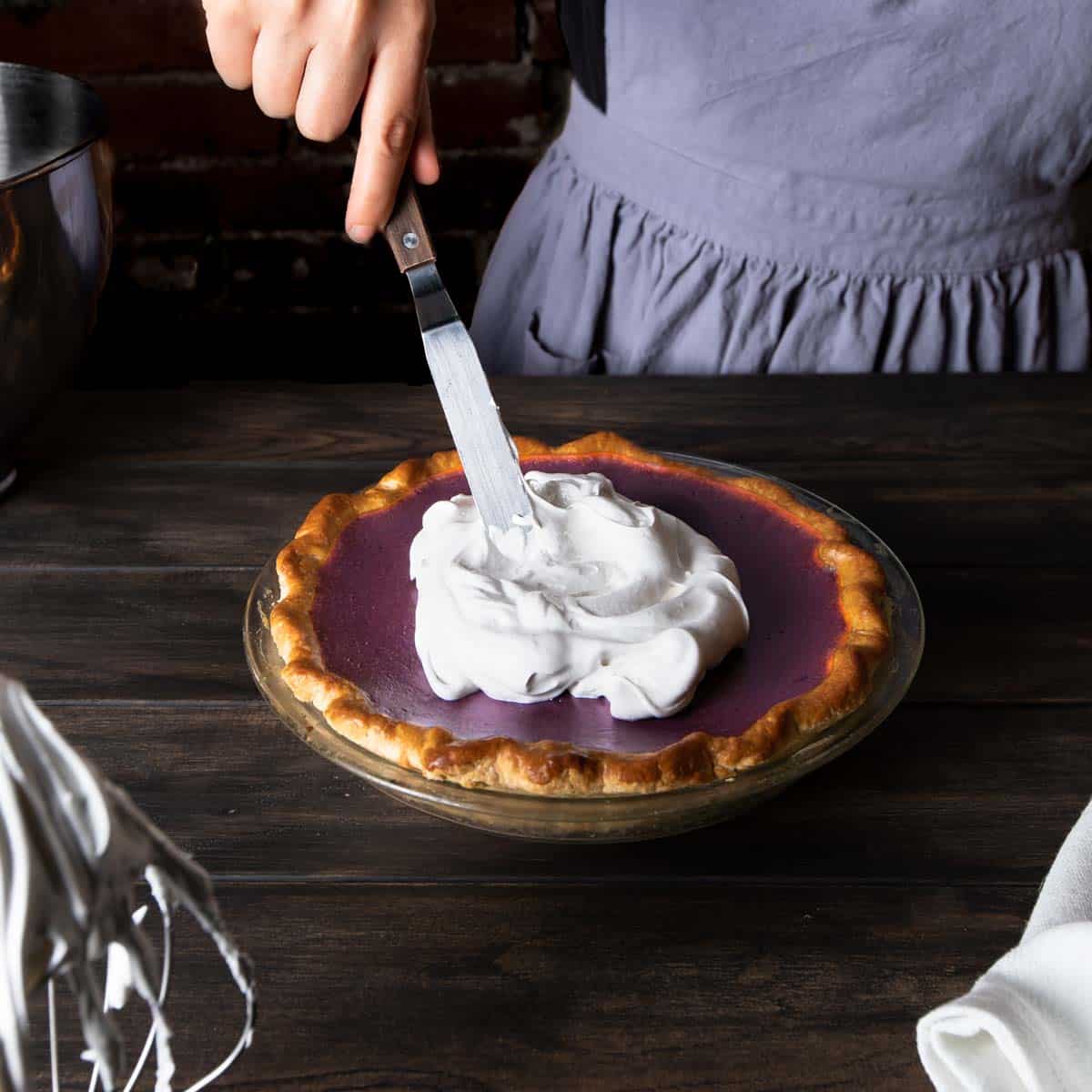 Frequently Asked Questions
Can I make purple sweet potato pie ahead of time?
Yes! This pie is perfect for making ahead of time! You can keep Purple Sweet Potato in the refrigerator for 1 - 2 days before serving.

If possible, we recommend making the meringue just before serving. If not possible, store meringue in a seperate container and top the pie and torch the meringue just before serving.
Does purple sweet potato pie have to be refrigerated?
Yes! Purple Sweet Potato Pie contains eggs and cannot be stored at room temperature.
What is the difference between purple sweet potatoes and regular sweet potatoes?
The difference between purple sweet potatoes and regular sweet potatoes is mainly the color! They are both root vegetables with natural sweetness. Purple sweet potatoes tend to be slightly more dense than many varieties of orange sweet potatoes.
Are purple sweet potatoes and purple yams the same thing?
No. Purple sweet potatoes grow in the ground and yams from above ground, on vines. However, for this recipe, purple sweet potatoes can be used interchangeably with ube yams.
Do I have to blind bake the crust?
Yes! Since this pie filling is baked at a low temperature, the pie crust must be fully baked before adding the filling.
Is Swiss meringue the same as marshmallow fluff?
No, but it's similar. Swiss meringue is made by whipping a mixture of tempered egg whites and sugar. Marshmallow is made with invert or corn syrup (and sometimes gelatin). That being said, you can top this pie with a bit of marshmallow fluff, as a time saver.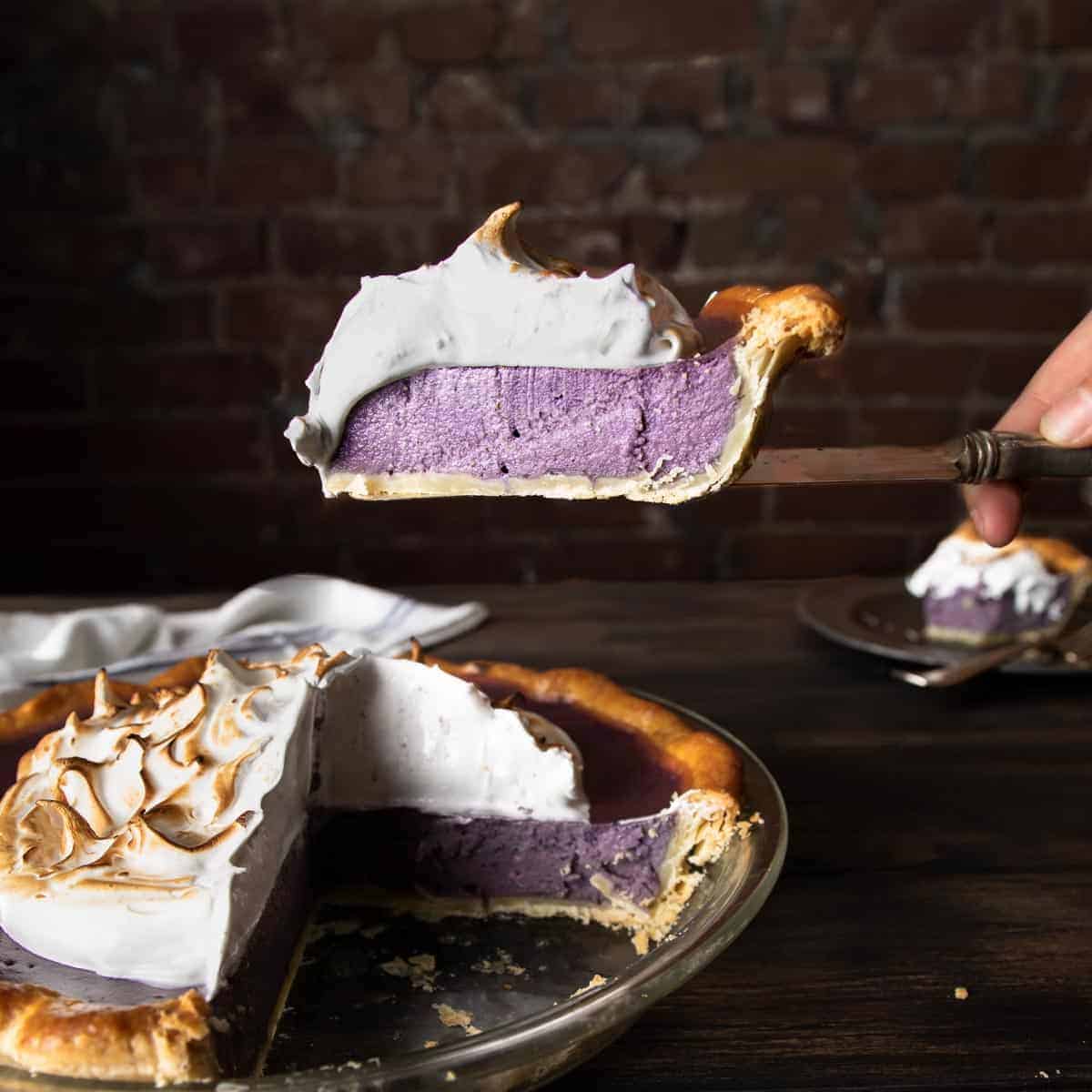 More Holiday Baking Recipes
Check out these other festive scratch baking recipes!
Recipe
Purple Sweet Potato Pie with Torched Meringue
This pretty pie features a lightly-spiced purple sweet potato custard, buttery pie crust and a fluffy, toasted Swiss meringue topping! It's a gorgeous dessert to adorn your holiday tables!
ADJUST SERVINGS
Special Equipment
9 Inch Glass Pie Plate

Pie Weights (We use dried rice or beans)

Pastry Brush

Immersion Blender (or Standard Blender)

Stand Mixer with Whisk Attachment (or Handheld Whisk Mixer)

Culinary Torch (Optional)
Ingredients
Purple Sweet Potato Pie
1

9 inch

Blind Baked Pie Crust

homemade or store-bought (Our Favorite Recipe included below! See Note: a)

1

recipe

Purple Sweet Potato Custard

1

recipe

Swiss Meringue
Pie Crust
2½

Cups

all-purpose flour

1

teaspoon

fine kosher salt*

1

Tablespoon

granulated sugar

1

Cup

unsalted butter

cubed, cold

¼

Cup

80 Proof vodka

OR additional Ice Water

Ice Water

as needed (about 4 Tablespoons)

Egg Wash

1 egg whisked with a splash of water or cream
Purple Sweet Potato Custard
1

pound

purple sweet potatoes

scrubbed clean

¼

Cup

unsalted butter

12

ounces

evaporated milk

(1 can)

¾

Cup

light brown sugar

1½

teaspoons

fine kosher salt*

1

teaspoon

ground cinnamon

½

teaspoon

ground nutmeg

½

teaspoon

ground ginger

⅛

teaspoon

ground clove

1

teaspoon

vanilla extract

3

large eggs

room-temperature
Swiss Meringue Topping
2½

ounces

egg whites

(About 2 large egg whites)

½

Cup

granulated sugar

⅛

teaspoon

cream of tartar

Optional, but recommended

1½

teaspoons

vanilla extract
Instructions
Pie Crust
Gather, measure and prepare the Pie Crust ingredients as listed. (This recipe makes enough dough for 2 pie crusts.) For the most consistent results, we recommend using metric weight measurements whenever possible. To view metric measurements, toggle the US Customary/Metric switch at the top of this recipe card.

Combine flour, salt and sugar in a medium mixing bowl. Whisk to combine.

Add butter. With your hands or pastry cutter, cut butter into the flour mixture until a sandy texture with pea-sized crumbles are formed. (See our full pie crust post for a video demonstration.)

Then, using a rubber spatula, stir in the vodka (if using). Add cold, ice water (just the liquid, no ice) into the dough a small splash at a time. Mix with a rubber spatula. Add just enough water until the dough will hold together when gently squeezed in your hand. The dough should be rather dry and slightly crumbly.

Turn the dough out onto a clean, dry work surface. Divide the dough in two and gently shape each half into a disk. Tightly wrap each disk of dough in plastic wrap and chill in the refrigerator thirty minutes, at least. (This recipe only requires half of this pie dough. Use the other half for another pie or keep frozen for up to 3 months.)

Meanwhile, arrange a rack in the bottom third of the oven and preheat the oven to 400° Fahrenheit (200° celsius). (You can bake the potatoes during this time, as well. See Sweet Potato Custard recipe, below,)

On a lightly floured surface, roll your dough out between ⅛ and ¼ of an inch (about ½ centimeter). Fit into a 9 inch glass pie plate and crimp the edges, as desired.  Using the tines of a fork, poke several holes (called docking) on the bottom of the pie shell. Return shaped pie crust to the refrigerator (or freezer) to chill for 30 minutes, or until completely firm.

Line the chilled pie crust with crumpled parchment paper or a large coffee filter and fill with pie weights. (We used dried rice and beans as pie weights.) Place pie plate on a sheet pan for easy handling in the oven. Bake for 25 minutes or until the edges are lightly golden brown. Remove the pie crust from the oven. Carefully, remove parchment and pie weights.

Use a pastry brush to glaze the entire pie crust with egg wash. Return the pie crust to the oven to finish baking the bottom of the pie crust, about 3 - 8 minutes or until the base of the pie is lightly golden.

Remove pie crust from oven and set aside to cool while preparing the filling.
Sweet Potato Custard
First, bake the purple sweet potatoes. Use the tines of a fork to poke a few holes in the potato skins. Then, wrap potatoes in tin foil and bake at 400° Fahrenheit (200° celsius) for about 1 hour or until fork tender. (To save time, this can be done while pie crust is blind baking.)

Lower oven temperature to 300° Fahrenheit (150° celsius).

Once baked, carefully remove the tin foil from the potatoes. Using a small sharp knife, peel away the potato skins. (They should come off very easily.)

Meanwhile, melt butter in a medium saucepan over medium heat. Add evaporated milk, brown sugar, salt, cinnamon, nutmeg, ginger and clove and stir to combine. Add purple sweet potatoes and remove from heat.

Use an immersion (or standard) blender to puree the mixture until just smooth. Do not over mix. Allow mixture to cool before adding eggs.

Add vanilla and whisk in eggs one at a time until well combined. The custard batter should be loose and soupy. Pour batter into the blind baked pie shell. Do not overfill - you may have a small amount of batter remaining.

If necessary, use tin foil or pie shields to prevent the edges of the pie from burning during the bake. Bake pie for 55 - 65 minutes until the custard is set and slightly wobbly in the center.

Allow pie to cool on a wire rack until room temperature before topping, at least 2 hours. If desired, once room temperature, chill the pie covered in the refrigerator overnight or for up up to 2 days before topping and serving.
Swiss Meringue Topping
Set up a double boiler over medium-high heat. (See Note: b)

In the top of your double boiler add egg whites, sugar and cream of tartar (if using). Use a rubber spatula to stir the mixture as it heats to 160° Fahrenheit (71° celsius). The mixture should be frothy and the sugar should be completely melted and not feel gritty when rubbed between two fingers.

Transfer mixture to a stand mixer fitted with the whisk attachment (or use a handheld electric whisk). Add vanilla and whisk the mixture on high speed until completely cooled and the mixture begins to ball up in the whisk. The Swiss Meringue should be thick, glossy and hold stiff peaks.

Add the Swiss meringue to the pie and use an offset spatula or back of a spoon to swirl into a pretty pattern. Swiss meringue is fully cooked and can be enjoyed immediately. If using, light a culinary torch and gently toast the meringue topping. Slice, serve and enjoy!
Notes
a. See our full post on homemade pie crust for more tips, tricks and advice: Our Favorite Buttery Pie Crust Recipe
b. Since we don't have a designated double-boiler, we make one by using a metal mixing bowl and a medium sauce pot. Add about 1 inch of water to the sauce pot and place the metal mixing bowl on top, like a lid. Make sure the water is not touching the bottom of the bowl. This method gently heats the bowl with steam and helps to prevent scrambling your egg mixture. 
* A Note About Salt
Unless otherwise noted, all recipes on The Sage Apron are developed using Diamond Crystal Kosher salt. It is a great all-purpose salt for cooking and baking. If using table salt, reduce quantities by about half.
Nutrition
Calories:
694
kcal
|
Carbohydrates:
81
g
|
Protein:
11
g
|
Fat:
34
g
|
Saturated Fat:
21
g
|
Polyunsaturated Fat:
2
g
|
Monounsaturated Fat:
9
g
|
Trans Fat:
1
g
|
Cholesterol:
151
mg
|
Sodium:
863
mg
|
Potassium:
450
mg
|
Fiber:
3
g
|
Sugar:
42
g
|
Vitamin A:
9135
IU
|
Vitamin C:
2
mg
|
Calcium:
174
mg
|
Iron:
3
mg