This Cynar Toronto is an old-fashioned style cocktail made with an Italian amaro. This stirred drink is a perfectly balanced sweet and bitter sipper! Adding Cynar to this classic cocktail preparation lends another layer of complexity and is versatile enough to enjoy as a before-meal apéritif or as an after-dinner nightcap.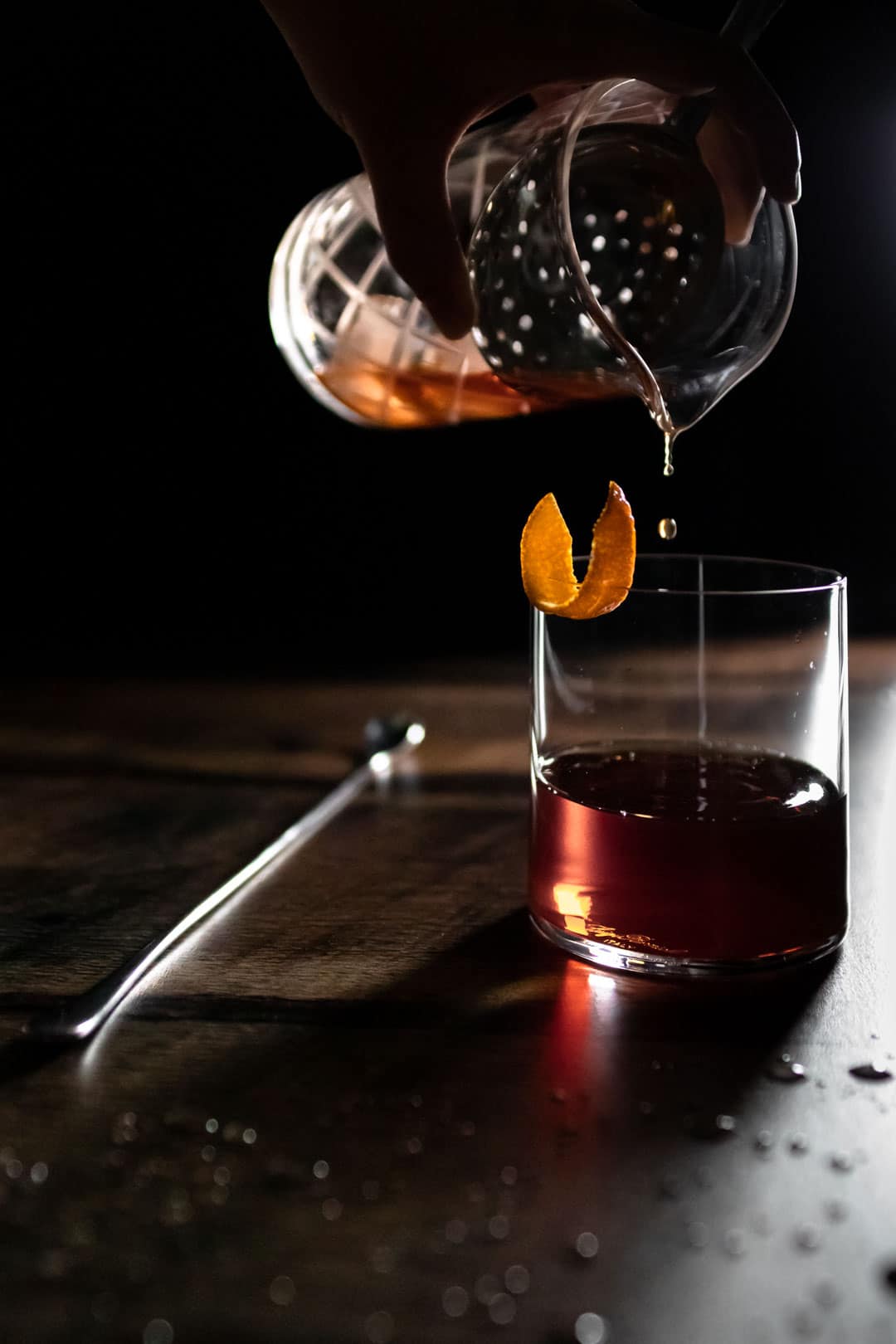 For another delicious stirred whiskey cocktail, try our Amontillado Sherry Manhattan!
Jump to:
What is a Toronto Cocktail?
The Toronto cocktail was inspired by the timeless old fashioned. Classically, an old fashioned cocktail is made from sugar (or simple syrup), bitters and whiskey that are stirred with ice to dilute.
A Toronto, on the other hand, is an old fashioned with the addition of a popular Italian amari - Fernet Branca. For this Cynar Toronto recipe, we are taking the play one step further. Instead of the intense and mentholated Fernet Branca, we are substituting a lighter and more approachable bitter: Cynar.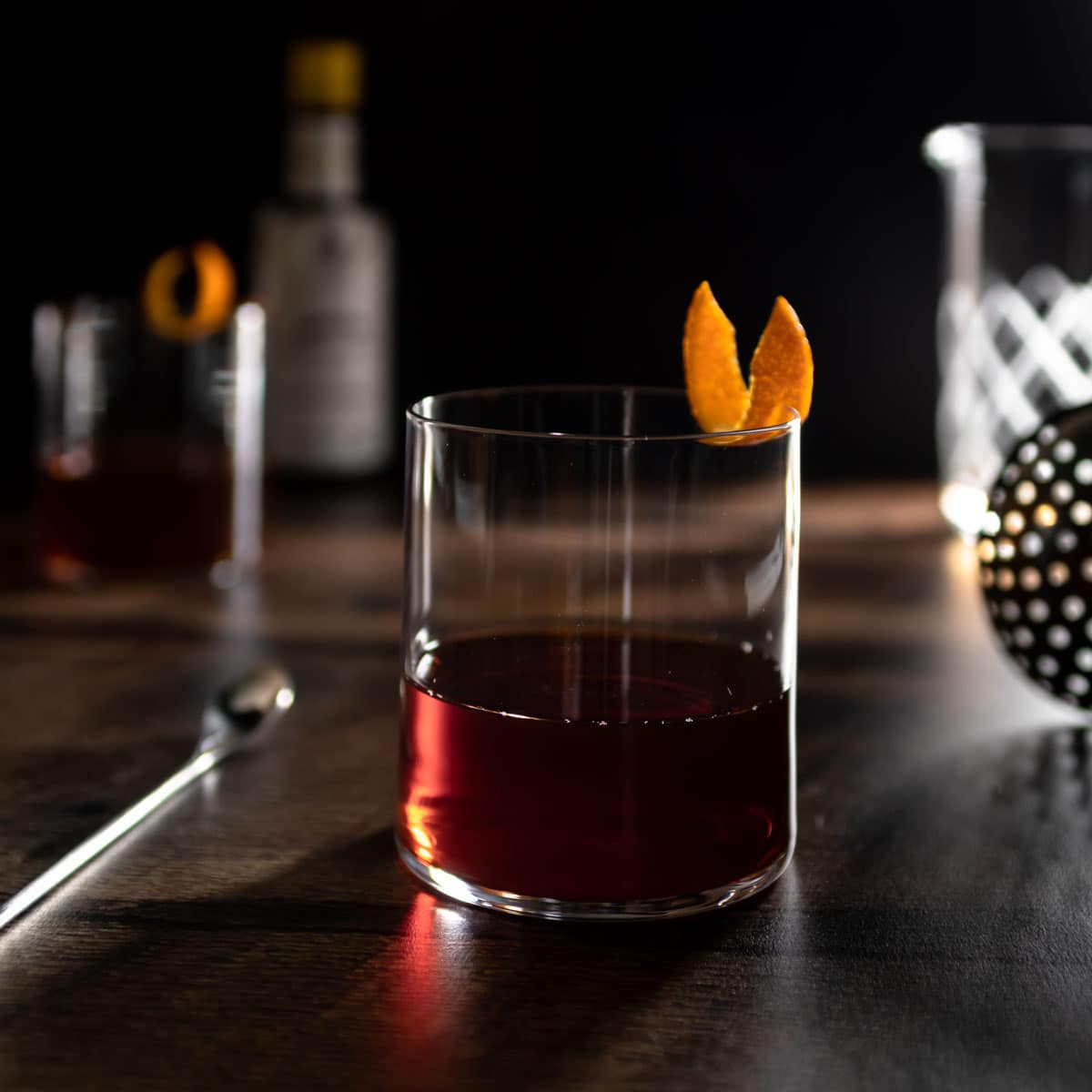 What is Cynar?
Cynar is an Italian amaro (meaning bitter). Amari (plural for amaro), are generally low-alcohol distillates that have been sweetened and infused with various herbs and botanicals. This category of spirits has countless examples and a history spanning hundreds of years.
Amari are digestifs that helps to settle the stomach and aide in digestion after a big meal. If you are unfamiliar with amari and digestifs, the seemingly infinite options can be overwhelming. We recommend starting with Cynar for it's lighter, sweeter palette and home-bar-friendly affordability.
Cynar, owned by the better-know Campari Group, first originated fairly recently, in 1952. Like most amari, Cynar's recipe is a well-kept Italian secret. In fact, we know very little about what herbs and botanicals go into Cynar. (Though they sure do taste great in a Cynar Toronto!) What we do know, is that Cynar is a neutral grain spirit (16.5% alcohol) infused with thirteen herbs and botanicals...including artichokes.
Did You Say Artichokes!?
Indeed! This Cynar Toronto recipe is basically a serving of vegetables! Well, maybe that's going too far... Nevertheless, Cynar is made with artichoke bracts (sometimes called leaves, or petals). In fact, the name Cynar actually comes from the Italian word for artichoke - cynara scolymus.
Furthermore, Cynar's Venetian creator, Angello Dalle Molle, added artichokes to this spirit for their cynarine. Cynarine, a naturally-present ester in artichokes is responsible for their sweet taste and their liver-cleansing properties. Since artichokes were abundant in the the region of Italy Angello was living, he thought they'd be the perfect stomach-settling addition to Cynar.
If you're thinking Angello is a little crazy - you're not the first. Needless to say, Cynar wasn't an overnight success story. In fact, it wasn't until nearly a decade after creation that Cynar gained any popularity at all. This amaro old fashioned ingredient was featured on Carosello, an Italian sketch-comedy advertisement show. A little humor and clever marketing that fully embraced the unusual addition of artichokes slowly won the hearts of Italians. You can watch one of Cynar's old Carosello advertisements, here.
More recently, Cynar has become an international delight enjoyed all over the world. Case and point: We're enjoying this Cynar Toronto recipe from Denver, Colorado! Let us know where you're stirring Cynar into and amaro old-fashioned in the comments below!
What does Cynar Taste Like?
Fear not, this amaro tastes nothing like an artichoke! Cynar is an easy-drinking amari and tends to be sweeter than other styles. While dark and bruting in color, Cynar is surprisingly light and sugary in taste. The flavors are still quite complex and Cynar is delicious served neat, over ice, or as a savory addition to cocktails like this Cynar Toronto. Some commonly noted flavors of Cynar are...
Sweet and Bitter Balance
Herbaceous
Mildly Vegetale
Caramel
Espresso-like Finish
Slight Smokey Flavor
Notes of Baking Spices - Think star anise and cinnamon
Round and Smooth
Bartender's Manual: Expressing Citrus on a Cocktail
The citrus twist on martinis, Negronis and other classic cocktails isn't simply for looks. In fact, when you find a citrus peel in your cocktail, it likely plays an important role in the flavors and aromas of your drink. Citrus peel is loaded with natural oils that impart enticing flavors in many libations.
How To: To properly express citrus zest on your drink, start with fresh, aromatic citrus fruit. You can use lemon, lime, grapefruit or orange - depending on the flavor profile of your cocktail. Peel off a wide swath and squeeze the peel over the surface of your drink in the glass. The citrus oils will spray out and smell amazing. Then, wipe the citrus peel around the lip of the glass. Now that those citrus oils are expressed, you can drop the whole peel in, or trim it up to make it pretty. Dealer's choice.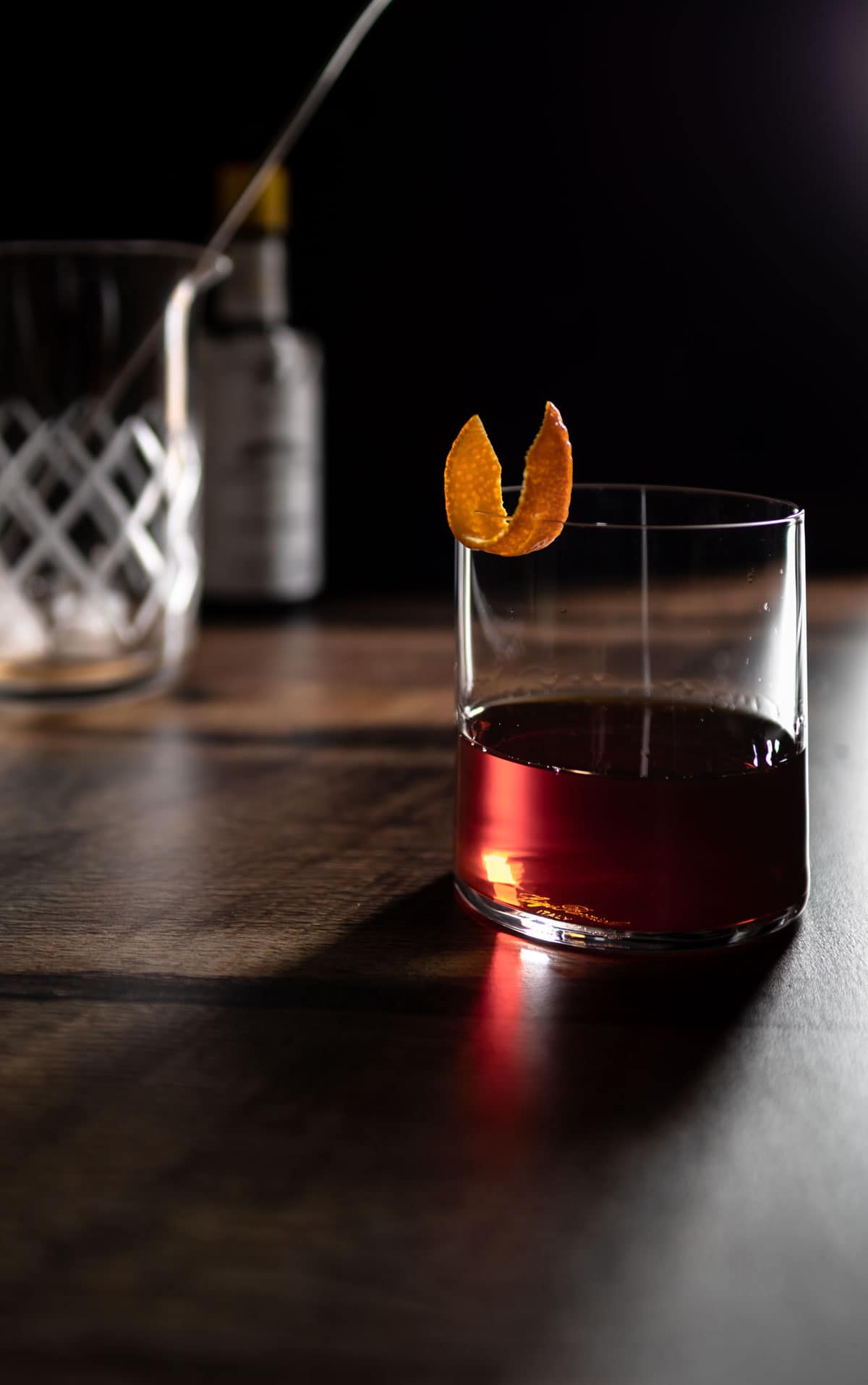 How To Make Simple Syrup
For this Cynar Toronto recipe, we are using simple syrup in place of granulated sugar. Personally, we prefer using simple syrup that will dilute smoothly into our cocktails. Typically, for simple syrup, we use a 1:1 sugar to water ratio for our cocktail recipes. It's as simple as it sounds! 🙂
Ingredients
¼ Cup (59 milliliters) water
¼ Cup (50 grams) granulated sugar
Instructions
Firstly, combine sugar and water in a small saucepan over medium heat.
While stirring constantly, heat sugar and water until sugar in completely dissolved and transparent.
Finally, cool simple syrup to room-temperature (or colder!) before using! Unused simple syrup can be kept in the refrigerator for up to two weeks.
You May Also Like...
Whew! That was a lot of Italian words and artichoke talk! Am I right? In conclusion, what you really need to know is that this is a delicious cocktail. If you are a fan of Old Fashioned or Manhattan style cocktails - this one is for you!
Recipe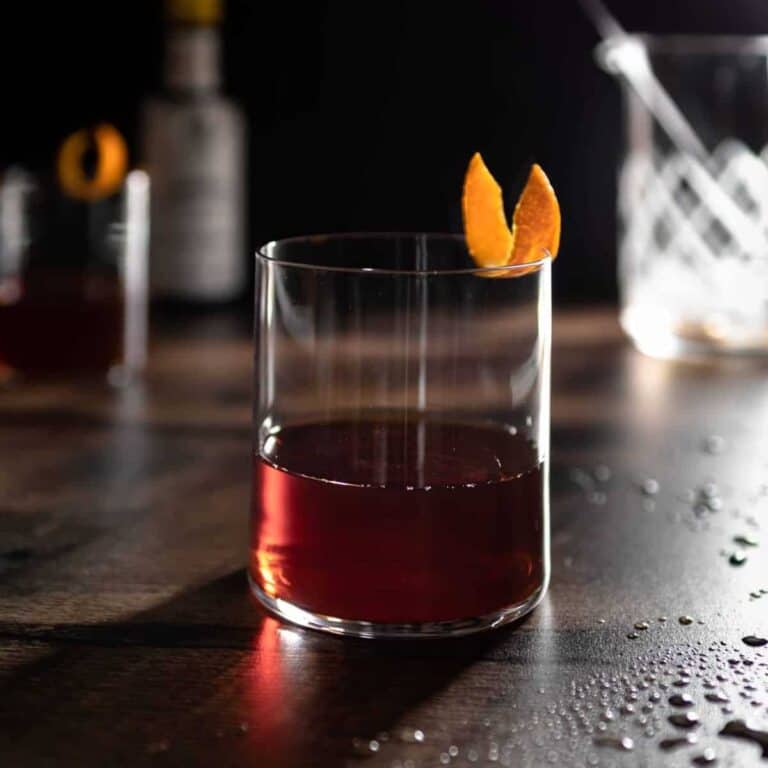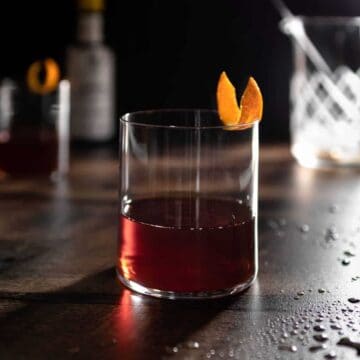 Cynar Toronto (Amaro Old Fashioned)
This Cynar Toronto is an old-fashioned style cocktail made with an Italian amaro. This stirred drink is a perfectly balanced sweet and bitter sipper!
ADJUST SERVINGS
Special Equipment
Yari (or equivalent cocktail mixing vessle)

Cocktail Strainer
Ingredients
2

ounces

rye, bourbon or Canadian whisk(e)y

(See Note: a)

½

ounce

Cynar

¼

ounce

simple syrup

2

dashes

Angostura bitters
Orange twist
Ice

as needed for stirring
Instructions
Gather, measure and prepare the  ingredients as listed. To view metric measurements, toggle the US Customary/Metric switch at the top of this recipe card.

Combine rye, bourbon, or Canadian whisk(e)y with Cynar, simple syrup and Angostura bitters in yari, or equivalent cocktail mixing vessel. Fill with ice and stir for 30 seconds

Strain the contents of yari into old fashioned cocktail glass

Garnish the cocktail with an orange twist. Serve immediately and enjoy! 
Notes
a. Fun Fact! In the United States and Ireland, we spell whiskey with an 'e'! In Scotland and Canada, whisky is spelled without the 'e'. Generally speaking, bourbon will lead to sweeter cocktails, rye will have lend a spicier background and Canadian whisky will have a softer, rounder mouthfeel. Any style will work well in this recipe! Personally, we tend to opt for a decent quality mixing rye. 
* A Note About Salt
Unless otherwise noted, all recipes on The Sage Apron are developed using Diamond Crystal Kosher salt. It is a great all-purpose salt for cooking and baking. If using table salt, reduce quantities by about half.
Nutrition
Calories:
42
kcal
|
Carbohydrates:
1
g
|
Sodium:
1
mg
|
Potassium:
1
mg
|
Sugar:
1
g
|
Iron:
1
mg