These Korean inspired beef short ribs are fork tender and glazed in a velvety marinade that has an addicting balance of sweet, salty and spicy. Make this melt in your mouth recipe in a dutch oven or a slow cooker!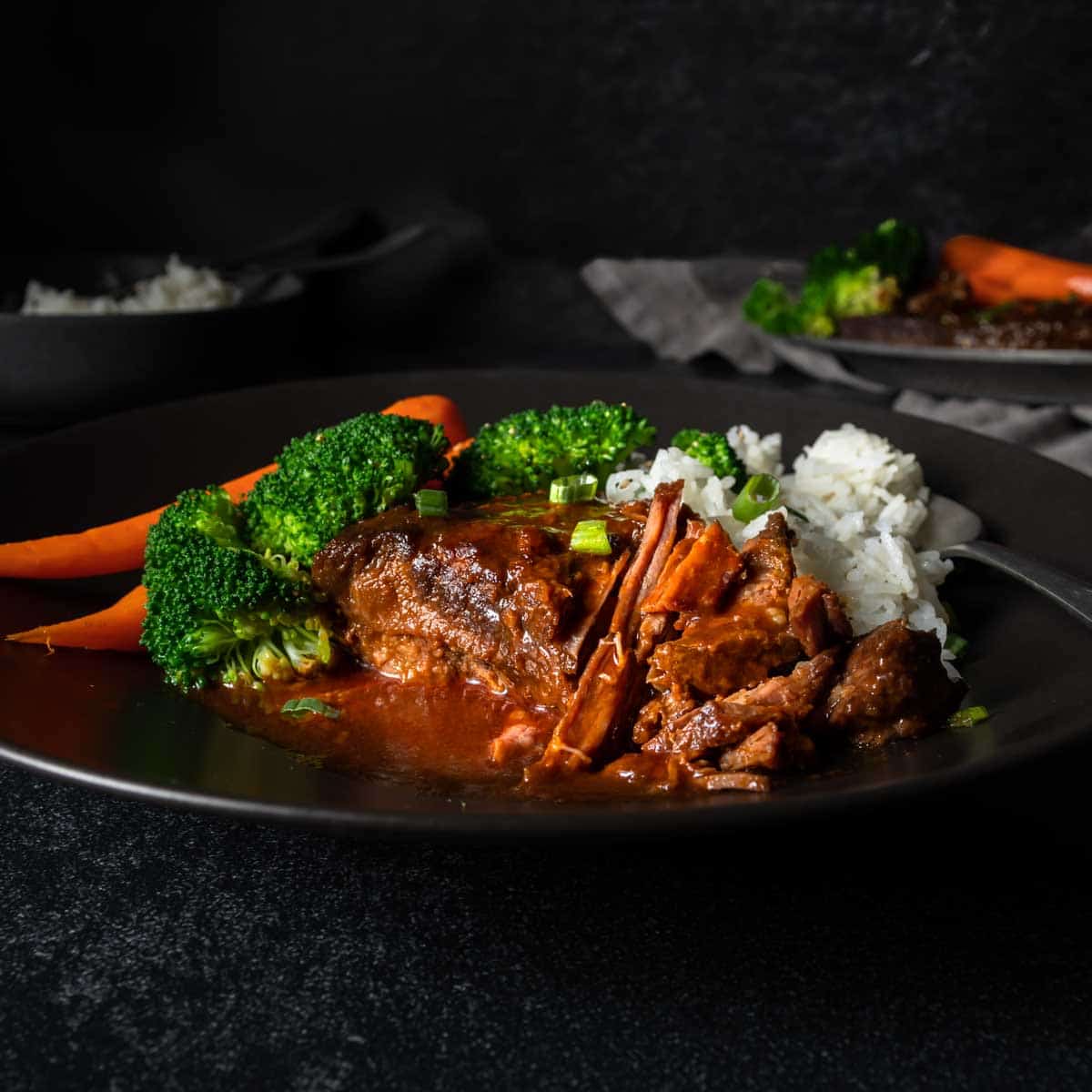 This original recipe pairs the tangy flavors of Korean barbecue (galbi) with a classic braising technique to create superbly tender beef with maximum flavor.
Korean-style short ribs make a prefect meal over a bowl of white rice or are great to pair with traditional Korean side dishes, in lettuce wraps, tacos and more!
If you love those tangy Asian flavors, be sure to try our General Tso's Chicken Meatballs next!
Ingredients
The key to these Korean braised beef short ribs is a low and slow cooking time in a flavorful braising liquid. This braising liquid was based off of the flavors of traditional Korean BBQ marinades. Here's what you'll need: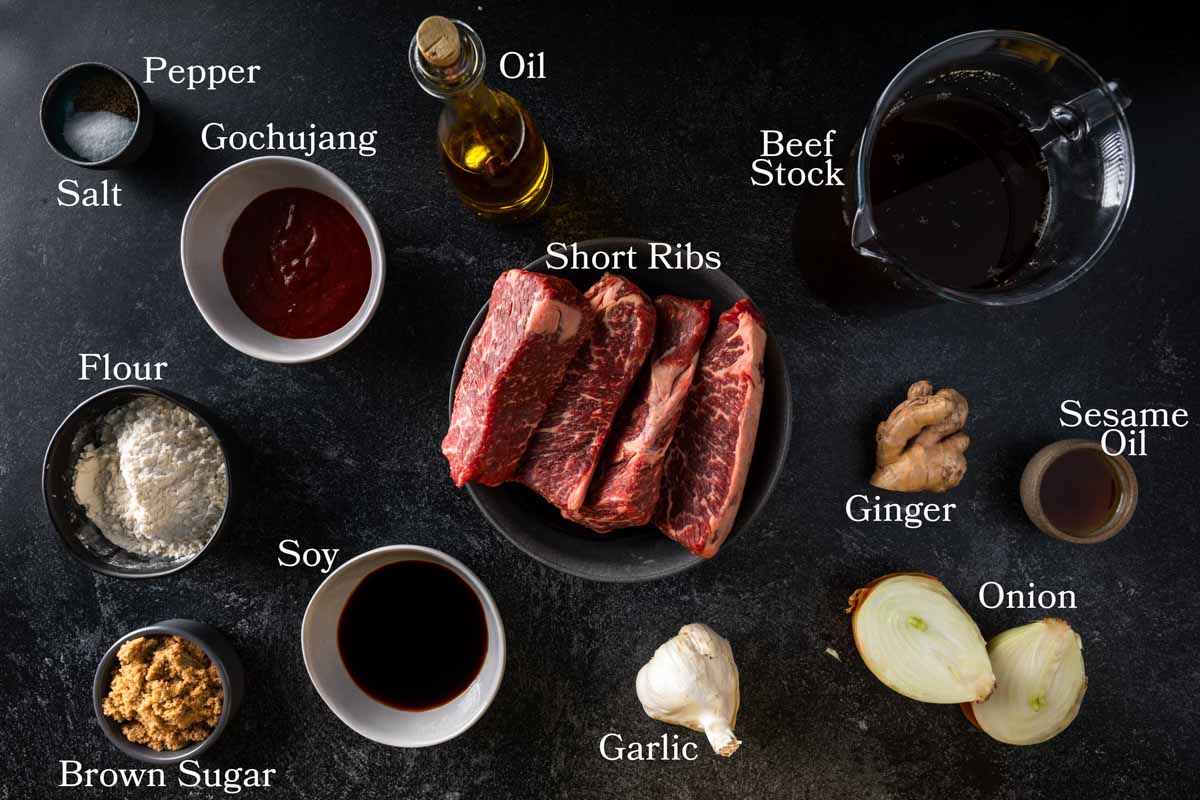 English Cut Beef Short Ribs - We chose boneless but bone-in is also an option. See more about choosing the right cut of beef below.
Gochujang - This traditional Korean condiment is KEY to the flavor of this recipe. More details below!
Soy Sauce - Or tamari, we like to use low sodium soy sauce to help control the salt content
Brown Sugar
Beef Stock
Yellow Onion
Garlic
Fresh Ginger Root
Sesame Oil
Cooking Oil - Vegetable oil, canola, corn oil or your other favorite neutral cooking oil
Flour
Salt & Black Pepper
Pro Tip: How To Peel & Grate Ginger - Working with fresh ginger root is easy! Start by cutting off the calloused end of the ginger root. Then, use the edge of a spoon to peel away the skin. (This method is easier and safer than trying to use a vegetable peeler around ginger's wonky shape.)

Finally, grate the ginger on a microplane or fine cheese grater. Make sure to get all of the aromatic ginger juices into the pot! If the ginger becomes fibrous and difficult to grate, simply flip the knob of ginger and grate it from an other angle. It is normal to have a little bit of fibrous "core" left over after grating.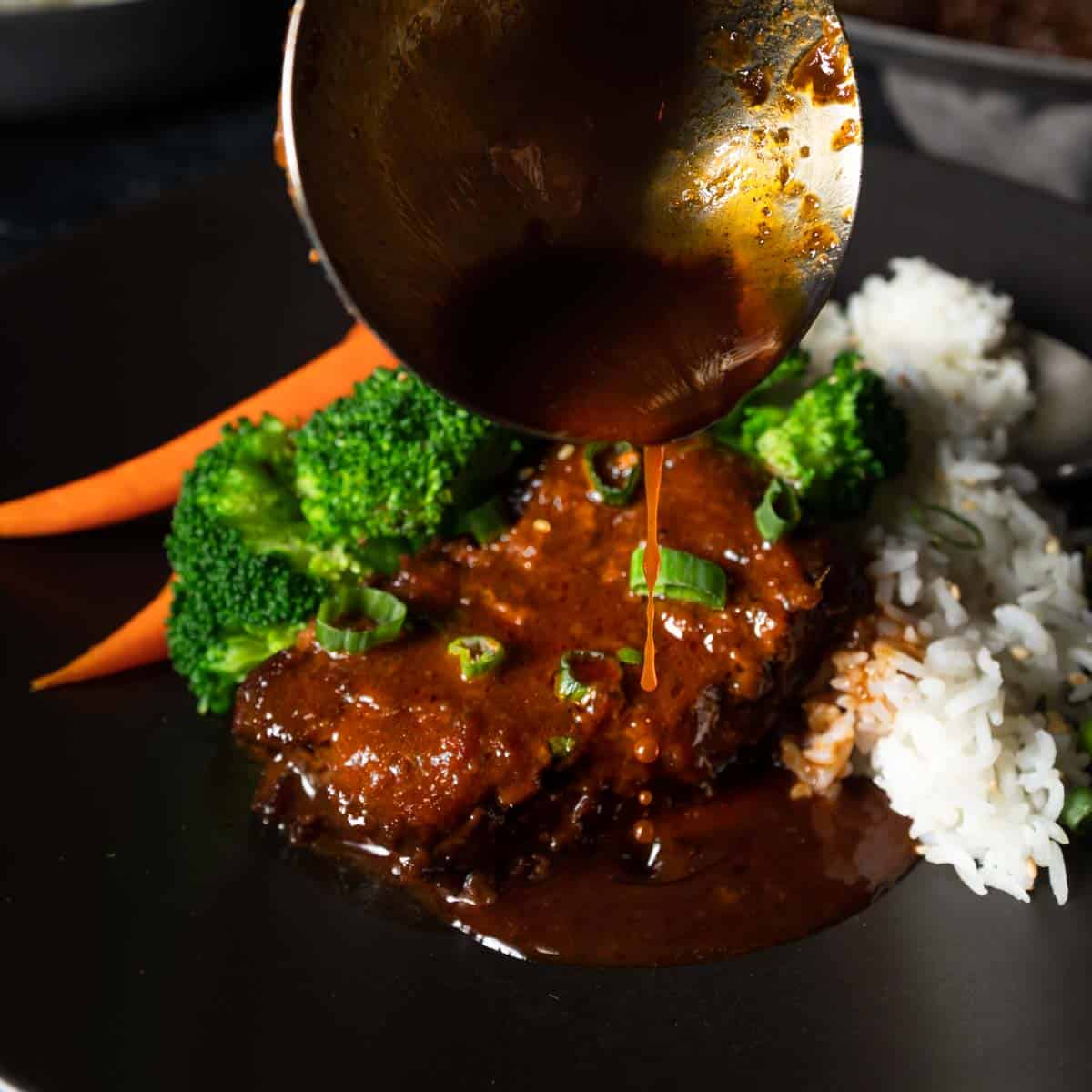 What is Gochujang?
Gochujang is a fermented red chili paste condiment that is used widely throughout Korean cuisine. This full-flavor chili paste is full of rich umami flavors, a touch of sweetness and varying levels of spiciness.
Gochujang is made from chili powder, fermented soy beans, glutinous rice, salt and enzymes. Some brands of gochujang may also include sweet potato, honey, sugar or other flavoring additives. The flavor is a mix of spiciness with a hint of natural sweetness and a big pop of umami - almost like the umami found in miso.
This spicy condiment is what gives this Korean beef short ribs recipe it's intangible oomph! It's a powerful flavor and a little goes a long way! Try your leftover gochujang for traditional Korean recipes like bibimbap - or add a spoonful into some sautéed vegetables, stir-fried noodles, BBQ sauces and other marinades for an extra boost of savory flavor.
Where Can I Buy Gochujang?
Gochujang chili paste is often sold in it's characteristic small red tub. Our local grocery store carries it next to the sriracha and curry paste in the Asian food section. Gochujang can also be found in many Asian markets or online. Once you try it - you won't go back! We almost always have a tub in our fridge an we often use it just like hot sauce.
Gochujang paste can range from mild to very spicy and will be labeled as such (though it may be in Korean!). You can make this recipe with whatever spiciness level suits your preferences. Personally, we tend to prefer medium spice levels and choose gochujang labeled 'Slight Hot' to 'Medium Hot'.
Choosing the Right Cut of Beef & Determining How Much You Need
This Korean short rib recipe is different from the traditional Korean beef that is cut in thin slices and cooked over a charcoal grill. The thin-cut Korean BBQ short ribs (known as galbi or LA galbi) are flanken style ribs that just have several small segments of cross-cut bone attached.
Flanken ribs are cut thin to cook quickly over high-heat. They marinade well and take on great flavor - but can sometimes still be a bit tough and have large pieces of un-rendered fat. Flanken cut ribs are delicious but not what we are going for with this recipe - they can also be somewhat difficult to find in US markets and may require special order from your local butcher.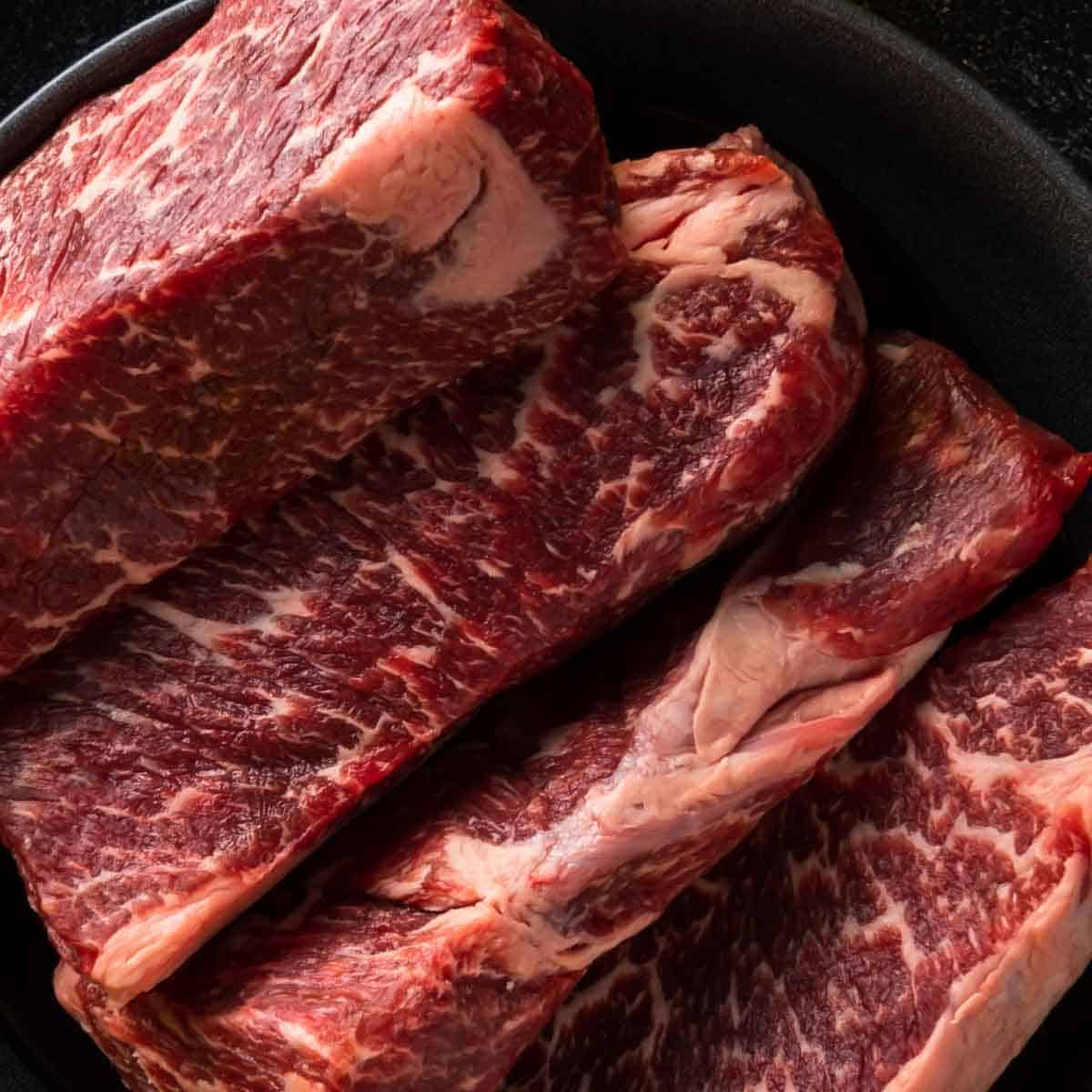 Instead, this Korean short rib recipe uses English style short ribs that have been cut between the bones. English short ribs have a shape somewhat like a brick with a single rib bone on each piece. This recipe can be made with short ribs that have the rib bones still attached, or boneless - as photographed.
These English-cut short ribs are almost always braised in a flavorful marinade over low heat for a long time. This low and slow cooking method allows the meat's marbled fat and connective tissue to slowly render and soften for a beef dish that is melt-in-your-mouth tender. As they braise, some of the natural gelatin and beef fat melts into the braising liquid to help flavor the Korean marinade into an unctuous, savory sauce.
Pros & Cons of Bone-In Vs. Boneless Beef Short Ribs
Bone-In Short Ribs = better flavor, juicier final product, more fat and connective tissue, longer cooking times
Boneless Short Ribs = less connective tissue and excess fat, faster cooking times, less waste for shredded short rib dishes (tacos, lettuce wraps), potentially less flavorful and tender
Pro Tip: How To Buy Beef Short Ribs - To select the best beef short ribs from your meat vendor, look for plump, red short ribs that are marbled with an even webbing of fat throughout. The fat content is really important here - insufficient marbling will lead to tough, chewy short ribs. You want a thin layer of fat capping the meat.

English style short ribs should be thick - with meat that has about 2 inches of height (either boneless or sitting on top of the bone). If you are purchasing bone-in short ribs, the bone should be firmly attached. It's not rude to personally select each rib you would like from the display case (it's what your butcher would do, too).
How Many Beef Short Ribs Per Person?
Figuring out how many short ribs you will need to feed your crowd can be a bit misleading. Keep in mind that the short ribs will shrink considerably as they cook. Once the fat begins to render away from the meat your final product will look much smaller and weigh significantly less. As a general rule of thumb, I suggest two English cut short ribs per adult as a filling main course. Two bone-in short ribs about one pound (per person). Boneless short ribs will require about ½+ pound per person.
Depending on the side dishes, appetizers or serving style - you may be able to get away with smaller portions of meat. This dish is very rich and filling. Tacos or lettuce wraps (with adequate other fillings), for example, typically require less Korean-style beef. Perhaps about ⅓ pound (prior to cooking) of boneless beef short ribs would be sufficient.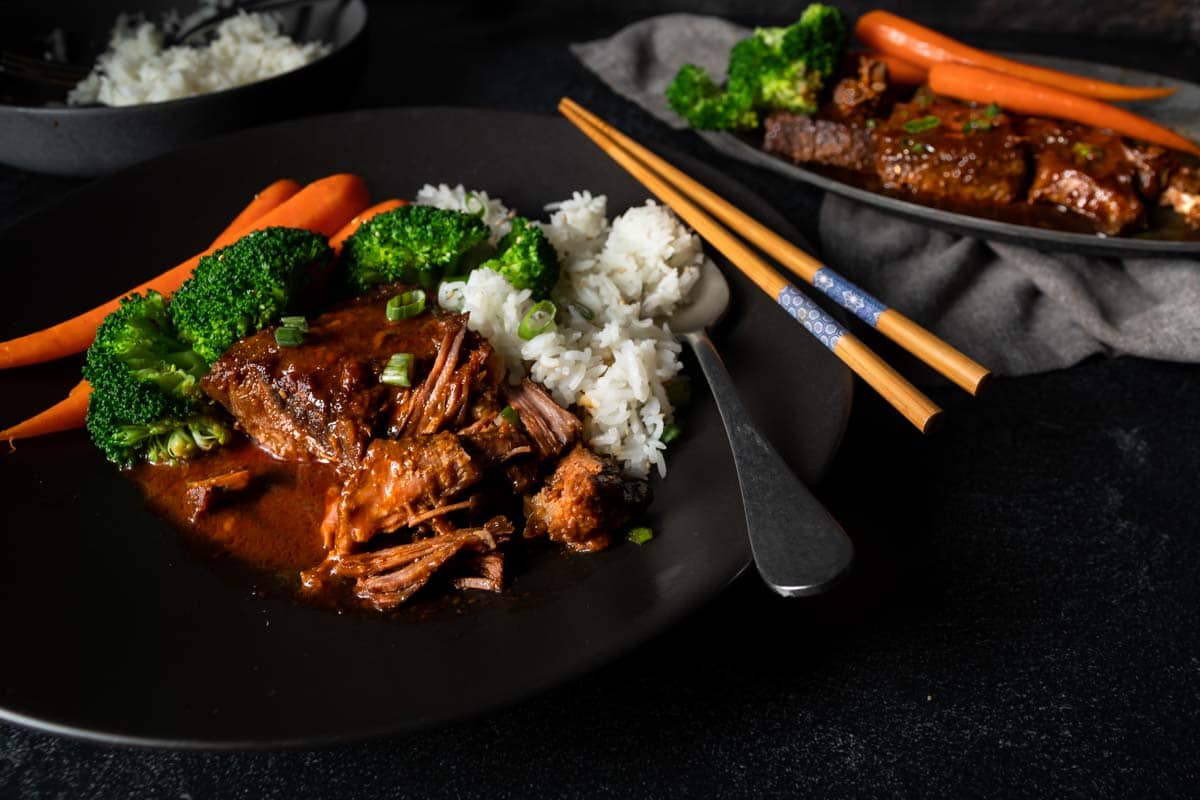 How To Make This Recipe
This Korean Beef Short Ribs recipe is full flavor and easy to make. It requires a few hours to braise and absorb the flavors of the marinade and needs to rest overnight- but is mostly an inactive process with easy steps. This is the perfect dish to make ahead of time serve for a special occasion or holiday.
We demonstrated this recipe using the classic dutch oven method. The slow cooker method is nearly the same, but requires a little extra (hands-off) time to cook. The slow cooker method in noted in the recipe card, below.
Here's what you do:
Day 1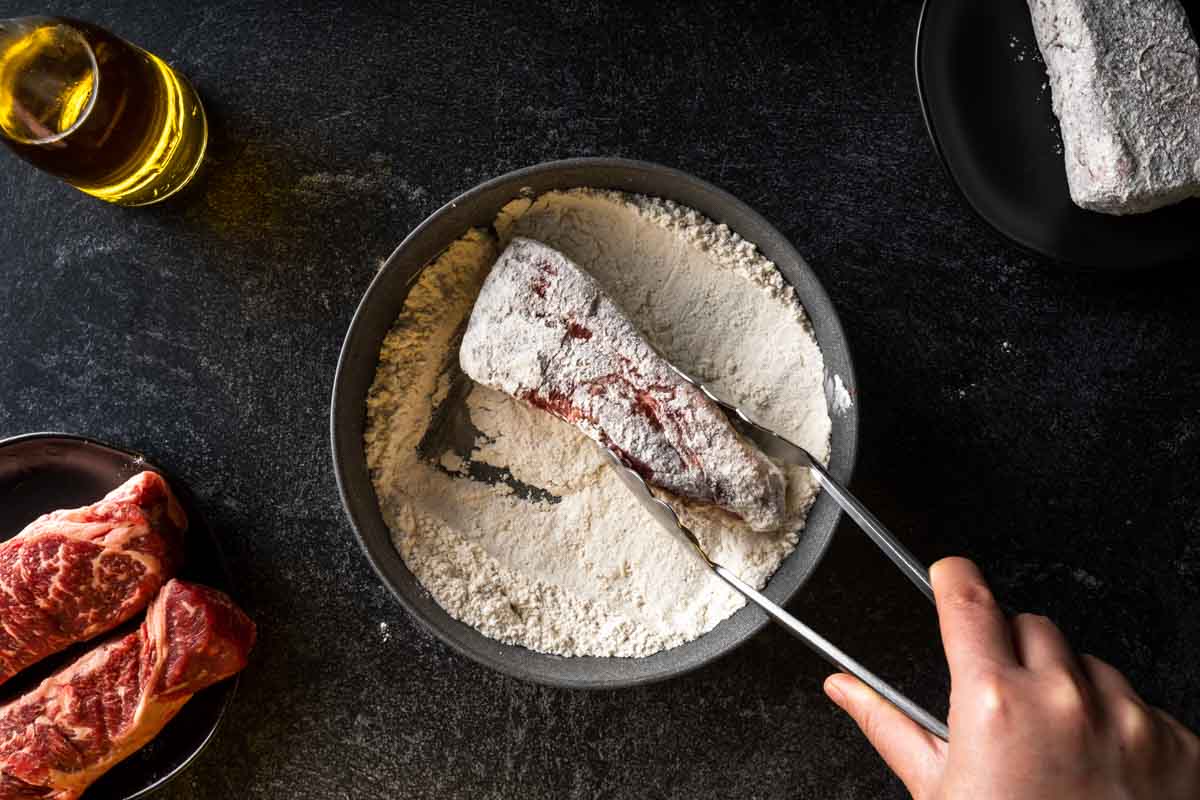 1. First preheat the oven to 300° Fahrenheit (150° celsius). Then, prepare the short ribs for cooking. Allow them to come to room temperature while you prepare the other ingredients. Use paper towels to blot the beef short ribs dry. In a shallow bowl, season the all-purpose flour with salt and black pepper. Dredge each short rib through the seasoned flour to coat evenly.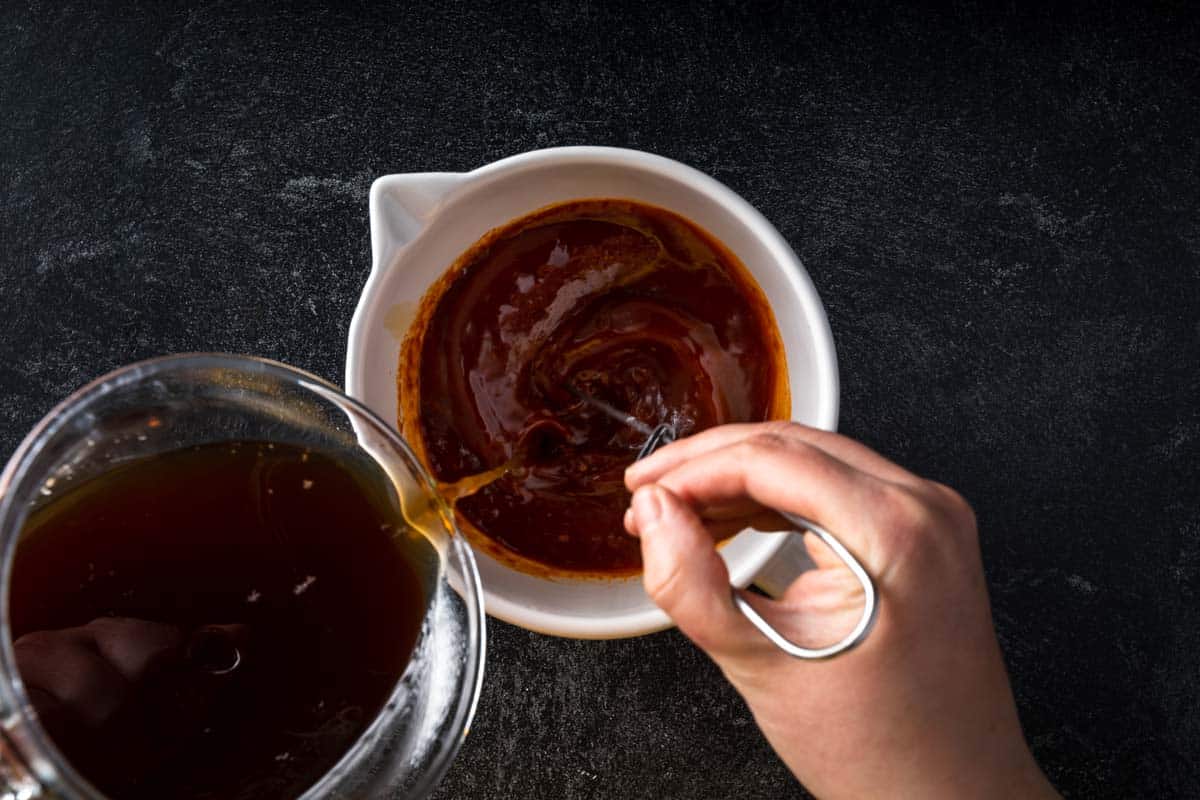 2. Next, prepare the marinade. In a medium mixing bowl combine all sauce ingredients (gochujang, brown sugar, soy sauce, sesame oil, garlic and ginger). Whisk to combine. Stream in beef stock and whisk. Set aside.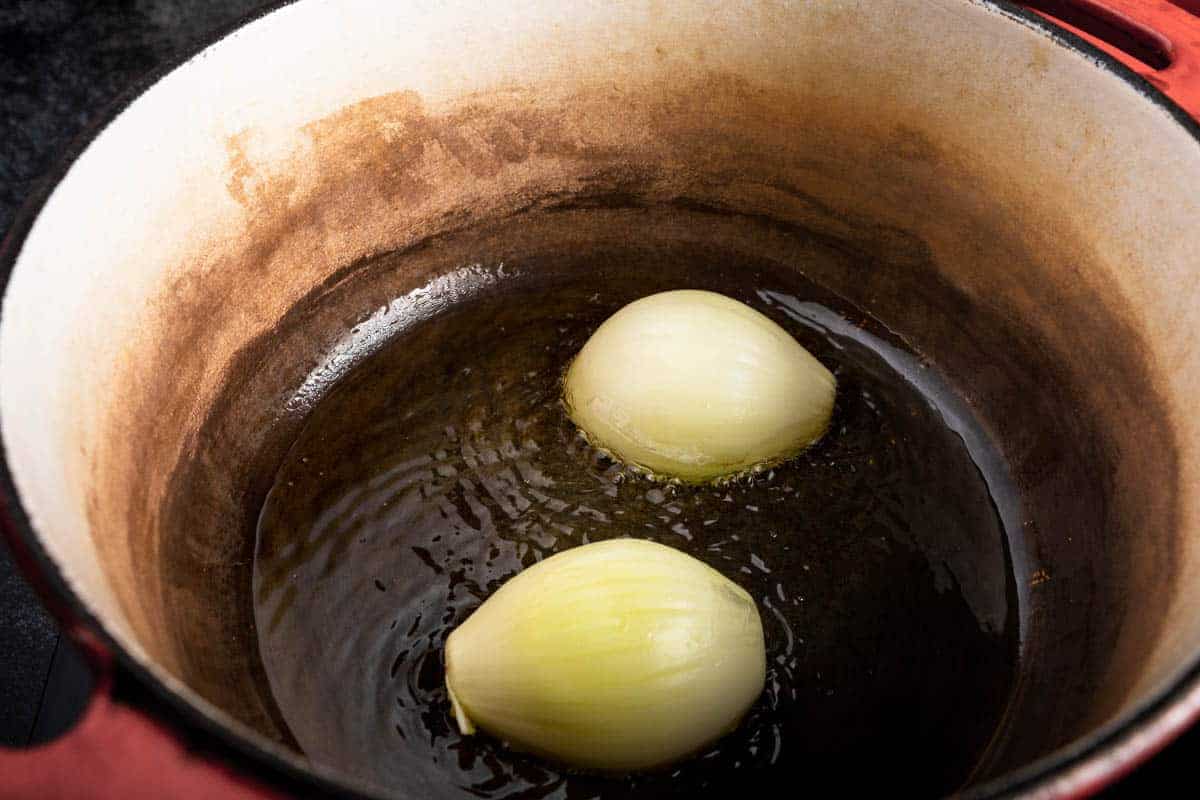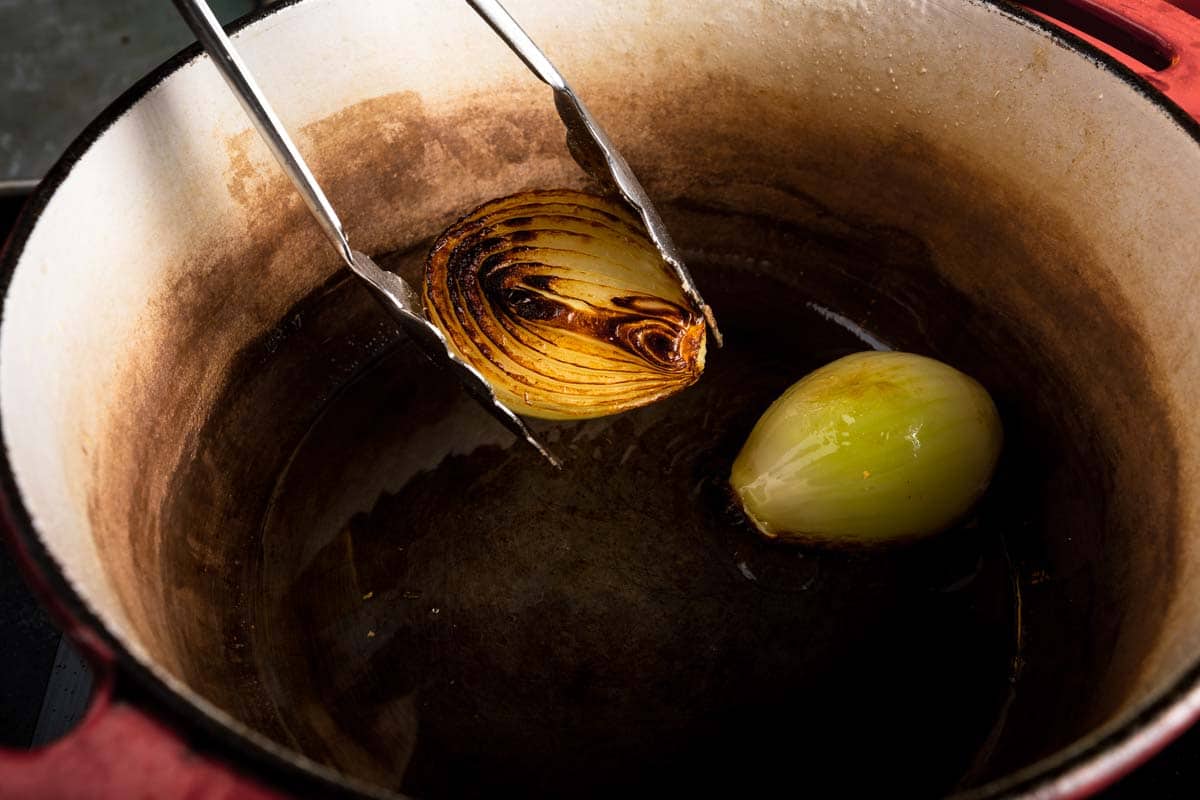 3. In a large dutch oven, heat a bit of cooking oil over medium-high heat. Add in the halved onion and cook, cut-side down, until it has a nice sear. Remove the onion and set aside.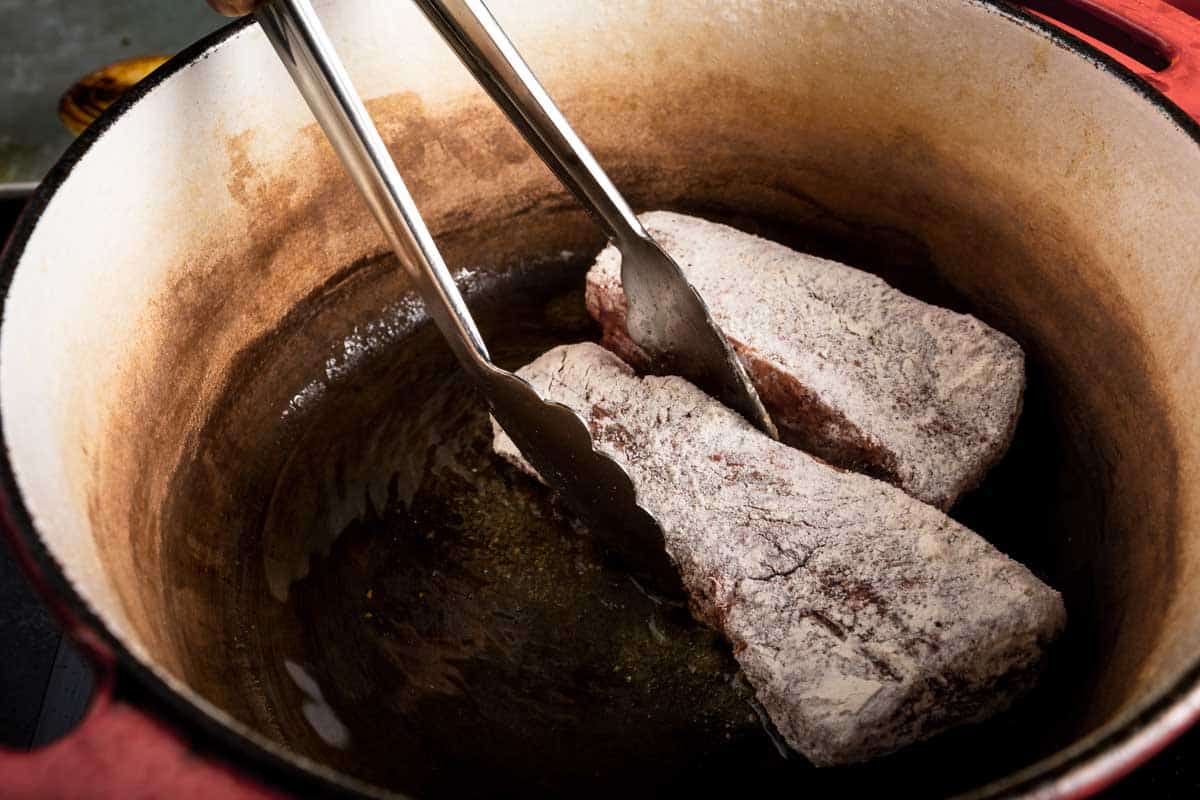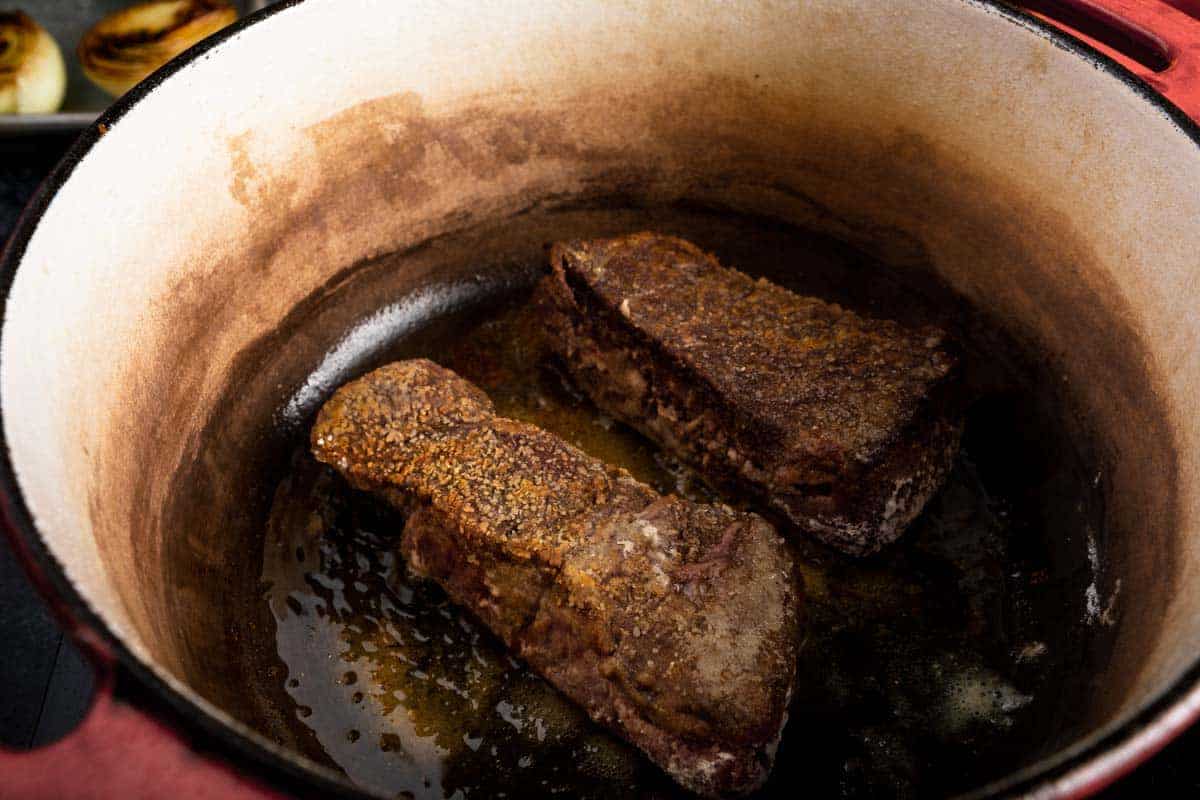 4. Add floured short ribs to the hot oil and sear about 1 - 2 minutes on each side until crisp and golden. Depending on the size of your dutch oven and ribs, you may need to complete this step in a few rounds (about two ribs at a time) as to not over-crowd the pan. Set seared ribs aside (with the onion) while the other ribs cook.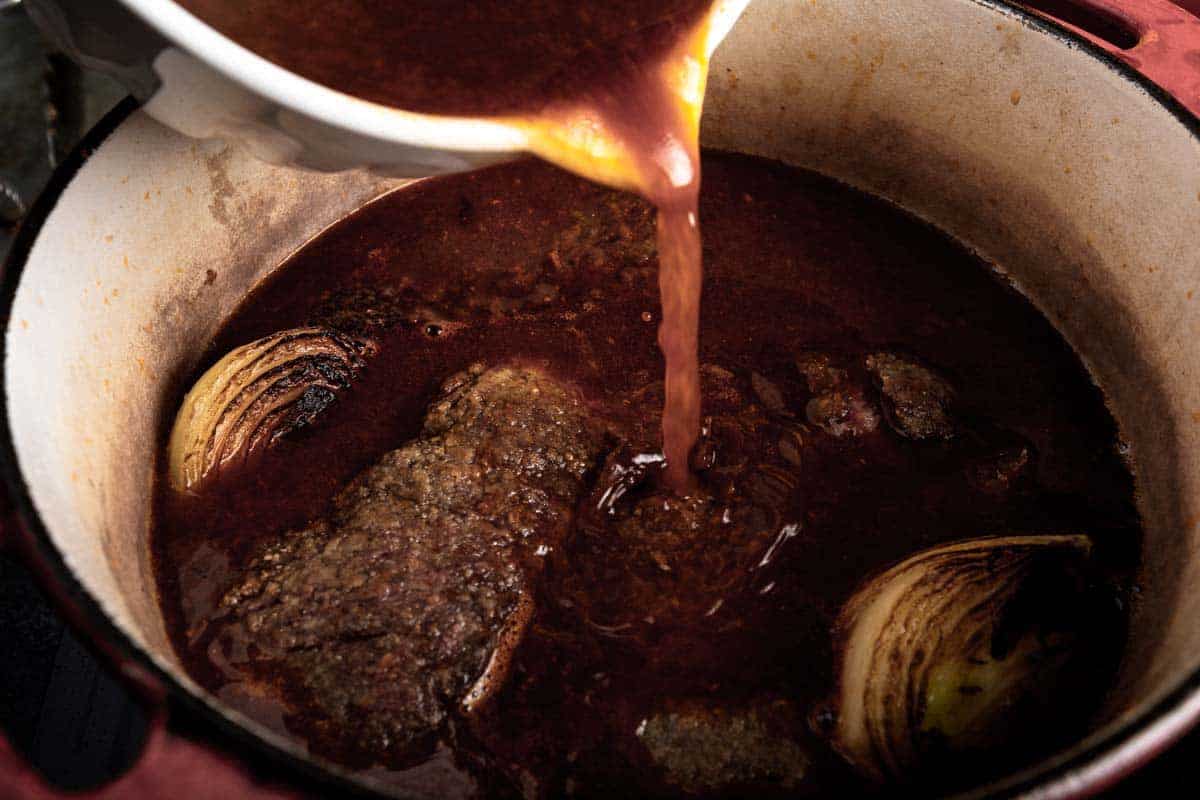 5. Once all of the beef short ribs are seared on all sides, return all of the ribs and the onion to the pot and lower to medium heat. Pour marinade over the ribs and bring to a simmer on the stove top.
Once simmering, cover the dutch oven with its lid and transfer to the preheated oven. Allow the short ribs to braise for 3 - 4 hours or until fork tender. The cook time will vary based on the size of your ribs, bone-in or boneless cuts, oven/slow cooker temp and/or elevation. When done, you should easily be able to pierce and gently twist a fork in the meat.
Day 2
Technically, the Korean Style Short Ribs can be enjoyed right out of the oven (or slow cooker). However, for the best flavor, we recommend allowing the meat to rest and cool overnight. Remove the lid from the dutch oven to allow steam to escape. After some cooling at room temperature, transfer the dutch oven to the refrigerator to chill for the night.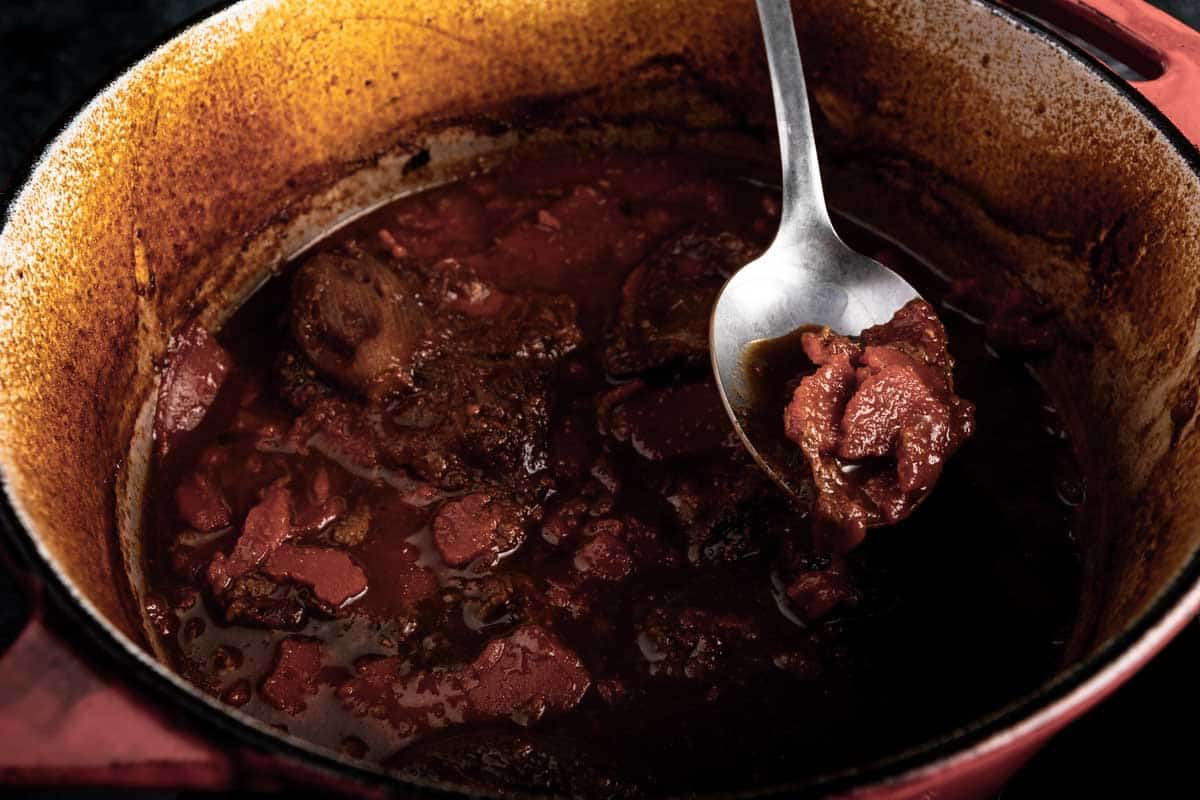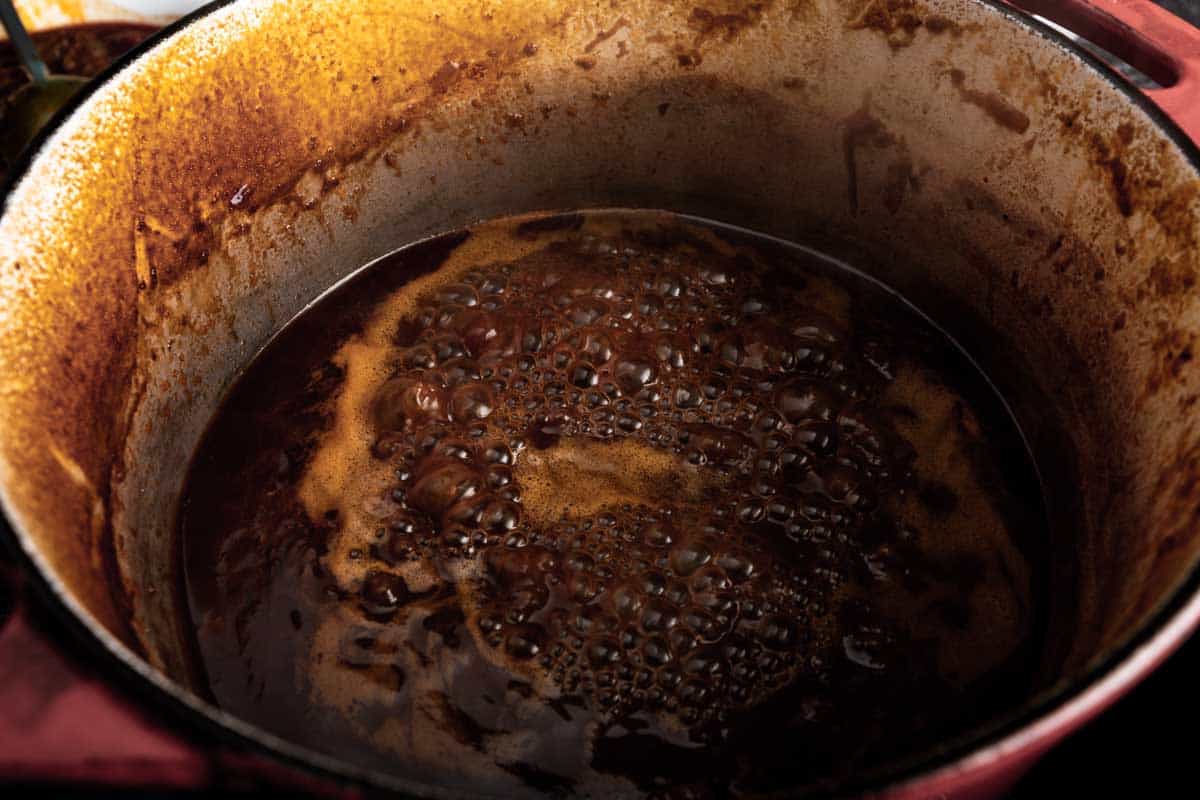 6. The next day, remove the Korean-Style Short Ribs from, the refrigerator about 45 minutes before meal time. Some of the fat from the dish will have cooled and hardened on the surface of the sauce. It will likely be a bright orange/reddish color due to the gochujang in the marinade.
Use a spoon to scoop and discard the top layer of fat. Use tongs to remove the short ribs and onion and set aside. (You can discard the onion now, if you wish.) Set the sauce over medium heat and bring to a simmer. Allow the sauce to reduce to thicken about 10 - 20 minutes or until thick enough to coat the back of a spoon.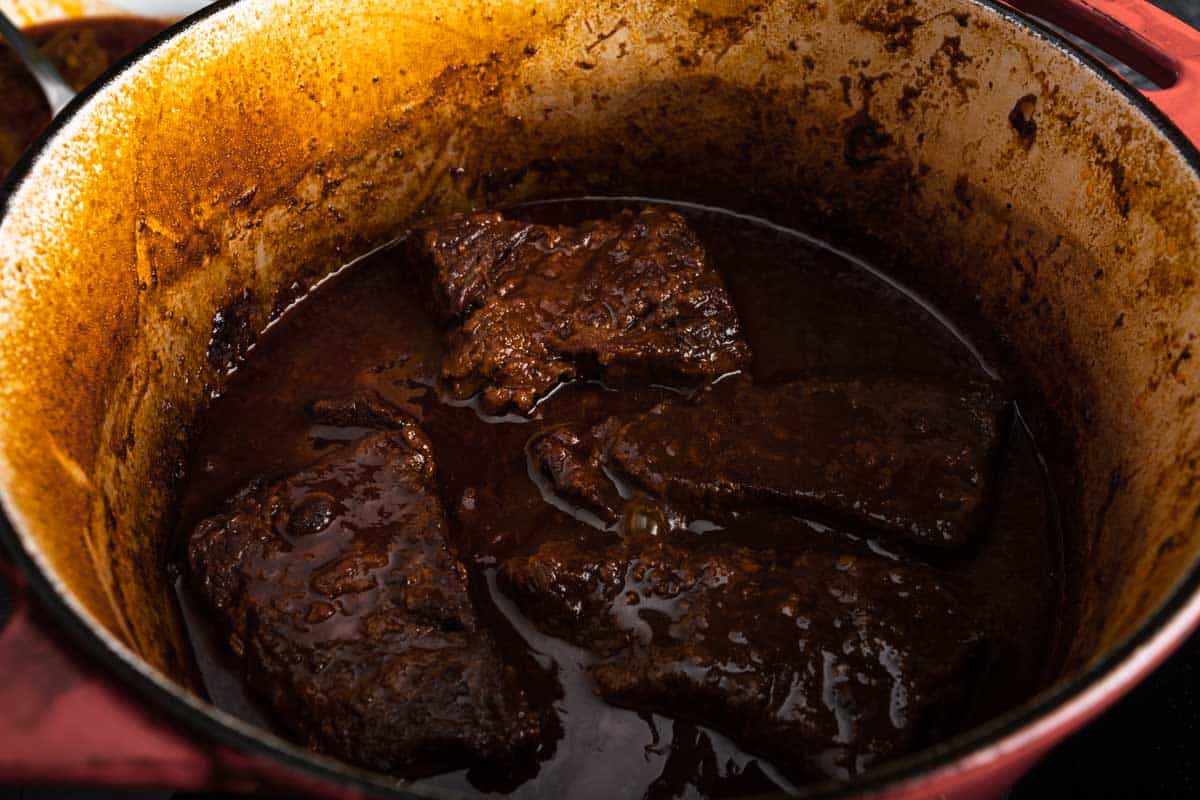 7. Once thickened, return the short ribs to the pot and lower the heat. Allow the beef short ribs to reheat slowly and gently in the thickened sauce until hot and tender - about 10 - 15 minutes. Use the tongs to swirl the short ribs in the sauce until they are thickly glazed with the glossy Korean marinade.
Serving Suggestions
This tangy kalbi- inspired braised beef short rib recipe can be so versatile! Serve Korean short ribs whole on individual plates with sides or on a serving platter garnished with sliced green onions and/or sesame seeds. For bowls, tacos, lettuce wraps, etc. - use forks to shred the beef. Toss the shredded meat in a little additional sauce and serve immediately or keep warmed in a slow cooker on a low heat setting.
Here are a few ways we like to serve this recipe:
White Rice and Veggies - This recipe is SO full flavor with layers of sweet, salty, spicy and BIG umami that it doesn't require a bunch of special sides to make it stand out. White rice is a great option. Simply prepared vegetables like broccoli, carrots, shiitake mushrooms and/or Brussels sprouts are great choices, too.
Bibimbap - Lean into Korean food culture and serve this recipe on a bibimbap inspired entree. Top fluffy white rice with some of this shredded Korean beef, kimchi, vegetables and a fried egg for your own take on a Korean classic.
With Banchan - One of my favorite things about dining out at Korean restaurants is the surplus of tangy, salty, vinegary and fermented side dishes. Make this meal into a Korean feast with lettuce wraps and varying sides including different types of kimchi, Korean radish salad, pickled onions, friend zucchini, Korean coleslaw, rice cakes and more!
Tacos - You probably don't associate Korean food with tacos - and for good reason. HOWEVER, this is a great exception! These Korean braised short ribs make a delicious Eastern-inspired taco! Add this beef to your taco bar with fresh flour tortillas, pickled red onion, cilantro, scallion and cotija cheese. SO GOOD! Equally delicious when piled high on crispy, cheesy nachos!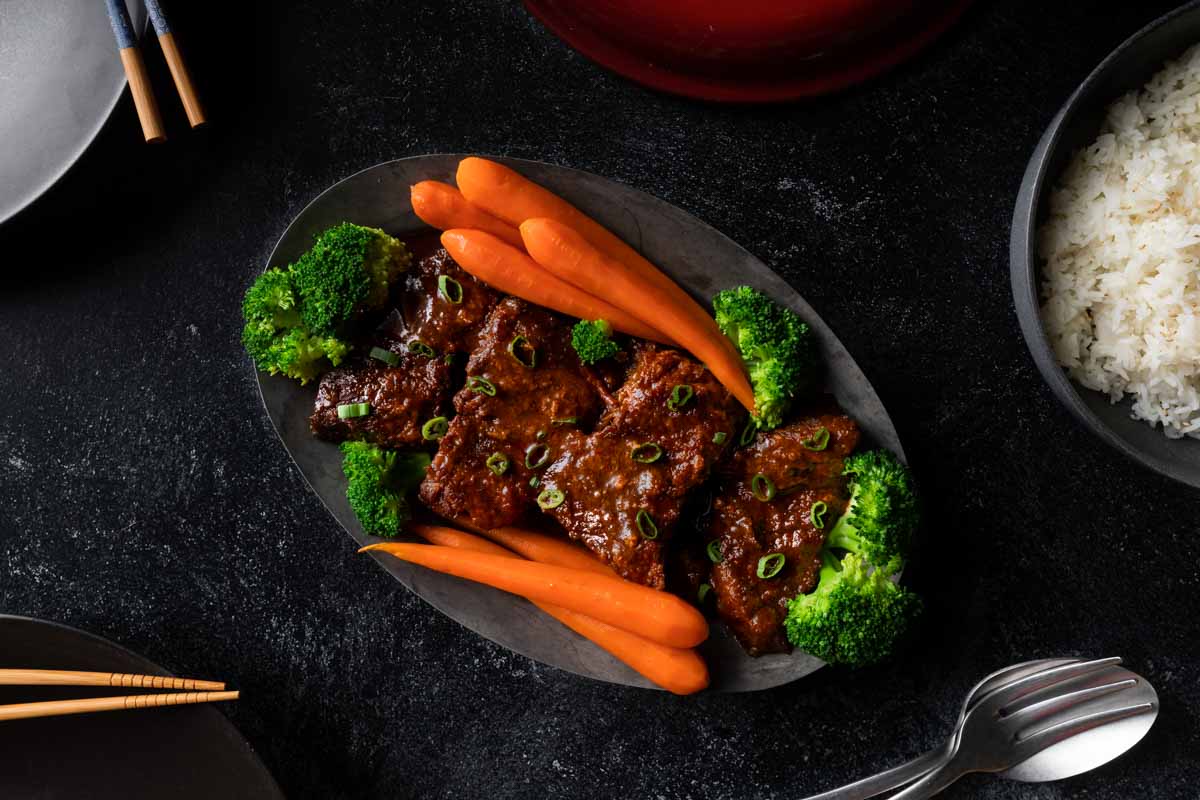 Recipe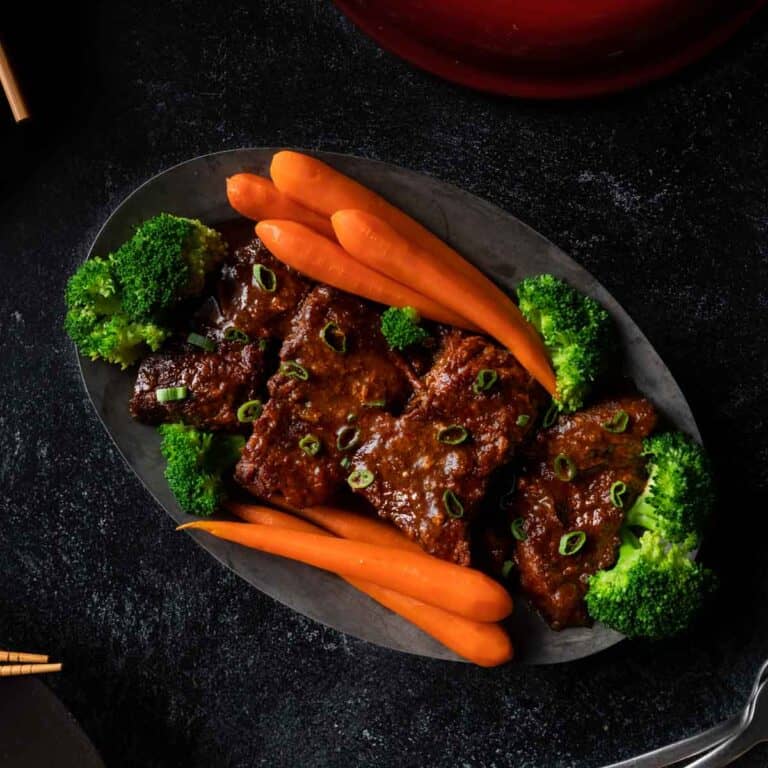 Korean-Style Braised Beef Short Ribs
These Korean inspired beef short ribs are slowly braised in a Gochujang marinade for a sweet, spicy, tangy beef dish that will melt in your mouth! Make this recipe in a dutch oven or slow cooker!
ADJUST SERVINGS
Special Equipment
1 Large Dutch Oven or Slow Cooker
Ingredients
¼

Cup

gochujang

¼

Cup

brown sugar

light or dark

¼

Cup

low sodium soy sauce

or tamari or regular soy sauce

4

cloves

garlic

peel and minced or grated

3

inches

ginger root

peeled and grated

2

Tablespoons

sesame oil

1

quart

beef stock

(If using a slow cooker, see notes below)

4

beef short ribs

English cut, bone-in (about 4 pounds) or boneless (about 2 - 2½ pounds), room temperature

½

Cup

all-purpose flour

1

Tablespoon

fine kosher salt*

½

Tablespoon

freshly-ground black pepper

¼

Cup

vegetable oil

1

yellow onion

peeled and halved

Scallions, Sesame Seeds or Sliced Radish

Optional garnish, as desired
Instructions
Gather, measure and prepare the Korean-Style Braised Beef Short Ribs ingredients as listed. If using the dutch oven method, arrange a rack in the center third of the oven and preheat to 300° Fahrenheit (150° celsius).

In a medium mixing bowl, combine gochujang, brown sugar, soy sauce, garlic, ginger and sesame oil. Whisk to combine. Add beef stock, whisk and set aside.

Use paper towels to pat short ribs dry. In a shallow dish combine flour, salt and black pepper. Dredge short ribs through flour mixture to coat. Shake excess flour off and set aside.

In a large dutch oven (or slow cooker), heat vegetable oil over medium-high heat until hot and shimmering. Add halved onion and sear the cut side 2 - 3 minutes until browned. Remove onion and set aside. Add floured short ribs to the hot oil and sear on all sides for 1 - 2 minutes per side or until golden. You may need to do this in a few batches to avoid over-crowding the pan. Set seared ribs aside with the onion while fresh batches cook.

Once seared, add all beef short ribs and onion back into the dutch oven (or slow cooker). Lower the stovetop heat to medium or medium-low. Pour marinade over short ribs and arrange so the ribs are mostly submerged in the liquid. Bring to a low simmer. Once simmering, cover the dutch oven (or slow cooker) with the lid and transfer to the preheated oven (or slow cooker heating element). Allow ribs to braise in the oven for 3 - 4 hours in the oven (See Note: b.) (or 5 - 6 hours over medium heat on the slow cooker) until fork tender.

Remove the dutch oven from the oven (or remove slow cooker from heating element) and remove the lid. Allow to cool at room temperature until it is done steaming. Then, transfer to the refrigerator with a vented lid. For the best results, allow to chill overnight.

The next day, use a spoon to remove and discard the congealed layer of fat from the top of the braising liquid. Use tongs to remove beef ribs and onion and set aside. Bring the braising liquid to a simmer on the stove top over medium heat. Allow the sauce to reduce for 15 - 20 minutes or until thick enough to coat the back of a spoon.

Add beef ribs back into the dutch oven and lower heat slightly, to medium-low. Allow the beef ribs to heat up gently in the sauce for 10 - 15 minutes (or for 30+ minutes on the slow cooker warm setting) or until hot and tender. Use tongs to swirl the beef ribs in the thickened sauce to glaze. Serve hot with sides and garnish with green onions, sesame seeds or sliced radish, as desired. Enjoy!
Notes
a.) This recipe can be made with a 3 - 4 pound chuck roast cut into 3 inch cubes. Simply substitute cubes of beef chuck roast for beef short ribs. 
b.) The exact cooking time of this recipe will vary depending on if you are using bone-in or boneless short ribs (among other factors). Boneless short ribs will be quicker to prepare and should be done in around 3 hours in the dutch oven (or about 5 - 6 hours in a slow cooker). Bone-in short ribs will require more time and may take as long as 4 - 5 hours in the dutch oven (or 6 - 7 hours in the slow cooker). We recommend fork-testing the ribs at the 3 - 4 hour mark and adding additional time (in 30 - 45 minute increments), as needed. 
Slow Cooker: This recipe can be made in a slow cooker with a removable heating element. These style slow cookers allow for high-heat stove top searing that can then be transferred to an electric slow cooker heating element OR the oven. We love our slow cooker from 360 Cookware. If using a 360 vapor seal slow cooker, reduce beef stock to 2 Cups. 
Use Promo Code: FOODWORTH25 for 25% off a 360 Cookware purchase. 
* A Note About Salt
Unless otherwise noted, all recipes on The Sage Apron are developed using Diamond Crystal Kosher salt. It is a great all-purpose salt for cooking and baking. If using table salt, reduce quantities by about half.
Nutrition
Calories:
1323
kcal
|
Carbohydrates:
79
g
|
Protein:
81
g
|
Fat:
77
g
|
Saturated Fat:
21
g
|
Polyunsaturated Fat:
23
g
|
Monounsaturated Fat:
27
g
|
Trans Fat:
1
g
|
Cholesterol:
195
mg
|
Sodium:
5875
mg
|
Potassium:
2539
mg
|
Fiber:
3
g
|
Sugar:
36
g
|
Vitamin A:
79
IU
|
Vitamin C:
12
mg
|
Calcium:
143
mg
|
Iron:
11
mg