This Irish Stout Beer Braised Lamb Pie is absolutely delicious! This savory pie is loaded with tender braised lamb, potatoes, root vegetables and herbs in a rich, flavorful gravy.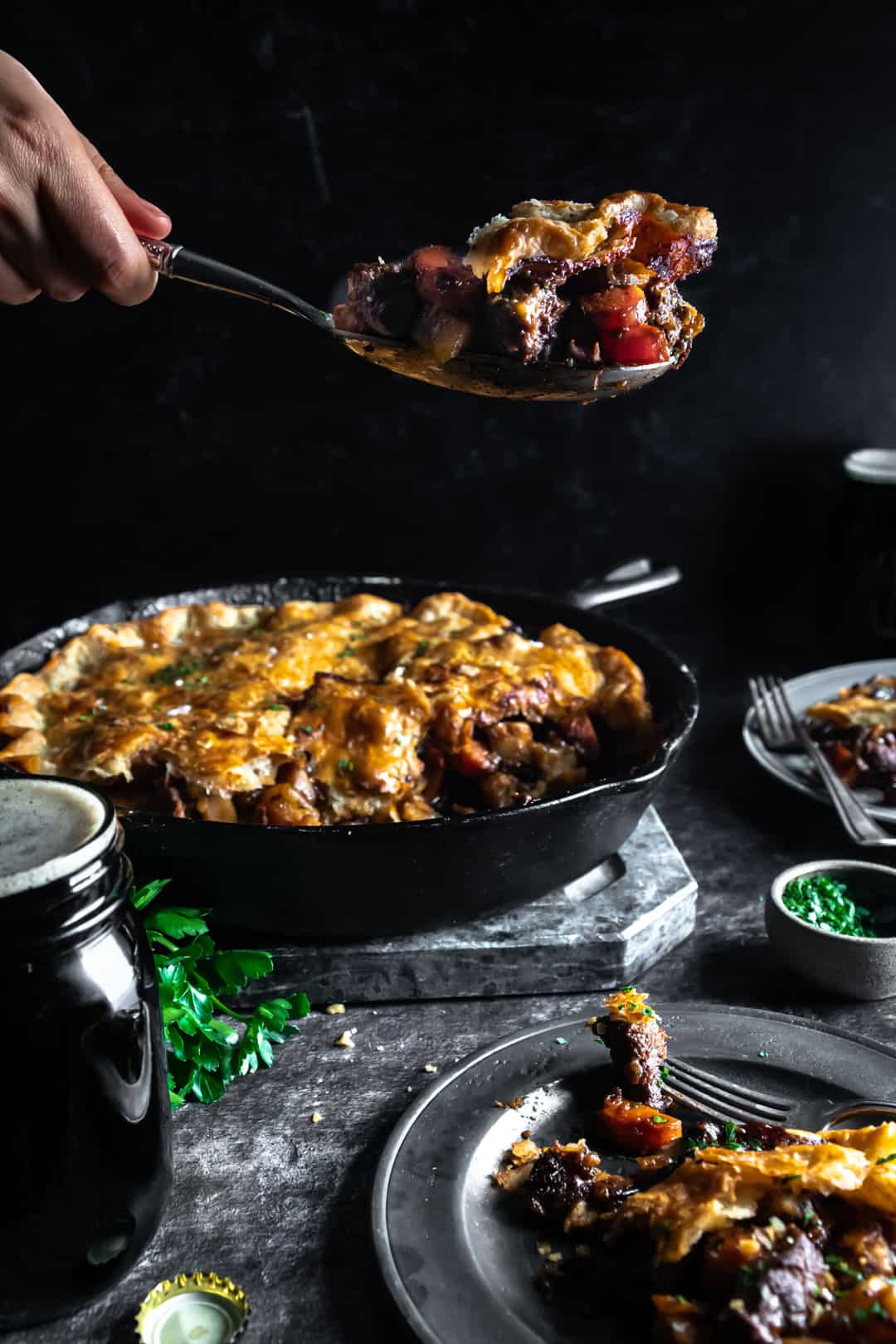 Topped with a golden, flaky pie dough (we use Our Favorite Buttery Pie Crust recipe), this hearty meal is perfect for the coziest of Sunday suppers or intimate holiday gatherings!
Jump to:
What Ingredients are in Lamb Pie?
Here is the full list of everything needed to make this recipe! Don't be intimidated, this recipe may seem complicated but is actually quite simple to make. This hearty dinner recipe comes together in one large skillet and has a lot of down time - perfect for lazy Sunday cooking!
Lamb & Seasonings
Lamb Stew Meat - Lamb shoulder, loin and neck are cuts commonly. used for stew meat. Check out this comprehensive article learn more about cooking with different cuts of lamb and mutton. If you would like to substitute beef, diced chuck round works perfectly.
All-Purpose Flour - Flour helps to brown the lamb and thicken the rich gravy.
Ground Coffee - Optional, but delicious! A little ground coffee adds a rich complexity to the lamb and compliments the stout beer beautifully.
Salt & Pepper - Season the lamb well with salt and fresh-ground black pepper.
Root Vegetables & Aromatics
Potatoes - An Irish staple! We used Yukon Gold potatoes in this recipe. Russets, or new potatoes would be a fine substitute.
Celery Root - We love the texture or celeriac, but a few ribs of celery would be just as delicious!
Carrot & Parsnip - These root vegetables add color, earthy flavor and a touch of natural sweetness to the pie.
Red Onion - Yellow onion would work well, also.
Garlic - Fresh garlic is a wonderful, aromatic seasoning in this recipe.
Thyme & Rosemary - We prefer fresh, but a teaspoon of each dried and ground herb would also work.
Braising Liquid
Stout Beer - A rich, malty stout is the tasty foundation for this recipe. We recommend using a sweeter stout with low IBUs (International bitterness units). Something like Guinness will work very well.
Beef Stock - A flavorful stock is essential to this recipe. Homemade stocks are always preferred!
Tomato Paste - A couple Tablespoons of tomato paste bring a little umami and thickness to this recipe's gravy.
Brown Sugar - Optional, of course. Brown sugar helps to balance the flavors of the beer.
Butter - We like to finish our braised lamb with a little butter for added richness and a glossy sheen.
Pie Crust & Finishing Touches
Pie Dough - A homemade pie crust takes this recipe from good to great! We recommend trying Our Favorite Buttery Pie Crust Recipe. Store-bought pie crust (or puff pastry) would also be yummy!
Egg Wash - For a show-stopping glisten, we recommend egg washing your pie crust before baking. We use an egg wash with one egg, one additional yolk, and a splash of cream for deep golden coloring.
Flaky Salt - An extra sprinkle of salt over your egg-washed dough helps to season the crust, too.
Parsley - Chopped parsley is an optional garnish but brings great color and a fresh bite to your finished Irish Stout Braised Lamb Pie.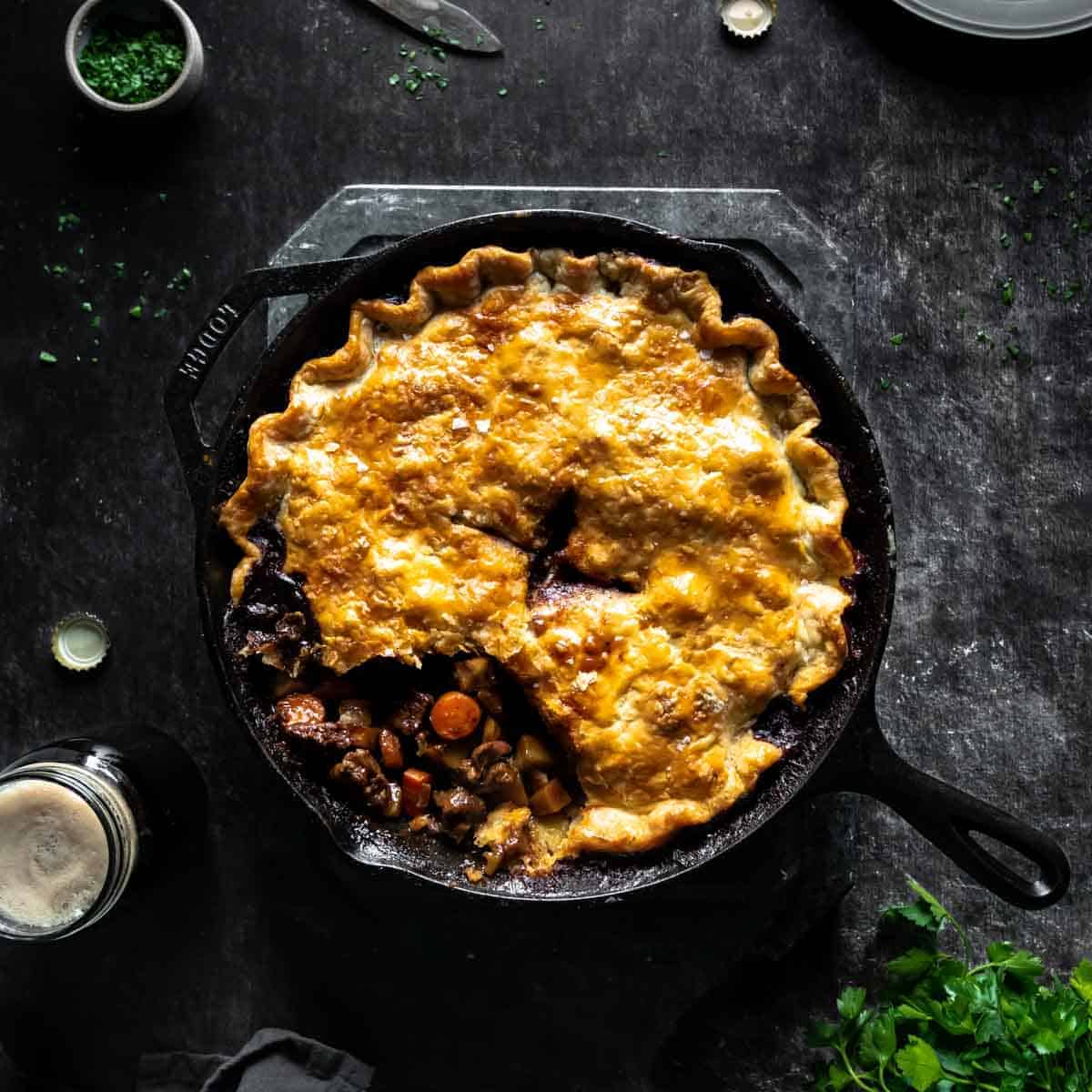 Tips & Techniques for Flavorful Braised Lamb Filling
Here is our best advice for building a rich, flavorful lamb pie filling with award-winning textures!
Cook in Stages: Build Flavors Slowly
The key to a braised lamb pie filling with great flavors and textures is cooking in stages. By this, I mean to cook different ingredients separately and then combine them. This method ensures that each component is properly cooked and you can avoid chewy lamb, undercooked potatoes or carrot mush.
First, cook your carrots, parsnips and celery root. (If you are substituting celery stalks, add that in with the onion instead.) When diced to the same size, these root vegetables cook in a similar time frame. Give them a hard sear and allow them to soften a bit. It is okay if they are not fully cooked, they will finish cooking later, in the oven. Remove these root veggies from the pan and set aside.
Next, brown the seasoned and floured lamb and remove from the pan. More on this below.
After the lamb, sauté the diced onions, then garlic and herbs. Then, add the tomato paste, brown sugar and braising liquids.
Now it is time to braise the lamb. Add the lamb back into the pan and simmer until fork-tender. Since the braising process takes so long, it is important not to add the vegetables back in at this stage. Vegetables that are cooked for extended periods lose their texture and disintegrate.
Once the lamb is tender, add the potatoes to the braise and simmer until potatoes are barely cooked. Potatoes will finish cooking in the oven.
Finally, add the carrot, parsnip and celery root back into the pan and allow the filling to cool before topping with the pie dough and baking.
Once baked, you will have a wonderful Irish Stout Braised Lamb Pie filling complete with tender lamb, potatoes that are cooked through and root vegetables that hold their shape and have a gentle toothsome bite. Delish!
Brown the Lamb Meat
Searing the lamb meat is so important for locking in the juices and creating rich depth of flavor. Here are a few tips for perfectly seared lamb.
Cook lamb from room-temperature - Before cooking, allow your lamb to come to room temperature for 10 - 15 minutes before searing. Room-temperature meats cook faster and more evenly.
Make sure lamb is dry - With a paper towel, pat each piece of meat until dry. Wet meat tends to steam, not sear.
Season well - Make sure each chunk of lamb meat is well coated in the seasoned flour. This will improve the lamb's flavor, browning, and help the gravy to stick to each piece.
Get your pan hot! - Heat your skillet until your cooking oil is shimmering (flowing like water and showing wavy lines On the surface) and nearly smoking. Brown lamb, turning occasionally until a golden brown crust has developed.
Don't crowd the pan! - Crowded pans (filled with too much lamb) will trap moistures and steam the meat, preventing browning. To avoid this, put lamb in the pan one piece at a time so that no pieces are touching. You may need to sear your lamb in 2 - 3 batches.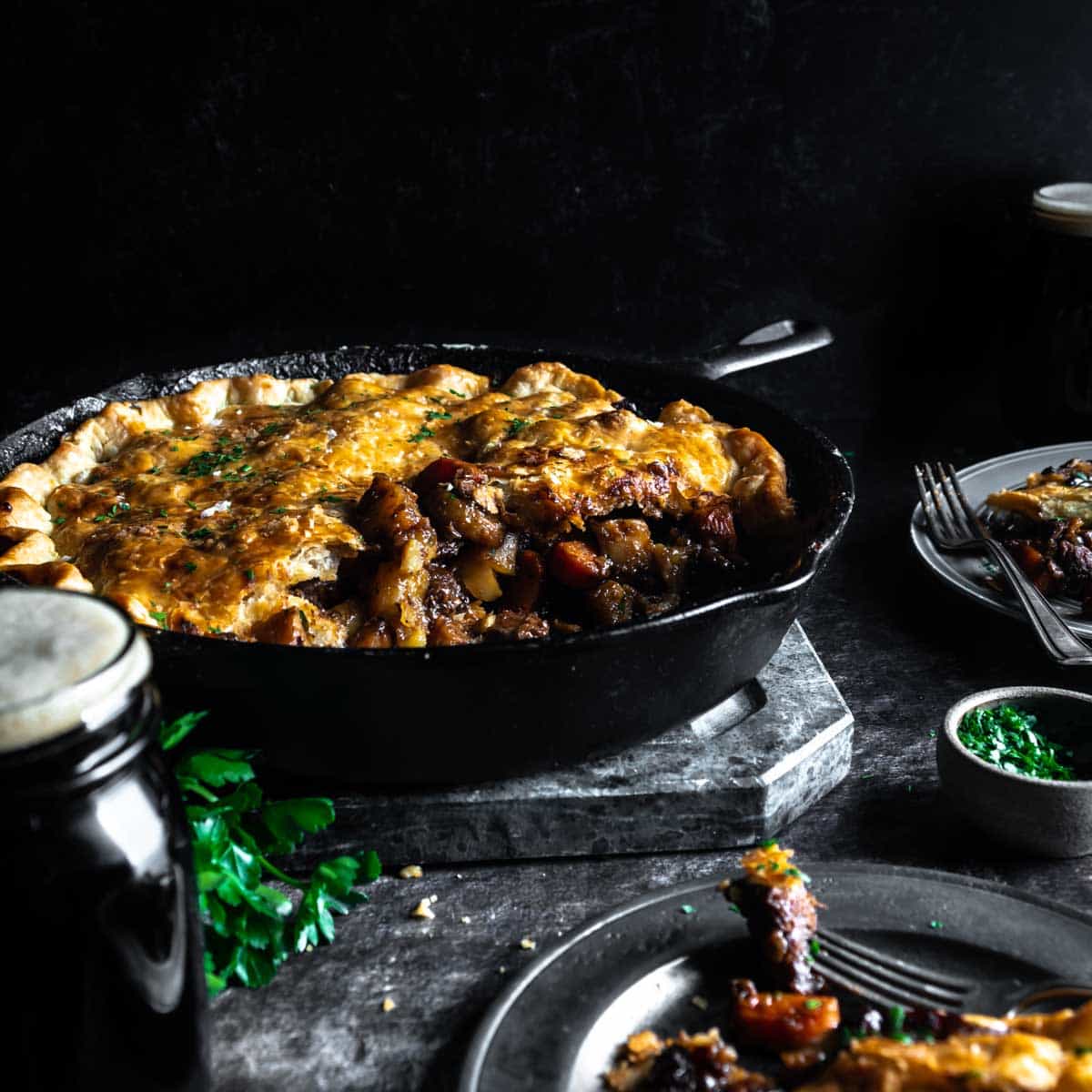 Season as You Go
The best practice for seasoning with salt and pepper to taste is to season each component as it is being cooked. To season as you go, give the ingredients a sprinkle of salt throughout each step of the cooking process. For instance, salt the root vegetables during their initial sear. Then, give the onions a little sprinkle while they sauté, too.
The lamb will be tossed in seasoned flour, which is salted, as well. After the braising period, taste the liquid. We encourage you taste the Irish Stout Braised Lamb Pie filling throughout the process to make sure it is properly seasoned. Once the potatoes are cooked, you will have your last chance to season the pie before the crust is on. Finally, to finish it off right, go ahead and season that pie dough with a little sprinkle of finishing salt.
While it may seem like you are adding a lot of salt throughout the process, this method actually brings out each ingredients flavors without having to dump a bunch of salt on top, at the dinner table. We recommend seasoning this way for most savory cooking, including soups, stews and sauces.
If you are unfamiliar with seasoning in this way, start out timidly, to avoid over-salting. Over time, you will become more comfortable with how much salt to add and when. Of course, seasoning with salt and pepper is easily adjustable to your own preferences. Taste frequently and trust your own palette.
Give it Time
We will be the first to admit, the best mouth-watering braises and slow-cooked Sunday suppers require a lot of patience. By nature, lamb is a lean, often tough cut of meat. It will take time - probably about 2 hours - to braise the lamb so that the connective tissue breaks down and it is fork-tender. But you're not done yet.
After that, if you put pie dough on your hot filling, the dough's butter will melt and you'll have a big, soggy mess. It's a pie dough don't. So, you'll have to chill the filling a bit. And by this point, your house will smell so good, your patience will surely be tested. That being said, hold out and give it time! With a little patience (and a token of Irish luck) this just may be the new Sunday go-to.
Keep an Eye on the Simmer
Make sure you maintain a steady simmer throughout the duration of the cooking process. If your liquid becomes too hot and boils for too long, your lamb meat will become tough and stringy. If it's barely bubbling, you'll be cooking that lamb all day before it's tender.
Also, be sure to account for evaporation. If your liquid is mostly evaporated and becomes too thick, simply add an additional splash of stock. Keep in mind that the liquid will continue to thicken and reduce during the baking time. To account for this, It is better to have a filling that is a little liquidy prior to baking.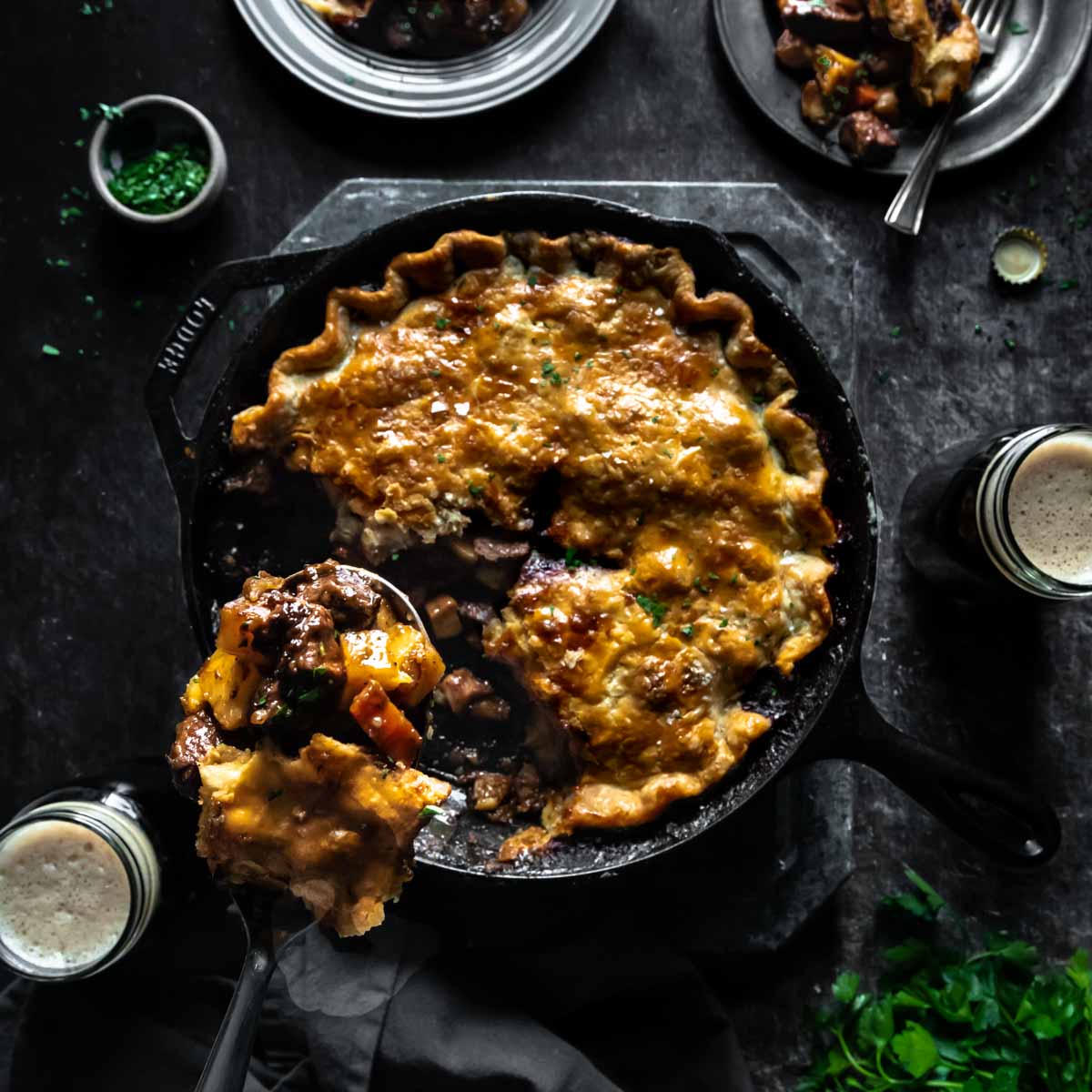 The Upper Crust
No pie is complete without a flaky layer of pastry. Same is true with this Irish Stout Beer Braised Lamb Pie. As mentioned before, we like to use Our Favorite Buttery Pie Crust recipe. You will have a little pie dough left over, (save it for an impromptu pocket pie later in the week!).
Whatever pie dough you are using, roll into a circle slightly larger than your skillet or baking dish. Trim any edges, as necessary. Then, fold the outer edge of the pie dough under itself, along the perimeter of the skillet. With the double-thick pie dough edges, you can easily use your fingertips to crimp a decorative edge. Check out this quick video to see how I topped and crimped this pie!
For the best results, keep your pie dough chilled throughout the process. Once crimped, return your unbaked pie to the refrigerator for 15 - 30 minutes before baking. Chilling the unbaked pie will help the dough to maintain it's shape and promote flakier pie crusts. We recommend egg washing and salting the pie dough to create a shiny, attractive topping during the bake.
More Recipes You'll Love!
Recipe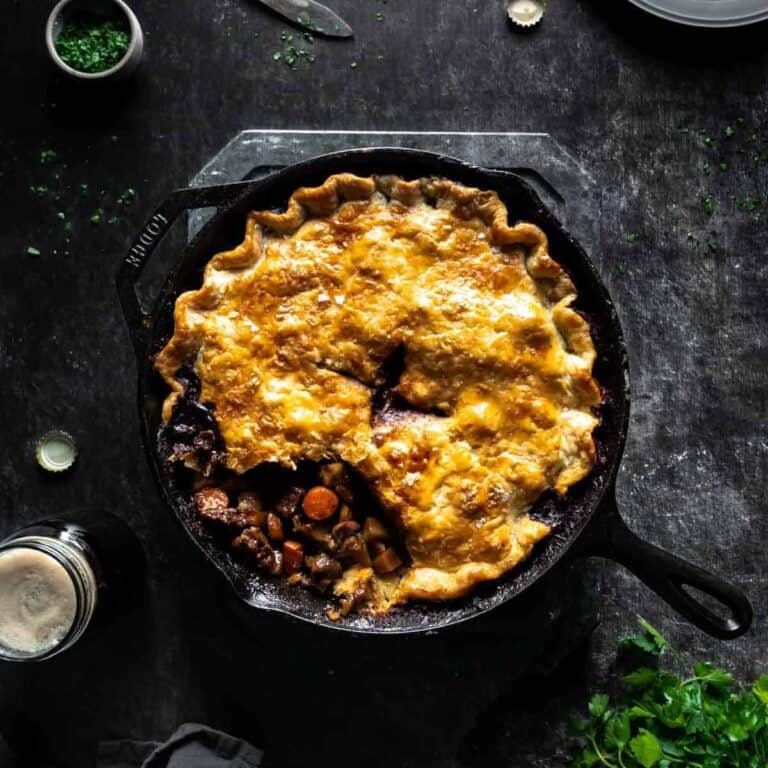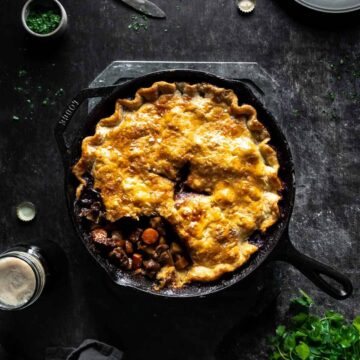 Irish Stout Beer Braised Lamb Pie
This Irish Stout Braised Lamb Pie is loaded with tender braised lamb, diced potatoes, root vegetables and herbs in a rich, beer-based gravy. Topped with flaky, buttery pie dough - this hearty meal is perfect for Sunday suppers or intimate holiday gatherings! Be sure to check out our post's quick video demonstrating how we crimped the pie dough and achieved this beautiful look! 
ADJUST SERVINGS
Special Equipment
Large Oven-Safe Cast Iron or Skillet
Ingredients
Cooking oil

as needed (about 3 - 4 Tablespoons)

½

medium

celery root or 3 stalks of celery

See Note: a., medium diced

2

medium

carrots

medium diced

2

medium

parsnips

medium diced

¼

Cup

all-purpose flour

1

Tablespoon

ground coffee

optional

1

Tablespoon

fine kosher salt*

plus more for seasoning to taste

1 ½

teaspoons

freshly-ground black pepper

plus more for seasoning to taste

2

pounds

lamb stew meat

large pieces of fat and silver-skin removed, cut in bite-sized pieces

½

medium

red onion

small diced

2

cloves

garlic

minced

1

sprig

fresh rosemary

minced

3 - 4

sprigs

fresh thyme

minced

2

Tablespoons

tomato paste

See Note: b.

2

Tablespoons

light or dark brown sugar

24

ounces

Irish stout beer

2,

12 ounce cans or bottles; Guinness Draught brand recommended (See Note: c.)

2 - 3

Cups

beef stock

plus more as needed

5 - 6

medium

Yukon gold potatoes

peeled and medium diced

2

Tablespoons

unsalted butter

1

package or recipe

Prepared Pie Dough Our Favorite Buttery Pie Crust Recipe recommended

1

egg wash

if desired (See Note: d.)

Flaky finishing salt

as desired

Parsley

finely chopped, as garnish, as desired
Instructions
Gather, measure and prepare the Irish Stout Braised Lamb Pie ingredients as listed. To view metric measurements, toggle the US Customary/Metric switch at the top of this recipe card.

In a large, heavy-bottomed, oven-safe skillet, heat a couple teaspoons, or so, of cooking oil over medium-hight heat until shimmering. Once hot, add celery root, carrots and parsnips and sear until golden brown and beginning to shrink slightly. (You may need to do this in 2 - 3 batches, to prevent overcrowding the pan). The root vegetables should not be fully cooked and still be slightly crunchy. Remove from the skillet and set aside.

Meanwhile, in a medium mixing bowl, combine flour, coffee (if using), salt and pepper. Toss to combine. Add bite-sized lamb pieces to the seasoned flour mixture and toss to coat each piece of lamb entirely. 

In the same hot skillet, heat a little additional oil until shimmering and nearly smoking. Sear the lamb on medium-high to high heat, turning occasionally until golden brown. (Similar to the root vegetables, you may need to do this in 2 - 3 batches, to prevent overcrowding the pan). Remove from pan and set aside.

Lower the heat on the skillet to medium-low. If the pan is dry, you can add a little additional oil, as needed. Add red onion to the pan and sauté 2 - 3 minutes until translucent. Remember to season as you go and taste often. (See Tips & Techniques for Flavorful Braised Lamb Filling above). Add garlic, rosemary and thyme to the pan and stir to combine.

Next, add tomato paste and brown sugar and stir to combine. While stirring, add stout beer to the skillet. Keep stirring to distribute the tomato paste and allow the beer foam to subside. Then, stir in about

2 Cups (473 milliliters)

beef stock.

Return the lamb to the skillet and braising liquid. Increase heat to medium, bring to a boil and reduce heat to simmer. Maintain a constant simmer for about 90 minutes, or until a fork easily pierces the lamb. (The lamb may still have slight resistance but will continue to cook and soften through the rest of the process. If the lamb is still very tough, continue to simmer, checking every 15 minutes, or so). Keep an eye on the lamb while it is simmering, if at any point the liquid becomes very thick and/or exposes most of the lamb, top off with additional beef stock, as needed. 

Add the potatoes and return to simmer. Simmer for an additional 30 minutes or until potatoes are tender. (The potatoes will continue to cook slightly, in the oven.) If needed, add a splash of additional beef stock. You want the liquid to coat all of your filling and be a tad loose. The gravy will continue to thicken in the oven. 

Remove the skillet from the heat and stir in the butter, celery root, carrot and parsnip. Allow the lamb filling to cool to room-temperature in the pan, on a thick, dry dish towel in the refrigerator. (Leave uncovered or vented to allow steam to escape.)

Meanwhile, arrange a rack in the center of your oven and preheat the oven to 425° Fahrenheit (220° celsius). 

Roll your pie dough into a circle slightly larger than the diameter of your skillet. Once the lamb filling has cooled, top the filling with the pie dough, crimp the edges and cut a vent hole in the center of the pie. Egg wash and season with flaky finishing salt, as desired. (See our Lamb Pie Crust Crimping video, for a visual, above.)

For best results, we recommend returning the uncooked pie to the refrigerator for an additional 15 - 30 minutes. This additional chill time is optional, but will help to ensure a flaky pie crust. 

Bake the Irish Stout Braised Lamb Pie for 40 - 45 minutes or until filling is bubbling around the edges and crust is golden brown. 

Let baked pie stand 5 minutes before serving hot (and preferably with a cold stout!). Garnish with finely chopped parsley leaves, as desired. Enjoy!
Notes
a. If you are using celery stalks in place of celery root, do not sear the celery stalks with the carrot and parsnip. Instead, small dice your celery stalks and sauté with the diced onion. 
b. This recipe only calls for a couple Tablespoons of tomato paste but, more than likely, you will have to open an entire can. We recommend scooping the leftover tomato paste in 1 Tablespoon portions onto a parchment lined baking sheet. Freeze the tomato paste portions and, once frozen, you can transfer them to a small bag or freezer-safe container. Frozen tomato paste will last 2 - 3 months and can be thawed for other recipes or added to a pan sauce straight from frozen. 
c. Unlike most beers that are sold in 355 milliliter (12 ounce) bottles, Guinness brand beers are sold in 331 milliliter (11.2 ounces) bottles. (European glassware is slightly smaller typical in the US.) The small difference in volume does not greatly effect this recipe. You can use two 11.2 ounce bottles of Guinness, or a 12 ounce local brew, all the same. 
d. An egg wash can leave a gorgeous glossy finish on your pie dough (and help a sprinkle of salt to stick!) We typically use an egg wash made from a lightly beaten whole egg, additional egg yolk and a splash of cream. The additional yolk lends to deeper color and cream adds a little richness. If you'd like, you can use a single whole egg lightly beaten with a splash of water, instead. 
* A Note About Salt
Unless otherwise noted, all recipes on The Sage Apron are developed using Diamond Crystal Kosher salt. It is a great all-purpose salt for cooking and baking. If using table salt, reduce quantities by about half.
Nutrition
Calories:
677
kcal
|
Carbohydrates:
88
g
|
Protein:
45
g
|
Fat:
14
g
|
Saturated Fat:
6
g
|
Polyunsaturated Fat:
1
g
|
Monounsaturated Fat:
5
g
|
Trans Fat:
1
g
|
Cholesterol:
136
mg
|
Sodium:
648
mg
|
Potassium:
2652
mg
|
Fiber:
12
g
|
Sugar:
13
g
|
Vitamin A:
3702
IU
|
Vitamin C:
80
mg
|
Calcium:
138
mg
|
Iron:
7
mg