This Peach Mango Pie is so yummy! Fresh peaches and ripe mangoes are lightly spiced with cinnamon and allspice before being baked into a homemade pie crust!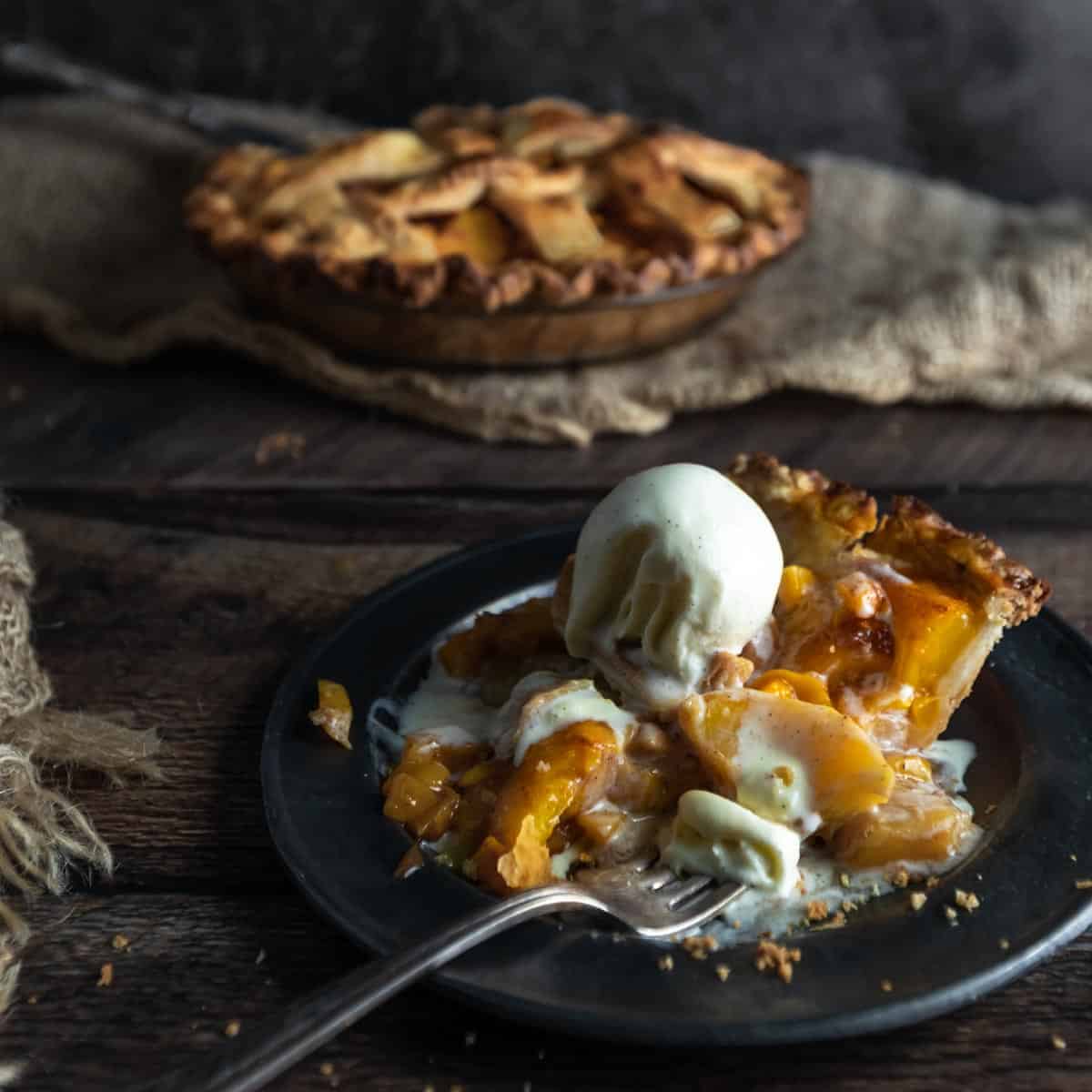 You may also like our Apricot Frangipane Tart with Almond Crust!
Ingredients for This Recipe
This Peach Mango Pie recipe is super easy and only requires a few ingredients! Ingredient quantities can be found in the recipe card at the bottom of this post.
Peaches - This Peach Mango Pie recipe is a new Summer standard for peach season! However, feel free to make this recipe with frozen and thawed peach slices instead.
Mango - Luckily for us, our local peach season seems to align with fresh mangos from the grocery store. However, since ripe mangos aren't always available where we live, we also tested this recipe with frozen and thawed mango. The pie still tastes delicious!
Cinnamon & Allspice - A dash of these baking spices pairs beautifully with the delicious fruit filling.
Lemon Juice - A squeeze of fresh lemon adds a touch of acidity and balances the flavor just right!
Sugar - Macerating the fruit in sugar helps to bring out all of the juices and tropical fruit flavor!
Cornstarch - We found that cornstarch made for the best thickener for this pie filling. The fruit juice transformed to a gooey, fruity gel that held together and didn't soak through the bottom crust.
Pie Crust - No pie is complete without a flaky, buttery crust! You can make this Peach Mango Pie recipe with a store-bought crust or try our easy flaky pie crust recipe.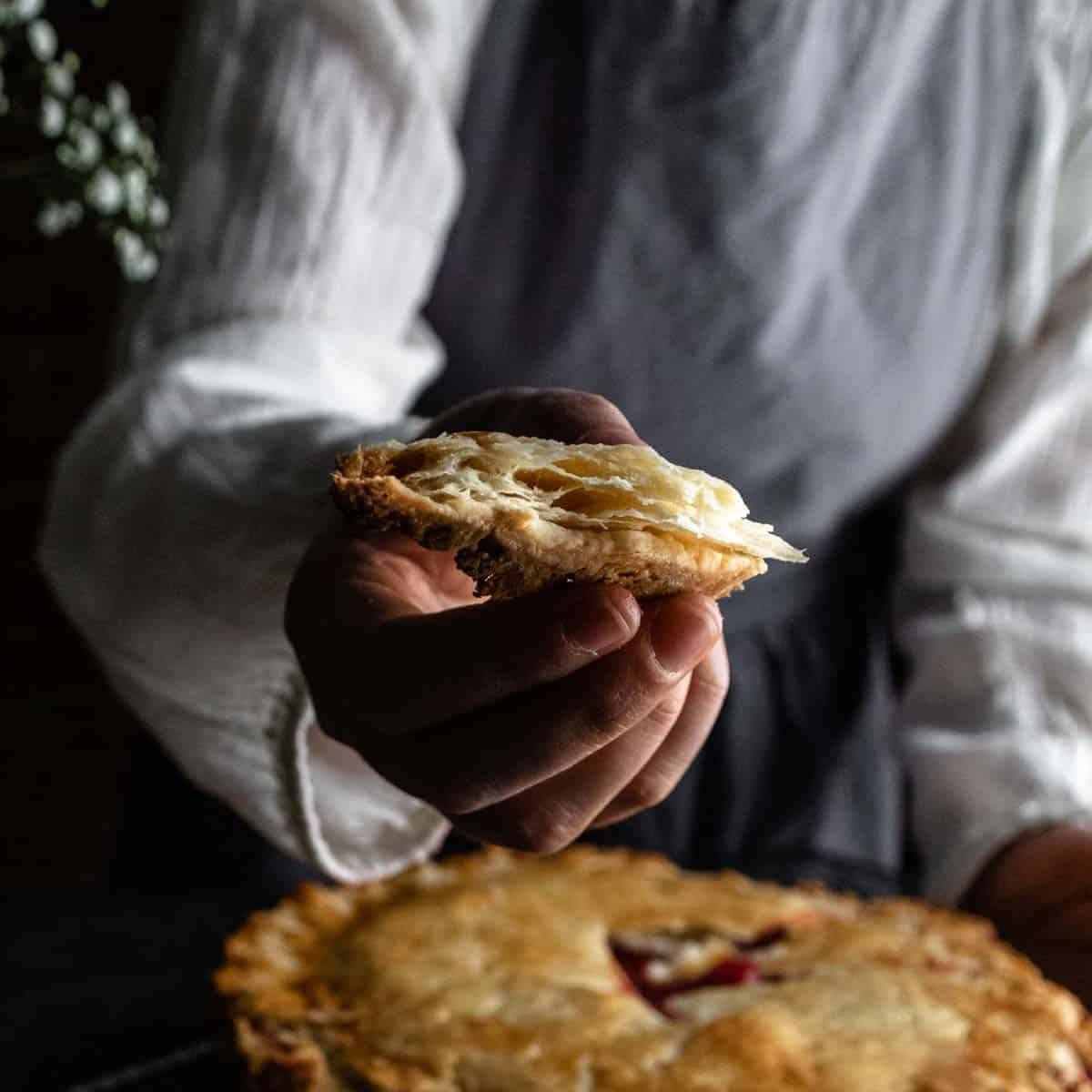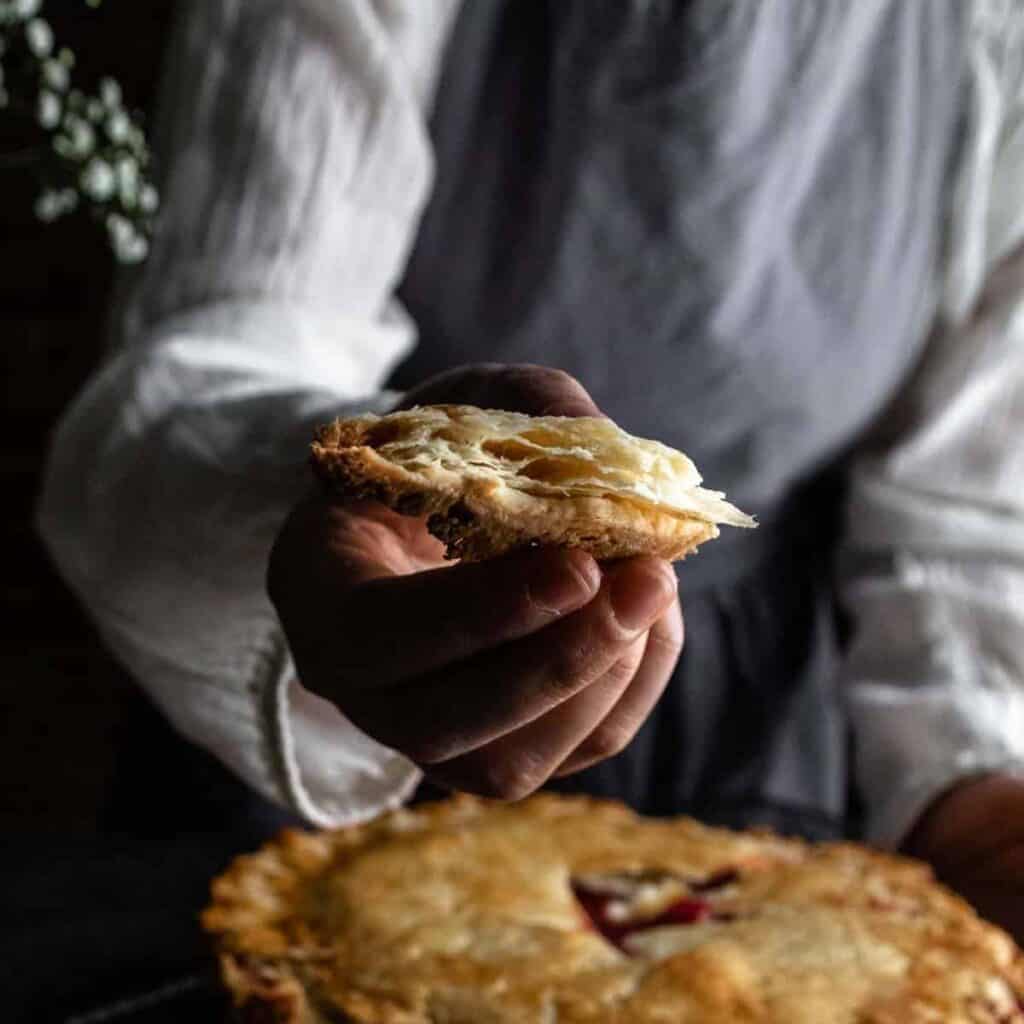 Our homemade pie crust recipe uses all butter and is made completely by hand. No special equipment required! Check out the entire post for best practices and a quick How To Video.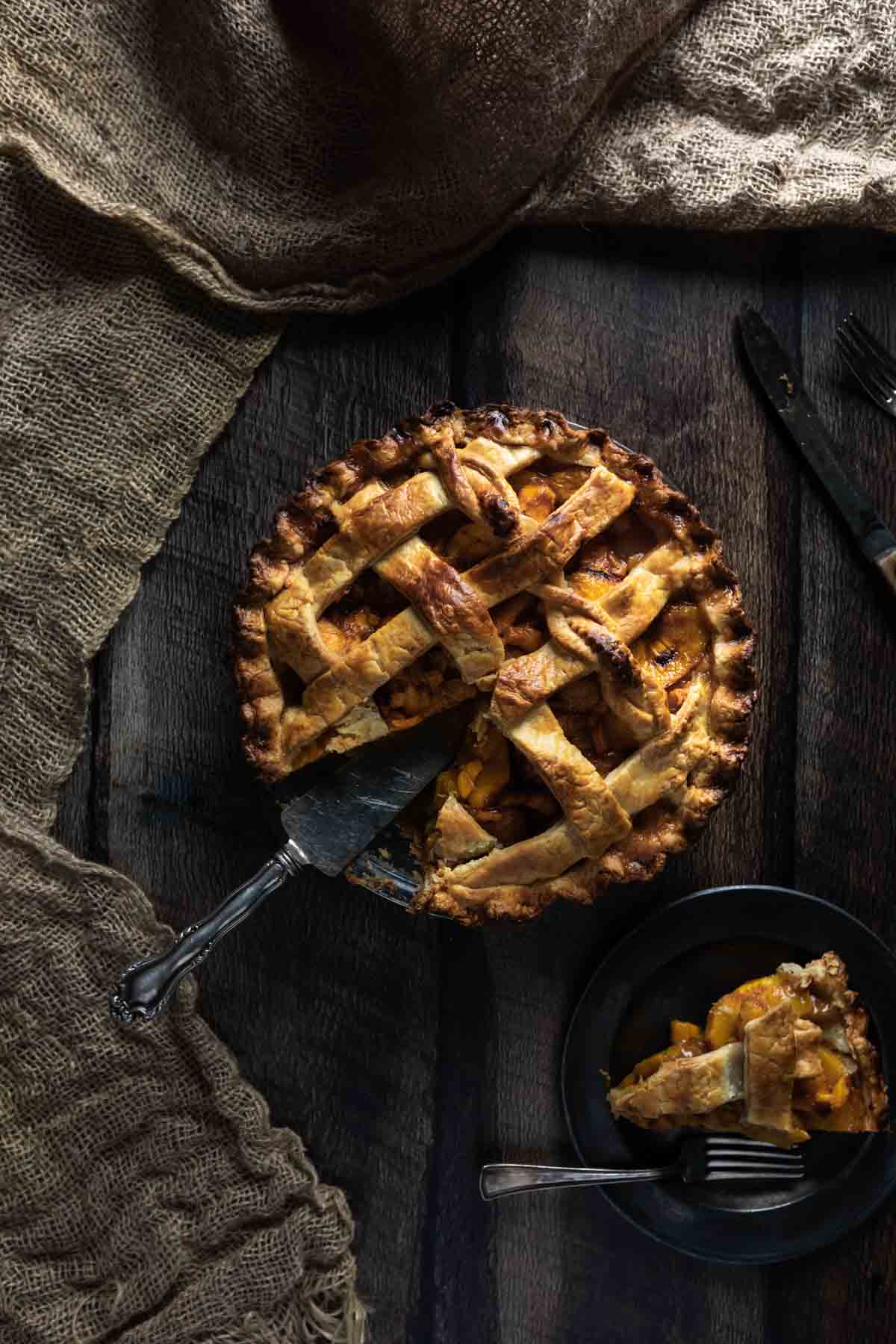 11 Tips for Perfect Pie
For the best results, check out this advice for making a perfect Peach Mango Pie!
Let the fruit filling macerate. - Tossing the peach mango filling with the sugar, spices and cornstarch for thirty or more minutes will help to meld the flavors together.
Bake the pie with room temperature filling. - Cold filling takes longer to bake! Bring your fruit filling to room temperature before adding it to the pie.
Keep you pie dough cold! - Work quickly so that the pie dough stays cold.
Make sure your pie dough is vented - For fruit pies, we like to use a lattice top crust. The lattice design is great for allowing steam to escape and avoiding an air gap between your baked fruit and upper crust. You could also use a cookie cutter to cut-out shapes of pie dough that can create a similar effect.
Refrigerate the shaped pie for 30 minutes before baking. - Thirty minutes is long enough to get your pie dough super cold without chilling the filling too much!
Brush your crust with an egg wash before baking. - This is optional but creates a beautiful, glossy golden brown pie that looks as good as it tastes!
Bake your pie on a foil-lined baking sheet. - Avoid gooey, fruity spill on the bottom of your oven!
Bake pies on your oven's bottom rack. - Prevent a soggy-bottom pie by baking close to the heat source.
Use a pie shield or foil to protect the edges of the pie. - Cover the pie's edges for part of the baking time to prevent burning.
Cool the Peach Mango Pie on a wire rack. - Allow the pie to rest for several minutes before slicing and serving.
Serve your pie a la mode! - The best way to serve this pie is with a scoop of vanilla ice cream!
More Dessert Recipes
For more scratch baking recipes, check out our entire collection of Sweets & Desserts!
Recipe
Homemade Peach Mango Pie
This Jollibee's inspired recipe features fresh peaches and mango baked into a flaky, buttery crust. This Peach Mango Pie is the perfect end-of-Summer delight!
ADJUST SERVINGS
Special Equipment
9 Inch Glass Pie Plate

Pastry Brush

Food Processor
Ingredients
Peach Mango Pie
1

pacakage or recipe

Pie Dough We use Our Favorite Easy Pie Crust Recipe

6 or 7

medium

fresh peaches

peeled, pitted and sliced (For Frozen Peaches - See Note: a.)

1

large

fresh mango

peeled, pitted and small diced (For Frozen Mango - See Note: b.)

2

Tablespoons

granulated sugar

½

teaspoon

fine kosher salt*

1

teaspoon

cinnamon

1

pinch

allspice

1

Tablespoon

lemon juice

1

teaspoon

vanilla extract

1

Tablespoon

cornstarch
Egg Wash

optional (See Note: c.)
Our Favorite Easy Pie Crust (See Full Post for a How To Video & Additional Tips)
2½

Cups

all-purpose flour

1

teaspoon

fine kosher salt*

1

Tablespoon

granulated sugar

1

Cup

unsalted butter

cubed, cold

¼

Cup

80 Proof Vodka

optional (See Note: d.)
Instructions
Peach Mango Pie
Gather, measure and prepare the Peach Mango Pie ingredients as listed. To view metric measurements, toggle the US Customary/Metric switch at the top of this recipe card.

If using homemade pie dough (or our recipe below), prepare the dough and refrigerate to chill. Meanwhile, combine sliced peaches, mango, sugar, salt, cinnamon, allspice, lemon juice, vanilla and cornstrach in a large bowl. Allow the fruit to macerate at room temperature for 30, or so, minutes.

Meanwhile, arrange a rack in the bottom third of the oven and preheat to 450° Fahrenheit (235° celsius).

Prepare the bottom crust of your pie. Lightly roll one disk of pie dough on a floured surface. Place inside the bottom of a 9 inch glass pie plate. Be careful not to strech the dough too thin. Us the tines of a fork to poke several hole in the bottom if the pie crust. Then, transfer the peach mango filling into the prepared bottom crust.

Prepare the top crust of your pie. We recommend using a lattice-style crust to allow steam to escape and prevents the crust from creating an air gap over the filling. To do this, roll the remaining disk of pie dough on a lightly floured surface. Once rolled, use a sharp knife or pastry wheel to cut strips of the dough. Lay or weave the strips of dough over your peach mango filling in opposite directions. Work quickly to keep the dough as cold as possible. Use your fingers of tines of a fork to crimp the pie's outer edge closed. Refrigerate the pie for 30 minutes to allow the dough to chill completely.

Transfer the chilled pie to a foil-lined baking sheet (to catch any spillage). Use a pastry brush to gently glaze the top pie crust with egg wash, if using. Bake the Peach Mango pie, rotating halfway through baking, for 55 - 65 minutes or until crust is golden brown (even on the pie's bottom) and filling is bubbling. If needed, use a pie shield or tin foil around the pie's edges to prevent burning during the bake.

Allow the Peach Mango Pie to rest on a wire cooling rack for about 20, or more, minutes before slicing and serving. Serve slices of pie warm with a scoop of vanilla ice cream!
Our Favorite Easy Pie Crust
Gather, measure and prepare the Easy Pie Crust ingredients as listed. For the most consistent results, we recommend using metric weight measurements whenever possible.

Combine flour, salt and sugar in a medium mixing bowl (or food processor fitted with the blade attachment). Whisk (or pulse) to combine.

Add butter. With your hands, pastry cutter (or food processor), cut butter into the flour mixture until a sandy texture with pea-sized crumbles are formed. If the butter begins to soften, return the dough to the refrigerator until chilled. Keep the dough cold throughout the entire process. 

[If using a food processor, transfer the butter and flour mixture into a medium mixing bowl.] Then, using a rubber spatula, stir in the vodka. Add cold, ice water (just the liquid, no ice) into the dough a small splash at a time. Mix with a rubber spatula. Add just enough water until the dough will hold together when gently squeezed in your hand. The dough should be rather dry and slightly crumbly.

Turn the dough out onto a clean, dry work surface. Divide the dough in two and gently shape each half into a disk. Tightly wrap each disk of dough in plastic wrap and chill in the refrigerator thirty minutes, at least. 

When ready to bake, follow the instructions for Peach Mango Pie.
Notes
a. To substitute frozen peaches use about

6 Cups (850 grams)

. Make sure peaches are fully thawed at room temperature before baking.
b. a. To substitute frozen mango use about

1 Cup (140 grams)

. Make sure mangoes are fully thawed at room temperature before baking.
c. An egg wash can leave a gorgeous glossy finish on your pie dough (and help a sprinkle of salt to stick!) We typically use an egg wash made from a lightly beaten whole egg, additional egg yolk and a splash of cream. The additional yolk lends to deeper color and cream adds a little richness. If you'd like, you can use a single whole egg lightly beaten with a splash of water, instead. 
d. For the flakiest pie crust, we recommend using vodka. However, this recipe is still delicious without it. To omit the vodka, simply substitute additional ice water, as needed. 
* A Note About Salt
Unless otherwise noted, all recipes on The Sage Apron are developed using Diamond Crystal Kosher salt. It is a great all-purpose salt for cooking and baking. If using table salt, reduce quantities by about half.
Nutrition
Calories:
503
kcal
|
Carbohydrates:
63
g
|
Protein:
7
g
|
Fat:
24
g
|
Saturated Fat:
15
g
|
Polyunsaturated Fat:
1
g
|
Monounsaturated Fat:
6
g
|
Trans Fat:
1
g
|
Cholesterol:
62
mg
|
Sodium:
447
mg
|
Potassium:
560
mg
|
Fiber:
5
g
|
Sugar:
29
g
|
Vitamin A:
1795
IU
|
Vitamin C:
26
mg
|
Calcium:
34
mg
|
Iron:
3
mg