This Apricot Frangipane Tart is a delicous French pastry that is perfect for sharing with friends and family this Summer.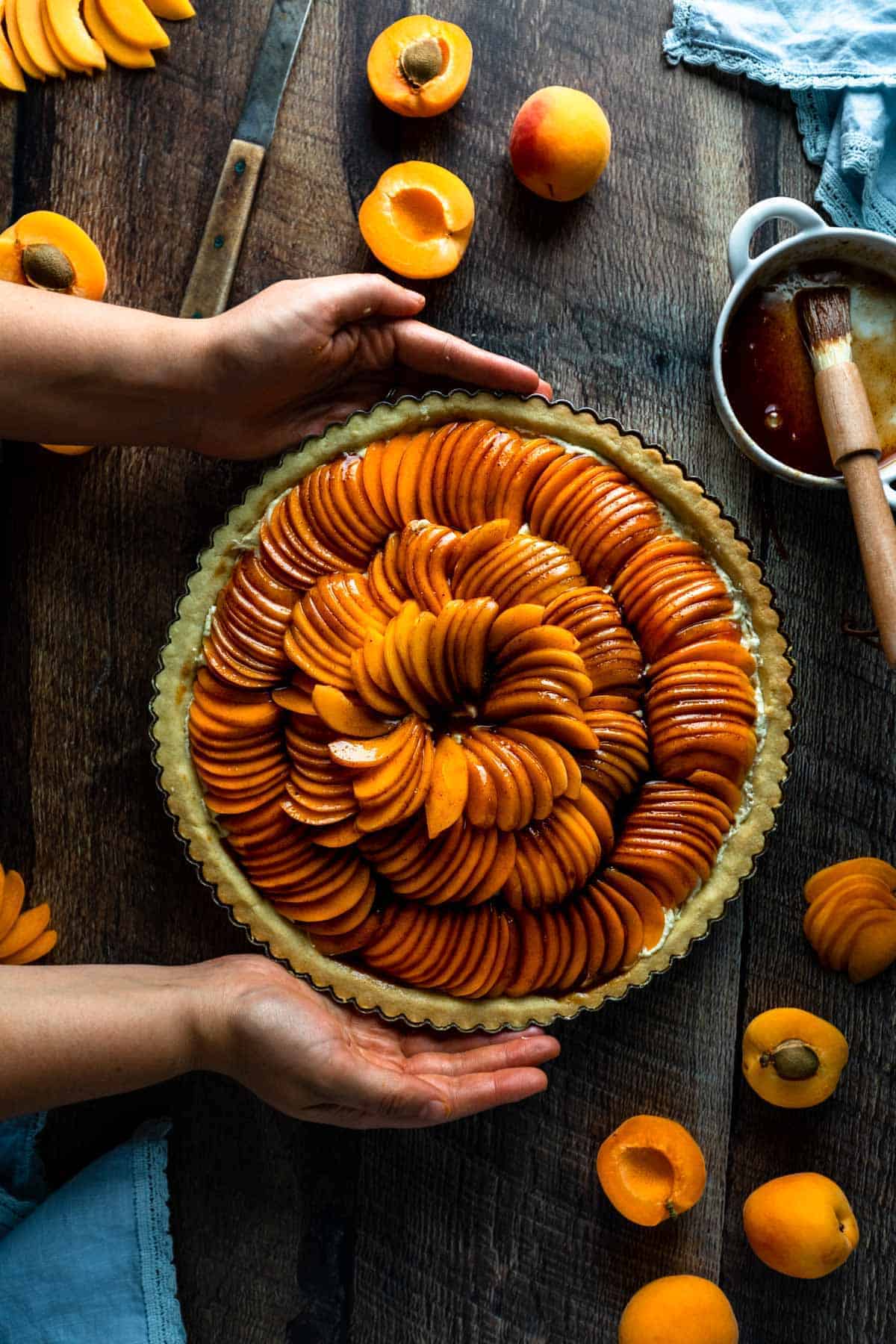 Our version of this recipe uses a buttery Almond Shortbread Crust layered with Frangipane (Almond Cream), thinly sliced fresh apricots and a Cinnamon Syrup glaze. This dessert is easy to make, delicious to eat and pretty enough to impress!
For another favorite tart recipe, try our Lemon Ricotta Pie.
Jump to:
What Is Frangipane? ( & How To Make it!)
Frangipane, otherwise known as almond cream, is a simple-to-make baked custard made from almond flour, egg, butter and sugar. Frangipane lends a nutty almond flavor to several types of pastries and desserts.
For this tart, the rich sweetened almond flavor pairs beautifully with the tartness of fresh apricots and the buttery pastry crust. If you would like, you can make your own almond flour by processing almonds in a food-processor. Both whole or blanched almonds work well for homemade frangipane.
To make frangipane, start by creaming butter and powdered sugar in a stand mixer. Then, slowly add a beaten egg and a generous splash of almond extract. Once the extract and egg is well incorporated into the butter mixture, it's time to add the almond flour, a small amount of all-purpose flour and a touch of salt.
Mix the frangipane until light and fluffy. Now, the frangipane is ready to be added to the Apricot Tart (or other pastry) and baked! Easy as can be!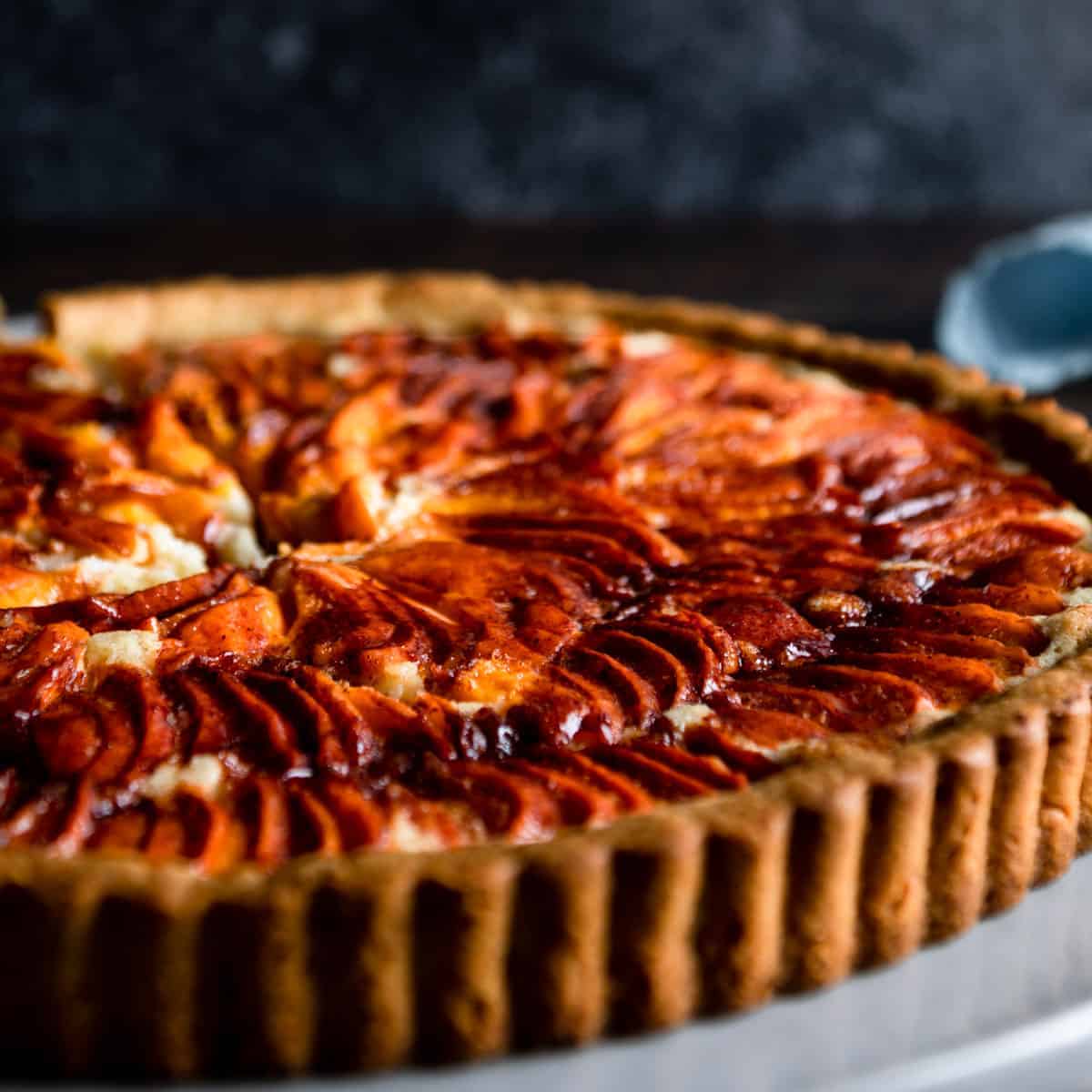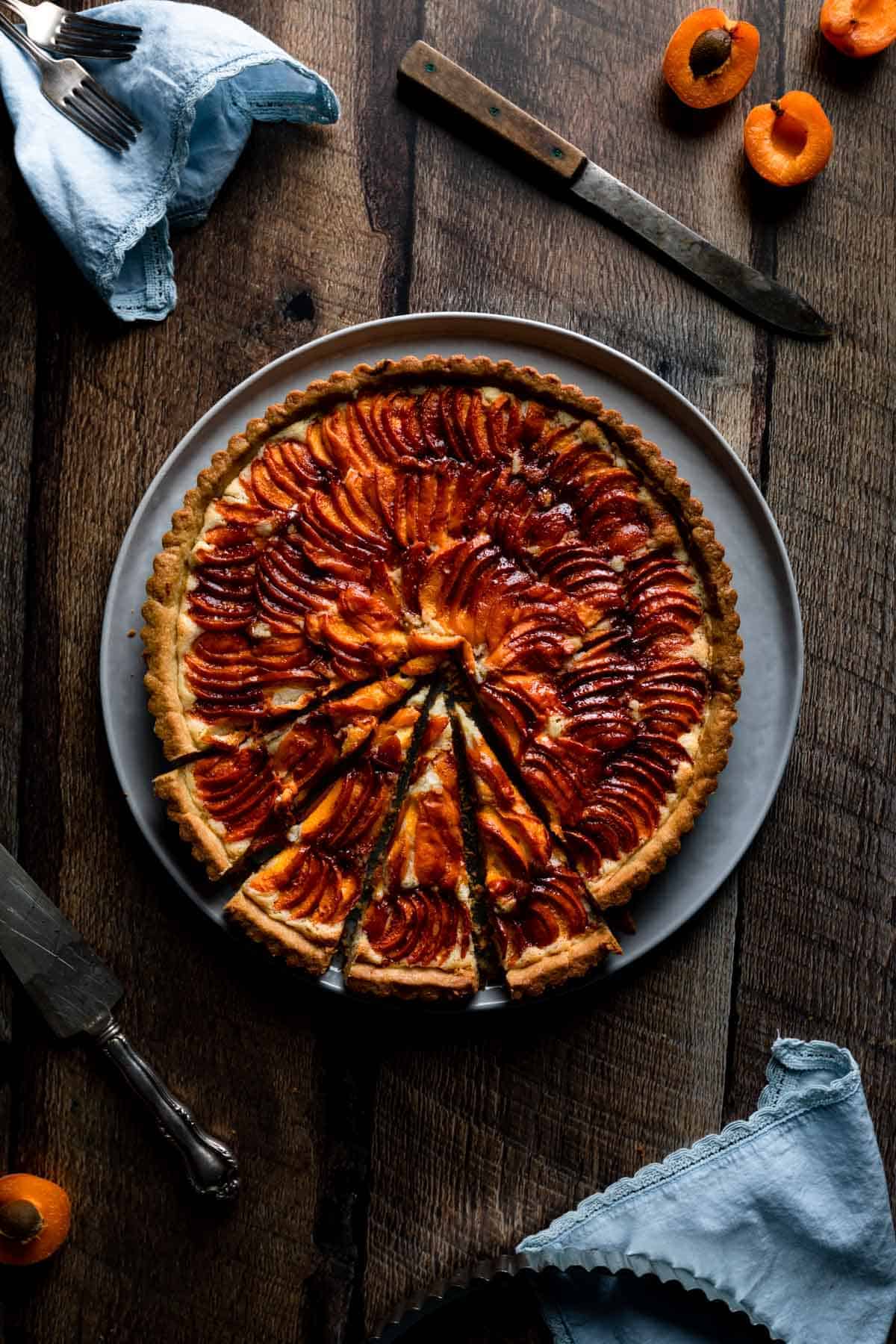 Styling The Tart - How To Slice Your Apricots & Make it Pretty
No matter how you slice it, this Apricot Frangipane Tart is delicious! However, to make it look as good as it tastes, you may want to take a little extra time to arrange your apricots in a pretty design. We recommend slicing the apricots thinly and fanning them out in an even layer. This method helps the tart to bake evenly and looks superb! To do this, start with ripe apricots that have a firm flesh. Overripe apricots will become soft and be difficult to slice neatly. Then, follow these steps:
Wash the apricots and then slice in half to remove the pit. (There is no need to peel apricots since the skin is so thin and delicate.)
Place the apricot halves, cut-side down so they lay flat on your cutting board. With a very sharp knife, slice the apricot thinly. Ideally, the slices should be about ⅛ inch (3 millimeters) thick. While slicing, do not separate the apricot halves. Keep the slices together.
Once the apricot is sliced, I like to remove the two rounded slices at the apricot edge so that the apricots will lie flat on the tart. (You can use those rounded ends to make our Tangy Apricot BBQ Sauce recipe!). Then, pick up the entire half of the apricot and gently fan the slices in your hand.
Next, place the fanned slices of apricot on the tart. I like to start along the outer edge of the tart and work my way towards the center but, you can play around with different designs if you would like. Repeat with the remaining apricot halves until the tart is full and looking lovely!
You May Also Like...
Recipe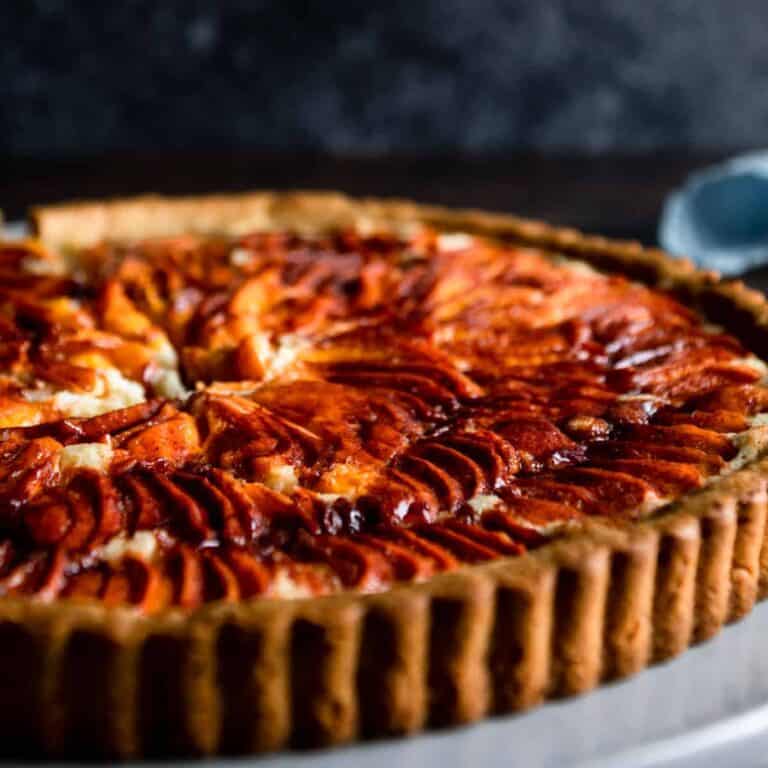 Apricot Frangipane Tart with Almond Crust
This delicious Apricot Tart has fresh apricots, a creamy layer of almond frangipane and an eay-to-make almond shortbread crust. It's a perfect dessert for Summertime!
ADJUST SERVINGS
Special Equipment
11 inch (28 centimeter) Tart Pan, preferably with a removeable bottom (See Note: a)

Food Processor with Blade Attachment

Stand Mixer with Paddle Attachment (or Electric Mixer)

Pastry Brush
Ingredients
Apricot Frangipane Tart
1

recipe

Almond Shortbread Crust

1

recipe

Frangipane (Almond Cream)

1½

pounds

apricots

washed, pitted, thinly sliced

1

recipe

Cinnamon Syrup

as needed
Almond Shortbread Crust
unsalted butter

2

Cups

all-purpose flour

¼

Cup

almond flour

½

Cup

powdered sugar

½

teaspoon

fine kosher salt*

11

Tablespoons

unsalted butter

cold, cubed; PLUS a small amount of room-temperature butter, as needed for preparing the tart pan

1

egg

lightly beaten

1

teaspoon

almond extract
Frangipane (Almond Cream)
¾

Cup

almond flour

2

Tablespoons

all-purpose flour

1

teaspoon

fine kosher salt*

5

Tablespoons

unsalted butter

room-temperature

½

Cup

powdered sugar

1

egg

lightly beaten

1

Tablespoon

almond extract
Cinnamon Syrup
¼

Cup

filtered water

¼

Cup

granulated sugar

1

teaspoon

ground cinnamon
Instructions
Almond Shortbread Crust
Gather, measure and prepare the Almond Shortbread Crust ingredients as listed. For the most consistent results, we recommend using metric weight measurements whenever possible. To view metric measurements, toggle the US Customary/Metric switch at the top of this recipe card.

Arrange a rack in the center third of the oven and preheat to 400° Fahrenheit (205° celsius).

Meanwhile, prepare the tart pan. Using a pastry brush, brush softened butter in a thin layer over the inside of the tart pan. If using a tart pan with a removeable bottom, be sure to grease both the outer ring and the flat bottom of the pan. Place the prepared tart shell on a sheet pan (for easier handling during the baking process).

In a food processor fitted with the blade attachment, add all-purpose flour, almond flour, powdered sugar and salt. Process on high speed for a few seconds to combine. Add cold butter and pulse several times until a sandy texture is achieved.

Drizzle beaten egg and almond extract over the flour mixture in the food processor. Process on high speed briefly until combined and the mixture begins to clump together as a dough.

With your hands, break off small pieces of the dough and press the dough pieces into the tart pan, to form the shell. Start along the outer scalloped edge and finish by pressing the dough into the base of the pan. Be sure the corner edges are sealed. Try to keep the crust as even as possible. Use a small pairing knife to cut away any excess dough at the top lip of the pan. With the tines of a fork, poke several holes in the bottom of the tart crust, to allow steam to escape when baking. Chill the shaped crust in the freezer for 20 minutes before baking.

Bake the empty tart shell for 20 minutes or until the edges are just beginning to brown. The tart shell will finish cooking later, when the fillings are added. (This process is called "blind baking".) Allow the Almond Shortbread Crust to cool on the sheet pan while you prepare the frangipane, cinnamon syrup and apricots.

Lower the oven temperature to 350° Fahrenheit (120° celsius).
Frangipane (Almond Cream)
Gather, measure and prepare the Frangipane (Almond Cream) ingredients as listed.

In a medium mixing bowl, sift almond flour, all-purpose flour and salt together. Set aside.

In a stand mixer fitted with the paddle attachement (or medium mixing bowl with electric mixer), cream butter and powdered sugar together until pale and fluffy, about 2 - 3 minutes.

While processing on medium-low speed, add beaten egg into butter mixture in 2 - 3 increements, allowing the addition of egg to be fully incorporated before proceeding. Scrape the bowl as necessary. Add almond extract and mix to combine.

Add flour mixture to the mixer and mix on medium-low speed until fluffy, about 2 minutes. The Frangipane is ready to be added to the Almond Shortbread Crust.
Cinnamon Syrup
Gather, measure and prepare the Cinnamon Syrup ingredients as listed.

In a small saucepot, combine sugar, water and cinnamon. Over medium heat, bring mixture to a boil while whisking frequently. Remove from heat and set aside.
Apricot Frangipane Tart
Arrange a rack in the center third of the oven and preheat to 350° Fahrenheit (120° celsius).

Gather, measure and prepare the Apricot Frangipane Tart ingredients as listed.

To assemble the tart, add Frangipane to the fully-cooled, blind baked Almond Shortbread Crust. With an off-set spatula, spread the frangipane in an even layer.

Then, add apricot slices evenly over the frangipane. In the palm of your hands, press the sliced apricot halves to shingle the slices. Arrange the apricot slices in a circular or spiraled pattern in the tart pan.

With a pastry brush, liberally glaze the sliced apricots with Cinnamon Syrup. You may have a small amount of syrup left over.

Bake the tart for 50 - 60 minutes or until a toothpick inserted in the center of the tart comes out clean (without any unbaked Frangipane). Allow the tart to cool completely. Slice, serve and enjoy!
Notes
a. Tart pans with removable bottoms can be purchased in most superstores (Target, Walmart, etc.), homeware stores (Bed, Bath & Beyond, Crate & Barrel, etc.) or online. They typically run between $15 - $20 USD and are great for tarts, pies and quiches.
* A Note About Salt
Unless otherwise noted, all recipes on The Sage Apron are developed using Diamond Crystal Kosher salt. It is a great all-purpose salt for cooking and baking. If using table salt, reduce quantities by about half.
Nutrition
Calories:
369
kcal
|
Carbohydrates:
40
g
|
Protein:
6
g
|
Fat:
21
g
|
Saturated Fat:
10
g
|
Polyunsaturated Fat:
1
g
|
Monounsaturated Fat:
4
g
|
Trans Fat:
1
g
|
Cholesterol:
68
mg
|
Sodium:
309
mg
|
Potassium:
189
mg
|
Fiber:
3
g
|
Sugar:
20
g
|
Vitamin A:
1605
IU
|
Vitamin C:
6
mg
|
Calcium:
42
mg
|
Iron:
2
mg