This Easy, Vegan Thai Green Curry Paste recipe comes together in only ten minutes and will serve as the perfect foundation for all your Thai-inspired creations.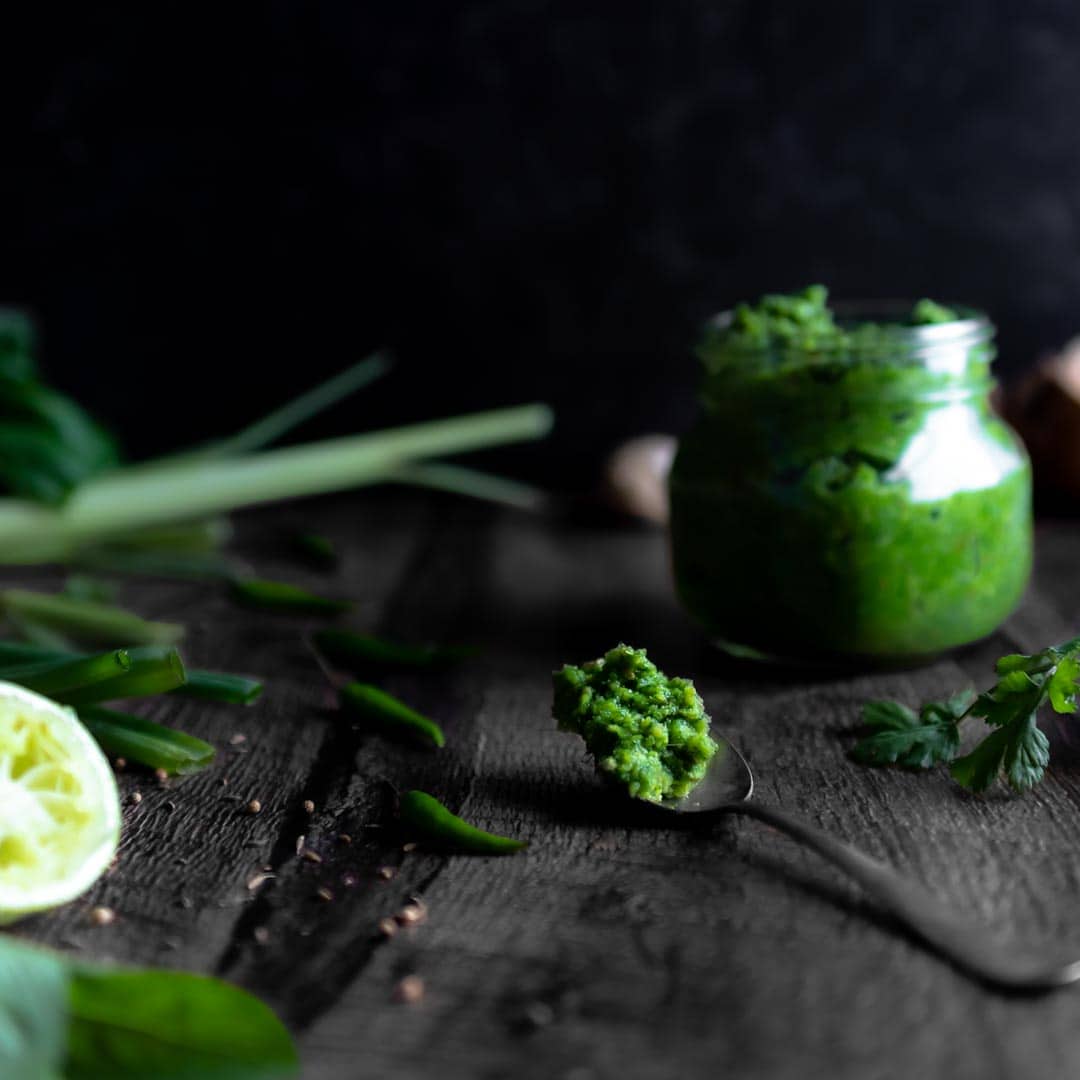 When traveling through South East Asia, we fell in love with all the unique, vibrant flavors of their cuisines. Among our favorite forkfuls were the mouthwatering coconut curries of Thailand. In fact, on our first day in Thailand we arrived on the island of Koh Lanta and had our very first tastes of authentic Thai Green Curry. It was love at first bite.
While this recipe is not intended to be a perfectly authentic, we have found it to be more flavorful than what is offered at our local grocer. This recipe has the herbaceous intensity of true Thai curries while being easily customizable to suit your own tastes.
Jump to:
How To Make Thai Curry Paste from Scratch
The best part of making your own curry paste from scratch is that it hardly takes any effort at all!
Once you've gathered your ingredients, all that is required is some minimal chopping, the squeeze of a lime, and a few minutes in a food processor or high-powered blender. Yup, that's it! Your fresh curry paste is ready to kick up the flavor in all your favorite Thai curry recipes!
What Ingredients are in Thai Green Curry Paste?
Thai curry paste is a purée of specific vegetables, herbs, spices and seasonings! To keep this recipe vegetarian and vegan friendly, we have omitted the traditional use of dried shrimp paste and/or fish sauce! Learn more about each ingredient below.
Vegetables
Green Bell Pepper - Bell pepper creates the sweet, vegetal base for the curry paste.
Green Thai Bird Chili Peppers (AKA Bird's Eye Chili) - These peppers may be tiny but they pack a lot of spice! Thai Bird chilis score 50,000 - 100,000 Scoville heat units. In other words, these peppers are somewhere between the spiciness level of cayenne and habaneros.
Scallions - Scallions, or green onions, are in the onion family and lend flavor, color and aromatics to this curry paste. You can use the scallion whites and greens for this Thai Green Curry paste recipe.
Garlic - A generous amount of garlic is KEY to homemade curry paste! We used about six cloves, but feel free to add a few extra, if you'd like!
Herbs
Cilantro - Also know as coriander leaves, cilantro is a classic Thai ingredient that brings fresh, almost citrusy flavors to curry paste. If you are one of the many who has an aversion to cilantro, feel free to leave it out.
Basil - If you can find Thai basil - use that! Thai basil has a distinct anise flavor that is more common in traditional curry pastes. We could only find regular basil and still enjoyed the sweet, herbaceous flavor!
Lemongrass - Lemongrass is a grass herb that is a common component of Southeast Asian cuisine. Lemongrass has a strong citrusy scent and flavors of lemon and ginger. See below for How to Prepare Lemongrass for Cooking.
Spices
Ginger Root - Fresh ginger has a pungent, peppery, almost spicy flavor. Fresh ginger is far superior to powdered ginger, for this recipe. Though, if you must, you can substitute about two teaspoons of ground ginger powder. Otherwise, you can peel your fresh ginger with the edge of a common spoon!
Galangal Root - Galangal root is also in the ginger family and has a similar, knobby appearance. The flavor of galangal is more citrusy with notes of pine. Fresh galangal can be found in most Asian supermarkets. If you can not find fresh galangal, dried galangal can be found in some spice aisles or online. Otherwise, a little extra ginger will do in a pinch.
Coriander Seeds - These seeds of the cilantro plant are sweeter and more mild than the green leaves. Even those who are opposed to fresh cilantro will often enjoy the flavors of coriander. Lightly toast the seeds in a dry pan before grinding, or use one teaspoon of ground coriander.
Cumin Seeds - Cumin (AKA Jeera) is the seed of an herb in the parsley family. This Middle Eastern and Indian spice is crucial in most curry recipes. Cumin has a warm, earthy flavor. Lightly toast the seeds in a dry pan before grinding, or use half a teaspoon of ground cumin.
Seasonings
Lime Zest & Juice - Lime's acidity helps to keep all the distinct flavors tasting fresh and vibrant. The zest adds some citrusy oils that smell amazing.
Salt - As always, salt is a flavor enhancer that will help coax out the best flavors in the other ingredients.
Coconut Sugar - Palm sugar is more traditional in Thai curry paste recipes, but less commonly found in the US. You could substitute equal parts palm sugar, brown sugar, granulated sugar or maple syrup, as desired.
Pro Tip: How to Prepare Lemongrass for Cooking
Fresh lemongrass is sold in long, woody stalks but only a small portion is actually eaten. Some markets will sell prepared lemongrass in the form of a paste. Paste is fine to use in a pinch, but fresh lemongrass is preferred for its superior flavor and aromatics.
First, remove the several layers of tough outer leaves to reveal a brightly colored, softer interior.
Then, cut off the bulb (root end) at the thick end of the lemongrass.
Next, cut a 3 - 4 inch (8 - 10 centimeter) section from the widest end of the lemongrass (the bulb end). This small section is the only part used for most recipes. If you'd like, you can freeze the remaining portion of the lemongrass stalks to flavor soups and broths. Tightly wrap them in tin foil and freeze for up to two months.
For this Thai Green Curry Paste recipe, halve the short sections of lemongrass with a sharp knife. This will make it easier for the lemongrass to be ground in the food processor. Lemongrass is very fibrous and will need to be processed for several minutes to fully break down. For other recipes, you can finely grate the lemongrass on a microplane before cooking.
Is Thai Green Curry Spicy?
Is Thai Green Curry spicy? Usually, yes! Thai Green Curry is traditionally one of the spicier curry styles. BUT, when you make your own Thai Green Curry Paste you can cater the spiciness to your personal preferences.
The heat from this curry paste recipe comes from Thai Bird Chilis. Thai Bird Chilis can be found in some grocery stores and most Asian markets. We usually use between 5 - 15 Thai chili peppers for this recipe. Feel free to omit them altogether, for a very mild curry paste, or substitute 2 - 4 jalapeños or Serrano peppers for just a little kick.
How to Store Curry Paste
Unless you are cooking for a crowd, you are likely to have some leftover curry paste. Fear not! This Vegan Thai Green Curry Paste recipe hold well in the fridge or freezer.
Can I Refrigerate Leftover Curry Paste?
Yes you can! Refrigerated curry paste holds well for up to two weeks.
To store leftover curry paste, transfer your curry paste to an air-tight container. We use a small canning jar with a tightly fitting lid.
Then, top the curry paste with one to two tablespoons of cooking oil. The oil will protect your curry paste from oxidation and help maintain the vibrant color and fresh flavors.
Can You Freeze Curry Paste?
Yes! You betcha! Curry paste freezes very well and stays fresh for up to three months!
To start, divide the curry paste into 4 tablespoon (¼ cup) portions. We use a cookie scoop, for ease. Place each portion on a parchment-lined baking sheet. Then, place another sheet of parchment paper over the leftover curry paste and gently flatten the portions into small, round disks. Freeze the curry paste portions on the baking sheet for 1 - 2 hours, or overnight, until firm.
Next, remove the portioned curry paste from the freezer and wrap tightly in plastic wrap. We wrap each disk twice, to prevent freezer burning. Keep frozen for up to 3 months.
When ready to use, thaw a portion of curry paste overnight, in the refrigerator, or under cool running water for 30, or so, minutes until defrosted.
10 Uses for Thai Green Curry Paste
Thai Green Curry Paste is so versatile! Here are some of our favorite uses:
Coconut Curries - Simply sauté your curry paste in a hot skillet and add coconut milk! Coconut curries can be made with vegetables, seafood or meats!
Soups and Stews - Thai curry paste can be used in a variety of soups and stews. Try it stirred into instant ramen! We even add some to chicken noodle soup for some Southeast Asian flare!
Marinades - Curry paste can make for great seasoning for proteins! Mix curry paste with a little oil and rub it on tofu, seafood, or other proteins. Marinade, refrigerated, for 1 - 2 hours, or overnight.
Vegetable Dips - Swirl some green curry paste into hummus or yogurt (vegan yogurts work, too!) for a unique snack!
Fish - Green curry paste pairs beautifully with mild white fish! Try brushing some curry paste on your fillets before grilling!
Shellfish - Add Thai curry paste to your steaming liquid for clams and mussels. The fresh, herbaceous flavor pairs beautifully!
Meatballs - Add curry paste directly into your meatball recipe! This Thai Green Curry Paste works especially well with chicken meatballs!
Veggie Burgers - Curry paste is the perfect way to spice up your vegetarian burgers! Mix some curry paste directly into your bean, chickpea or lentil burgers for some delicious Thai flavor!
Stir-Frys - Stir-fry are our go-to quick, healthy dinner option! Add some curry paste to your pan to kick up the flavor on stir-fry dishes with rice, noodles, vegetables and proteins!
Dumplings - Use homemade curry paste to season all of your favorite dumpling fillings! This is our favorite way to eat curry! We have added this Thai Green Curry Paste to chicken gyoza, sweet potato bao buns and shumai!
You May Also Like...
Recipe
Easy, Vegan Thai Green Curry Paste
This Thai inspired curry paste is way better than the store-bought stuff! It is vegan, mild OR spicy, super quick & so easy! 
ADJUST SERVINGS
Ingredients
1

medium

green bell pepper

seeded and chopped

1

bunch

cilantro

leaves and stems

1

bunch

Thai basil

leaves and stems

3 - 5

scallions

roots removed, cut in thirds

3

stalks

lemongrass bulbs

woody layers removed, halved

5 - 15

green Thai bird chili peppers

stems removed, optional, as desired for spiciness

4

inch piece

fresh ginger root

peeled

4

inch piece

fresh galangal root

peeled

6

cloves

garlic

1

lime

zest and juice

2

teaspoons

coriander seeds

toasted and ground

2

teaspoons

cumin seeds

toasted and ground

1

teaspoon

fine kosher salt*

2

teaspoons

coconut sugar or brown sugar
Instructions
Gather, measure and prepare the recipe ingredients as listed.

Combine all ingredients is a food-processor fitted with the blade attachment or a high-powered blender. Process on high-speed 2 - 5 minutes or until all ingredients are thoroughly combined and form a paste. 

Easy, Vegan Thai Green Curry Paste can be used in your recipes immediately, refrigerated for up to one week or frozen in 4 tablespoon portions for up to three months. 
* A Note About Salt
Unless otherwise noted, all recipes on The Sage Apron are developed using Diamond Crystal Kosher salt. It is a great all-purpose salt for cooking and baking. If using table salt, reduce quantities by about half.
Nutrition
Calories:
9
kcal
|
Carbohydrates:
2
g
|
Protein:
0.3
g
|
Fat:
0.1
g
|
Saturated Fat:
0.01
g
|
Polyunsaturated Fat:
0.02
g
|
Monounsaturated Fat:
0.04
g
|
Sodium:
2
mg
|
Potassium:
50
mg
|
Fiber:
0.4
g
|
Sugar:
1
g
|
Vitamin A:
111
IU
|
Vitamin C:
10
mg
|
Calcium:
9
mg
|
Iron:
0.4
mg