This is one of our favorite quiche recipes! This cheesy Bacon Broccoli Quiche with Cheddar is a delicious combination of flavors set in a creamy egg custard.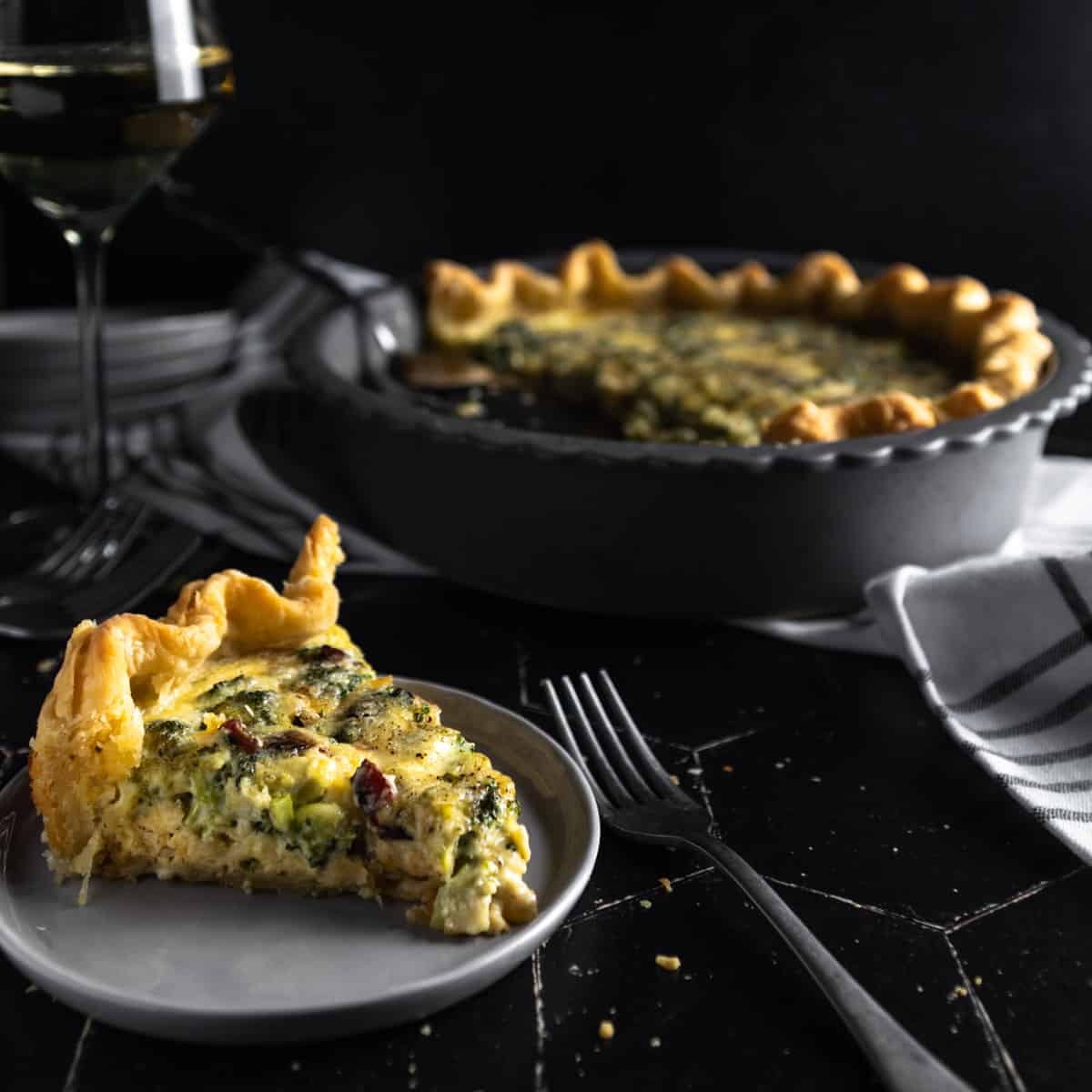 This quiche is baked in Our Favorite Buttery Pie Crust Recipe, but a store-bought pie dough or frozen will work too!
Jump to:
Ingredients
This cheesy bacon quiche recipe uses a handful of common ingredients to make a yummy lunch or breakfast pie. Ingredient quantities are listed in the recipe card at the bottom of this post. Here's what you'll need:
Pie Crust - Use a homemade or store-bought crust, but either way make sure it is deep-dish!
Bacon - Chose a high-quality, thick-sliced bacon for the best results. Or, feel free to omit the bacon for a vegetarian-friendly Broccoli Cheddar Quiche!
Broccoli - Chop the broccoli florets into small, bite-sized pieces. You can use fresh broccoli or frozen and thawed.
Onion - Optional, feel free to leave it out if preferred.
Garlic - Also optional. But, come on. Bacon and garlic? Meant to be.
Shredded Cheddar Cheese - Use a good cheese and shred it yourself! We like a super-sharp white cheddar, but a more mild cheddar, or even Swiss cheese, would work well, too.
Eggs - The star of this recipe is that silky egg custard!
Heavy Cream - We like to use heavy whipping cream for a rich, luxurious egg filling. For a lighter quiche, feel free to substitute additional whole milk.
Whole Milk
Salt & Black Pepper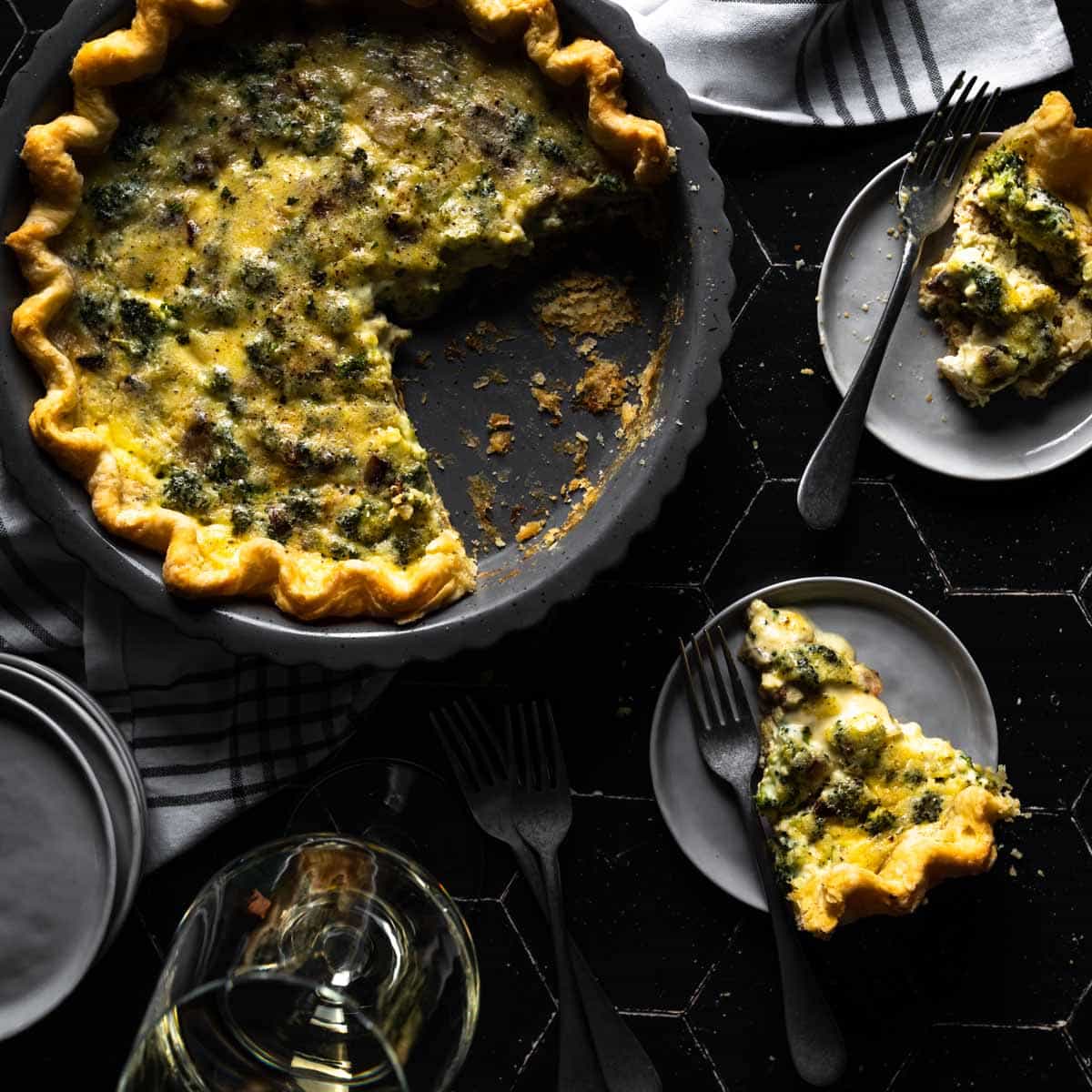 Advice for Flawless Quiche
Broccoli Broccoli Bacon Quiche with Cheddar is an easy recipe that anyone can make. The best quiche has a crisp, flaky pastry and a barely-set cloud-like egg custard. Follow these tips for the best results!
Perfectly Creamy Egg Custard
Cool crust and bacon broccoli filling before adding the egg custard. - Give everything a little time to cool to room temperature before adding the mixture of eggs. Otherwise, the heat could scramble your eggs!
Do not use pre-shredded cheese. - Pre-shredded cheese is tossed in corn starch and other preservatives to prevent it from sticking together. Those additives will cook into your custard and create grainy textures. For the best results, shred your cheese by hand or in the food-processor. It will only take a minute or two!
Bake the quiche in a pie pan on top of a foil-lined baking sheet. This way you can easily remove the quiche from the oven and catch any potential spills!
Cook the quiche at a low temperature. - The best quiche is cooked low and slow until the custard is barely set! We recommend cooking this Bacon Broccoli Quiche at no hotter than 300° Fahrenheit (150° celsius).
Do not overcook the quiche. - Overcooked quiche is just scrambled egg pie! The baked custard should be blonde and still jiggly in the center of the quiche!
Let the quiche rest before slicing and serving. - Quiche needs a few minutes to set when coming out of the oven.
Crisp, Flaky Crust
Use a great pie crust recipe. - If making your own crust, make sure to choose a pie crust recipe that is well tested. We are partial to Our Favorite Buttery Pie Crust recipe, but any tried-and-true pie crust will do. If using a frozen store-bought pie crust, be sure to choose a deep-dish, 9 inch crust.
Blind bake the pie crust completely. - Blind baking is when you bake the pie crust on its own (filled with parchment paper and pie weights) before adding any filling. (You can read more about blind baking on our pie crust post.) The bottom of the pie crust should be cooked through and golden before adding any filling.
Use aluminum foil or a pie shield to prevent burning, if necessary. - If the edges of your pie are becoming too browned during the quiche bake, simply tent the edges of the pie dish in foil (or use a pie crust shield) to prevent burning.
Bake quiche on the bottom third of your oven. - Baking the Bacon Broccoli Quiche on the bottom of the oven (close to the heat source) helps to prevent a soggy-bottomed pie! The base of the crust will be in the hottest part of the oven and crisp to a beautiful golden brown!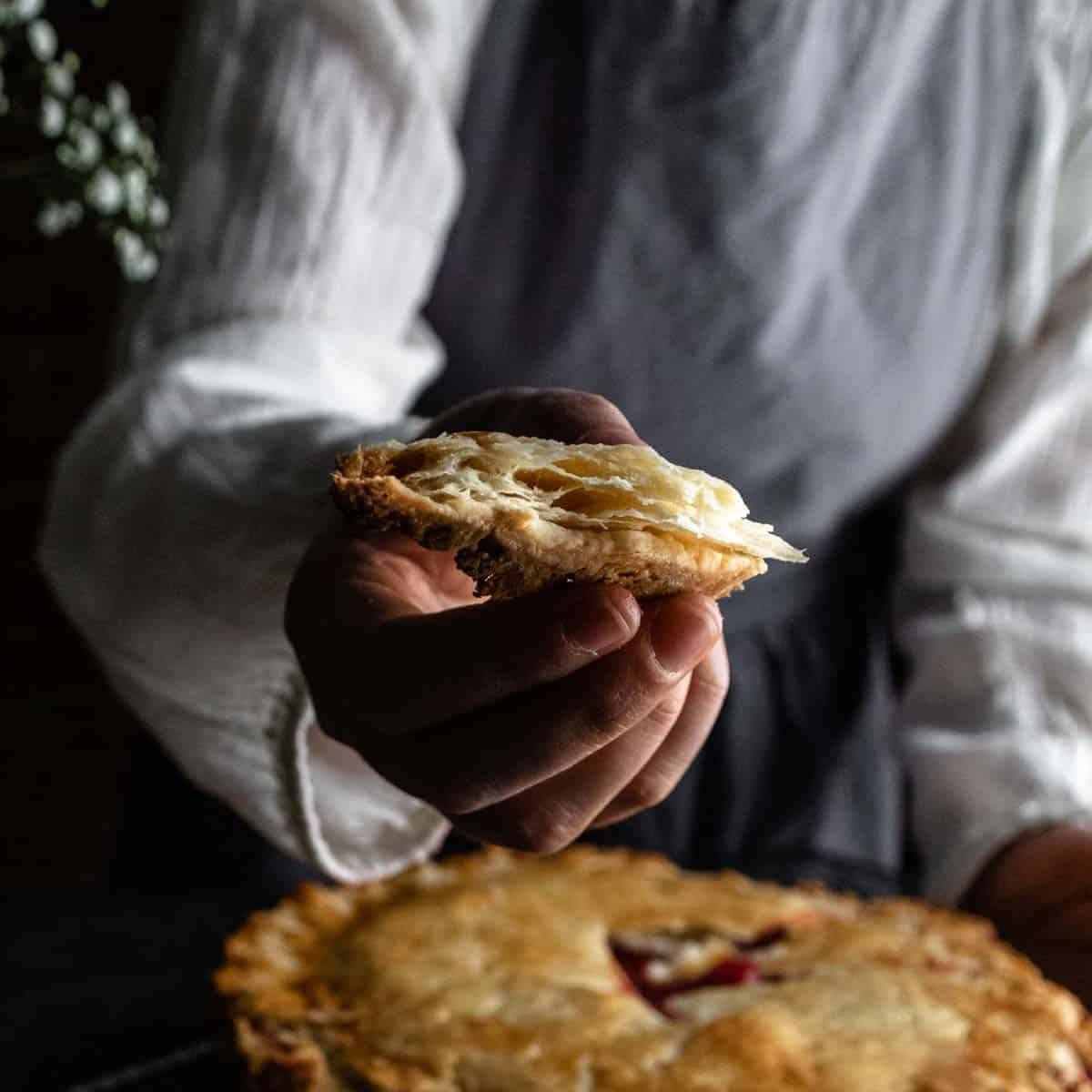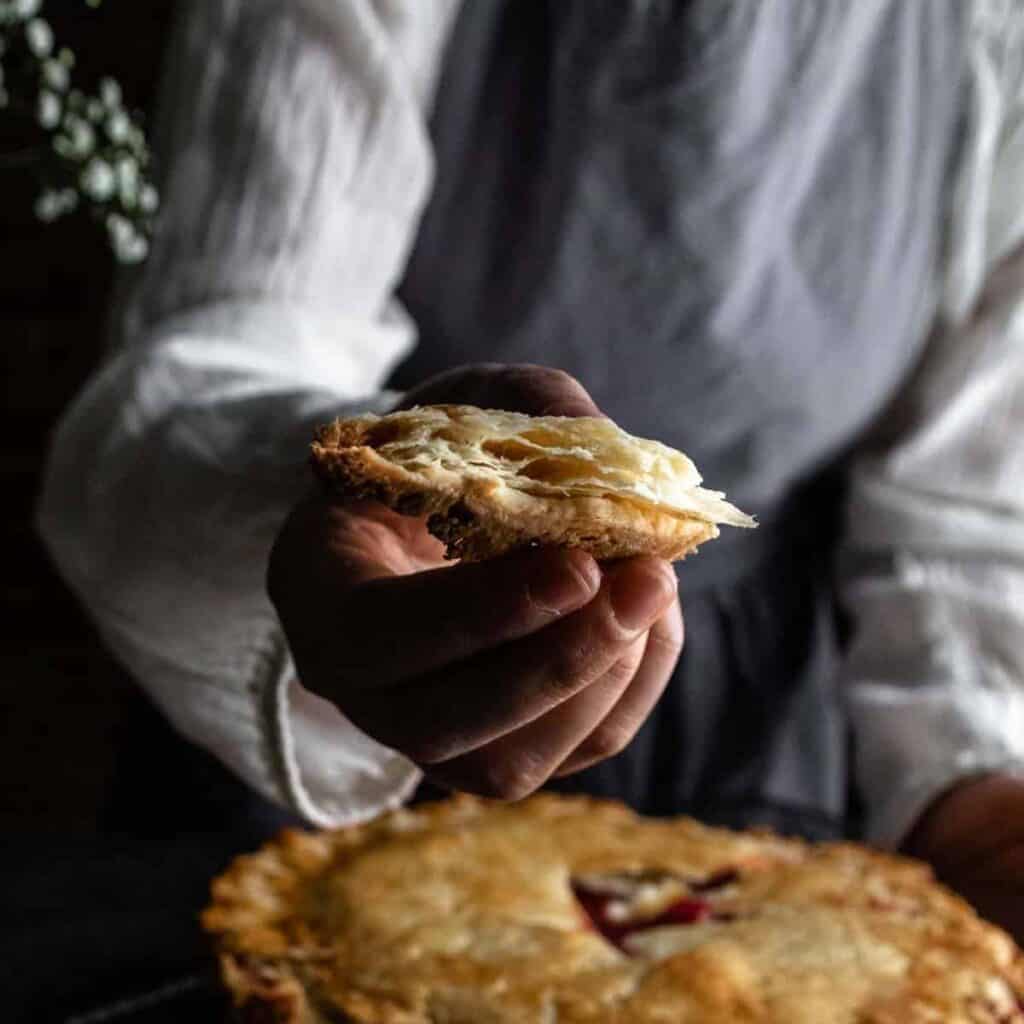 Our homemade pie crust recipe uses all butter and is made completely by hand. No special equipment required! Check out the entire post for best practices and a quick How To Video.
How To Reheat Quiche
Quiche is a great meal to make ahead of time, and while you can certainly enjoy it cold from the fridge, we always prefer quiche that is served warm. This hearty quiche recipe makes for the prefect stress-free breakfast for holidays or brunch parties. (We like to pop a quiche in the oven for Christmas breakfast or Mother's Day brunch.)
Since this quiche recipe reheats so well, it is also a great option to bring to a friend's potluck, or to gift to a busy mom or new neighbor. Here's how we recommend reheating this Broccoli Cheddar Bacon Quiche:
Firstly, arrange a rack in the center of your oven. Preheat the oven to 300° Fahrenheit (150° celsius).
Then, add prepared quiche to the oven and bake quiche for 12 - 16 minutes or until quiche is warmed through.
Allow quiche to rest for 5 - 10 minutes before serving. Slice, serve and enjoy!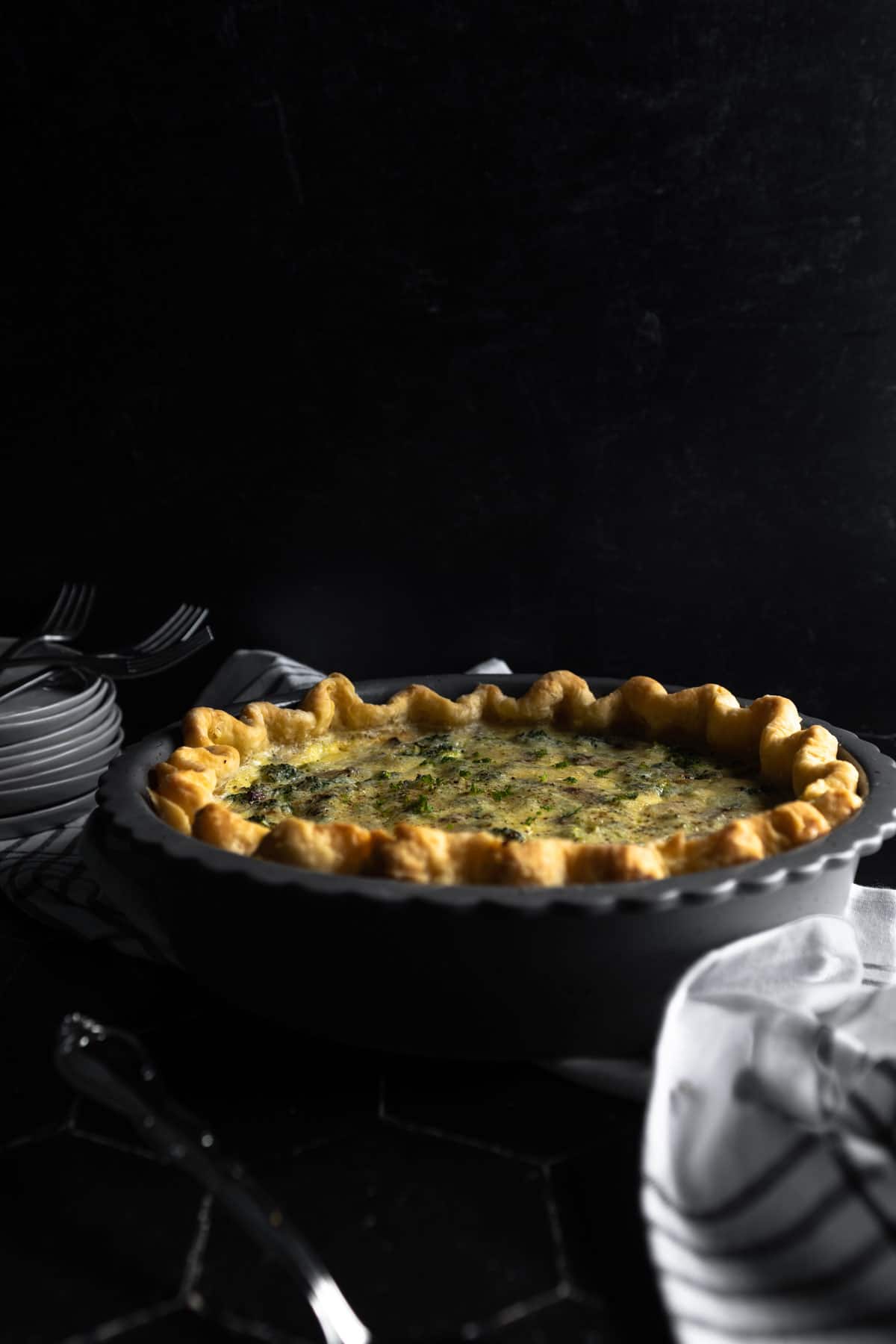 Serving Suggestions
This Bacon Broccoli Quiche with Cheddar is no-doubt delicious enough to be eaten all by itself. However, for a more complete meal, we recommend serving this recipe with a side dish and a glass of wine! Here are some of our favorite pairings to try at your next brunch:
Sides
Salad - A crisp green salad is our favorite side dish for quiche. Try it with a light and bright vinaigrette or our Creamy Poppyseed Dressing.
Potatoes - Home fries with green onion, roasted baby potatoes or French-style Lyonaisse potatoes with caramelized onions are a good option, too!
Fruit Salad - A fresh fruit salad is great with most breakfast recipes!
Wines
Sparkling - A decent quality Prosecco, mimosa or yeasty Champagne will have vibrant little bubbles that clean your palette after every bite!
Rosé - A dry rosé makes for a picture perfect Spring-appropriate pairing! Try something from Provence.
White - For a white wine pairing, we recommend a wine with a richer mouthfeel and racing acidity. Try a lesser-oaked chardonnay from Chablis, a Chenin blanc from Vouvray or an off-dry French or German riesling. They all pair perfectly with eggs!
More Brunch Recipes
Recipe
Bacon Broccoli Quiche with Cheddar
This Bacon Broccoli Quiche with Cheddar is a delicious combination of flavors set in a creamy egg custard. It is the perfect recipe to share with family or friends for any place and anytime!
ADJUST SERVINGS
Ingredients
Pie dough (homemade, store-bought or frozen) We use Our Favorite Buttery Pie Crust recipe or a frozen 9 inch deep-dish pie shell, unbaked

4

slices

thick cut bacon

medium diced

½

medium

yellow onion

about ½ Cup, small diced

2

cloves

garlic

minced

2

Cups

broccoli (fresh or frozen and thawed)

chopped into bite-sized pieces

6

large eggs

room-temperature

¾

Cup

heavy cream

room-temperature

¾

Cup

whole milk

room-temperature

2

teaspoons

fine kosher salt*

1

teaspoon

freshly-ground black pepper

1

Cup

freshly-shredded cheddar cheese
Instructions
Gather, measure and prepare the Bacon Broccoli Quiche ingredients as listed. To view metric measurements, toggle the US Customary/Metric switch at the top of this recipe card.

Our Homemade Pie Dough: Arrange a rack on the bottom third of the oven. Preheat the oven to 425° Fahrenheit (220° celsius). Meanwhile, fit the pie dough to a 9 inch, deep-dish pie pan. Flute or crimp the edges, as desired. Prepare the pie crust for baking by filling with pie weights, dried beans or rice.* Bake pie crust for 25 - 35 minutes or until crust is cooked through and golden brown. (In our ceramic pie dish, our crust needs to bake for 35 minutes to be fully cooked. However, this crust will cook much quicker in a metal pie tin. Keep a close eye on you pie crust to determine the best baking time for your crust and oven.) Carefully remove the pie weights from the crust and return the pie dough to the oven for an additional 5, or so, minutes to crisp the interior of the pie crust. Set pie crust aside to cool. Store-Bought Pie Dough or Pre-made Frozen Pie Crust: Blind bake according to package instructions.

Set the oven temperature to 300° Fahrenheit (150° celsius). Meanwhile, cook the diced bacon in medium skillet over medium-low heat. Remove the cooked bacon from the pan and transfer to a paper towel lined dish. Set aside. Drain all but

1 Tablespoon

of bacon grease from the pan.

Add onions to the pan and sauté in bacon fat until translucent, about 1 - 2 minutes. Add garlic and fresh broccoli (See Note: b.) and cook until broccoli is bright green and becoming tender, about 2 - 3 minutes. Remove bacon mixture from the pan and set aside to cool.

To make the egg custard, combine eggs, heavy cream, whole milk, salt and pepper in a medium mixing bowl. Whisk until thoroughly combined. 

Add bacon, broccoli mixture and cheddar cheese to the blind baked pie crust. Pour egg custard mixture into the pie. 

Bake the Bacon Broccoli Quiche for 40-55+ minutes or until the quiche is barely set and still quite jiggly in the middle. Allow cooked quiche to rest on a cooling rack for 5 - 10 minutes before serving. Slice, serve and enjoy!
Notes
a. When baking quiche, we typically do not dock (poke holes in the bottom of) our pie crust. While docking can help to prevent puffing, we don't want any of our Egg Custard to leak out of the pie shell. Pie weights should be sufficient. 
b. If using frozen and thawed broccoli it does not need to be acon with the bacon. Simply add the thawed broccoli mixture to the bacon and onion mixture after cooking. 
*

If you are unfamiliar with blind baking, please see

Our Favorite Buttery Pie Crust

post for step-by-step instructions.
* A Note About Salt
Unless otherwise noted, all recipes on The Sage Apron are developed using Diamond Crystal Kosher salt. It is a great all-purpose salt for cooking and baking. If using table salt, reduce quantities by about half.
Nutrition
Calories:
285
kcal
|
Carbohydrates:
5
g
|
Protein:
12
g
|
Fat:
24
g
|
Saturated Fat:
12
g
|
Polyunsaturated Fat:
2
g
|
Monounsaturated Fat:
8
g
|
Trans Fat:
1
g
|
Cholesterol:
183
mg
|
Sodium:
871
mg
|
Potassium:
232
mg
|
Fiber:
1
g
|
Sugar:
2
g
|
Vitamin A:
844
IU
|
Vitamin C:
21
mg
|
Calcium:
179
mg
|
Iron:
1
mg