This easy chicken and mushroom meatballs recipe is so good! All the flavors of a traditional chicken marsala are packed into bite-sized meatballs served with sautéed mushrooms and a rich Marsala cream sauce.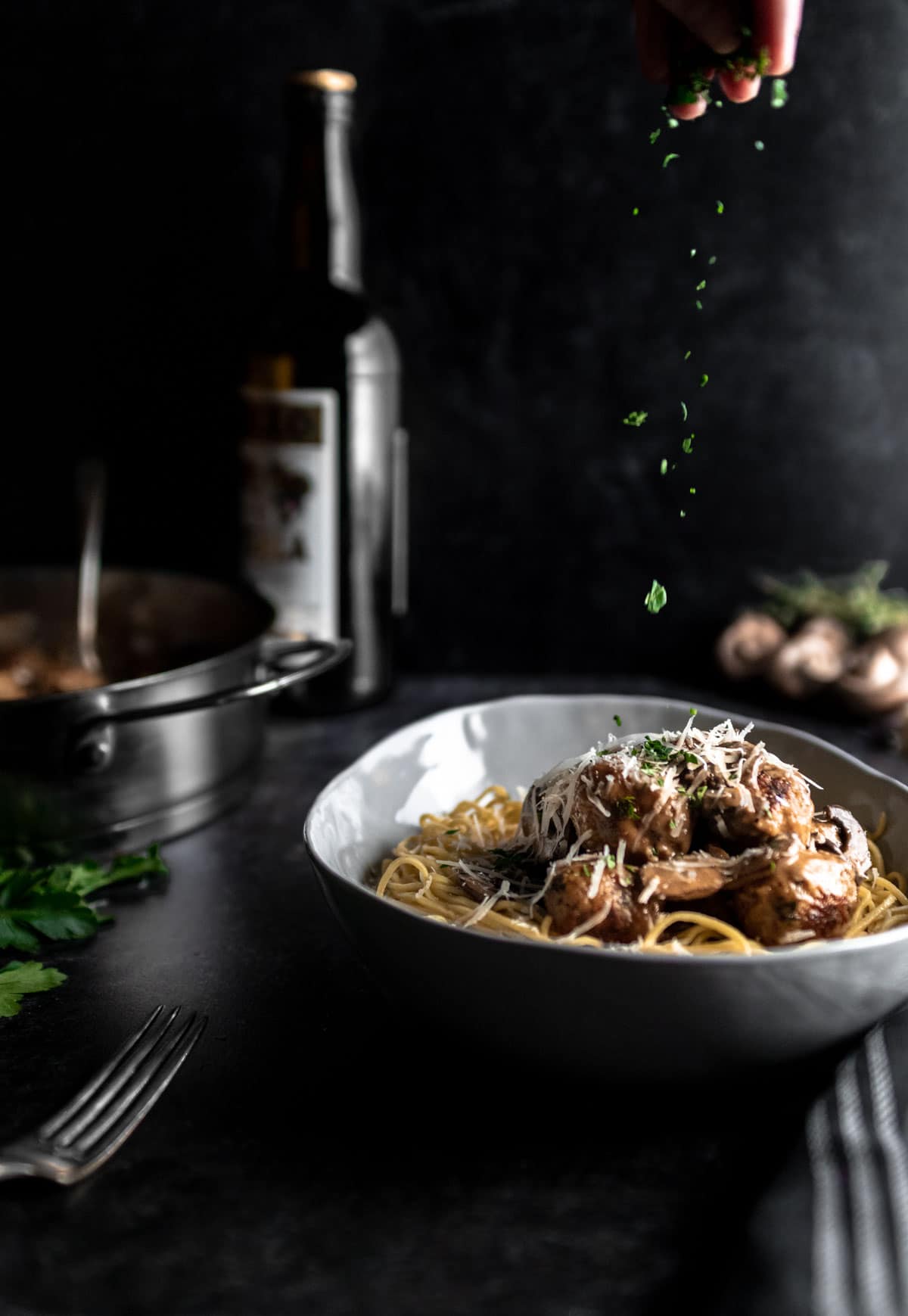 This recipe is perfect for an easy party appetizer, holiday buffet, or anytime weeknight dinner.
For a full meal, try this Chicken Marsala recipe with fresh made pasta using our Homemade Semolina Pasta Dough recipe!
Jump to:
Ingredients
Here's everything you need to make this easy meatball recipe. Ingredient quantities are listed in the recipe card at the bottom of this post.
Cremini Mushrooms - Mushrooms are a classic ingredient in Chicken Marsala. Here we are adding minced mushrooms directly into the meatballs. We recommend using a food processor to mince your mushrooms in no time at all! Sautéing mushrooms in a dry pan, without fat, helps to keep the mushrooms crisp and golden. Mushrooms are also added to the sauce and lend to a classic, umami-rich flavor.
Olive Oil - A little olive oil will help to keep the meatballs moist and allows them to brown beautifully in the pan.
Garlic - All the best Italian recipes have garlic, right!? This recipe calls for garlic cloves in the meatballs and the sauce. Feel free to adjust the quantities to your preferences.
Fresh Thyme - Thyme lends a delicious herbal flavor to these meatballs! We recommend using fresh thyme for this recipe, if possible. Nevertheless, if needed, substitute 1 teaspoon of dried, ground thyme.
Ground Chicken - Substitute ground turkey, for leaner meatballs, or ground veal for a more indulgent Italian feast!
Parmesan Cheese - Parmesan adds delicious flavor to these meatballs. Grana Padano or grated Pecorino Cheese would work well, too.
Panko Breadcrumbs - We like to use Panko (Japanese) style bread crumbs for their light, airy texture. Italian breadcrumbs could be used, instead.
Egg - One large egg will help to bind your meatballs together!
Salt and Black Pepper - Adjust seasonings, as desired.
Butter and Flour - Butter and flour will create a roux in your pan that will thicken your sauce and help it cling to every delicious bite!
Dry Marsala Wine - Our guest of honor! Read more about Marsala wine below.
Chicken Stock - We use a homemade roasted chicken stock, whenever possible. Your favorite brand of packaged chicken broth or stock will work well, too.
Heavy Cream - We opted for a little bit of heavy cream to add richness to the sauce. You can feel free to add more, or less, to your preference.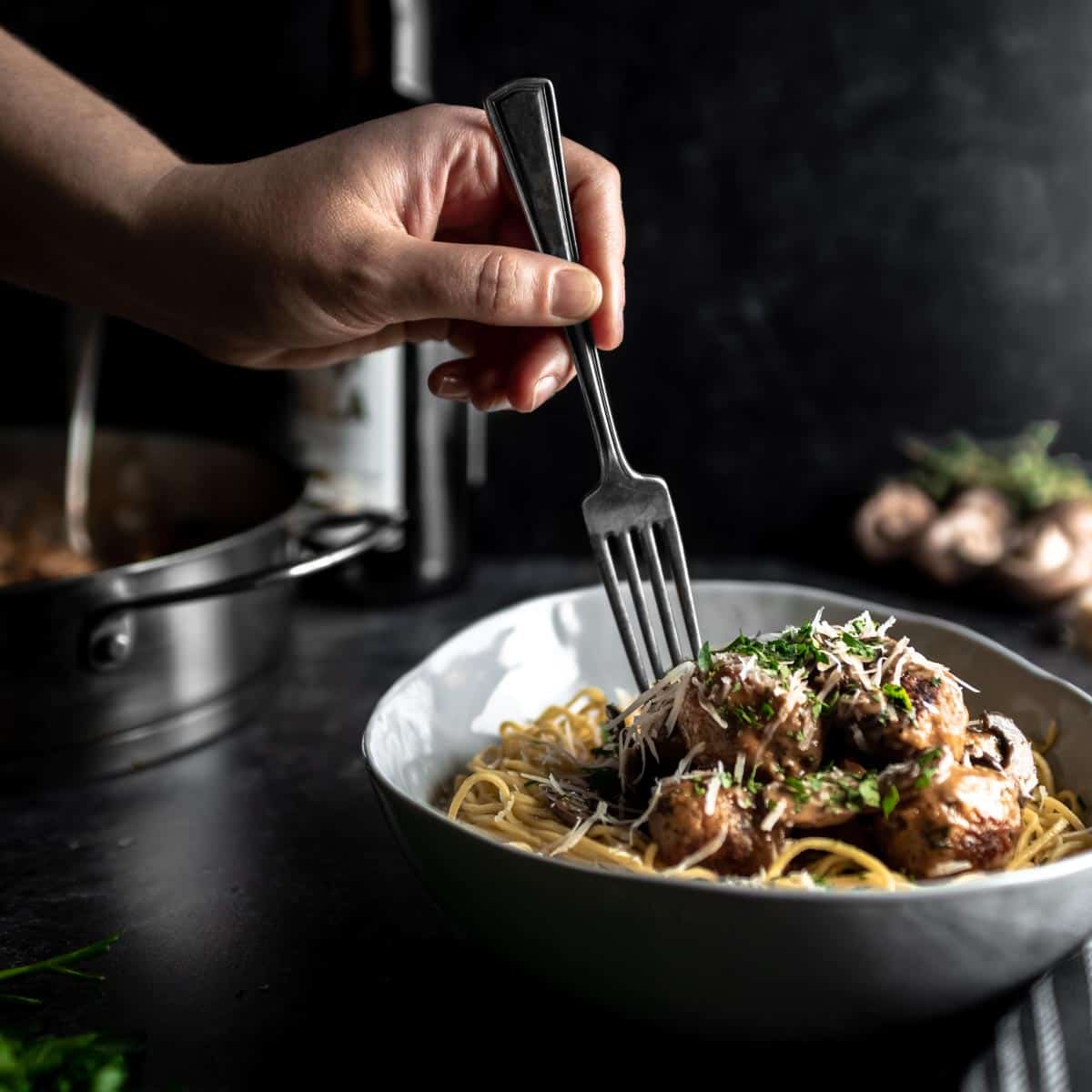 Making & Cooking the Meatballs
Check out this two minute video to see all the steps for this Chicken Marsala Meatball recipe in action!
How to Clean Mushrooms Before Cooking
Mushrooms are an essential ingredient in Chicken Marsala Meatballs! However, you must take care to properly clean the mushrooms! If done improperly, your mushrooms can absorb water and lead to grey, slimy mushrooms that do not brown or crisp. Follow these easy tips to get your cremini mushrooms squeaky clean!
Firstly, store you mushrooms in a paper bag. Mushrooms stored in plastic can become slimy, due to condensation in the refrigerator. Paper bags will allow the mushrooms to breathe and stay dry before you are ready to cook them.
Most importantly, never soak your mushrooms! Mushrooms are like little sponges and will quickly absorb liquids. Mushrooms should never be submerged in water prior to cooking.
Wipe your mushrooms clean with a dry (or very lightly damp) paper or kitchen towel. If there are large clumps of dirt, you can brush the dirt away using a pastry brush.
If absolutely needed, quickly shower the mushrooms in a colander under cold running water. Be sure to pat your mushrooms dry, immediately.
Remove the stems. Gently wiggle the stem from the cap to release it. Stems can be frozen and later added to flavor broths and stocks, if desired.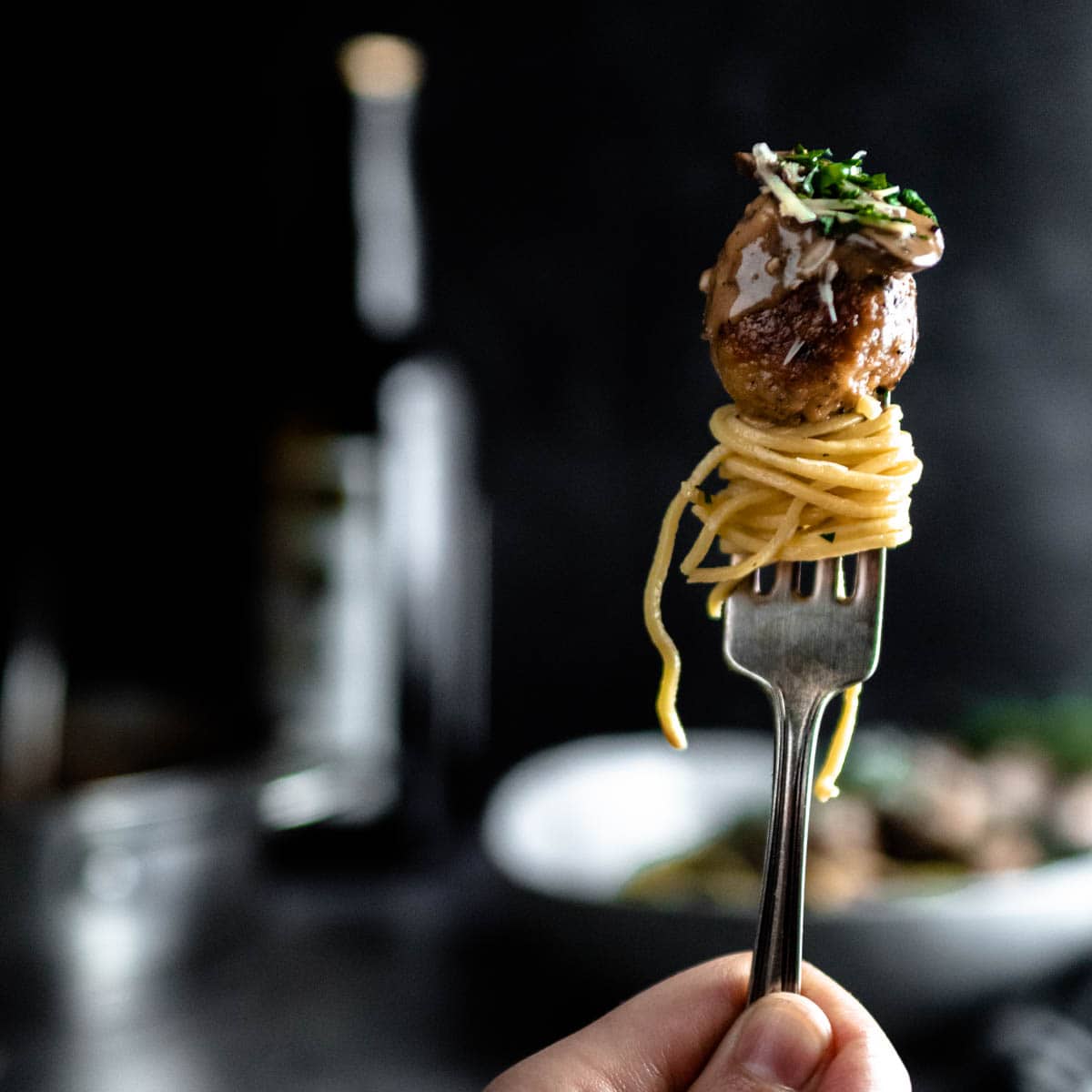 What is Marsala?
Marsala wine (hence the name) is paramount is developing the complex flavors of Chicken Marsala. Marsala is a brandy fortified wine hailing from Sicily, Italy. These unique wines have rich notes of stone fruit, vanilla, tamarind, and molasses that make for delicious layers of flavor in a tangy marsala sauce. There are several styles (and price ranges!) of Marsala wine available.
When cooking with Marsala wine, an inexpensive bottle labeled "Fine" (fino) or "Superiore" will work well. These styles of Marsala are not aged as long as their more noble sipping variations, but still lend beautiful complexity to your Marsala sauce. Marsala wine used for cooking can be found in most liquor or grocery stores for around $10 - $15 USD.
Some grocery stores will sell very lightly colored "Marsala Cooking Wine" that does not come from Sicily. Be very wary of this Marsala imposter. These cooking wine substitutes tend to have a lot of added sugars and lack complexity. Check the label to ensure your Marsala is from the island of Sicily. Gold or Amber Marsala (made from white grapes) are best for savory cooking dishes. Ruby Marsala (made from red grapes) tend to be more expensive and will not work well for this recipe.
Scott and I have studied wine while working in the restaurant industry for several years. Wine Folly is a great online resource for learning about wine. You can read more about Marsala wine at winefolly.com.
Does Chicken Marsala Use Sweet or Dry Marsala?
Either!
Chicken Marsala recipes often call for a sweet Marsala wine Personally, prefer the savory qualities of dry Marsala. In my opinion, this dish does not need additional sweetness, but it's up to you!
Does Marsala Go Bad?
Fortified wines have a surprisingly long shelf life! Even higher-quality drinking Marsala will last for several weeks in the refrigerator. Lower-end Marsala that is commonly used for cooking can keep in the refrigerator for 2 - 3 months. If you have the ability to vacuum seal the opened bottle of wine, chances are the Marsala could last even longer.
Serving Suggestions
These Chicken Marsala Meatballs can be served as an appetizer, lunch or dinner. No matter when they are served, we recommend sprinkling them with extra Parmesan cheese and finely chopped fresh parsley. As an appetizer or buffet attraction, feel free to keep these meatballs warm, on low heat, in a crock pot while your guests graze.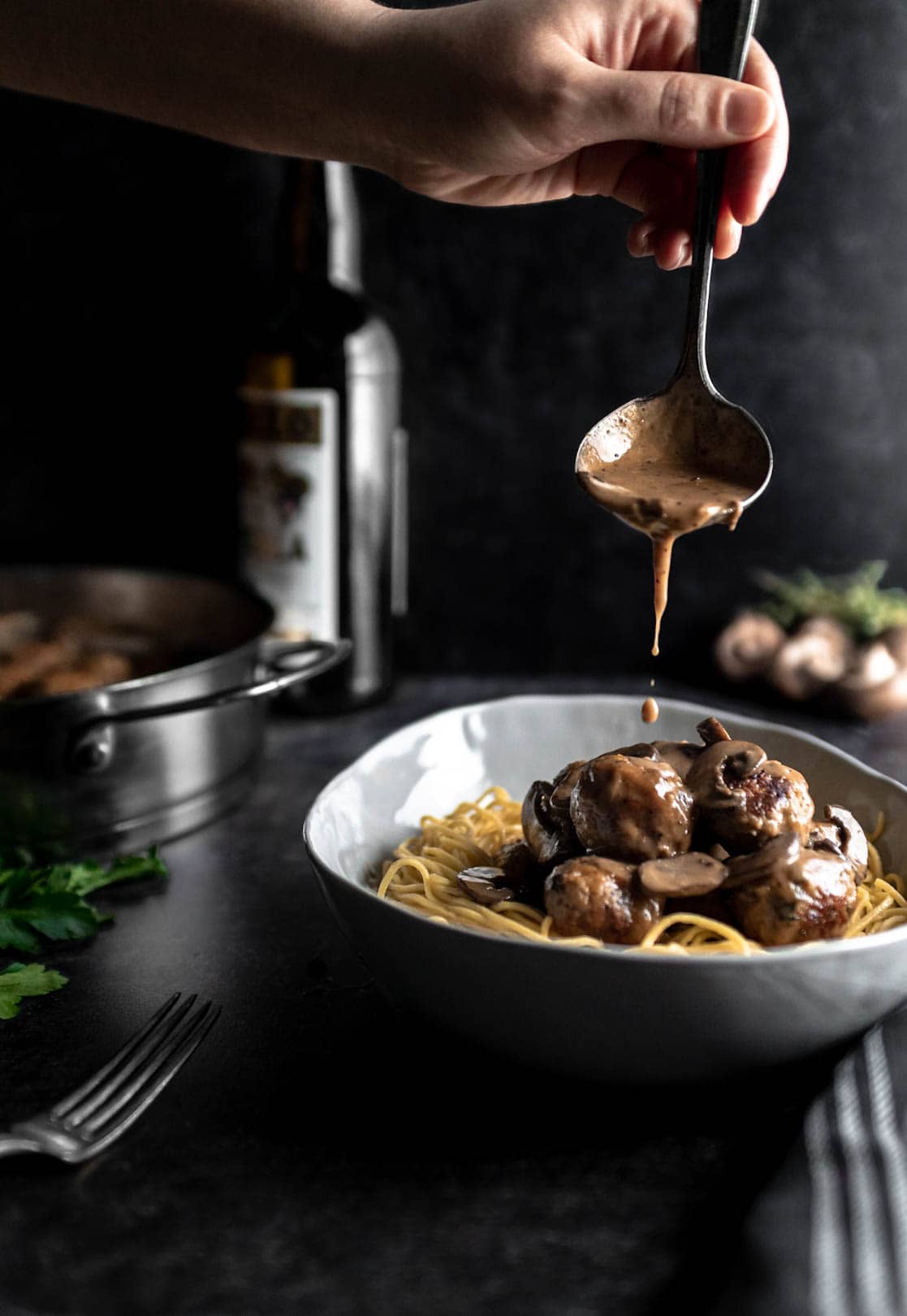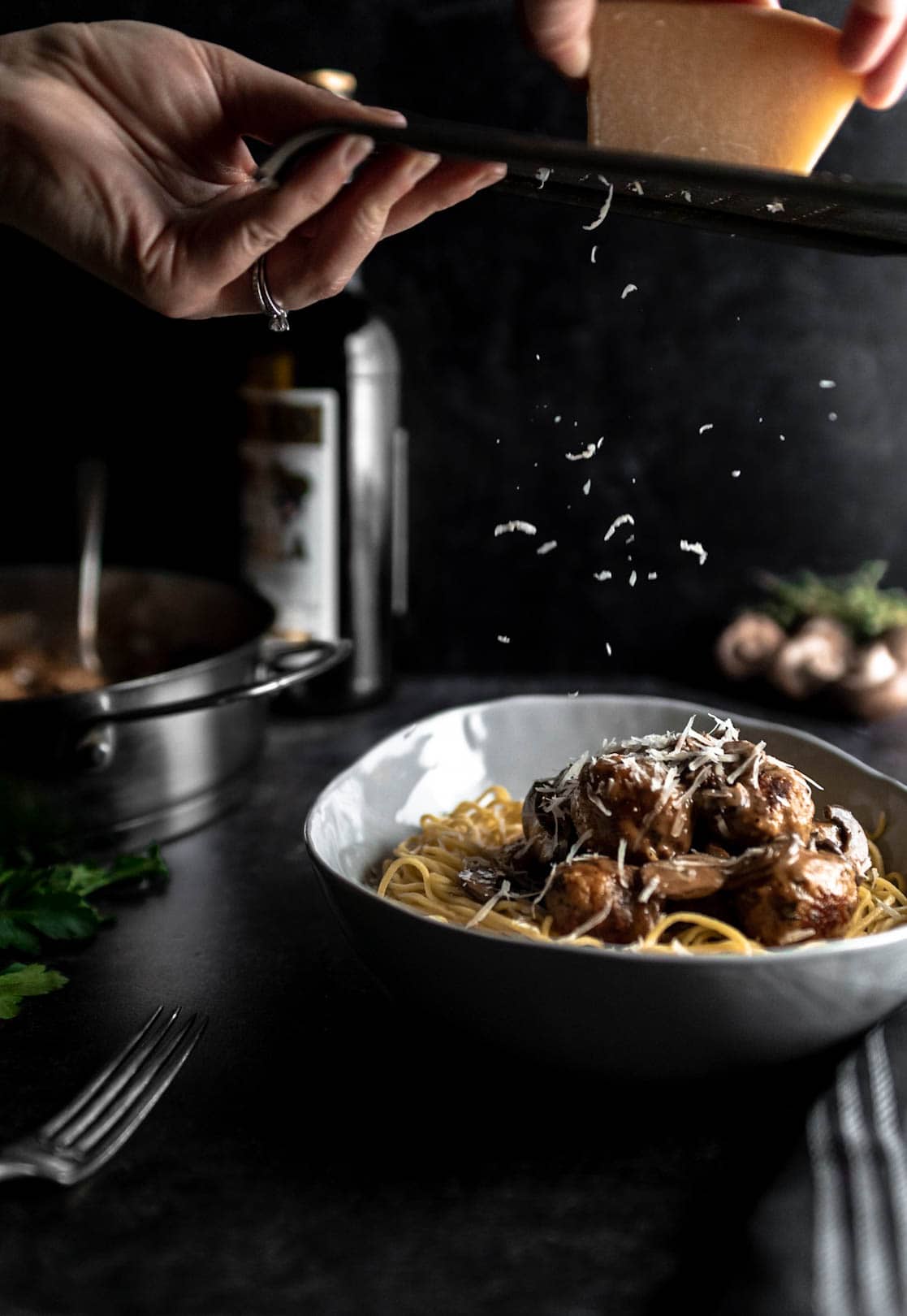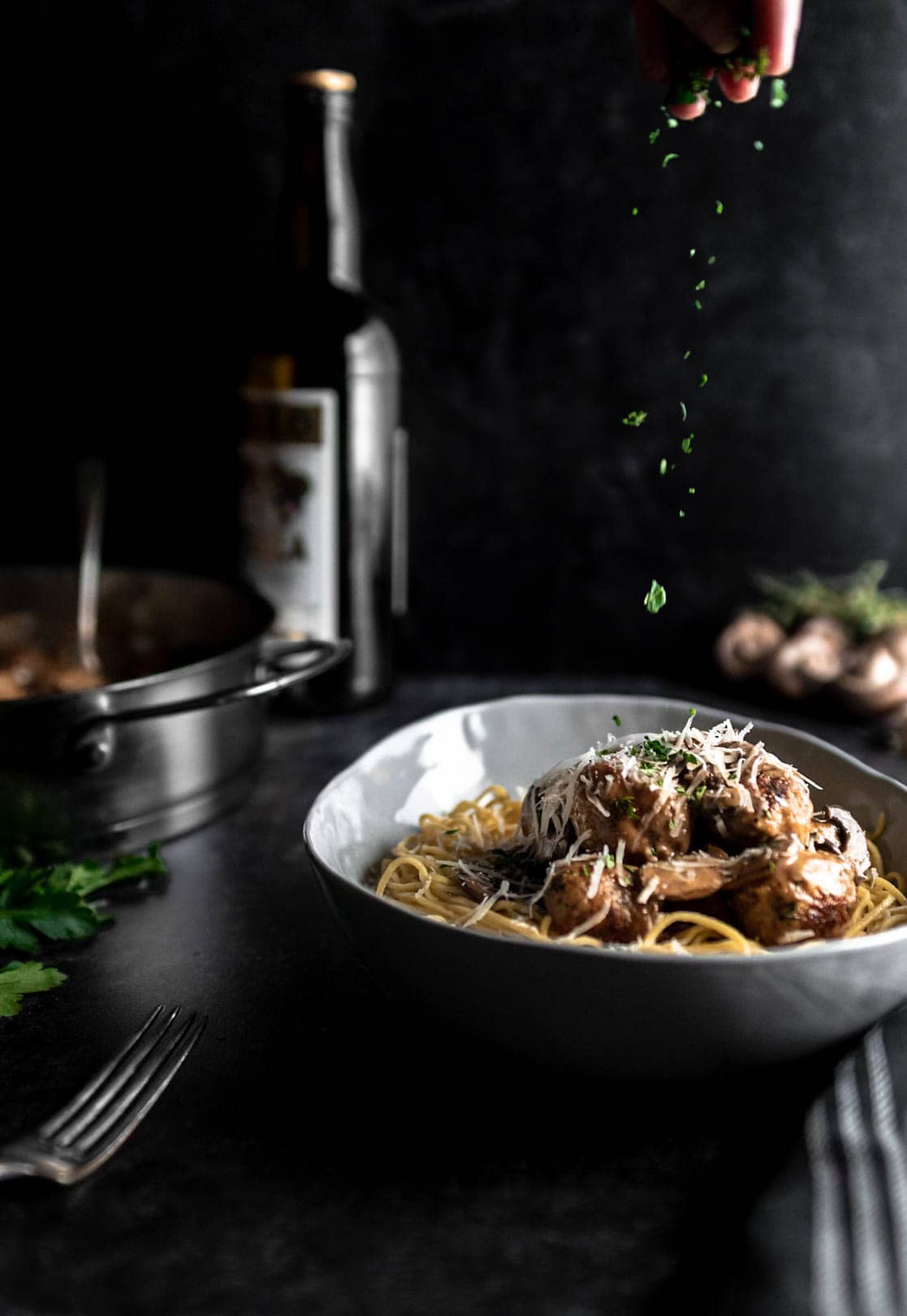 For fuller meals, we recommend serving these meatballs with a hearty starch. When we make this recipe at home, we like to serve this recipe over our Easy, Homemade Semolina Pasta. Any shape of handmade, fresh, or boxed and dried pasta will work nicely, but we tend to opt for fresh fettuccine, for this dish. The rich Marsala sauce clings beautifully to the long noodles.
Instead of pasta - brown rice, mashed or roasted potatoes also make for a lovely nest for this dish. And don't forget a nice, crusty Italian bread!
More Italian Recipes You'll Love:
Save room for dessert with a Dark Chocolate Dipped Pistachio Biscotti and an Amaro Old Fashioned!
Recipe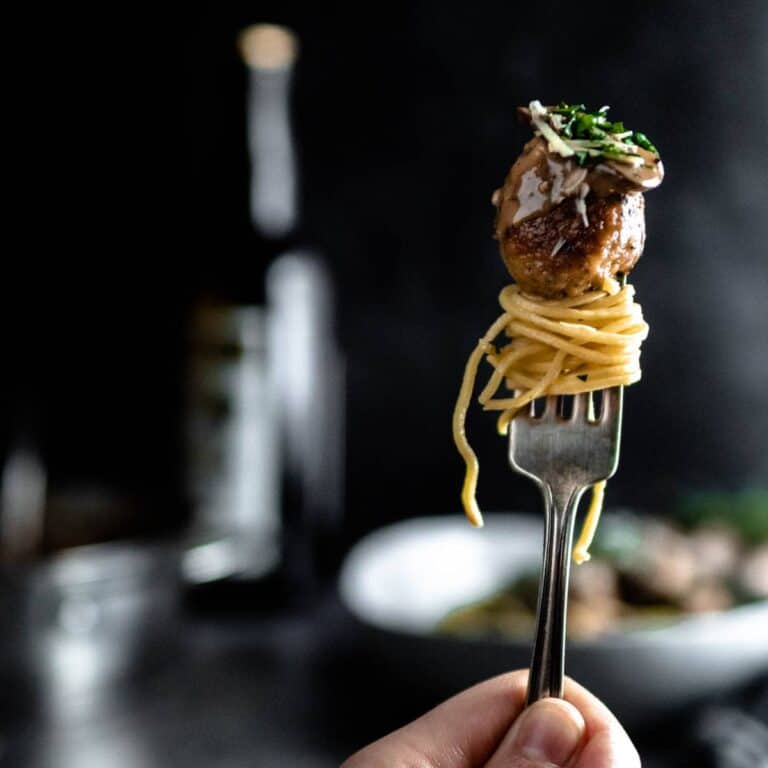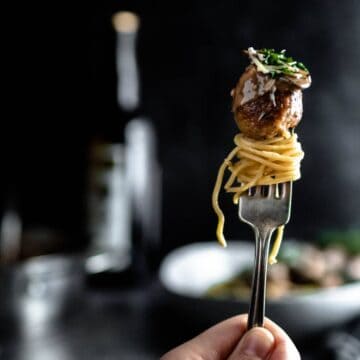 Chicken Meatballs with Mushrooms and Marsala Cream Sauce
These meatballs make for a delicious appetizer, main course or addition to a buffet or potluck!
ADJUST SERVINGS
Ingredients
Chicken Meatballs
4

ounces

cremini mushrooms

finely chopped

2

Tablespoon

olive oil

divided, plus more for oiling hands

3

cloves

garlic

minced

2

Tablespoons

fresh thyme

finely chopped

1

Pound

ground chicken

½

Cup

Parmesan cheese

grated

¾

Cup

panko breadcrumbs

1

egg

2

teaspoons

fine kosher salt*

1

teaspoon

freshly-ground black pepper
Marsala Sauce
8

ounces

cremini mushrooms

sliced

2

Tablespoons

unsalted butter

2

cloves

garlic

minced

2

Tablespoons

all-purpose flour

1

Cup

dry Marsala wine

1

Cup

chicken stock

preferably homemade

¼

Cup

heavy cream
fine kosher salt*

to taste

Freshly-ground black pepper

to taste
Garnishes (Optional)
Fresh parsley

finely chopped, as desired

Parmesan cheese

grated or shaved, as desired
Instructions
Chicken Meatballs
Gather, measure and prepare the recipe ingredients as listed. To view metric measurements, toggle the US Customary/Metric switch at the top of this recipe card.

Heat  a large, heavy bottomed skillet, dry, over medium heat. Add minced mushrooms and sauté for 2 - 3 minutes or until mushrooms have dehydrated, shrunk and are beginning to brown. 

Add 1 tablespoon of olive oil, garlic and thyme to the skillet and sauté for 1 additional minute. Remove mixture from the pan and set aside to cool slightly. 

In a large mixing bowl, add ground chicken, Parmesan cheese, panko breadcrumbs, egg, salt, black pepper and mushroom mixture. Mix thoroughly to combine. With your hands or a 1 tablespoon measuring scoop, portion mixture into 1 inch (2 ½ centimeter) meatballs. Lightly oil hands with additional olive oil and roll into balls.

In the same skillet you used for the mushrooms, heat 1 tablespoon olive oil over medium-high heat until shimmering. Add meatballs to pan in 2 - 3 batches, to prevent overcrowding the pan. Sear meatballs, turning occasionally, until golden brown. Remove meatballs from pan and set aside. 

To make the sauce, add the sliced mushrooms to the skillet and cook over medium-high heat until golden, about 2 minutes. 

Add butter to skillet and melt. Add garlic and sauté quickly, about 30 seconds. Sprinkle flour over the sliced mushrooms and stir until flour is hydrated in butter and forming a paste in the pan.

Stream Marsala wine into the pan and, using a small whisk or wooden spoon, stir and scrape up the fond (browned bits) from the bottom of the skillet. Add chicken stock and heavy cream to the skillet and stir to combine. Bring the sauce to a low boil and reduce heat to simmer. Simmer sauce 3 - 5 minutes until thickened. Season with salt and pepper to taste.

Return the meatballs to the pan and continue to simmer in the sauce for 3 - 5 minutes or until meatballs are hot and cooked through. 

Serve meatballs as is, or over pasta, potatoes or rice. Garnish with chopped parsley and Parmesan cheese, as desired. Enjoy!
Notes
a. These instructions work best for small meatballs that are about 1 inch (2 ½ centimeters) in diameter. If you are making larger meatballs, we recommend pan-searing the balls in the pan first. Then, transfer the meatballs to a parchment-lined baking sheet. Finish baking the meatballs in a 400 degree Fahrenheit (204 degree celsius) oven until internal temperature of the chicken meatballs reaches 165 degrees Fahrenheit (75 degrees celsius). Once cooked through, you can toss the meatballs in the simmering sauce and serve immediately. 
* A Note About Salt
Unless otherwise noted, all recipes on The Sage Apron are developed using Diamond Crystal Kosher salt. It is a great all-purpose salt for cooking and baking. If using table salt, reduce quantities by about half.
Nutrition
Calories:
365
kcal
|
Carbohydrates:
20
g
|
Protein:
22
g
|
Fat:
18
g
|
Saturated Fat:
8
g
|
Polyunsaturated Fat:
2
g
|
Monounsaturated Fat:
6
g
|
Trans Fat:
1
g
|
Cholesterol:
123
mg
|
Sodium:
1146
mg
|
Potassium:
819
mg
|
Fiber:
2
g
|
Sugar:
5
g
|
Vitamin A:
623
IU
|
Vitamin C:
9
mg
|
Calcium:
174
mg
|
Iron:
3
mg