This cozy soup is a must-make Fall recipe made from roasted sugar pumpkin and sweet potatoes. The buttery crouton topping with sage and pancetta is the perfect pairing!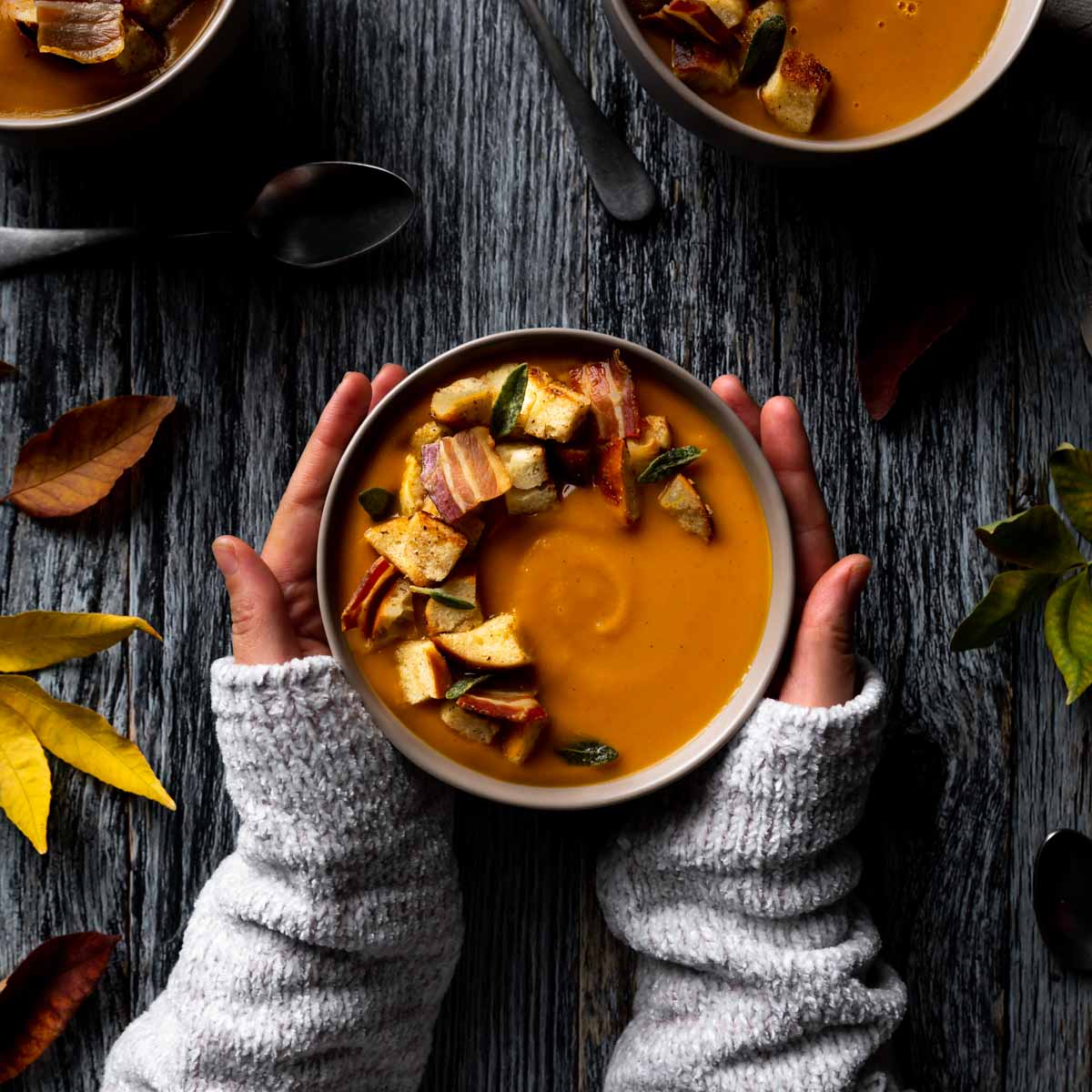 This soup is naturally a little sweet, balanced with a hint of baking spice and chicken or vegetable stock. The soup is topped with buttery, pan-fried croutons with sage and salty bites of pancetta. It's a healthy and delicious soup that is brimming with Fall flavor and the perfect cold weather lunch, appetizer or addition to your Thanksgiving menu.
For another tasty soup recipe, try our Roasted Parsnip Soup with Gremolata Croutons!
Ingredients for This Recipe:
This Sweet Potato Pumpkin soup is made from just a few healthy ingredients. The toppings are optional but pair deliciously with the roasted pumpkin and sweet potato flavor.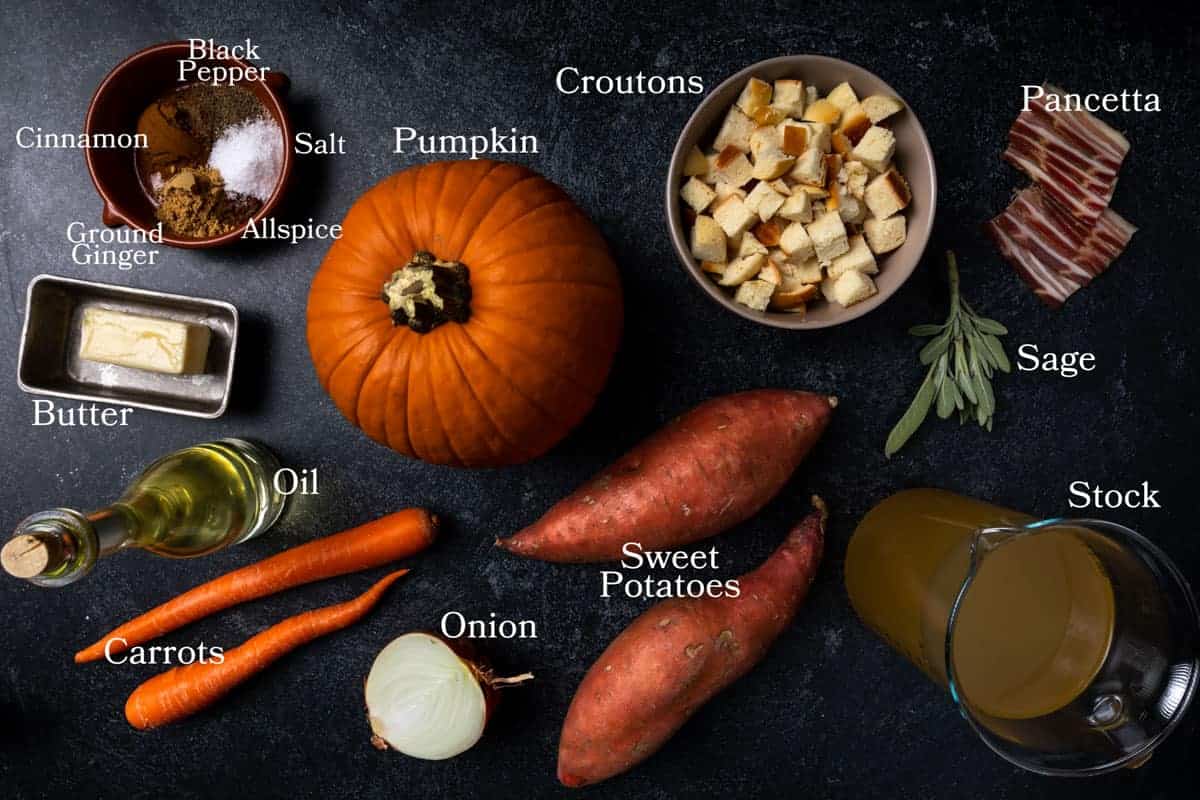 Fresh Pumpkin and Sweet Potato - This comforting soup recipe calls for fresh, seasonal produce. Fresh sugar pumpkins and sweet potatoes are healthy choices throughout the Fall season.
Stock - We used our homemade chicken stock. To make the base of this soup vegan or vegetarian, feel free to use vegetable broth instead. You can always swap out vegan substitutes for the topping of this soup, as well.
Baking Spices - A touch of cinnamon, ground ginger and a pinch of allspice are all that's needed to season this soup. This recipe is all about concentrating the flavors of the delicious seasonal produce, so it doesn't call for very much spice - just enough to complement the vegetables.
Bread - We used a few slices of leftover challah bread for this recipe. You could substitute brioche, sourdough or a crusty white bread, instead.
Pancetta - Salty pork is a delicious pairing for this savory pumpkin soup! If you can't find pancetta, you could use bacon or a lightly crisped prosciutto.
How To Make This Recipe
The key to making this soup full of flavor and extra delicious is to start by roasting the vegetables. Once the pumpkin, sweet potato, yellow onion and a couple of carrots are peeled and diced, toss them is a little oil and a touch of salt, pepper and the baking spices. Then, roast them on a sheet pan in a hot oven for one hour. Once roasted, the vegetables will be tender, aromatic and have developed a lovely depth of flavor.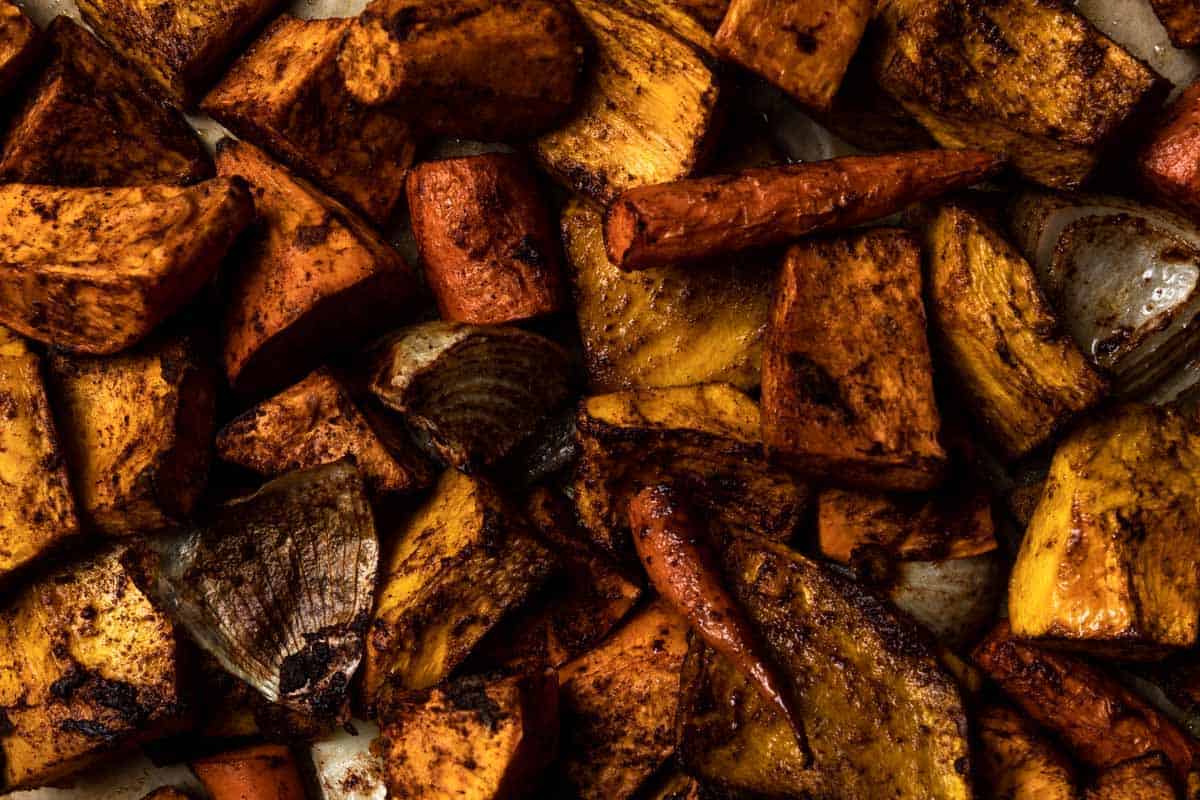 Transfer the roasted veggies into a large pot or dutch oven and cover with stock. Simmer together for thirty minutes. Then, puree the soup with a regular or immersion blender and strain until silky smooth. Adjust salt and pepper to taste and serve hot. Top with butter-fried croutons, sage and salty pancetta, as desired. Yum!
Variations for This Recipe
Here are a few simple substitutions that work well for this roasted Pumpkin and Sweet Potato Soup recipe.
Make it vegan - To make this soup vegan, simply use vegetable broth instead of chicken broth or stock. Then top the vegan pumpkin soup with your favorite vegan croutons, sage, a drizzle of olive oil, flaky sea salt and a crack of black pepper. For more vegan soups, check out our Roasted Parsnip Soup with Gremolata Croutons.
Make it creamy - This Fall favorite already has a creamy flavor and velvety texture. However, to make it a touch richer, stir in a dollop of sour cream, heavy cream, or a generous drizzle of coconut milk.
Make it sweeter - This recipe makes a nice, savory Fall meal with a hint of natural sweetness. To make this soup a touch sweeter, add a small amount of brown sugar or maple syrup.
Sweet Potato & Butternut Squash Soup - If you can't find a small sugar pumpkin - don't use a decorative or carving pumpkin! Instead of a whole pumpkin, use a small butternut squash.
Switch up the toppings! - The best part of this hot soup is the flavor and texture from all the yummy toppings! We love the buttery, crunchy croutons, fried sage and salty pancetta. However, there are so many delicious toppings you could use! Try this soup with a dollop of plain Greek yogurt, with toasted pumpkin seeds, candied bacon, shaved Parmesan cheese or crumbled pecans!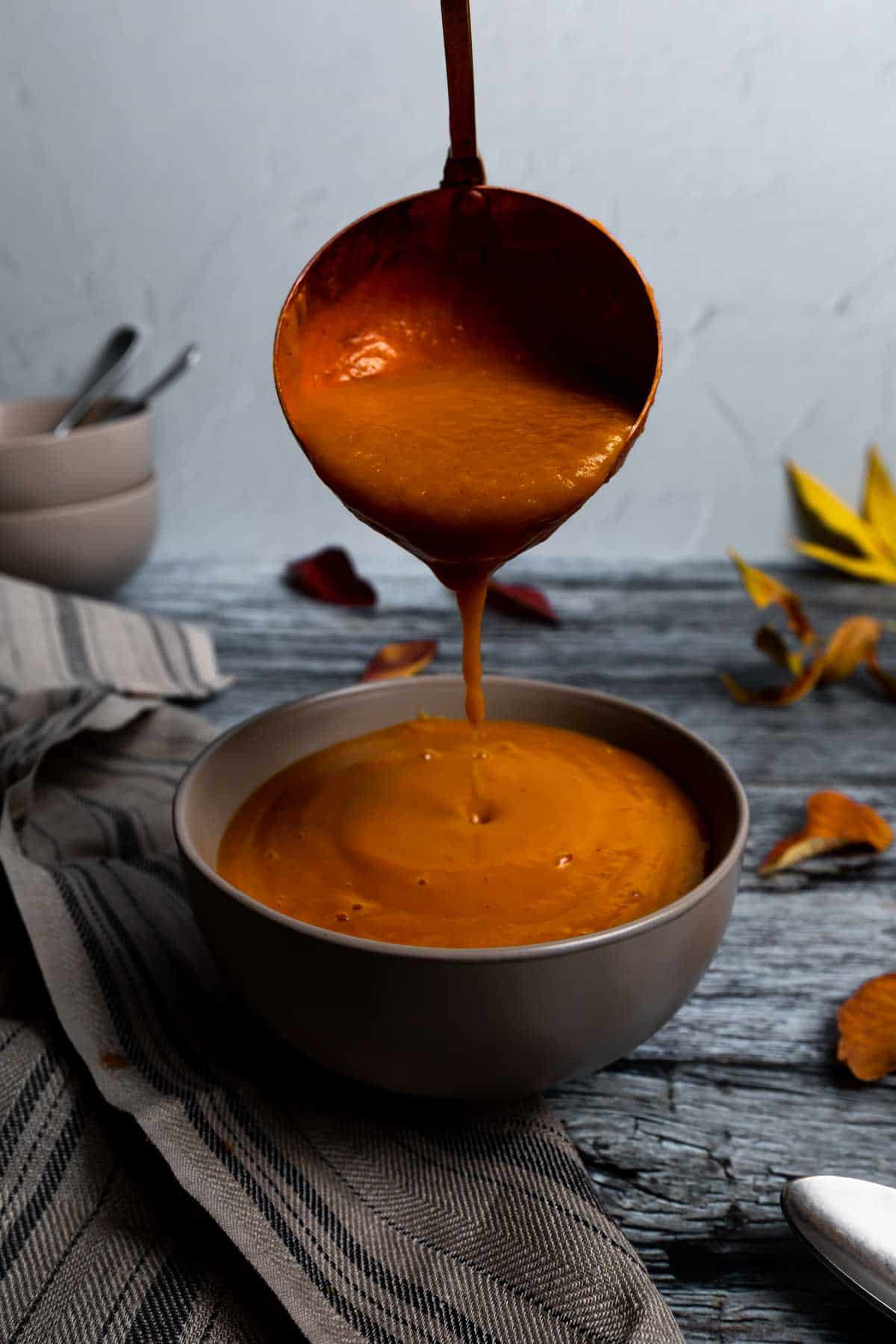 How To Store This Soup
Our recipe for Pumpkin and Sweet Potato Soup is great to make ahead of time and enjoy anytime you need to delight your taste buds with a little, cozy warm up.
Refrigerator - Store this soup in an airtight container in the refrigerator for 4 - 5 days
Freezer - This soup can be stored in a ziplock freezer bag for up to 3 months. Defrost overnight in the refrigerator or under tepid running water.
Reheating
You can easily reheat this soup on the stovetop or in individual bowl in the microwave. When reheating, you may need to add a little additional stock, broth or water to thin this soup to the desired consistency.
Stovetop - Transfer soup to a heavy bottomed saucepan and warm over medium-low heat. Stir occasionally until steaming hot.
Microwave - Heat an individual portion of Pumpkin Sweet Potato Soup in the microwave for several 45 second intervals, stirring in between, until hot.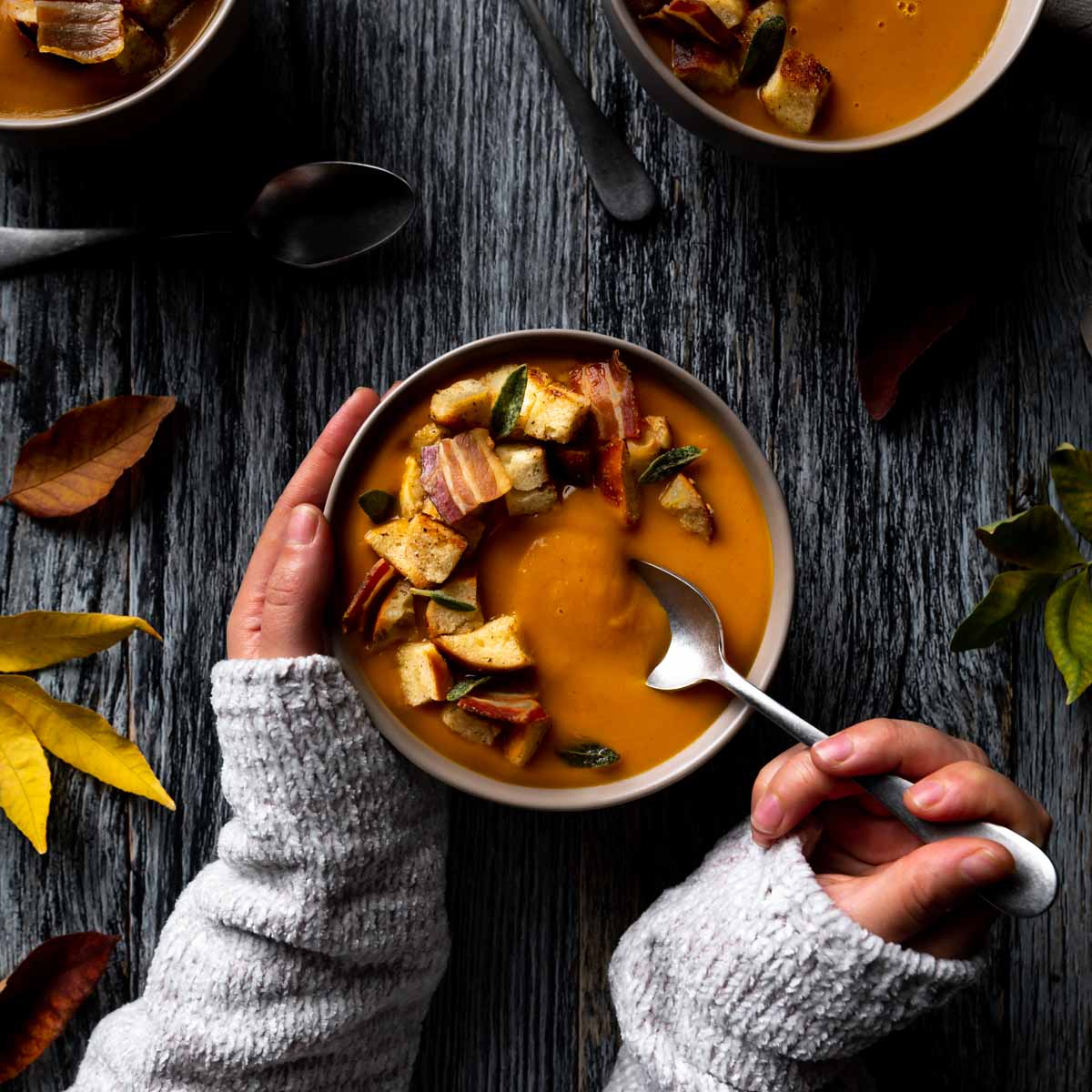 You May Also Like...
Recipe
Pumpkin & Sweet Potato Soup with Pancetta & Sage
This soup is perfect for the Fall and Winter months! Roasted pumpkin and sweet potato are pureed smooth with a hint of aromatic baking spice. This cozy soup is topped with buttery croutons, fried sage leaves and crispy pancetta!
ADJUST SERVINGS
Special Equipment
Standard or Immersion Blender

Fine-Mesh Strainer (Optional)
Ingredients
Pumpkin & Sweet Potato Soup
1

medium

sugar pumpkin

peeled, seeded and cut into large chunks

2

large

sweet potatoes

peeled and cut into large chunks

½

medium

yellow onion

peeled and quartered

2

medium

carrots

cut into large chunks

2

Tablespoons

cooking oil

(vegetable oil, olive oil or grapeseed oil all work well)

2

teaspoons

ground cinnamon

2

teaspoons

ground ginger

½

teaspoon

ground allspice

1

Tablespoon

fine kosher salt*

plus more for seasoning to taste

½

teaspoon

ground white or black pepper

plus more for seasoning to taste

2

quarts

chicken or vegetable stock

plus more, as desired for reheating or making a thinner soup
Toppings (Optional)
2

ounces

pancetta

thinly sliced and/or diced

4

Tablespoons

unsalted butter

1 -2

sprigs

fresh sage leaves

3 - 4

slices

stale bread

diced (We used challah. Brioche or sourdough would also work well)

fine kosher salt*

to taste
Instructions
Pumpkin & Sweet Potato Soup
Gather, measure and prepare the Pumpkin & Sweet Potato Soup ingredients as listed. Arrange a rack in the center third of the oven and preheat to 400° Fahrenheit (205° celsius).

In a large bowl, toss chunks of pumpkin, sweet potatoes, yellow onion, carrots, cooking oil, ground cinnamon, ginger, allspice, salt and pepper together until vegetables are well coated. Transfer mixture onto a prepared baking sheet and roast for 1 hour until tender and aromatic.

Transfer roasted vegetables to a large pot or dutch oven and cover with vegetable or chicken stock. Bring to a boil over medium-high heat. Then, reduce heat to simmer for 30 minutes.

Puree soup with an immersion blender (or in small batches in a standard blender) until smooth. For a silky smooth soup, strain through a fine-mesh strainer once, or twice. Return to pot and add additional stock (if needed) to reach desired consistency. Season with additional salt and pepper, to taste. Serve soup hot with toppings. Enjoy!
Toppings (Optional)
Set a medium skillet over medium-low heat. Add pancetta and cook until beginning to crisp. (Our pancetta was very thin and this took about 90 seconds. Thick diced pancetta may take 3 - 4 minutes.) Transfer pancetta to a paper towel lined plate and set aside.

In the same hot pan, melt the butter. Add sage leaves and allow the leaves to fry in the bubbling butter until the sage is darkly colored and crisp. Carefully transfer the fried sage leaves to the paper towel lined plate with the pancetta.

Swirl the butter in the pan until beginning to brown. Be careful not to burn the butter. Add the diced stale bread and toss to coat in butter. Cook undisturbed for 1 - 2 minutes until crouton are golden brown. Toss the croutons in the pan and cook additional 1 - 2 minutes. Season with salt, to taste.

Top hot portions of Pumpkin & Sweet Potato Soup with buttery croutons, fried sage leaves and crispy pancetta, as desired. Enjoy this soup by the fireplace with a good book and a cozy sweater!
* A Note About Salt
Unless otherwise noted, all recipes on The Sage Apron are developed using Diamond Crystal Kosher salt. It is a great all-purpose salt for cooking and baking. If using table salt, reduce quantities by about half.
Nutrition
Calories:
328
kcal
|
Carbohydrates:
41
g
|
Protein:
10
g
|
Fat:
15
g
|
Saturated Fat:
6
g
|
Polyunsaturated Fat:
2
g
|
Monounsaturated Fat:
6
g
|
Trans Fat:
1
g
|
Cholesterol:
27
mg
|
Sodium:
1337
mg
|
Potassium:
1201
mg
|
Fiber:
4
g
|
Sugar:
13
g
|
Vitamin A:
29269
IU
|
Vitamin C:
19
mg
|
Calcium:
86
mg
|
Iron:
3
mg