This classic New England Clam Chowder recipe uses fresh littleneck clams, potatoes, celery, cream and a hint of sherry wine. Wherever you are, this cozy, nuanced chowder will bring you right to America's northeast coast.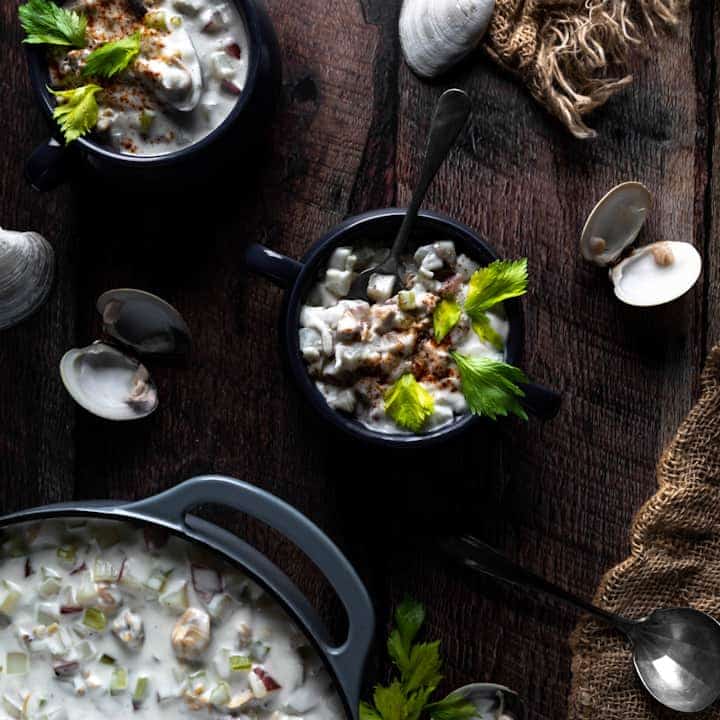 As a born-and-raised New Englander, I couldn't share my most cherished food memories without including a comforting bowl of New England style clam chowder. I grew up spooning this creamy seafood soup into my mouth any chance I got.
Now that I'm grown and living thousands of miles from home, nothing sings to my nostalgia like this littleneck clam chowder. One bite and I'm brought right back to the salt-kissed air of Massachusetts, my Gram's Cape home or the sandy shores of Seacoast New Hampshire where plastic spoons and packets of oyster crackers littered the clam shack picnic tables.
This recipe is a little different that the ones I used to know but is just as delicious and comforting. Here, we are using whole, fresh littleneck clams that have been steamed in white wine. We have forgone the bacon to allow that briny, fresh clam flavor to shine through - but feel free to add some if you'd like.
For another delicious seafood recipe, try our Lobster and Grits with Saffron!
Jump to:
New England Clam Chowder VS Manhattan Clam Chowder
First things first. Manhattan "clam chowder" is NOT a true chowder. So, let's get that out of the way. We're not saying it's bad, per se, but as true New Englander's - we can't condone it. Manhattan clam chowder is basically tomato stew with a can of clams. We're sure you New Yorker's love it, but it just doesn't compare with New England Clam Chowder. Okay? We like Tom Brady, too. So, sue us.
New England clam chowder is chock-full of layers of flavor, bound together by a thick swirl of cream. The briny clam liquor flavors the soup with ocean-fresh salinity that is soaked up by cubes of diced potato and studded with tender, chopped clams, celery and shallots. New England clam chowder is the golden standard of chowder - what all cream soups aspire to be. Honestly, we wouldn't have it any other way.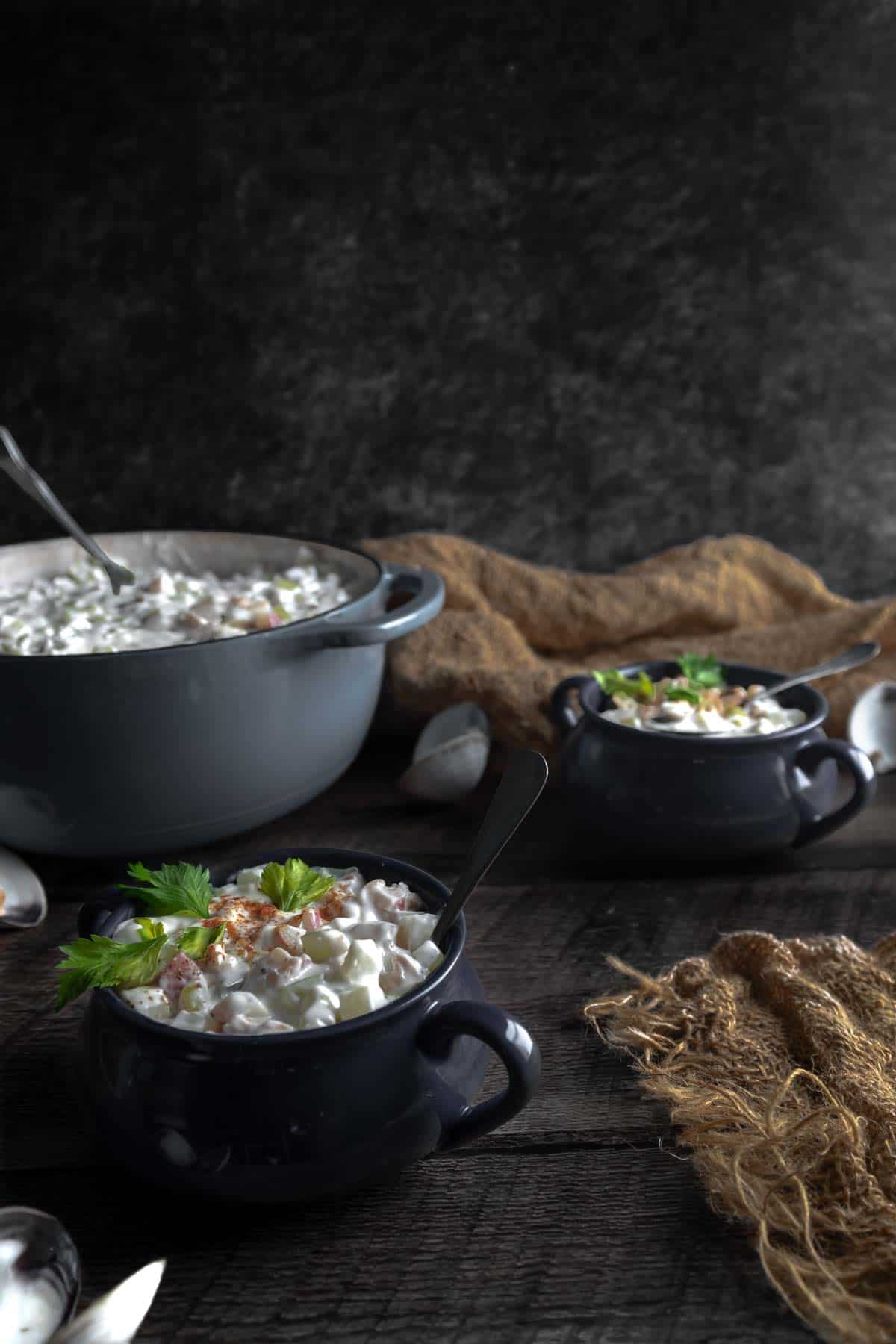 Using Fresh Clams in Chowder
At foodworthfeed, we whole-heartedly believe in using the best, freshest ingredients whenever possible. This Littleneck Clam Chowder recipe is no different. By using live whole clams, we can add in so much more flavor and ensure our seafood is fresh from the ocean.
Even in the landlocked state of Colorado, we are lucky to be spoiled with fresh seafood shipped to our city on a daily basis. So, we encourage you to buy fresh clams for your chowder, as well.
However, if canned clams is what is available wherever you are, don't let it deter you. We've made delicious chowders with the canned clams, too. Simply substitute equal parts of bottled clam liquor and white wine in place of the steaming broth. At the end, stir in your chopped clams just as you would with the freshies.
What Clams Should I Use for Chowder?
Chowder should always be made with hard shell clams - not the soft shell clams commonly known as steamers. There are a few types of hard shell clams typically found on the Atlantic shores. Any of these hard shell varieties can be used for this Littleneck Clam Chowder recipe. (Littlenecks are just our favorite!) Here are the clams varieties we can recommend for chowder:
Hard Shell Clams for Chowder
Littlenecks - These are the smallest (about two inches) and sweetest of the East Coast hard shell clams. These clams are highly-coveted, mildly flavored, tender and plump.
Cherrystones - These mid-sized Atlantic clams are about three inches across. They have a nice balance of sweet and briny flavors and are loaded with that salty clam liquor. While not quite as tender as the littlenecks, these clams make for lovely chowder. Cherrystones are often the go-to for stuffed clam preparations.
Quahogs - These are the big boys! At about four inches a pop, this is a whole lotta clam! These clams tend to be the least expensive, but are very commonly used in chowders at the local, New England clam shack. If you are using these clams, be very careful not to overcook! Quahogs get a bad rap for a tendency to become tough and chewy.
And if you're on the West Coast...
Manillas - We know a lot of East Coast transplants have found themselves at the Pacific shoreline. We find manilla clams are very comparable to littlenecks and would make a lovely substitute in this chowder recipe.
Personally, we LOVE littleneck clams. Littlenecks are often the smallest and sweetest clams. Generally speaking, littleneck clams are less commonly found in chowders. These mollusks are often eaten raw, or reserved for buttery pasta dishes.
Nevertheless, we think littleneck clams have the perfect balance of natural sweetness and salty ocean flavor. They are tender, delicate and can easily be prepared to avoid any rubbery unpleasant-ness.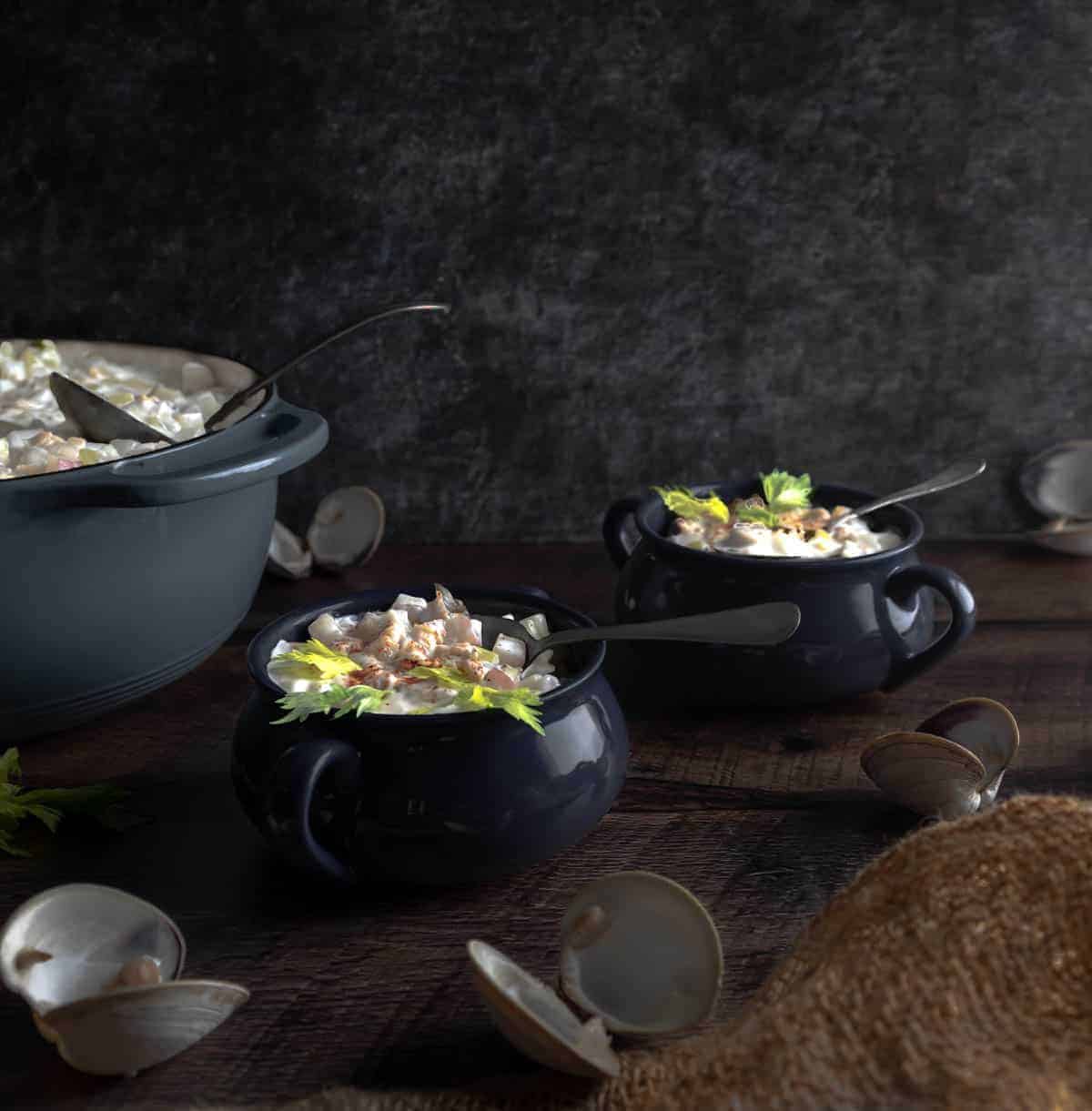 How to Clean Clams
The best clams are fresh from the ocean and require a thorough cleaning. Follow these easy steps to avoid a spoonful of sand!
Inspect the clams. Firstly, discard any clams that have a damaged or broken shell. If they look different or, dare we say, smell different - chances are they will taste different! (And NOT in a good way)! Select uniform, fresh-smelling clams from a reputable seafood vendor.
Rinse the clams. Then, put your clams in a colander and rinse thoroughly, with cold water, to remove any initial sand and ocean souvenirs. Don't be too picky yet - you'll be scrubbing soon!
Brine the clams. Next, place your clams in a cold, fresh or salt water solution (we use 4 quarts of water to ¼ cup of sea or kosher salt) for twenty minutes. If the water becomes cloudy, or sand settles at the bottom, rinse and repeat. Repeat once or twice, as needed, until your water remains clear.
Scrub the clams. Then, with a bristle brush (we use a produce brush) scrub your clams clean of any remaining debris under running cold water. Be sure to scrub in all the nooks and crannies along the shell's perimeter to release any stubborn sand or grit.
Wipe the clams clean. Finally, use a clean kitchen towel to rub the clams dry and collect any remaining oceanic grittiness.
How to Steam Clams
Once your clams are perfectly clean, it's time to steam! Sure, you could just use water, but how boring is that! Steaming is a great opportunity to infuse flavor directly into your delicate little clams. Whatever you do - DO NOT THROW AWAY THAT STEAMING BROTH! That flavor-packed liquid is paramount in this fabulous Littleneck Clam Chowder! Check the recipe below for our exact measurements and aromatics.
First, select a heavy-bottomed pot or dutch oven that has a tightly-fitting lid. Make sure the pot is big enough to fit all of your clams with enough room for them to spring open. If you have a pot with a glass lid that you can see through - bonus points, use that.
Add all of your liquids and aromatics to the pot and bring to a boil. This recipe uses white wine and water for the chowder flavoring liquid, but you can eat steamed clams straight-from-the-pot and they are delicious steamed in a beer or broth, as well. We use about two cups of broth to three pounds of clams.
Carefully add the clams to the boiling liquid and cover with a tightly-fitting lid. Reduce the heat to medium to keep the liquid at a steady simmer. The lid will capture the steam in the pot and delicately cook the clams.
Steam the clams for 6 - 12 minutes. Ideally, you will pluck the clams from the pot (with a pair of tongs) as soon as they spring open. This is easiest if you have a glass-lidded pot that allows you to watch the clams as they cook but, otherwise, don't be shy to check on your covered clams often, after six or so minutes. As the clams open, they will release their salty clam liquor into the pot and further flavor the steaming liquid. Clams are cooked and safe to eat as soon as they open, even if they just crack slightly ajar.
Transfer your cooked clams (as they spring open) to a bowl lined with a colander. The colander will allow any additional clam liquor to be captured in the bowl beneath. Don't waste a drop! If clams have just opened slightly, feel free to use your hands or a small knife to further open the shell and reveal your handsome little mollusk meat!
Discard any clams that do not open after 12 - 15 minutes. Sadly, these clams were dead prior to cooking and are not safe to eat. It is not uncommon to have a couple dead clams and is not a cause for concern.
Voila! Your clams are cooked and ready for consumption! This method works for all styles of hard shell clams and can be adapted to your own recipes. For this chowder, gently remove the clams from the shell leaving the fibrous muscle behind. Be sure to open the clams over their colander lined bowl to capture any juices still trapped inside. Chop the clams and cover in a couple tablespoons of their own clam liquor (from the bottom of the bowl) to prevent them from drying until ready to use.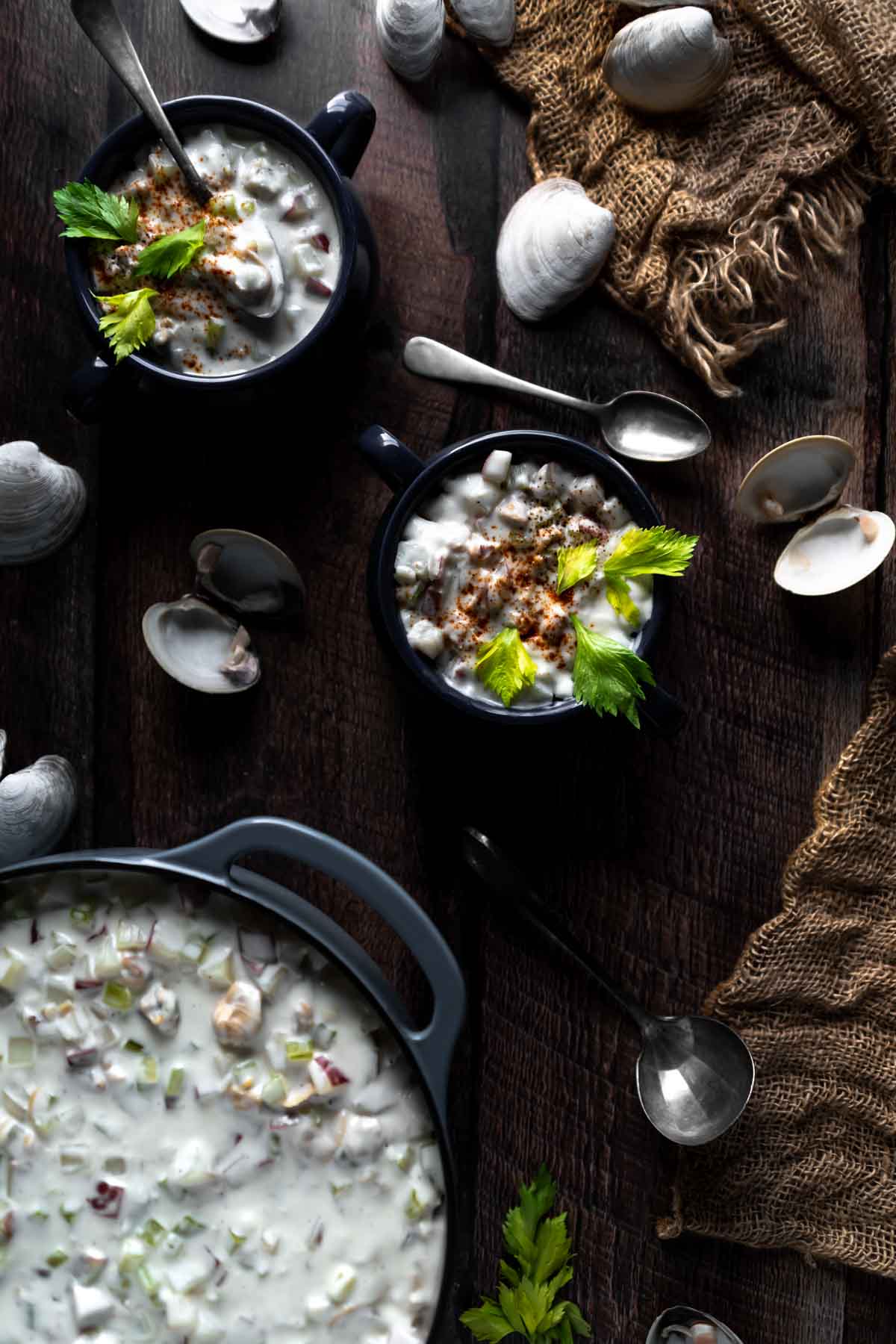 Ingredients & Substitutions for Building a Flav-ah-ful Chowdah *Thick Boston Accent Required*
While clams are, surely, the most important factor of building a flavorful chowder - a few other ingredients are essential to the classic, comforting soup. As we mentioned, this Homemade Littleneck Clam Chowder recipe is not 100% traditional - but it's pretty close. Here are some of the other ingredients we are using and some ideas for substitutions:
The Aromatics:
Shallot - This small brown bulb is in the allium family has a sweet, onion flavor. Substitute a standard yellow onion, or try using leeks for a more delicate flavor.
Garlic - We love a few cloves of garlic flavoring our steaming liquid and cream. The aromatics are beautiful and the flavor cannot be beat. We went for a total of five garlic cloves but feel free to measure with your heart and add more or less, as desired.
Bay leaves - Don't skip it! Bay leaves may seem obsolete but they impart subtle nuances that flavor every bite. We opted for four fresh bay leaves but you can use two dried bay leaves from your pantry, instead.
Thyme - Thyme, cream, white wine, butter: we're telling you these things were made for each other. Thyme adds some beautiful aromatics to your clams. We used fresh but you can use a teaspoon of dried thyme leaves, or skip it all together.
Dry Sherry - Sherry wine does not usually make it's way into clam chowder - but why not!? Sherry is often found in bisques and other seafood or cream-based dishes and makes a wonderful addition to this recipe. We highly recommend it. You can feel free to use the cheap stuff (it will last for months in your refrigerator), or skip it all together.
The Soup:
Whole Milk - Some chowders call for heavy cream exclusively. If that's your jam - go ahead and substitute this milk for additional cream. It will be even thicker and richer! Instead, we used a bit of milk to keep it just a tad lighter. We stock whole milk at home, but 2% would work too. Skim or 1% milk may be a bit too watery for our tastes.
Heavy Cream - Clam chowder should be made with cream. There. We said it. Go ahead and indulge. Your tastebuds will thank you.
White wine - A classic clam chowder ingredient? Maybe not. We've seen recipes with and without it. Personally, we love the added flavor but you can just use water or vegetable stock, if preferred.
The Sustenance:
Red Bliss Potatoes - We like to use red bliss potatoes for their firm, waxy consistency. These potatoes hold up very well within the chowder and are not watery, mealy, or prone to falling apart. We keep the thin, delicate skin on to add a pretty color and visual appeal. Yukon gold and New potatoes also work well in this recipe. Typically, we avoid russets in soups and stews.
Celery - Celery is almost always found in a good New England Clam Chowder. Celery adds tons of flavor to the soup, has a pretty green color and a subtle peppery bite.
Butter - Clams and butter are a no-brainer! Oil or bacon fat would work just the same.
All-Purpose Flour - We used flour to thicken this chowder because that's what they do back home. If you are avoiding gluten, you can thicken this soup with a cornstarch slurry during the final simmer. Full disclosure: corn starch thickened soups and stews do not hold or reheat as well as the classic roux-thickened chowders.
And an honorable mention to...
BACON - Okay, so this Littleneck Clam Chowder recipe does not call for any bacon. Frankly, this chowder is just too good without it. But, hey! Don't let us stop you! Bacon makes it's way into plenty of delicious chowder recipes.

If you would like to add it, we recommend dicing a couple strips of good, thick-cut bacon. Cook it in your pot first, and remove the cooked bacon with a slotted spoon. Substitute a couple tablespoons of the butter for your rendered bacon fat for even more bacon-y flavor throughout. Finally, fold in your bacon with the chopped clams at the end or sprinkle over top as a garnish. (See Note: b) Yum!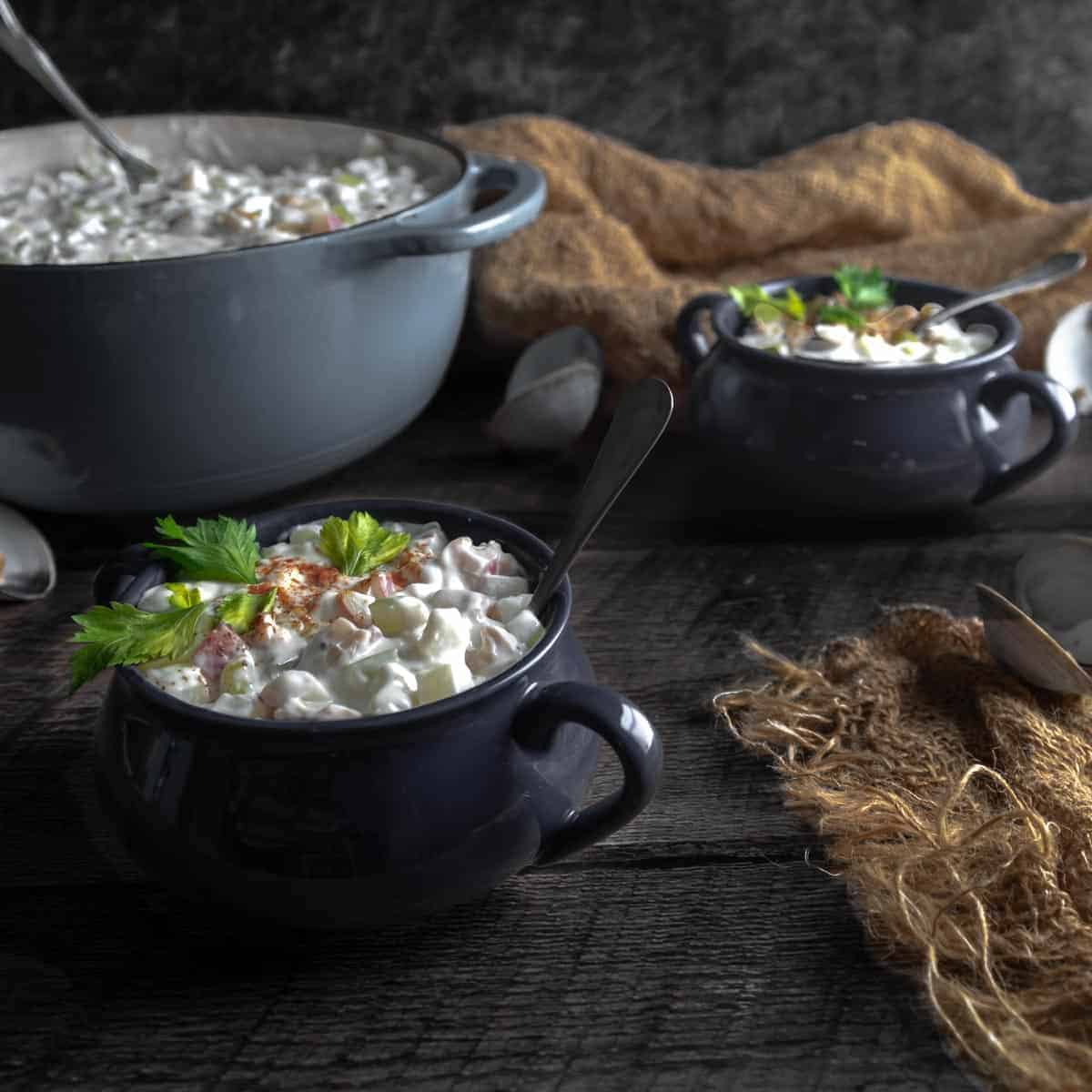 You May Also Like...
Recipe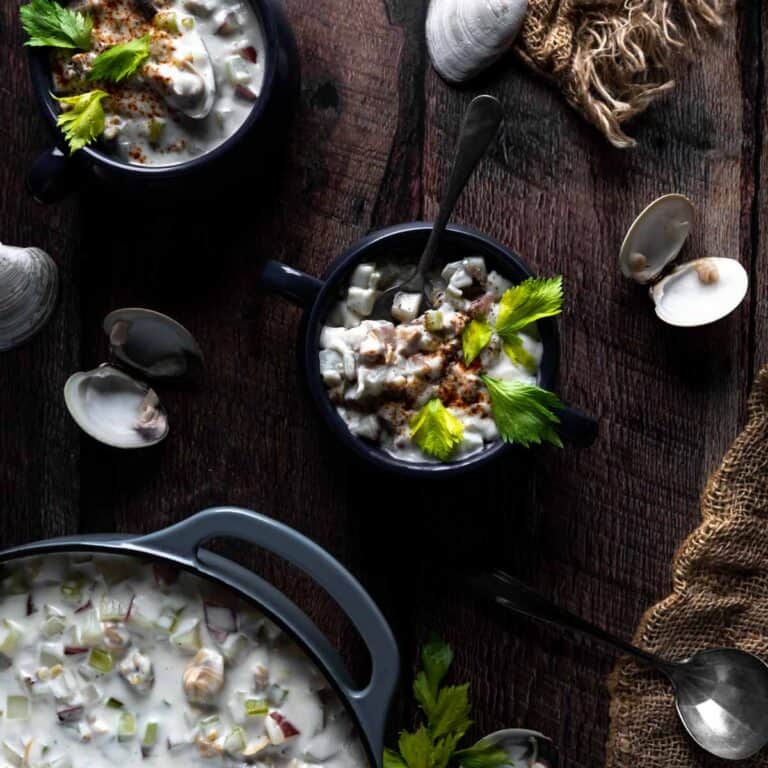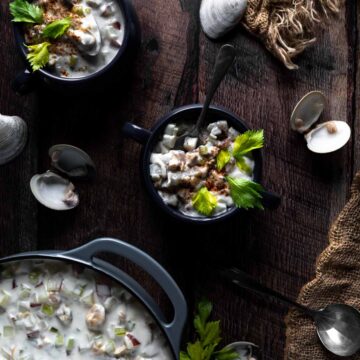 Best Homemade Littleneck Clam Chowder
This New England style littleneck clam chowder uses fresh clams, cream, potatoes, shallots and celery. No bacon, but add it if you'd like!
ADJUST SERVINGS
Special Equipment
Cheesecloth (or a coffee filter)
Ingredients
Clams & Brine
3

pounds

littleneck clams

about 3 dozen clams; (See Note: a. below & How to Clean Clams text above),

1

gallon

water

very cold

¼

Cup

sea or kosher salt
Clam Steaming Broth
2

stalks

celery

1

medium

shallot

halved

2

cloves

garlic

lightly smashed

1

Cup

dry white wine

1

Cup

water

4

fresh bay leaves

6

sprigs of fresh thyme

½

teaspoon

black peppercorns
Littleneck Clam Chowder
3

Tablespoons

unsalted butter

1

medium

shallot

small diced

3

stalks

celery

small diced

3

cloves

garlic

minced

¼

Cup

all-purpose flour

¼

Cup

dry sherry wine

2

Cups

Clam Steaming Broth

2

Cups

whole milk

room-temperature

2

Cups

heavy cream

room-temperature

2

medium

red bliss potatoes

about 12 ounces; small diced

fine kosher salt*

to taste

Freshly-ground black pepper

to taste

¼

pound

thick cut bacon

optional, (See note: b.), diced
Optional Garnishes
Oyster crackers or saltine crackers

as desired

Paprika

as desired

Freshly ground black pepper

as desired

Celery leaves

as desired
Instructions
Clams & Brine
Inspect your clams and discard any clams that are not uniform or have damaged or chipped shells. Rinse clams under cold water.

Prepare your brine: dissolve salt in cold water completely. Add clams to brine and soak for 20 - 30 minutes. If water is cloudy or sandy, repeat this process with fresh brine. Repeat until water remains clear and free of sand or other oceanic debris after soaking.

Thoroughly scrub clams clean of any remaining sand or grittiness. Rinse with cold water. Wipe with a clean kitchen towel and keep refrigerated or on ice until ready to use. 
Clam Steaming Broth
Gather, measure and prepare the Clam Steaming Broth ingredients as listed. To view metric measurements, toggle the US Customary/Metric switch at the top of this recipe card.

Add all Clam Steaming Broth ingredients (celery, garlic, shallot, dry white wine, water, bay leaves, thyme and peppercorns) to a heavy-bottomed pot or dutch oven with a tightly fitting lid. We recommend using a pot with a glass lid, to monitor steaming, if possible. Make sure your pot is large enough to fit all the clams with enough room for them to open comfortably. 

Bring the contents of the pot to a boil. Carefully, add the cleaned clams to the pot and lower the heat to a constant, steady simmer. Cover the pot with a tightly fitting lid. Steam the clams for about 6 minutes before lifting the lid. Using a pair of tongs, remove clams from the pot as they open. Transfer cooked clams into a colander lined bowl as not to lose any of the clam liquor (juices) being released from inside the clams.

Continue to steam, returning the pot's lid, as necessary, for a total of 12 - 15 minutes. Any clams that do not open within 15 minutes should be discarded. 

Do not discard the cooking liquid! Strain the Clam Steaming Broth through layers of fine cheesecloth or a coffee filter to remove the aromatics (celery, shallot, garlic, herbs and peppercorns). You will need about 2 Cups (470 milliliters) of the Clam Steaming Broth. You should have plenty but it it okay to dilute with a little additional white wine or water, if necessary. Set aside.

Meanwhile, remove the clams from their shells being careful to capture any of their juices in the bowl beneath the colander. The clam meat should be opaque, slightly firm and release easily from the shell and fibrous muscle. Chop the clams into pieces that will fit easily on your spoon. Toss the clams in a Tablespoon, or so, of their own liquor (liquid released from inside the clam shell) in the bowl beneath the colander. Set aside.
Littleneck Clam Chowder
Gather, measure and prepare the Littleneck Clam Chowder ingredients as listed.

In a clean stockpot or dutch oven, melt the butter over medium-low heat. Add the shallot, celery and garlic and cook until aromatic and shallots are translucent, about 2 minutes. (If adding bacon, See Note b.)

Add the flour and stir to combine. Cook about one minute or until flour and butter have combined to become very thick. Add dry sherry wine and sauté until most of the liquid has evaporated. 

Add Clam Steaming Broth and stir to combine. Increase the heat to medium and bring to a simmer. Continue stirring as the chowder becomes very thick. Once simmering, slowly stir in the milk and cream.

Return the chowder to a simmer and add the diced potatoes. Lower the temperature to medium low and continue to simmer the chowder, stirring often. Cook for about 12 - 15 minutes or until potatoes are tender and cooked through. Then, stir in the chopped clams in their juices and season with salt and pepper, to taste. Remove from heat. 

Serve the chowder hot and garnish with crackers, paprika, black pepper and/or celery leaves, as desired. Enjoy!
Notes
a. Since cherrystone and quahog clams are bigger, you will need fewer clams for this chowder. Try for a similar weight (about 450 grams or 3 pounds). If buying per the piece (as they are often priced), go for about 18 cherrystones or 9 quahog clams. If using manilla clams, (they are slightly smaller than littlenecks) we recommend using about 45 clams. 
b. If you would like to add bacon to this recipe, here's how: Start Step 2 of the Littleneck Clam Chowder by cooking your diced bacon in the clean pot. Remove the bacon from the pot, leaving about 2 Tablespoons of bacon fat behind. Add 1 or 2 Tablespoons of butter to the pot and continue with Step 2, as directed. Add the cooked bacon back into the chowder with the clams (in Step 5) or as a garnish (in Step 6). Be sure to let us know how your bacon-y chowder tastes in the comments below!
* A Note About Salt
Unless otherwise noted, all recipes on The Sage Apron are developed using Diamond Crystal Kosher salt. It is a great all-purpose salt for cooking and baking. If using table salt, reduce quantities by about half.
Nutrition
Calories:
402
kcal
|
Carbohydrates:
21
g
|
Protein:
9
g
|
Fat:
29
g
|
Saturated Fat:
18
g
|
Polyunsaturated Fat:
1
g
|
Monounsaturated Fat:
8
g
|
Trans Fat:
1
g
|
Cholesterol:
108
mg
|
Sodium:
261
mg
|
Potassium:
515
mg
|
Fiber:
2
g
|
Sugar:
5
g
|
Vitamin A:
1354
IU
|
Vitamin C:
8
mg
|
Calcium:
165
mg
|
Iron:
1
mg