This easy Eggnog Bundt Cake recipe is the perfect festive dessert to get you into the holiday spirit!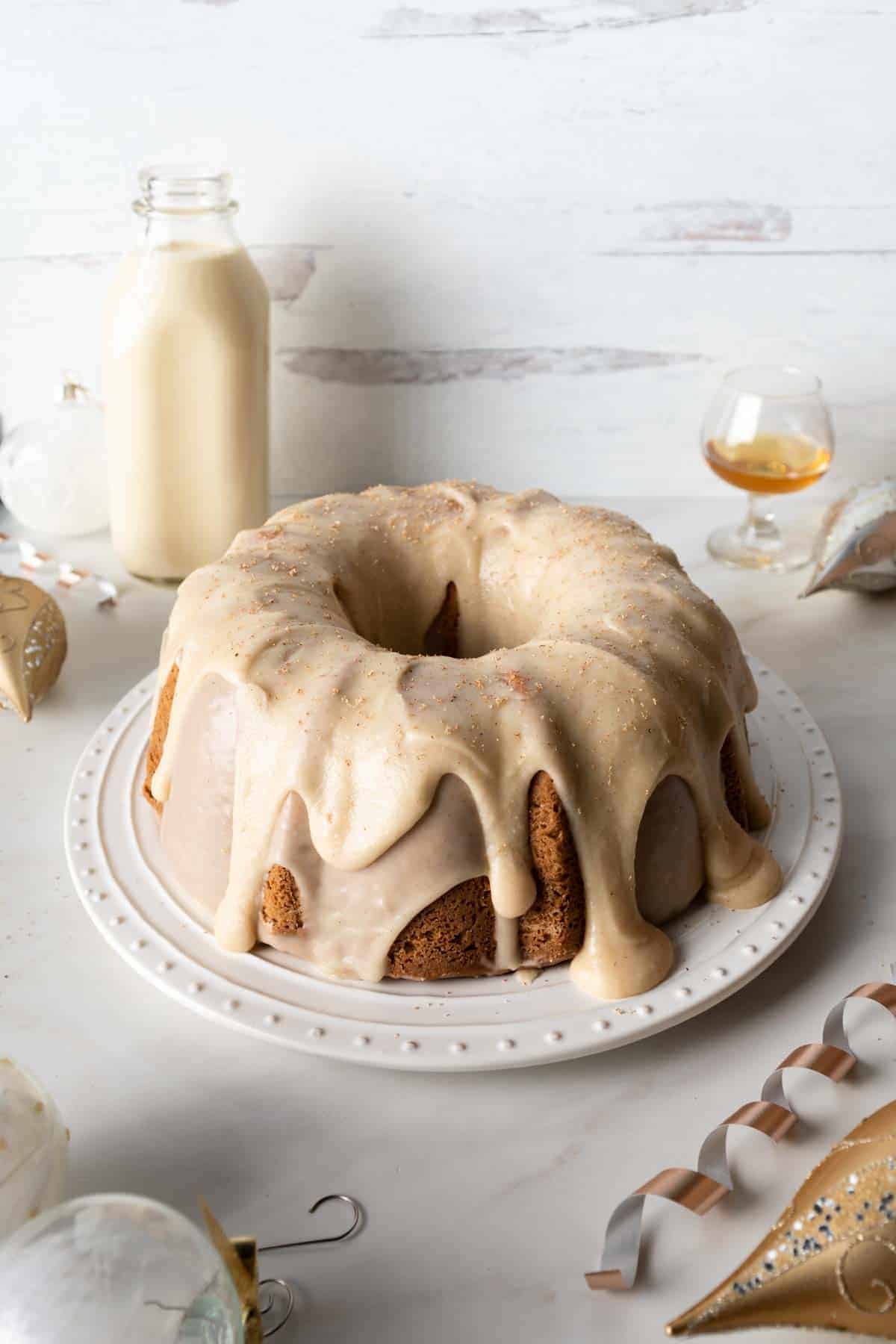 This sweet holiday dessert is a lovely addition to December potlucks, holiday parties, and Christmas dinners. This bundt cake and icing is made with aromatic baking spices, sour cream and eggnog for a moist and delicious dessert brimming with real eggnog flavor!
To finish off this holiday cake recipe, the top of the cake is glazed with a generous portion of Dark Rum Icing and a sprinkle of freshly grated nutmeg! It's an easy dessert that travels well, tastes delicious and gets rave reviews!
For another breathtaking holiday dessert, try our Orange Cranberry Christmas Cake with Sugared Cranberry Wreath!
Ingredients For The Bundt Cake & Icing
This yummy recipe makes for such a perfect holiday dessert! Here's what you'll need to make this delicious eggnog bundt cake with rum icing: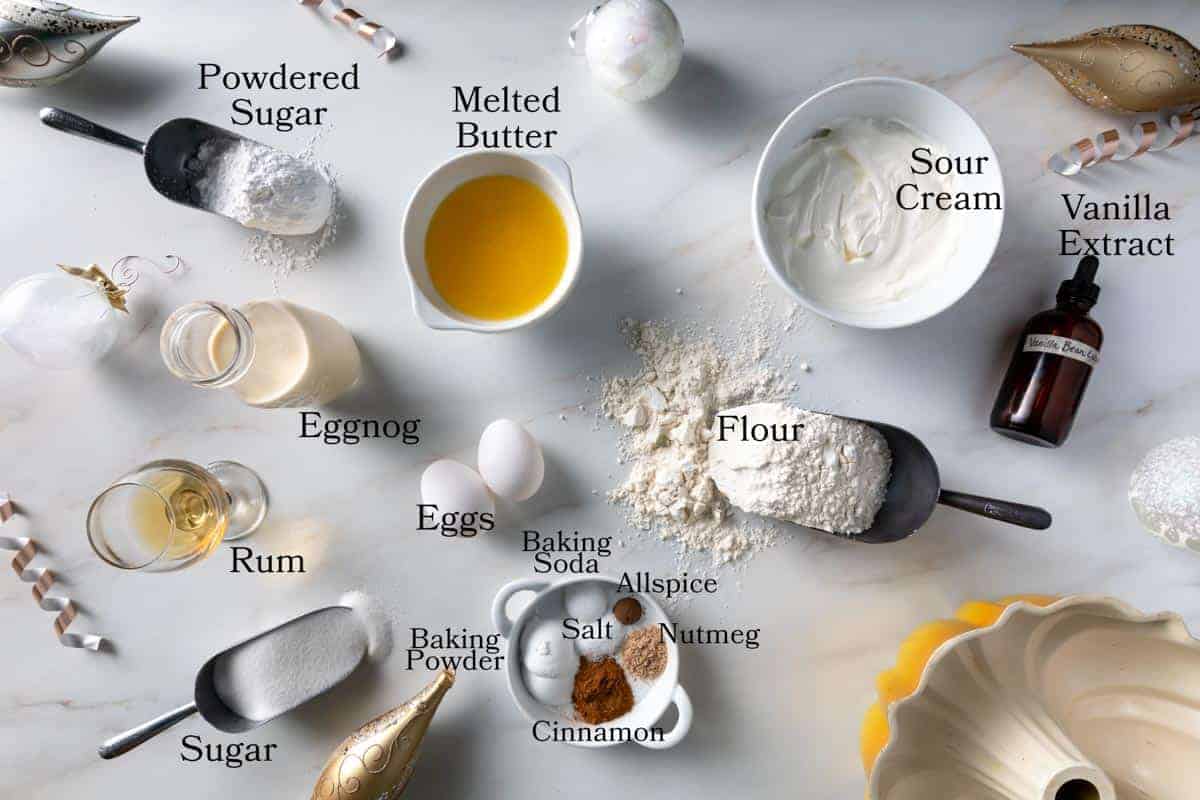 Eggnog Cake
Baking Powder & Baking Soda - These leavening agents expire! If they have been sitting in your cupboard since last Christmas... it's time for some fresh stuff! Fresh baking powder and baking soda will help ensure your cake puffs and rises perfectly.
Cinnamon, Nutmeg & Allspice - These baking spices help bring the eggnog flavor to life! We recommend using freshly grated nutmeg for the best eggnog-y flavor.
Salt - Not all salt is the same! This recipe was developed using Diamond brand kosher salt. If using table salt, reduce by about half.
Eggnog - The star of the show! You can use homemade eggnog or your favorite carton of eggnog, just make sure it is a full-fat, dairy-based eggnog.
Sour Cream - Using sour cream in this recipe makes the cake tender, tangy and moist.
Dark Rum - Optional! Aged rum is our go-to booze for spiking this eggnog cake, but you can also substitute bourbon or brandy, instead.
Rum Icing
This sweet eggnog glaze is spiked with aged rum and poured over the bundt for a pretty cake that looks as good as it tastes!
Dark Rum - You can also use bourbon or brandy. Beware, this recipe does not fully cook-off the alcohol in the icing. If desired, additional eggnog can replace the rum for an alcohol-free version.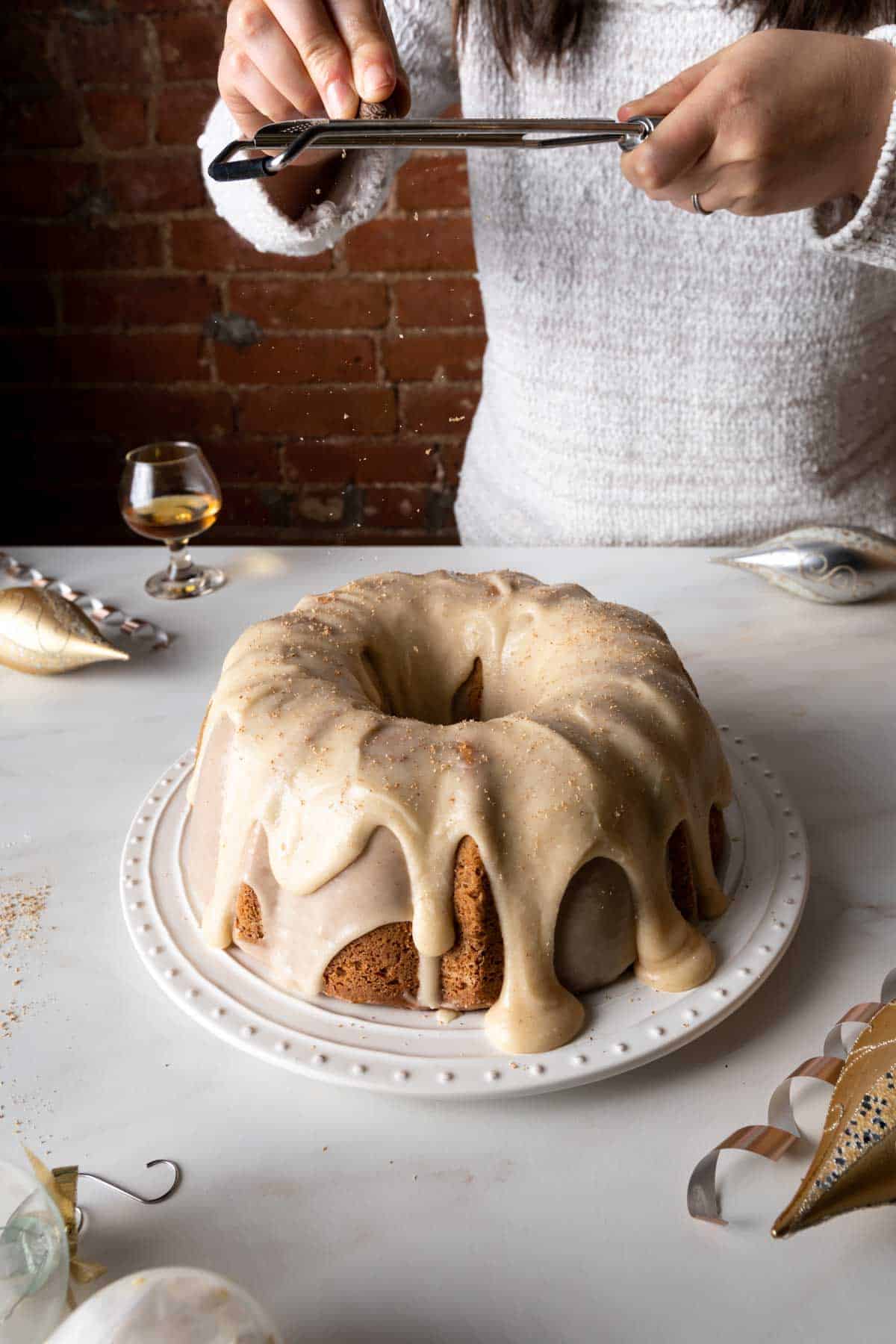 Tips & Tricks for Beautiful Bundt Cakes
This delicious eggnog cake is festive, fun and easy to make! Here's a few tips for making this recipe.
Mixing & Baking
Use a stand mixer, if possible. This eggnog cake batter will be very thick. While it can be done by hand, I recommend making this recipe in the bowl of a stand mixer fitted with the paddle attachment, whenever possible.
Process sugar and eggs to the ribbon stage. This type of cake gets its fluffy structure from beating the eggs and sugar together until thick, pale and voluminous. When mixed appropriately, the egg and sugar mixture should fall from your whisk or paddle in thick "ribbons".
Baker's Journal: The Ribbon Stage - The ribbon stage refers to a certain texture achieved when whipping egg(s) and sugar together. At this stage, the egg(s) and sugar will be very pale, aerated, and fall in thick ribbons from the whisk or paddle attachment. The air incorporated into the egg and sugar mixture helps to leaven the bread and create a tender, fluffy cake.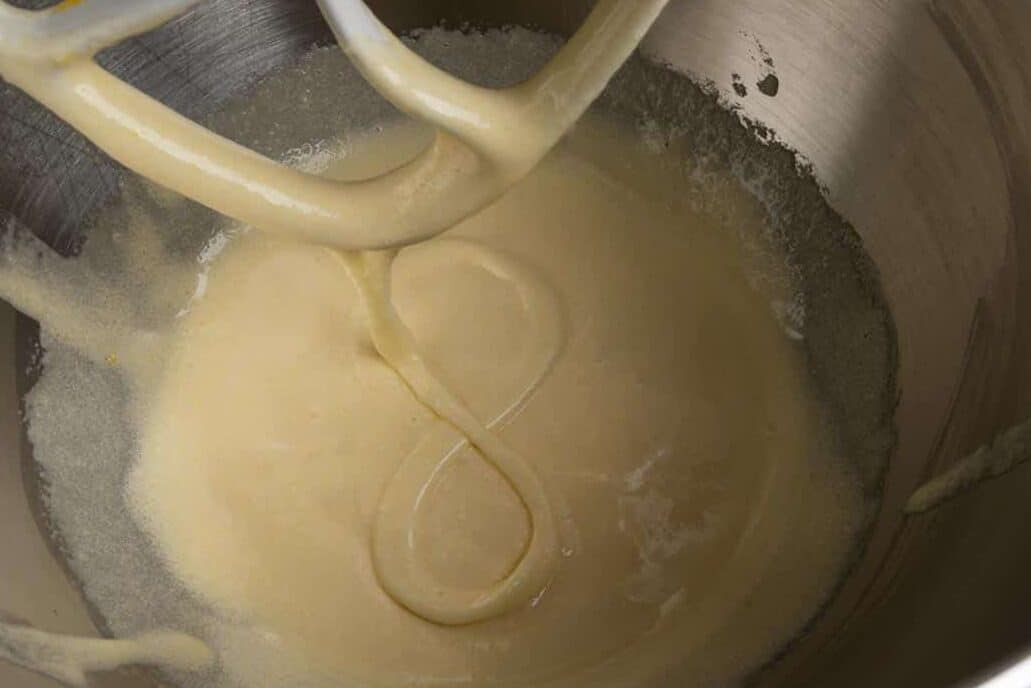 When done correctly, ribbons of batter will sit on the batter's surface for several seconds before blending in. Try drawing a figure 8 in the batter to test if your mixture has reached the ribbon stage.
Do not over mix the batter! Mix just until the ingredients are evenly combined. Over mixing can cause the cake to become gummy, tough and create holes (tunneling) in the baked cake's structure. Use a rubber spatula to scrape down the sides of the bowl and evenly incorporate the last of the dry ingredients, if needed.
Prepare your bundt pan! A properly prepared bundt pan is KEY to easily removing the pan from your baked cake. Use a pastry brush to evenly coat the entire inside of the pan with softened butter. Then, add in a small scoop of all-purpose flour. Over the sink (to catch fallen flour) tap the flour all over the inside of the pan until it is coated entirely. Tap out any additional flour from the prepared pan before adding the batter.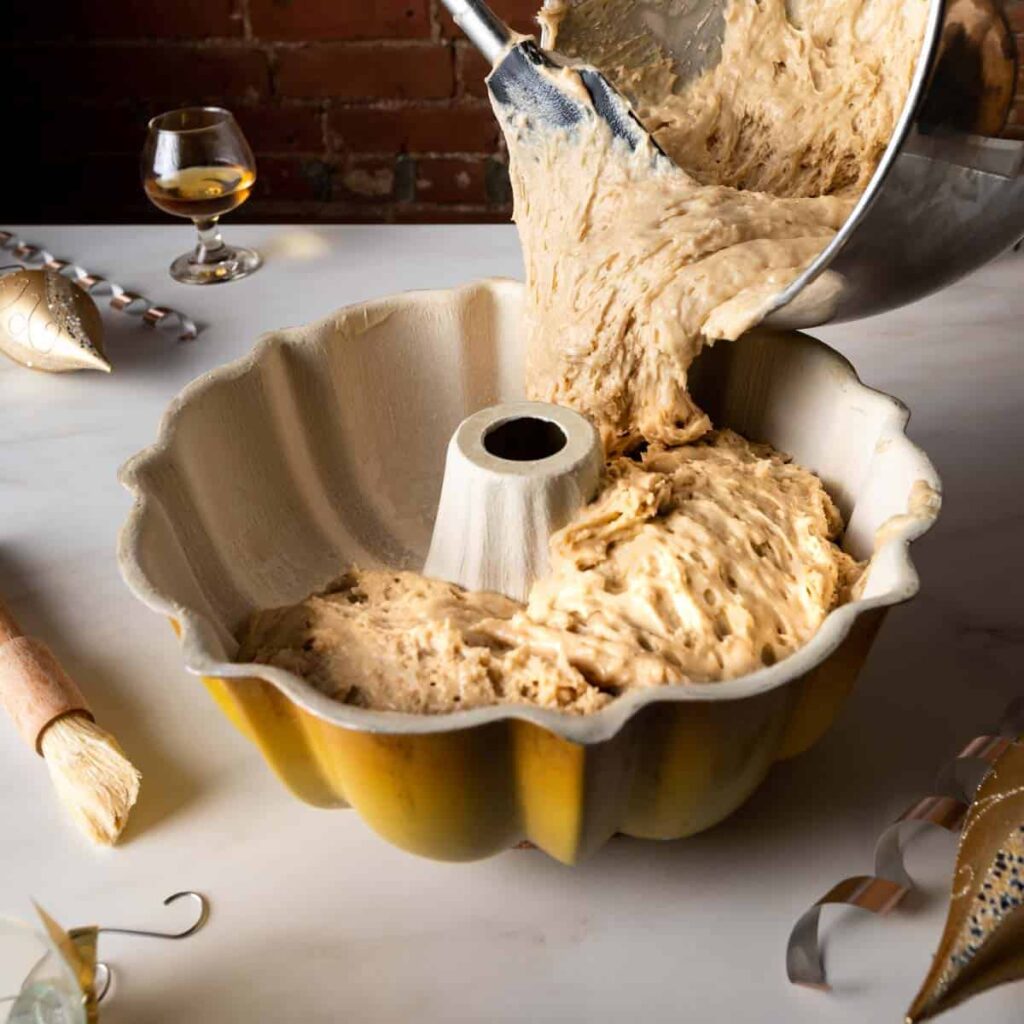 Cooling & Icing
Flip the cake out of the pan while it is still warm! It will be easier to remove the eggnog cake from the bundt pan when it has only been out of the oven for a short time. Place a cooling rack over the baked cake in the bundt pan. Then, using oven mitts or dry kitchen towels, carefully invert the pan onto the wire rack. Gently wriggle the cake from the pan and allow the cake to cool completely.
Don't ice a warm cake! Pouring the rum and eggnog icing over the hot cake is a big mistake! The cake will absorb the icing and result in a slimy, dense mess. Instead, be patient and pour the icing over a completely cooled cake.
Find the right temperature for the icing. This dark rum icing is cooked on the stovetop and will be very thin when still hot. This thin icing will create a sheer glaze over the cake - which is great for a less-sweet option. For a thicker, prettier poured icing (as pictured), allow the icing to cool to room temperature.
Saving, Storing this Recipe
This eggnog cake recipe can be eaten immediately, or stored in the fridge or freezer. Here's our suggestions:
Room Temperature - Since the rum icing for this recipe has dairy, we recommend this iced cake sit at room temperature for no more than four hours. (Un-iced cake can be stored in an air-tight container and safely eaten for several days.)
Refrigerator - Refrigerate Eggnog Cake with Rum Icing for several hours or overnight, as needed. I recommend tempering the cake to room temperature for at least an hour before serving.
Freezer - Like most cakes, this eggnog bundt cake freezes very well. Allow the cake to cool completely before wrapping in plastic very well. (The cooled cake can be put back in the pan and wrapped to help maintain its integrity and prevent damage in the freezer.) The cake can be kept frozen for up to three months. Simply thaw, and ice only once ready to serve.
How To Travel with Eggnog Cake
One of the best parts of this recipe is that it can be easily transported to your Christmas parties to share with your favorite eggnog fans!
To safely transport this cake to your Christmas destination, I recommend gently placing the fully-cooled eggnog cake back into the cleaned bundt pan!
Wrap the cake (in the pan) with plastic wrap and bring the rum icing in a ziplock bag. Once you've arrived at your destination, transfer the cake to a serving plate. If needed, gently warm the icing in the microwave for just a few seconds or massage until a pourable consistency. Cut the corner off of the ziplock back and drizzle the rum icing all over the cake. Finish with a dusting of nutmeg, if desired! Slice, serve and enjoy!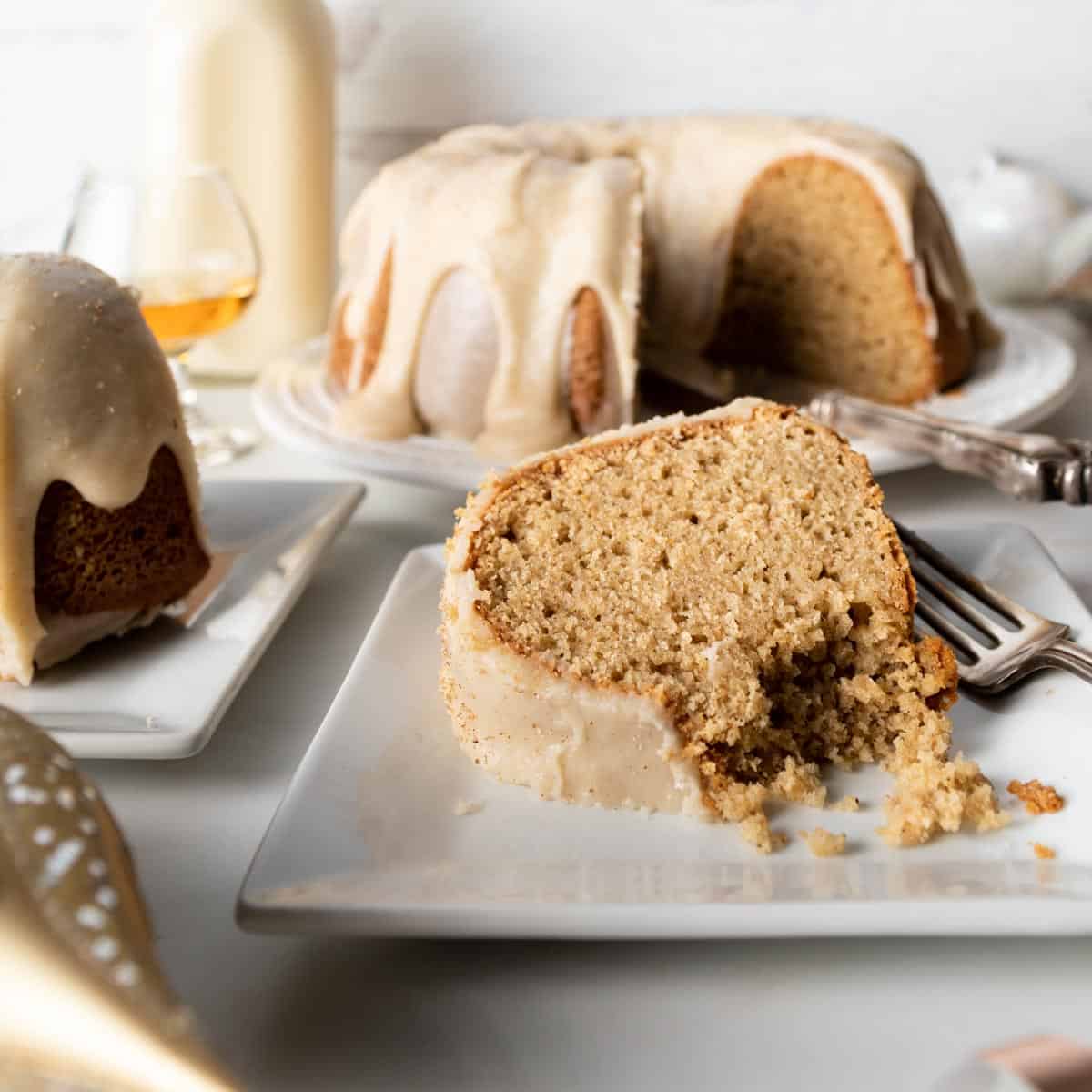 Recipe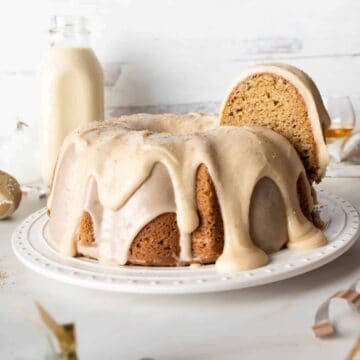 Eggnog Bundt Cake with Dark Rum Icing
This festive bundt cake recipe tastes just like spiked eggnog! A moist spice cake is flavored with eggnog and topped with a sweet rum glaze! So yummy!
ADJUST SERVINGS
Special Equipment
Stand Mixer with the Paddle Attachment (or Electric Mixer) Optional

Bundt Pan

Pastry Brush
Ingredients
Eggnog Bundt Cake
4 ½

Cups

all-purpose flour

plus more for preparing the pan

2

Tablespoons

baking powder

1

teaspoon

baking soda

2

teaspoons

ground cinnamon

1

teaspoon

ground nutmeg

freshly-grated

¼

teaspoon

ground allspice

1

teaspoon

fine kosher salt*

10

Tablespoons

unsalted butter

melted and slightly cooled (1 stick plus 2 Tablespoons), plus more for preparing the pan

1

Cup

full-fat eggnog

room-temperature

1 Cup plus 3

Tablespoons

full-fat sour cream

room-temperature

1

Tablespoon

vanilla extract

2

Tablespoons

dark rum

optional (bourbon or brandy also work)

2

large

eggs

room-temperature

2

Cups

granulated sugar
Rum Eggnog Icing
6

Tablespoons

unsalted butter

3

Cups

powdered sugar

¼

teaspoon

ground cinnamon

¼

teaspoon

ground nutmeg

freshly grated, plus more for garnishing

Pinch

ground allspice

½

teaspoon

fine kosher salt*

2

Tablespoons

full-fat eggnog

¼

Cup

full-fat sour cream

2

Tablespoons

dark rum

OR substitute additional eggnog, bourbon or brandy
Instructions
Gather, measure and prepare the Eggnog Bundt Cake ingredients as listed. For the most consistent results, we recommend using metric weight measurements whenever possible. To view metric measurements, toggle the US Customary/Metric switch at the top of this recipe card.

Arrange a rack in the center third of the oven and preheat to 350° Fahrenheit (180° celsius). Meanwhile, prepare the bundt pan. Use a pastry brush to evenly spread softened butter all over the inside of the pan. Add a small amount of flour and rotate and tap the pan to adhere the flour to the butter. Tap out any excess flour and set the pan aside on a sheet tray. See Note: a.

In a large mixing bowl, combine flour, baking powder, baking soda, cinnamon, nutmeg, allspice and salt. Whisk or sift to combine the dry ingredients. Set aside. Then, in a small mixing bowl, combine eggnog, sour cream, vanilla and rum (if using). Whisk to combine the wet ingredients. Set aside.

In the bowl of a stand mixer fitted with the paddle attachment (or medium mixing bowl with a whisk) combine the eggs and sugar. Mix on medium-low speed (or whisk) until pale, aerated and the ribbon stage is achieved (batter falls in thick ribbons on the mixtures surface). See Note: b.

While mixing on medium-low speed, drizzle in melted butter. Then, add about ⅓ of the flour mixture and mix on low speed (or with a rubber spatula) until mostly combined. Add in about half of the wet ingredient mixture and continue to mix gently. Continue alternating adding wet and dry ingredients, mixing on low speed and scraping down the bowl as necessary. Once the final third of the flour mixture is incorporated, stop the mixer. Fold batter with a rubber spatula once or twice to ensure batter in evenly mixed but avoid over mixing.

Transfer batter into the prepared bundt pan and use a rubber spatula to smooth the batter into an even layer. Bake cake for 55 - 65 minutes or until the cake is golden brown and springs back slightly when gently poked.

Remove cake from oven and allow to cool for 3 - 5 minutes. To invert cake, place a wire cooling rack over the bundt pan. Then, using oven mitts or dry kitchen towels, carefully flip the bundt cake onto the cooling rack. With the mitts or towels, gently wriggle the hot pan off of the cake. Allow the eggnog cake to cool completely before icing.
Rum Eggnog Icing
In a medium saucepan, combine all Rum Eggnog Icing ingredients. Set over medium heat and whisk to combine. Cook icing for 3 - 4 minutes, whisking frequently until butter is melted and sugar is fully dissolved. The icing should be thin and completely smooth.

Remove icing from heat and allow to cool to room temperature. The icing will thicken as it cools. It should be a thick, pourable consistency, similar to honey. (If the icing is too thick, return it to the heat for a few seconds or add a small splash of eggnog and whisk to combine.) As it cools, the icing will harden slightly at the surface, whisk the icing well until smooth before pouring on the cake.

Pour icing over the completely cooled Eggnog Bundt Cake and let the icing drip over the sides. (See Note: c.) Finish garnishing the cake with a little additional ground nutmeg, as desired. Slice, serve and enjoy!
Notes
foodworthfeed recipes are developed using Diamond brand kosher salt. If using iodized or table salt, reduce quantities by about half. 
a. We recommend baking the Bundt Cake on a sheet pan for easy handling in and out of the oven.
b. The ribbon stage is achieved when the "ribbons" of batter sit on the mixtures surface for a few seconds before settling back in. This technique incorporates air into the batter that keeps the eggnog cake soft and fluffy. 
c. To avoid making a mess, pour icing over the cake while the cake is still on a cooling rack over parchment paper. Any icing that falls off the cake can be recycled, or discarded for easy clean up. 
* A Note About Salt
Unless otherwise noted, all recipes on The Sage Apron are developed using Diamond Crystal Kosher salt. It is a great all-purpose salt for cooking and baking. If using table salt, reduce quantities by about half.
Nutrition
Calories:
626
kcal
|
Carbohydrates:
104
g
|
Protein:
7
g
|
Fat:
19
g
|
Saturated Fat:
12
g
|
Polyunsaturated Fat:
1
g
|
Monounsaturated Fat:
5
g
|
Trans Fat:
1
g
|
Cholesterol:
90
mg
|
Sodium:
639
mg
|
Potassium:
125
mg
|
Fiber:
2
g
|
Sugar:
66
g
|
Vitamin A:
625
IU
|
Vitamin C:
1
mg
|
Calcium:
182
mg
|
Iron:
3
mg